Vicky Wright's directorial 'Happiness for Beginners' is a Netflix romantic comedy movie that centers around Helen, a freshly divorced teacher who decides to attend a wilderness survivalist course to freshen her mind. There, she bumps into Jake, her brother's best friend, whom she finds interfering and rude. However, as Helen spends time in the lap of nature and her instincts are tested, she discovers that life is more beautiful only if one lets go of the past and learns to accept and appreciate the little things.
Besides, Helen starts noticing Jake's caring side and realizes there is more to him than meets the eye, making sparks fly between them. Given the movie's heartwarming ending and the positive response to the protagonists, viewers must wonder whether the story continues and what their future looks like. So, is a sequel to the Netflix rom-com on the cards? Well, let's learn everything there is about 'Happiness for Beginners 2,' shall we?
Will There Be a Happiness for Beginners 2?
'Happiness for Beginners' had a worldwide premiere on July 27, 2023, on Netflix. The romantic movie received lukewarm reviews from critics and the audience alike. Regarding the possibility of a sequel, here's what we can share.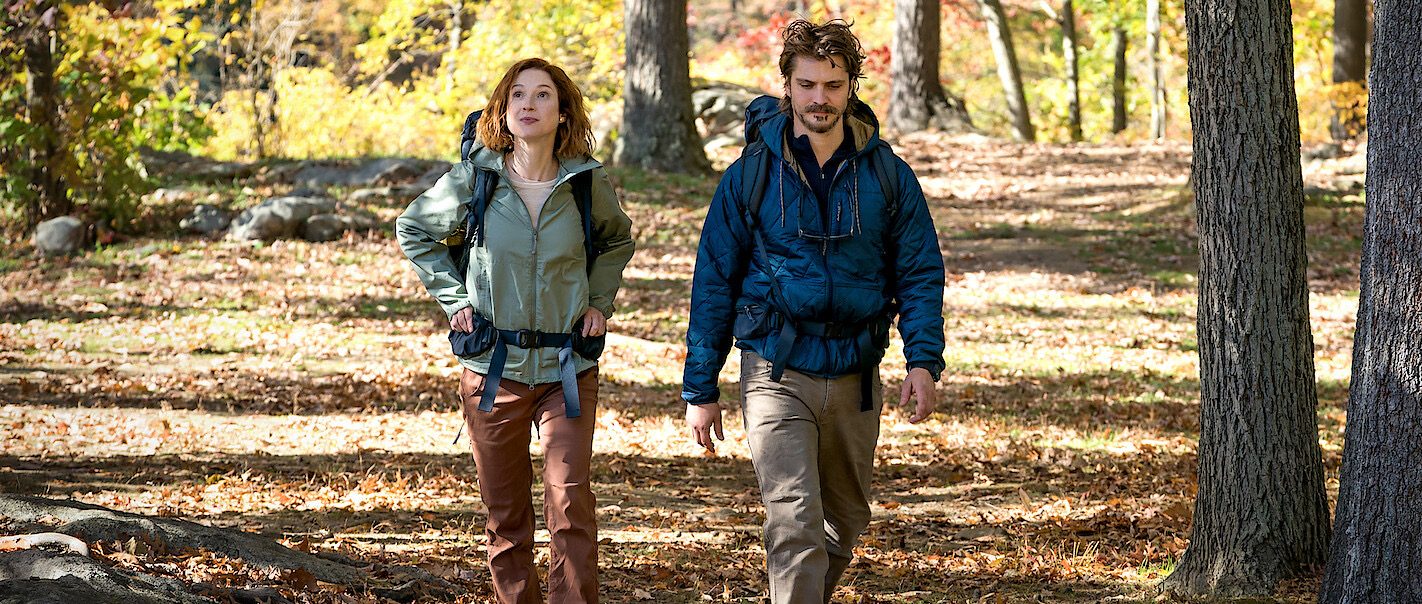 As of now, neither Netflix nor the makers have made any official announcements concerning the sequel to 'Happiness for Beginners.' Yet, the multi-layered character arcs of the two protagonists in the movie surely leave viewers asking for a second installment. Moreover, the storyline is an adaptation of Katherine Center's 2015 novel 'Happiness for Beginners,' which likely has a lot of material that can be expanded and explored in a potential sequel. The film ends with Helen and Jake getting into a relationship, but the looming medical condition making him slowly lose his eyesight could affect their togetherness ahead.
In case there is a sequel to the movie in the future, it shall seemingly depict what happens next for the couple after they enjoy the initial phase of their romance and face new challenges. On top of it, Helen's ex-husband, Mike, is still in touch with her, and since she has not formally spoken to him after returning from her camping trip, he could try contacting her again and cause trouble in her and Jake's romance. Furthermore, she mentions how her mother has never seen her and her brother since abandoning them at their grandmother's house but still contacts her sometimes.
Since Helen's painful relationship with her mother is a significant contributor to her trauma, there is a possibility that it may hinder her happiness further, especially if the latter chooses to return. In addition, Helen and Jake may reunite with their friends for another adventure in the wilderness or another exciting setting, and a probable sequel could capture their next get-together. Lastly, part two of the Ellie Kemper-starrer may also introduce new faces in the couple's life and how they impact their journey.
Romantic comedy is one of the most popular genres on Netflix, and the streaming platform has greenlit at least one to two sequels to several popular movies, such as 'A California Christmas,' 'To All The Boys I've Loved Before,' and 'Tall Girl.' Given the immense success of most of these sequels, the streamer may choose to repeat the same formula with 'Happiness for Beginners.' That said, the possibility of a second iteration of a movie always depends on the viewership figures. With the Vicky Wright directorial, this doesn't seem to be a problem, as the audience has been appreciating the authentic adaptation of the source material and the fresh characters.
Considering all these factors, there is a significant chance that Netflix may give a nod to the movie's sequel in the coming months. In that case, if all goes according to the estimated schedule, including the production process, the availability of the cast and crew, and the time taken by the writers, we can expect 'Happiness for Sequel 2' to arrive sometime in Q2 2025.
Read More: Happiness for Beginners Ending, Explained: Do Jake and Helen End Up Together?