Phillip Pullman's 'His Dark Materials' trilogy is set in an alternate universe and follows the story of a young girl who embarks on an adventure when her best friend is kidnapped. The series is a joint production of the BBC and HBO. It is adapted for television by Jack Thorne, who is known for his work in 'This Is England', 'Shameless' and 'Skins'. Tom Hooper serves as the director for various episodes. The production companies involved are BBC Studios, Bad Wolf, New Line Cinema and Scholastic.
'His Dark Materials' promises to be a series of massive scale, and we are talking 'Game of Thrones' massive. The story delves into scientific philosophies like alternate universes, while exploring the grounds it shares with religion. The story becomes more layered with each installment, and the fantasy part of it becomes grander. The book series has three parts: 'The Northern Lights' (also known as 'The Golden Compass'), 'The Subtle Knife' and 'The Amber Spyglass'. And that is not it. The story stretches into prequels and spin-offs, which means there is rich mythology for the story. Fans of series like 'The Lord of the Rings', 'Harry Potter' and 'Game of Thrones' will gravitate towards this show.
His Dark Materials Cast: Who's in it?
The protagonist of 'His Dark Materials' is Lyra Belacqua. She is a wild, carefree spirit who lives under the care of Oxford scholars. She is portrayed by Dafne Keen, who is best known for playing the role of mutant Laura Kinney in 'Logan' which features Hugh Jackman's final appearance as Wolverine.
The role of her uncle, Lord Asriel, is played by James McAvoy. Lord Asriel is an influential figure known for his scientific discoveries. McAvoy is known for his roles in films like 'Atonement', 'The Last King of Scotland' and for portraying Charles Xavier in 'X-Men series'. Ruth Wilson (known for her work in 'Luther', 'The Affair' and 'Saving Mr Banks') plays the role of Mrs Coulter, a charming yet cunning lady who is the head of an organization accused of kidnapping children. Lin-Manuel Miranda plays the role of an aeronaut Lee Scoresby, who helps Lyra in her quest to find her father. Miranda is known for his work in 'Mary Poppins Returns' and is the winner of an Emmy, three Grammys, three Tonys and one Pulitzer Prize Awards.
Additional cast includes Clarke Peters as The Master, Anne-Marie Duff as Ma Costa, Ruta Gedmintas as Serafina Pekkala, Lucian Msamati as John Faa and James Cosmo as Farder Coram.
His Dark Materials Plot: What's it About?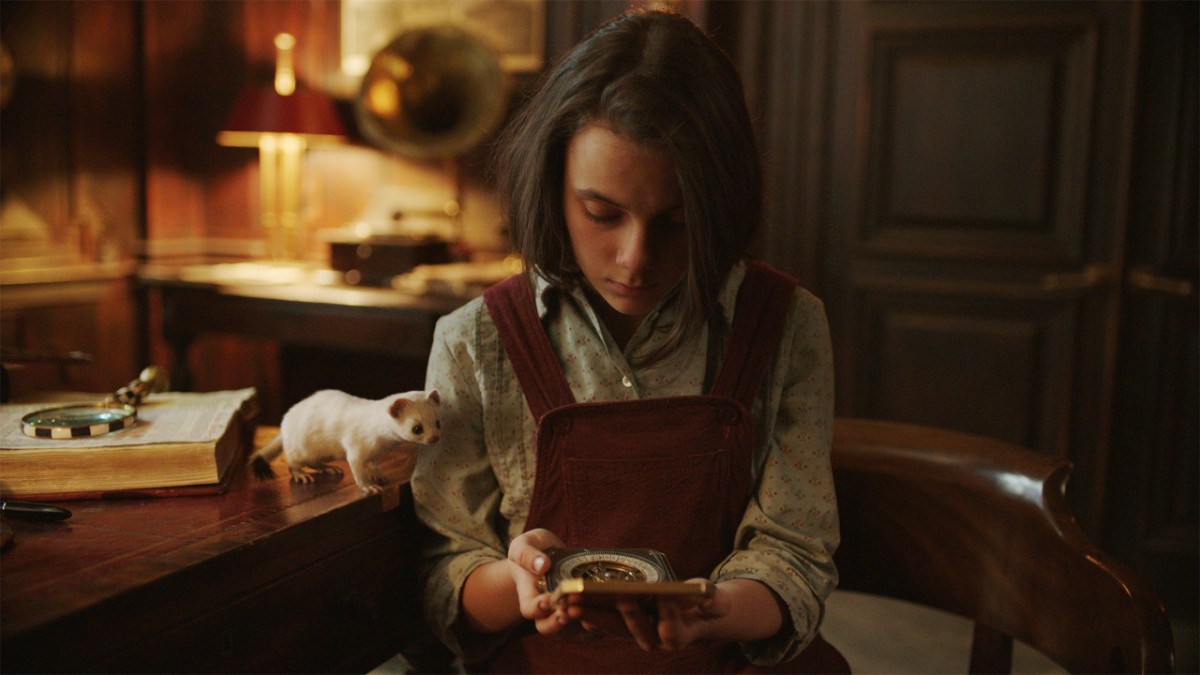 'His Dark Materials' is a series of novels that follow the adventures of a young girl named Lyra Belacqua. She lives in Oxford, under the care of scholars, sometimes visited by her famous and intimidating uncle, Lord Asriel. She longs to be free from the bounds of her surroundings and wants to travel North, a place of which her uncle talks a lot. Meanwhile, something evil has found its roots in this world. Children are mysteriously disappearing.
Stories begin to circulate about who is taking them and what is being done to them. The kidnappers are termed as Gobblers and Lyra finds out about a lot of kids, with whom she had played since childhood, taken away by these mysterious people. The danger hits close to home when her best friend, Roger, is taken away. She vows to track down the Gobblers and bring back her friend. However, she is distracted by the entrance of a figure who strongly resembles her uncle. Mrs Coulter is the prettiest woman Lyra has ever seen. She is smart and exuberant, she has travelled a lot and promises the same to Lyra. What she doesn't know is that she is walking into the den of the lion, and there is a secret about her past that is about to change everything.
His Dark Materials Season 1 Release Date: When Will It Premiere?
'His Dark Materials' Season 1 is set to premiere on HBO on November 4, 2019. The series is a highly ambitious project for both BBC and HBO. While the British Broadcasting Channel is seasoned in making book to television adaptations, to handle a story of this scale is something entirely different.
HBO, on the other hand, has met huge success in the fantasy genre, and after the end of 'Game of Thrones', the network needs something to fill its place, which this show promises to live up to, if not surpass. 'His Dark Materials' is a popular book series, full of adventures and mythical creatures like witches and even armoured bears. The fans have been eagerly waiting for a faithful adaptation and the series will surely win over the hearts of those who aren't familiar with the books. In fact, the BBC is so sure of its success that they have already commissioned a second season.
While there is no official date, we can expect the 'His Dark Materials' Season 2 to premiere some time in November 2020. Since the series is a trilogy, expect at least two more seasons in the pipeline (in fact, second season is already greenlit). When we receive more information on the matter, we will update this section.
His Dark Materials Trailer
If you love delving into the worlds where everything is possible, then you should watch 'His Dark Materials'. With a plot that promises twists and turns, and the characters that you'll easily fall in love with, it will have you hooked. You can catch all episodes of the show on HBO. Have a look at the exciting trailer here:
Read More: Best Fantasy Movies on Netflix