Whenever someone says World War II, the picture of concentration camps jumps to mind. How can someone come up with such evil ideas? Moreover, how does he find support amongst people to execute these things? 'Hitler's Circle of Evil' is the study that tries to answer these questions. The series is written and directed in sections with each writer/director taking up one or two episodes of the show. The names of these people are Simon Deeley, Matthew Hinchcliffe, Vicky Matthews, Guy Smith, Ashley Morris and Chris Roberts.
The series is executive produced by Phil Hunt, Compton Ross and David McNab. Rachel Vaknin, Paola Desiderio, Justin Rickett, Chris Roberts, Simon Deeley, Matthew Hinchcliffe, Vicky Matthews, Tom Harberd, Steven Perring, Ashley Morris and Guy Smith serve as the producers of the show. The production companies involved with it are Head Gear Films, Metrol Technology and World Media Rights Productions. The worldwide distribution is handled by Netflix.
Hitler's Circle of Evil Cast: Who's in It?
'Hitler's Circle of Evil' stars as Jonathon Michaels as Martin Bormann. He is known for his work in films and TV shows like 'White Glove Massive', 'Holby City', 'Bonded by Blood Two', 'Nazis: Evolution of Evil' and 'Breaking the Bank'. Alisdair Simpson narrates the series. He has previously worked in films and TV shows like 'Operation Gold Rush with Dan Snow', 'Raiders of the Lost Past', 'Ancient Black Ops', 'Game of Thrones', 'Doctors', 'The Man who Stopped World War Three', '1000 Ways to Die', 'The Whistle-blowers', 'Waking the Dead', 'Dream Team', 'British Men Behaving Badly' and 'No Bananas'.
Conan Sweeney portrays the character of Young Himmler. His acting credits include titles like 'Gangsters Gamblers Geezers', 'Shooting for Socrates', 'When Harvey Met Bobby' and 'Screw back'. Steve Monroe plays the role of Herman Goering. He has worked in movies and TV shows like 'The Real Story Of…', 'Fearless', 'Passport to Murder', 'Dickensian', 'Jekyll and Hyde', 'River' and 'The Bill'. He is also set to appear in 'When the Devil Rides Out' and 'GrindHouse 2wo'.
Vic Waghorn plays the role of a German Officer. He has appeared in films and TV shows like 'The Gambler', 'Blue Iguana', 'Marcella', 'Britain's Most Evil Killers', 'Murder Maps' and 'The Rise and Fall of a White Collar Hooligan'. He is also set to be a part of 'The Capture', '120 Hours', 'The Rook' and 'The Michael Watson Story'. Zivile Matikiene plays the role of Joseph Goebbels' Secretary. He has worked in various films and TV shows such as 'Welcome to New York' and 'Love is Thicker than Water'.
Sara Raimondo plays the role of Magda Goebbels, while Chris Wilson stars as Fritz Sauckel. He has worked in films and TV shows such as 'Porters', 'Cobra', 'Once Upon A Time in London', 'The Big Narstie Show', 'Legend Hunter', 'Agatha Raising', 'Nazi Mega Weapons', 'Russia 1917: Countdown to Revolution', 'Air Crash Confidential', 'The Killer Beside Me', 'Silent Witness' and 'Doctor'. Luigi Boccanfuso plays the role of Mussolini, and Henrik Jorgensen is cast as Adolf Hitler.
Hitler's Circle of Evil Plot: What's It About?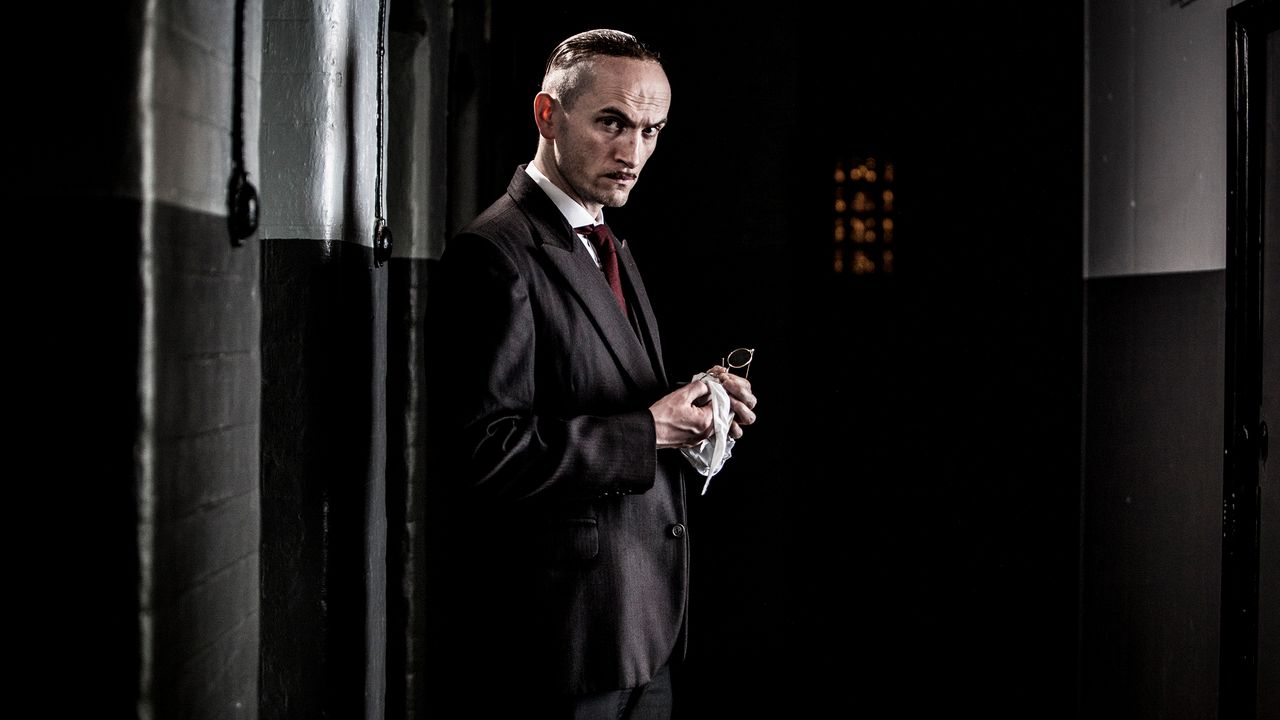 The name of Germany, while talking in context of the Second World War, is synonymous to Hitler. If you're writing something about the subject, you can either write "Germany lost" and "Germany won"; or "Hitler lost" and "Hitler won". This fact tells us the sheer amount of control that this man had in his country. But who gave him this control? Was he able to do all this alone? How did he seize power to Germany? How did he come up with all the ridiculous ideas? How did he think he could pull off a thing such as the concentration camps?
The truth is that Hitler wasn't the only evil residing in Germany at that time. It was a whole group of madmen who selected the Fuhrer as their leader and for every good and bad idea the credit would go to the Third Reich. Due to this, some of their most heinous acts have faded in the shadow of the man that stands above them. 'Hitler's Circle of Evil Plot' shows just how involved his counsel was in the death of hundreds and thousands of people.
Hitler's Circle of Evil Season 2 Release Date: When Will It Premiere?
'Hitler's Circle of Evil' season 1 released on February 22, 2018. The series received applause from the critics for presenting an honest, well-researched and well-thought-out depiction of politics in Hitler's inner circle. The factual accuracy and the unbiased portrayal of characters increased the authenticity factor of this documentary. Because its topic isn't something that has been frequently discussed before, the audience was drawn towards it.
The overall response was great, but does that warrant another season? We don't know yet. Because the series focused on a very specific topic and it feels like they have covered a lot of ground in the first season, so its return for a second instalment seems highly unlikely. However, there has been no official announcement from the network yet, so we wouldn't want to make any assumptions. As soon as we get any news regarding 'Hitler's Circle of Evil' season 2 release date, we will update in this section.
Hitler's Circle of Evil Trailer:
If you are a history buff, then you must know the importance of understanding how the inner circles work in politics. One watch is not enough to grasp all the ideas put out by this series. You can re-watch all its episodes on Netflix. Have a look at the trailer of 'Hitler's Circle of Evil' season 1:
Read More: Best World War II Movies on Netflix