Two industries churning out the maximum number of movies in a year. Hollywood and Bollywood are the most prolific industries in the world. Though getting into a comparison between the two would be unfair as they both cater to different kinds of audiences, what if there was a cross over between the two industries and we had some of our favourite Hollywood actors play our beloved Bollywood characters. This list tries to imagine just that. Here is the list of Hollywood actors who seem to be just tailor-made to play Bollywood characters:
17. Robert Downey Jr. as Rana from Piku (2015)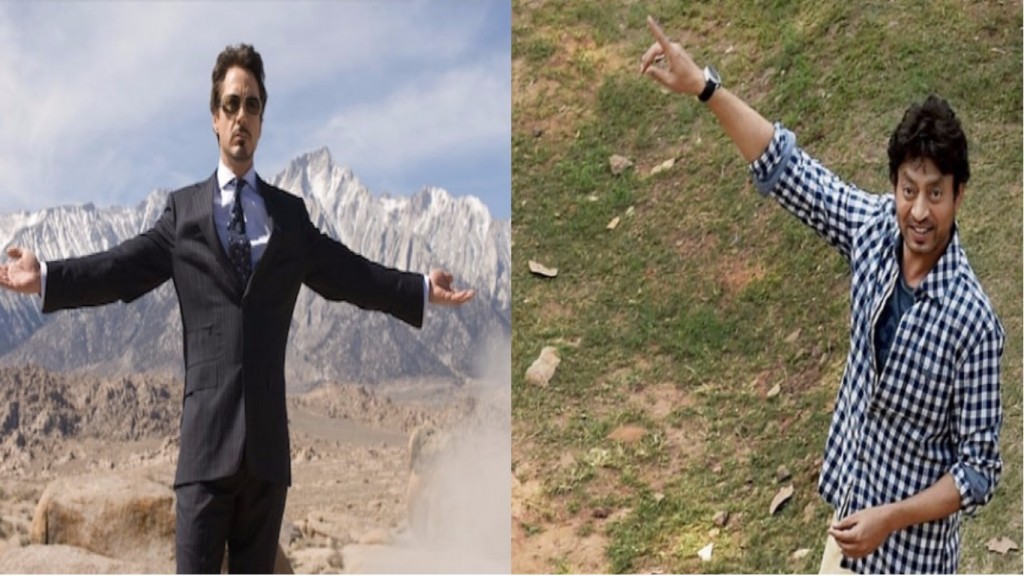 Though this character isn't as recognised as the others on the list, it surely packs a punch. Piku was the feel good movie of the year 2015, featuring brilliant performances from Deepika as well as Amitabh. However as the supporting character, Irrfan too held his own as Rana, the man who drives Piku and her dad on a road trip. The reason RDJ is so fit for this role is because Irrfan's character is sarcastic and has dry humour which makes his character so much more fun. And when it comes to sarcasm, after Chandler Bing the second name coming to your head is RDJ. His characters are always witty and have their dialogues sprinkled with some dry humour.
16. Liam Neeson as Vijay Salgaonkar from Drishyam (2015)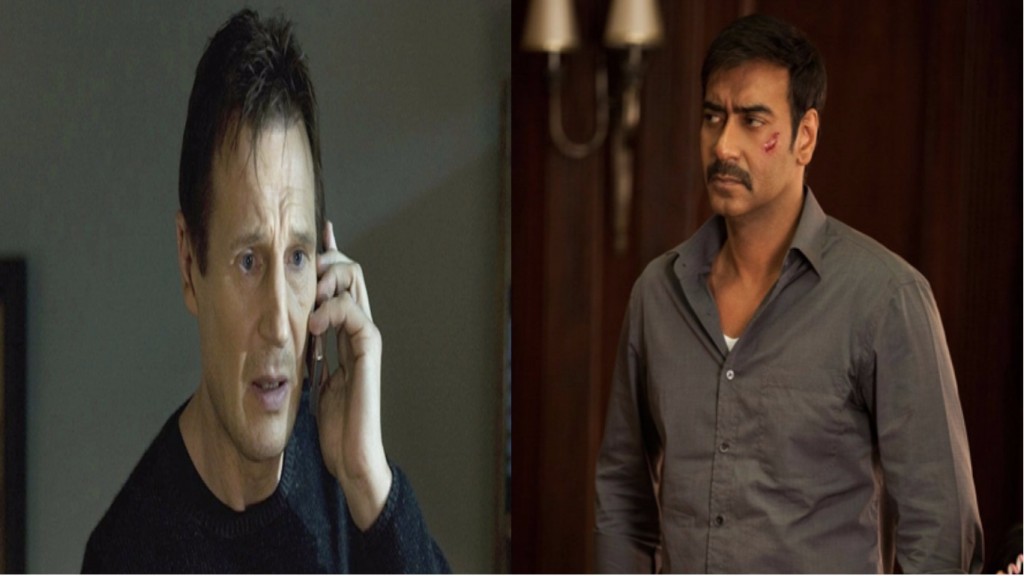 While thinking of who could play Ajay Devgn's character in Drishyam,Liam Neeson's name came instantly to my mind just because of the Taken series. Both movies involve a family man who's family life turns into hell due to the occurrence of an unfortunate event and how these men who are fiercely protective of their family walk out and save their family.Drishyam was one of the best thrillers this decade and Liam Neeson as Vijay Salgaoncar just restores our faith that he will find and kill anybody who dares to touch his family!
15. Bruce Willis as Ajay Mehra from Ghayal (1990)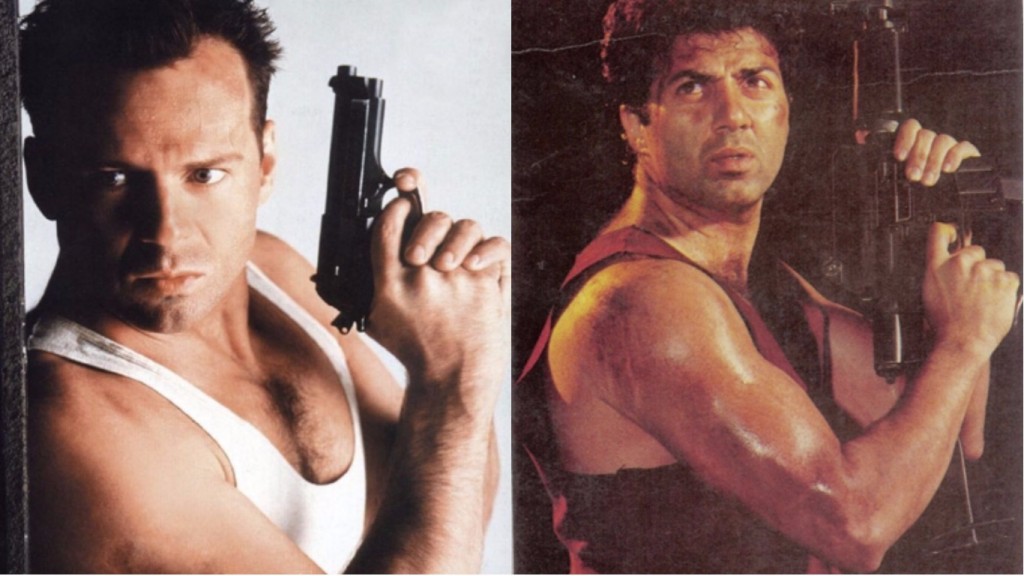 Don't the above pictures say it all? Sunny Deol as well as Bruce Willis are brilliant action heroes. As John McClane in Die Hard, gave a new definition to action movies. So did Sunny Deol in Ghayal. The raw energy, intensity and physique of the actors makes them so similar. I'm pretty sure if you saw Bruce Willis flex his dhai kilo ka haath, you will say nothing but 'Yippee-ki-yay!'
14. Emma Stone as Rani from Queen (2014)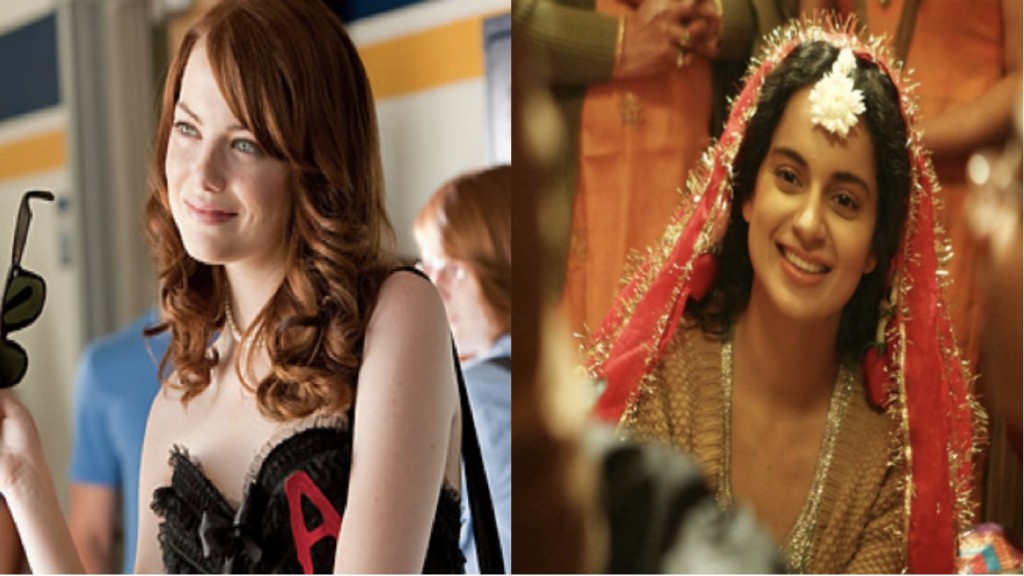 Two of the most promising young talents currently working, these actresses have been churning out one fine performance after another in the last few years and getting the recognition they deserve. Queen's Rani is a shy heartbroken girl who goes to Europe and regains her confidence and independence. It is a heart warming and funny tale with a very inspirational lead character. Emma Stone is fit for this role because she has that sincerity and the expressiveness that Kangna Ranaut has. She has proved herself with movies like Easy A, Birdman and of course La La Land, which is another inspirational movie.
13. Ryan Gosling as Arjun from Zindagi Na Milegi Dobara (2011)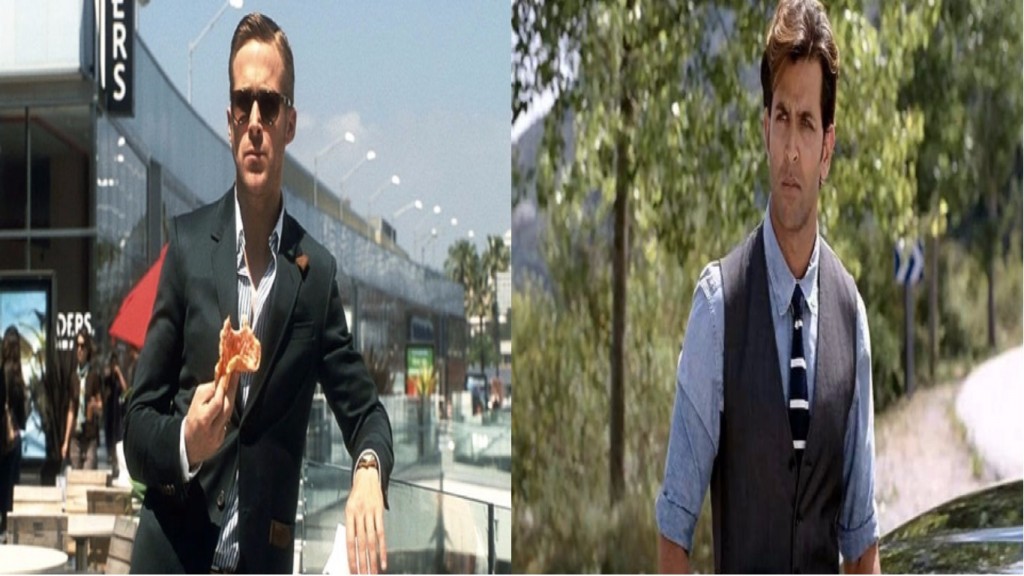 Ryan Gosling and Hrithik Roshan beat their competitors by a big margin when it comes to style. Ryan Gosling's character in Crazy , Stupid,Love. earned him a lot of praise as he was brilliant as the stylish, playboy who eventually realises the meaning of true love. It is quite similar to Hrithik's arrogant, selfish character who is taught the true meaning of life by Laila.
12. Kevin Hart as Ali from the Dhoom series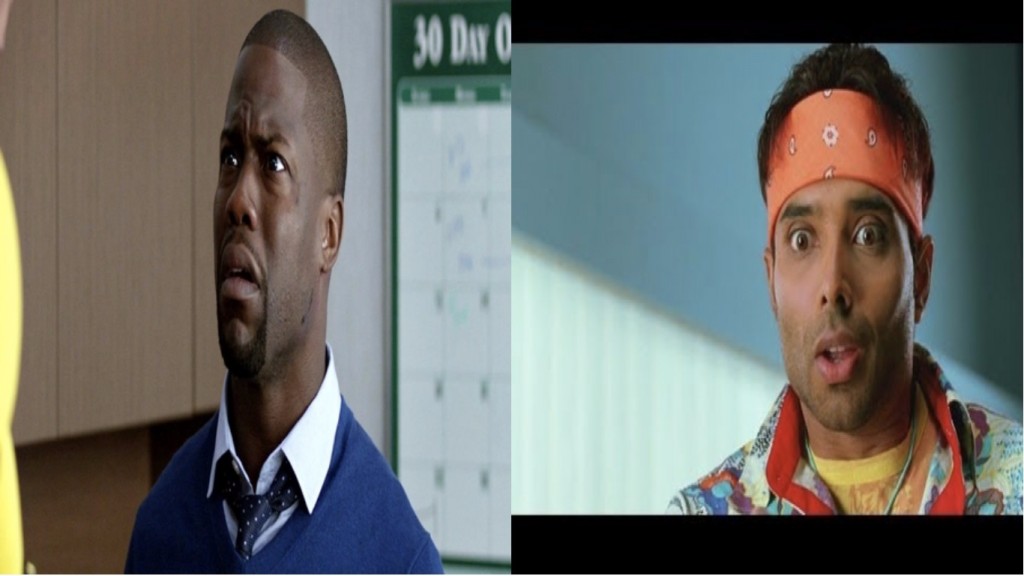 Note that this is by no means a comparison of the acting talents of these 2. Kevin Hart is one of the best comedians of USA and well, Uday Chopra….is a joke himself. However Ali, the comic relief of the Dhoom series, is this wiseass who thinks no end of himself but when it comes to actually fighting the criminal, he is the first to run away.Well, look no further. As Ben Barber in Ride Along,Kev Hart gets his comic timing spot on as the oversmart budding cop who is brought down to earth by his girlfriend's brother. He's played the role of sidekick in Central Intelligence as well.With such brilliant comic timing, I'm sure that he would do more justice to the role than Uday Chopra ever did.
11. Morgan Freeman as Deepak Sehgal from Pink (2016)
Well, two stalwarts who continue to deliver fantastic performances years after they joined the movies. Pink was easily one of the best movies of 2016 and of course apart from the brilliance of the female leads, it was the intensity of Amitabh's Deepak Sehgal that ensured the message 'NO means NO' was drilled into our heads after seeing the movie.Morgan Freeman can match Amitabh's intensity as he has in the past with movies like Se7en, Unforgiven, Million Dollar Baby and so many more. And of course both have such a baritone that makes all their performances so much more convincing.
10. Tom Hanks as PK from PK (2014)
I am neither a fan of this movie nor did I like Aamir Khan's acting in it. But we cant deny the fact that both Tom Hanks as well as Aamir Khan are the perfectionists of their respective industries.When they get into the skin of their character, it is impossible to distinguish the actor from the character.Why I feel Tom Hanks is suited for this role is because he has played characters in the past which are maybe slow at mind but are very good and honest at heart. In Forrest Gump as well as The Terminal, Tom Hanks' performance showed that he is suited for this role. I really think Tom Hanks would do such a good job under Raju Hirani's direction.
9. Leonardo DiCaprio as Don from Don (2006)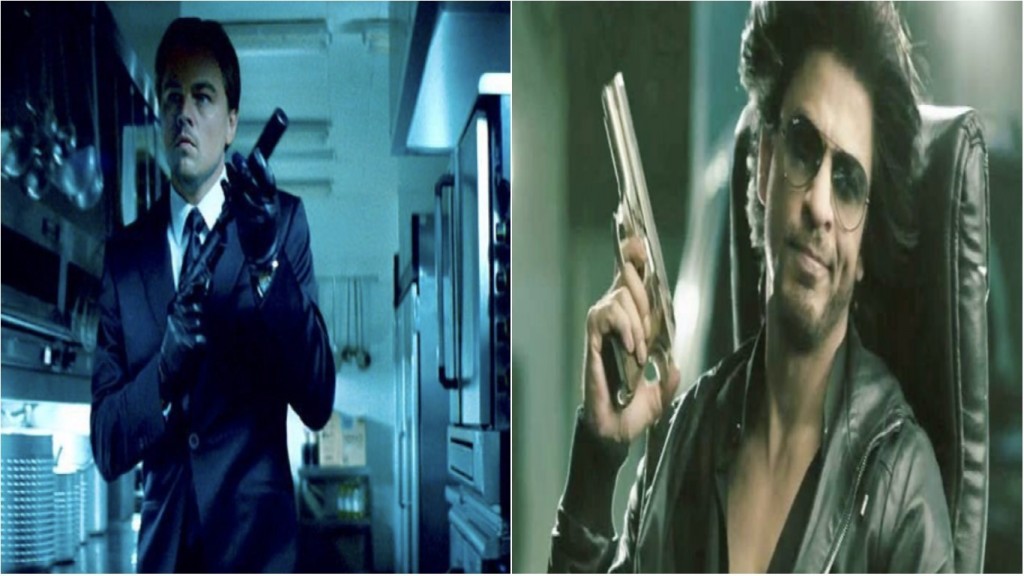 One simple reason for this:style. Leonardo Di Caprio as well as Shah Rukh Khan are the most stylish actors of their industries and ooze panache and confidence each time they come on screen. Shah Rukh Khan's portrayal of Don was stylish and menacing at the same time.I would rank Don as one of the most stylish Bollywood villains of all time.And when it comes to menacing performances, we have to look no further than Calvin Candie from Django Unchained. Leonardo DiCaprio was menacing and made you loathe him from the first scene and gave a very underrated performance. Also both of these are global ambassadors and to make a movie sell worldwide, they are the ideal option.
8. Tom Cruise as Mr A from Dhoom 2 (2006)
WOW! The most stylish actors of Hollywood and Bollywood respectively, Tom Cruise and Hrithik Roshan have millions and millions of fans. Hrithik's Mr A, was one badass robber who used the most ingenious techniques to steal antique items. His suave, charming performance made us root for him although he was the villain. Personally, Dhoom 2 is the most entertaining heist movie I have seen in Bollywood and Hrithik Roshan contributes to that. Tom Cruise on the other hand, is a massive entertainer on screen.His persona and charm make him one of the biggest stars. He is fit for this role as he proved he is adept at action roles with the Mission:Impossible series which made him the global superstar he is. His ability to mix humour along with the action scenes make him an ideal choice for this character.
7. Al Pacino as Vijay Verma from Deewaar (1975)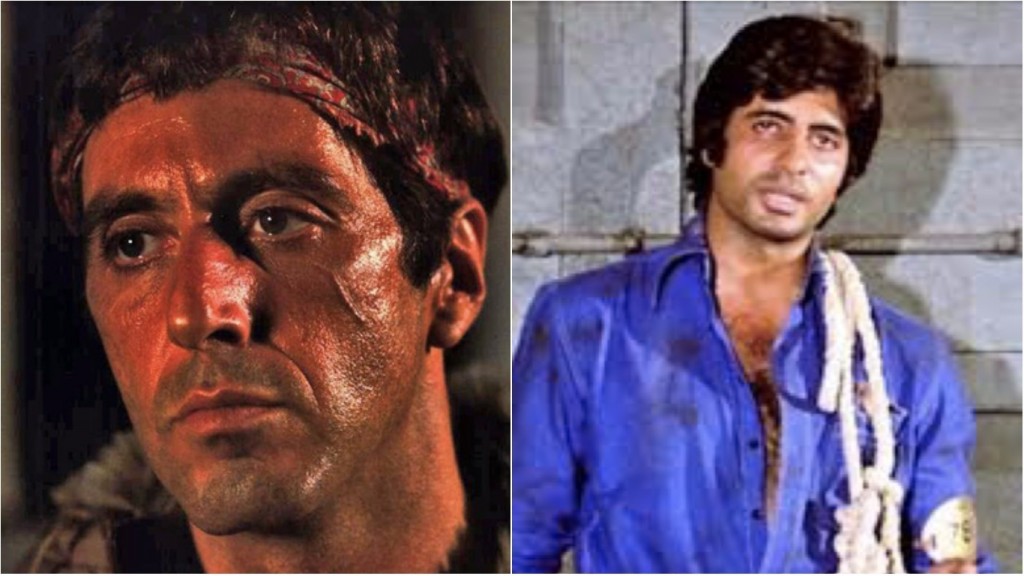 Two stalwarts of their respective industry, Al Pacino and Amitabh Bachchan did similar kind of roles during their younger years. Both were the 'Angry Young Men' of their industry. This iconic role of Amitabh Bachchan remains etched in our memories for being one of the movies that established Amitabh at the top of the industry. Vijay Verma, the rowdy, brash criminal who is being pursued by his brother who is a cop, is the character that made us call Amitabh as the Angry Young Man. Al Pacino has played characters which have made us root for him though they have shades of grey, like Tony Montana, Michael Corleone. His performance in Scarface, particularly, as the brash abusive Tony Montana make him an ideal choice to play this kind of role.
6. Brad Pitt as Kabir Khan from Chak De India (2007)
The primary reason why this comparison is apt is because of Brad Pitt's performance in Moneyball. He was genuinely brilliant in his portrayal of Billy Beane and underplayed his role to a great extent. The thing with superstars is at times they tend to make their performances extravagant and compromise on the quality of the movie. However in the case of both these performances, both these stars gave very subtle, human performances. No flashy clothes, no cheesy dialogues, no overacting. Which is why I think Brad Pitt is capable of playing Kabir Khan in Chak De India.
5. Samuel L. Jackson as Mogambo from Mr India (1989)
Mogambo is one of the most badass villains Bollywood has seen.And talking about badass villains, anyone remember Elijah Price from Unbreakable and Valentine from Kingsman? YES, none other than Samuel L. Jackson!Yes he does the same types of roles and hasn't really done justice to his potential in his last few movies, but he remains one of the most legendary movie villains of Hollywood.He is creepy, eerie and frightening. He is capable of doing justice to Mogambo which the late veteran Amrish Puri made so iconic. I am sure that 'Mogambo Khush Hua' would sound amazing if Samuel L. Jackson had to say it!
4. Robin Williams as Anand from Anand (1971)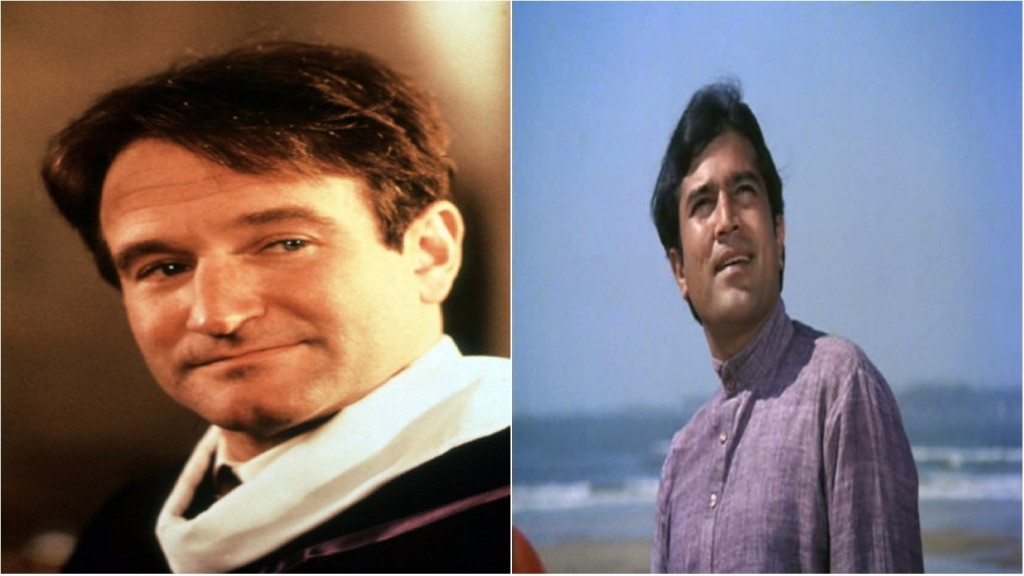 Oh how I wish we could get these 2 actors back! 2 veterans of their respective industry, both specialised in making feel good movies. Rajesh Khanna's portrayal of Anand, a cancer patient who lived his life to the fullest,was heartwarming and so inspirational .His positivity was so endearing.Robin Williams on the other hand has done some very inspirational movies like Dead Poet's Society, Good Will Hunting where he has portrayed positive characters and has encouraged people around him to make the most of life and live it to the fullest. Imagining him as Anand is something so plausible as you can imagine him playing such a character with conviction because of the charming personality that he has.
3. Jennifer Aniston as Geet from Jab We Met (2007)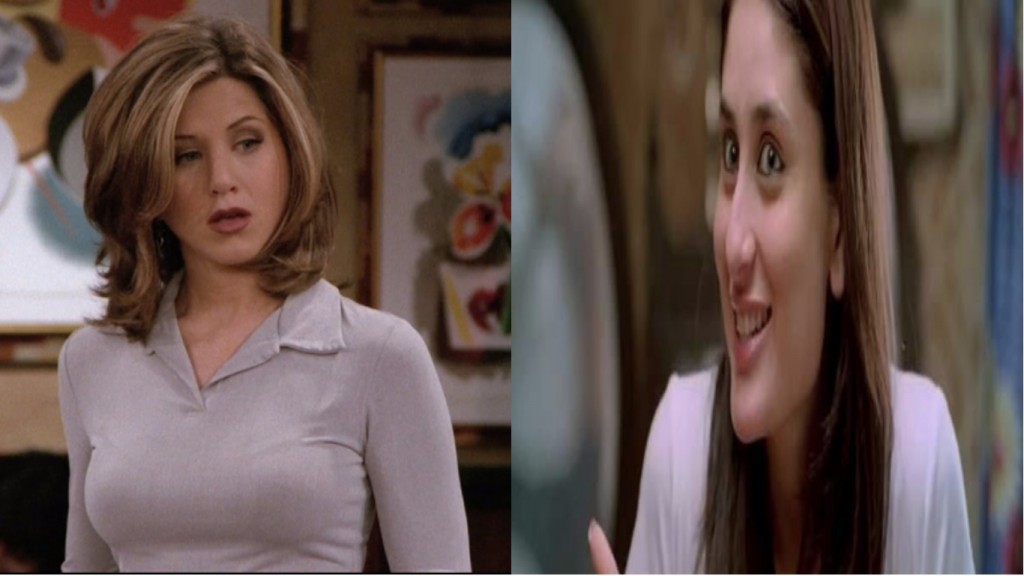 This selection may surprise a few readers. But I think if anyone from Hollywood had to play Geet from Jab We Met, it has to be Jennifer Aniston.Geet is easily the most badass female characters of Bollywood. She doesn't mince any words and always speaks her heart out. So does Rachel from F.R.I.E.N.D.S. Jennifer Aniston has it in her to play this bubbly girl, full of life and I'm so sure she would do justice to this role.
2. Dwayne Johnson as Baahubali (2015)
Well, Baahubali is one of the most wellmade movies of recent times and Prabhas earned recognition throughout the country for his portrayal as Baahubali. It is difficult to imagine a Hollywood actor as Baahubali, but if I had to choose one, I would certainly go with Dwayne 'The Rock' Johnson.His bulky physique, his intensity and his ability to play strong yet good-hearted characters like he has done in movies like Walking Tall,The Scorpion King,San Andreas and so many more like this.
1. Jack Nicholson as Gabbar Singh from Sholay (1975)
First up is the most famous Bollywood character from one of the most iconic movies ever made:Gabbar Singh. The heinous villain who breathed fire and sent a chill down our spines with every dialogue and every act of violence he committed, Gabbar Singh (played by Amjad Khan in his debut film) evoked immense amount of hatred and loathing for his character right from start to finish. For this role, Jack Nicholson is perfect because of his ability to play menacing and creepy characters. His role in movies like The Shining, The Departed as well as his turn as Joker in Batman show that he is tailor made for such an evil role. Imagine him pulling off lines like Yeh haath mujhe de de Thakur!