The high-school years of one's life are supposed to be absolute game changers and it's that time of your life when you get to introspect and step out of your comfort zones. Dreams become quite subjective at times because you're moving so fast that even if one thing does not work out too well for you, you just jump on to another. But then, it's not the same for all. There are people who question the common norm and ask themselves, "What's the point of all of this?" And well, people like these never really stretch themselves out of their comfort zones and discover new avenues of what they can achieve. The premise of 'Hyouka' loosely revolves the whole idea mentioned above and it's one of those few anime series that focuses purely on the high school life instead of mixing in other unnecessary elements.
Now the whole concept of a mystery in a high-school set up is quite a common theme in not just anime but pretty much everywhere. But the aspect that really differentiates 'Hyouka' from all the other anime is how it heavily uses the interactions between the characters to drive the story ahead. Most things the characters say have value and contribute towards the end plot in one way or the other, apart from a few repetitive nonsensical wordplays. The biggest flaw of the anime is that some of the mysteries are too bland and boring which could've been fixed by involving actual murders or something of that sort. But then again, it focuses more on a high-school setup and real-life high-school mysteries, if they exist, are not all that complex.
Anime shows like 'Hyouka' are not all that special but the fact that they're not special makes them special because every once in a while, you need something you can relax to. On a lazy Saturday evening, if you're looking for something lighthearted that will make you feel good and think just a little bit, then 'Hyouka' is just the perfect series for you. All you need is a little interest in mystery and the whole coming of age theme. So I wouldn't just call it a time killer because along with that, it sure as hell kills your boredom too.
Hyouka Season 2 Release Date: When Will it Premiere?
'Hyouka' season 1 was released on April 23, 2012 and came to an end on September 17, 2012 with a total of 22 episodes. 'Hyouka' has actually been adapted from a light novel written by Honobu Yonezawa and almost 6 volumes of the novel were covered in the anime. Both the novel and the anime gained a lot of popularity and appreciation in Japan. It even turned out to be the author's most popular novel but the only problem is that Honobu is known for working at a very slow pace. Though he mentioned recently that he will be writing a 7th volume of the novel series, we cannot really expect anything till 2020. Considering the popularity of it, there is a high chance that we might get a season 2. Our best guess is that 'Hyouka' season 2 release date could fall sometime in 2021. We will update this section as soon as we hear more.
Hyouka English Dub:
The English Dub of 'Hyouka' season 1 is available on Funimation, Crunchyroll, and Amazon Prime.
Hyouka Plot:
Houtarou Oreki is the kind of person who doesn't really care about what's going on around him. While other teenagers are busy being part of clubs and socializing, he prefers to be alone all the time. He shows no signs of happiness, sadness or any other emotions. He often claims that he's trying to "conserve energy"; so he does not even bother to talk. He believes in doing nothing but also has exceptional deduction skills.
Hyouka's sister realizes his talent and forces him to join the Classic's Club where he is instantly dragged into a 45-year-old mystery that revolves around the club room. There are three other members of the group — a highly knowledgeable girl named Satoshi Fukube, a very serious yet humble Mayaka Ibara and the "always eager" Eru Chitanda. Along with them, Houtarou must unfold the mysteries that lie in front of him in the form of an old dusty room. He has to use his skills to their absolute limits along with the unique talents of the other members of the group to not only solve the bigger mystery of the story, but also many other side mysteries that come along the way.
Initially, Houtarou showed a lot of resistance towards being a part of anything but with time, he becomes more vibrant and even starts taking the initiative of solving mysteries all on his own. Even his relationship with other characters grows stronger and he later does not mind "wasting his energy" on them. Everyone starts noticing the change in him and in the end, after all the mysteries have been solved, one crucial message that comes out of all of it is that "change is the only constant".
Hyouka Characters:
Houtarou Oreki
Houtarou is an apathetic high-school teenager who shows no interest in his surroundings and is always seen walking around with a blank expression on his face. One of his commonly known quotes is "If I don't have to do it, I won't; If I have to do it, make it quick". This clearly suggests his attitude towards life and high-school in general. However, despite being so naive and reluctant about everything and everyone around him, Oreki is actually very smart and has some really impressive deduction skills. This is something that is seen when he joins the Classic's Club and he alone proves to be a greater asset to the group than all of them combined.
Later, Houtarou slowly starts changing and the first sign of him changing is seen when he actually starts working harder after receiving praise. It shows that he actually cares about the feedback he gets from his friends. Slowly, he becomes a completely different person with a more vibrant and outgoing personality. He actually starts to enjoy his time with his friends and solving mysteries. A lot of the times, without even being told, he takes the initiative himself to go out of his way and unravel a certain mystery. All the group members start noticing these changes in him and they can't help but admire how far he's come from the time when he had first joined them.
Eru Chitanda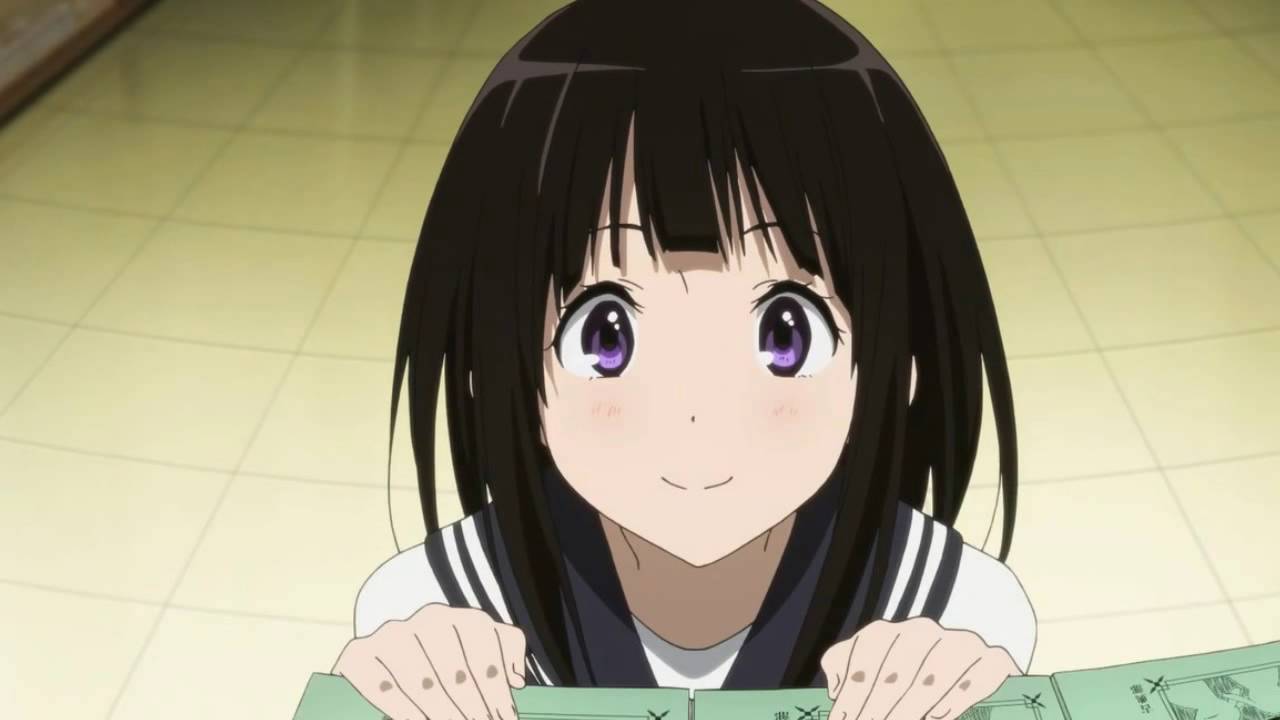 Eru is a very calm and cheerful 16-year-old girl who is known for her beautiful face and unique purple eyes. She is always seen with a smile on her face and because of that, she is able to attract a lot of people towards her. Pretty much everyone who knows her likes her for who she is. She is usually seen only in her school uniform and long black hair that she never ties up. Eru is the only daughter of one of the richest families in the region, as claimed by Satoshi. She is the president of the Classic's Club and initially when she is asked why she wants to join the group, she claims that she has some "personal reason". Eru is not all that smart but has a thing for mysteries and is constantly curious about everything around her.
Satoshi Fukube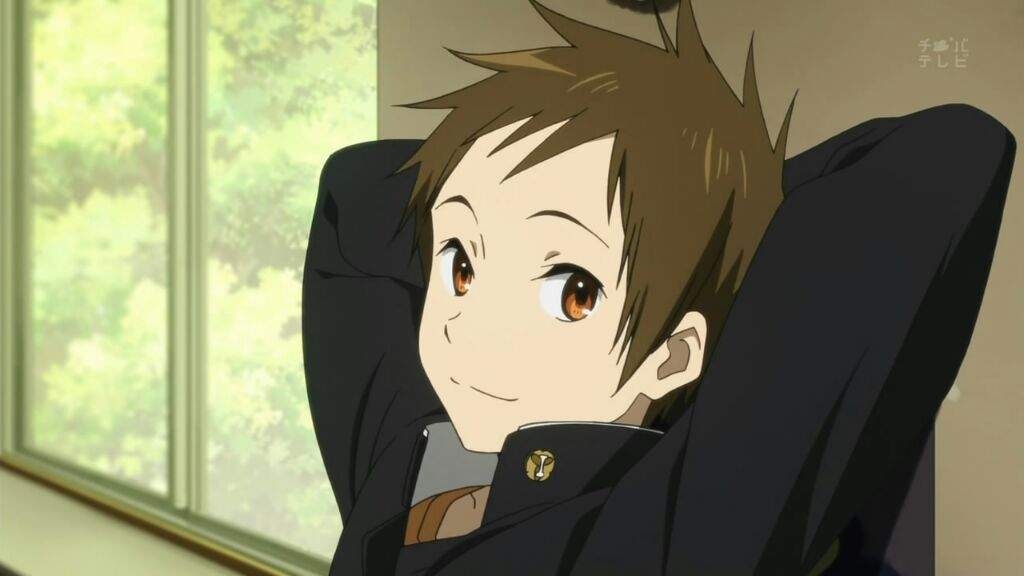 Satoshi is the database of the club because of his impeccable memory and knowledge about a lot of things that matter. He is one cheerful person who tends to balance out all the sullenness of the main character, Houtarou. Apart from being a member of the Classic's Club, he has been an active member of the Student's Council and also the Handicrafts club of their high school. He is the kind of person who is obsessed with not becoming obsessed with anything and he even ends up doing some stupid things because of this trait.
Mayaka Ibara
Mayaka treats herself and everyone around her with a lot of strictness. She enjoys reading manga and is also a key member of the Library and Manga society. One big reason why she joins the literature club is because of her interest in Fukube. Everything about her is very direct and she never usually keeps things to herself. She is also often found making nicknames for all of her friends.
Read More in Anime Preview: Haganai Season 3 | Shimoneta Season 2