Darren Aronofsky, born in Brooklyn, New York City, aged 46, attended Harvard University, where he studied film and social anthropology. He then went on to study directing in the prestigious American Film Institute. He has been often criticized for making disturbing films and for being obsessed with obsession. But it is this particular aspect of his films that differentiate him from the other directors of this age. Aronofsky's method, whether you call it realistic or disgusting, has won him a cult following from around the globe.
On carefully analyzing his films, one would notice some particularly brilliant techniques of film-making. Be it his hip-hop montages or his tendency to get into the subject's head, his works drip with breath-taking techniques.
Our training in the first-year film class started out with documentary films.They gave you a couple of rolls of Tri-X and said, 'Go make a film about one person.' When I did Pi I went back to those roots—I brought fiction into it, but the idea was one actor, one character, and that character's world.
Starting from then, his films have been known to revolve around a single character, be it a wrestler or a ballerina.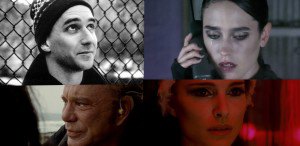 Another technique that Aronofsky has made his own is the Hip-hop montage.
Hip-hop montages. When I was at college, I was experimenting with that idea and I think it came out of the fact I grew up in Brooklyn in the '80s, when hip-hop was exploding, and I was trying to fuse the idea of sampling to storytelling.
Hip-hop montages are extreme close-ups of a particular subject which are then placed quickly on the timeline. They are basically quickly edited visual collages. Aronofsky's hip-hop montage created a separate language for the film and like any other musical motif, ultimately carried their own message. Hip-hop montages can be widely seen in 'Requiem for a Dream'. The drug ingestion scenes comprise of nothing other than hip hop montages. Even his short film, 'No Time' was full of this technique. Other directors before Aronofsky have also used this technique. But none so masterfully as Aronofsky did in his film.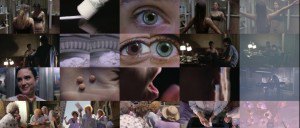 But what makes Aronofsky different from other film directors is his level of research and his ability to work with his subject. For instance, Aronofsky met and talked with wrestlers and journalists who cover the sport before shooting 'The Wrestler'. His films portray the character's struggle to transcendence. Be it Nina's (Natalie Portman) struggle to star in the Swan Lake or be it Randy 'The Ram' Robinson's ( Mickey Rourke) final attempt at stardom. Even in 'Pi', we see Max Cohen (Sean Gullette) struggling to find his particular 216-digits long number.
He makes movies that strain so hard for profundity that it's easy to write his work off as overwrought; and yet he comes at these films from such odd angles that they don't feel stodgy. Whether he's turning 'Requiem For A Dream' into one long montage or constructing universes in 'The Fountain' that are at once vast and intimate, Aronofsky is always asserting his own point of view, rather than laying back and taking everything in. In 'Noah', he makes a point of overreaching, in making a film that is messy, bold, and overflowing with more imagery and imagination than it knows what to do with.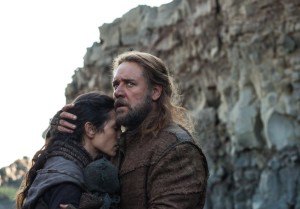 There is a lot of similarity between Aronofsky and his characters. Both are similarly driven to extremes by their obsessions and their sense of destiny. Aronofsky embodies the auteur as ultimate deity of his own cinematic world, and in 'Noah' he seems boldly, willing and able to destroy a world he and his gifted collaborators devote so much time and effort to creating.
The 'Wrestler' and 'Black Swan', is how Aronofsky upends genre expectations. Both the subjects in the two films were supposed to feature in a single film. He wanted to bring together the highest form of art (Ballet) and the lowest form of art (Wrestling). But in the end he thought it would be too much for one single movie to handle and thus decided to make 2 separate movies on the two respective subjects. Another such example on narrative irony can be seen in 'Requiem for a Dream'. Both the son and the mother are addicts. But to two different drugs.
'Black Swan' is over-the-top—and crazily so—but from moment to moment and scene to scene, it's as though Aronofsky is letting his subconscious control the tone rather than thinking too hard. Aronofsky reached toward something similar in 'Requiem For A Dream' and 'The Fountain', but he gets there more consistently in 'Black Swan'.
'Black Swan' features a classic Aronofsky hero in Nina Sayers. To get past her crippling self-consciousness, Nina has to push her body, her sexuality, and her dancing to an extreme, trusting that if she makes that leap, she'll transcend her own humanity. Her character embodies what Aronofsky is doing with the movie, heightening everything until it's more than human.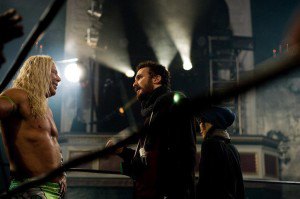 Aronofsky even has his way with the actors of his films. Natalie Portman,Ellen Burstyn and Mickey Rourke received nominations in the Academy Awards for their films. Natalie Portman even went on to win the nomination. Even Marisa Tomie was nominated in the Academy Awards for the Best Performance by an Actress in a Supporting Role in 'The Wrestler'.
Depending on what discomfort is, it's all about communication and trust. I think you just have to be completely honest about what's going on. You hear stories about directors using manipulation to get actors to do certain things, but I think when you're working with professional actors, it's all about trust. They can do anything you want, it's just a matter of them understanding what you're looking for, and the reason why.
Give Aronofsky a human subject and he will give you a film.