Childhood friends and fellow film-makers, Seth Rogen and Evan Goldberg, are iconic together, with their atrociously hilarious film collaborations that range from 'Superbad' to 'Pineapple Express' to 'Neighbours'. 'The Interview' is also one of their many side-splitting collaborations. What makes it the most different from the lot though, is its subject matter. 'The Interview' is a political satire that centres around two TV journalists, played by Seth Rogen and James Franco, as they set up an interview with the North Korean leader Kim Jon-un, played by Randall Park, who is a fan of their show, and are then hired by the CIA to assassinate him.
The movie faced a huge amount of controversy because of its subject matter, including terrorist attack threats, studio hacks, and the North Korean government denouncing it as the "most blatant act of terrorism and war". Due to this, 'The Interview' only saw limited release in theatres, and also got mixed reviews. Despite this, the movie became one of Sony's most digital successful releases, and is in fact, a boisterous comedy with a political side, and has some brilliantly funny moments.
But since the film-makers, Seth Rogen and Evan Goldberg, did not have a good experience the film because of how the matter exploded with controversies, and also because Sony met with a loss with its limited theatrical release, a sequel to 'The Interview' is most definitely not in picture. At the same time, with the growing political extremism, along with unethical media practices prevalent in our times, a sequel to 'The Interview' would be interesting to speculate on, as the film becomes more relevant now than ever. Here's everything we know about the sequel that would never happen.
The Interview 2 Plot: What Can It Be About?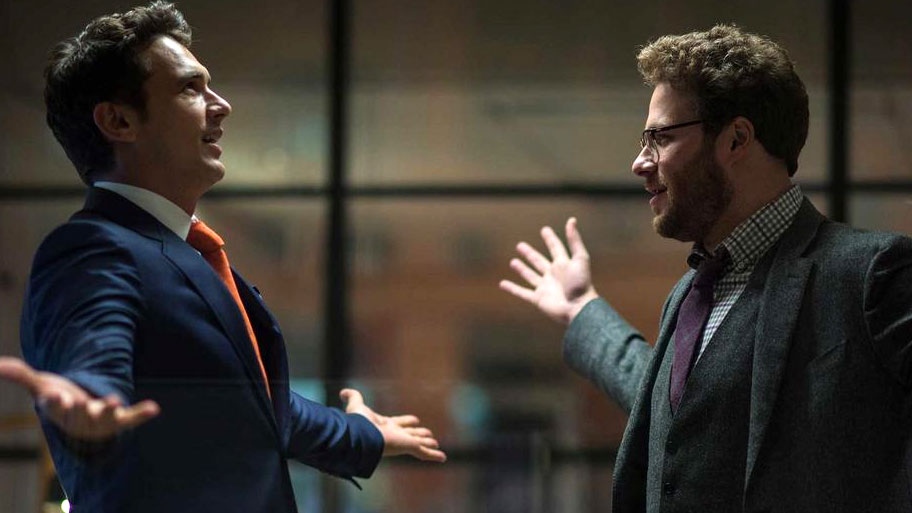 'The Interview' has James Franco playing Dave Skylark, a TV talk show host for "Skylark Tonight" where he interviews celebrities. While Seth Rogen plays the show's producer, Aaron Rapaport, who is tired of not working on real news and wish for the same. The two later discover that Kim Jon-un is a fan of the show and set up an interview with him in North Korea, thinking that it would be a career-defining for them. But the interview soon turns into a secret mission as CIA proposes them to assassinate the North Korean Leader. The rest of the movie centres around the duo's trip to North Korea, their interactions with Kim Jon-un, and how they devise a plan to "take him out"
With the way right-wing political extremism is on rise, and even dictatorship in several countries, if there was going to be a sequel to 'The Interview', it could look at any of the other such political leaders. Personally though, the concept of assassination of a political leader, doesn't sit too well with me. But I would love it if the sequel to 'The Interview' could still be a hilarious political satire. Perhaps, it would be fun to go closer home and explore what an interview with Donald Trump would be like. This could be probable keeping in mind Seth Rogen's real-life twitter wars with Trump. If not him then perhaps the two could be interviewing a Taliban leader who is a fan of the show, or a terrorist, or another political dictator.
If not about politics, I would love to see the duo to set up an interview with a notorious serial-killer or a psychopathic murderer. A serial-killer comedy is definitely something I would love to watch, like a funny, morbid, goofball version of the Ted Bundy Tapes. It could be something that serves as a horror-comedy, but also as a satire on media practices and consumer culture, and how far the two are willing to go to sell their news.
If there were to be a sequel to 'The Interview', I think the movie would take a time leap of a few years and show Dave Skylark and Aaron Rapaport as star journalists, especially after the success of Rapaport's book on North Korea, covering the most unconventional and sensational interviews, reigning over all the news channels. It would then be interesting to see what comes next, and at what lengths are the two willing to go for their story, or their other undercover missions as TV journalists. Something like a 'Jump Street' franchise for TV journalists and talk-show hosts.
The Interview 2 Cast: Who Would Be In It?
If at all there is a sequel to the interview, it would be the continuation of the adventures of Skylark and Rapaport, so it would need to have James Franco and Seth Rogen, the original leads reprising their roles. It is also more likely to have them in the sequel as James Franco and Seth Rogen, both have also worked together on Rogen – Goldberg collaborations like 'This is the End', and 'Pineapple Express', as well as on "The Disaster Artist".
Along with these two, additional cast members will join the team depending on the characters and plot of the sequel. We could perhaps even see Rogen film regulars like Zac Efron (who incidently played Ted Bundy recently), and Jonah Hill of '21 Jump Street' fame.
The Interview 2 Crew: Who Would Be Behind It?
The sequel to 'The Interview' would mark yet another collaboration between film-makers, Seth Rogen and Evan Goldsberg. The film's screenplay should ideally also be written by Dan Sterling, the man behind the script of the original film. But a sequel to 'The Interview' is very less likely to be made under Sony Pictures Entertainment due to the losses it incurred. So another production company will need to pick it up for a sequel to be made.
The Interview 2 Premiere: When Can It Release?
A sequel to 'The Interview' will probably never be made. But keeping the "never say never" spirit, we could hope for a sequel in the coming years. Rogen and Goldberg last collaboration for 'Good Boys' and will be seen next working on 'An American Pickle', and an untitled NBC project. So, if at all the sequel is decided, the entire cast and crew will surely reunite. But keeping in mind their upcoming projects, we shouldn't hope for a sequel to 'The Interview' anytime before 2023.
Read More: Upcoming Seth Rogan Movies