'Inu X Boku SS' is another one of your supernatural comedy anime shows that lacks a "story" per se. But who really watches these shows for a storyline anyway. If you want shows with deep storylines then it's better to either go for the good mystery anime or the ones that come under the slice-of-life genre. Every once in a while though, you just want to sit back, relax and watch something that very well kills your time, gives you a good laugh and does not make you think too much. This is where 'Inu X Boku SS' comes in with elements of Shoujo and Shounen blended with some situational comedy and also, a whole lot of romance. Though there are many other shows that are very similar to it, when it comes to lighthearted romantic comedies, I would rank this one somewhere on the top because of how entertaining it is.
Now the story of 'Inu X Boku SS' is quite a slacker just like most other shows of this genre but outshines others with its amazing characters. Most of the supporting characters lack proper development which is understandable considering its short runtime of only 12-episodes. What makes up for this is the extensive development of the two main characters. In the beginning, they seem to fit into your typical anime archetypes of the genre, but as the show progresses, they slowly start growing as individuals and also as a couple. It's really heart-warming to see how the two actually have very contrasting personalities but still are responsible for each other's overall development. The two main characters make this anime what it is and you would want to stick to it for the whole season just two see the two of them grow into the solid characters that they become.
Considering that the anime comes from a fairly small Studio, it is quite surprising to see that the animation is actually quite impressive. The show is filled with some really smooth and calming visuals that may even give you goosebumps at times. The characters have some really detailed expressions and the chibi drawings that are thrown around here and there. just make the comedy scenes even funnier. On the shounen side of things, the few fight scenes that have been shown are not exceptionally great, but they have a decent amount of fluidity that makes them really entertaining.
Anyone who has read the manga will know that 'Inu X Boku SS' is as faithful as an adaptation can ever be to its source material. Overall, the anime is not even close to being a masterpiece but still manages to be really enjoyable. The story isn't all that great but to a certain extent, the main characters make up for all of its flaws. I believe the show could've been slightly better if it had taken up a few more chapters of the manga. This would've really fixed the slow pacing issues that come around the end of the season. With that being said, there may be possibilities of a new season. We've covered more about this in the next section.
Inu X Boku SS Season 2 Release Date: When will it premiere?
'Inu X Boku SS' season 1 premiered on January 13, 2012 and ended it run on March 30, 2012. This was then followed a special episode that was only released in Blu-ray and DVD formats on September 26, 2012. It cannot be denied that the anime did gain quite a lot of popularity soon after its release. Even the huge chunk of the manga that remained uncovered by the show was in favor of a Season 2. But it's been quite some time since the anime came out and now after all these years, it seems to be less of a possibility because we have heard nothing official about it yet.
This does not necessarily mean that there are no chances of its renewal but at this point in time, there just isn't much we can say about it unless there is some official news from the Studio's end. Though season 1 of the anime was pretty mediocre, I am sure that there are many fans out there who would be willing to watch another season of it. So hopefully the creators of the show will consider making a new season in the coming years. If that happens, we will update you with 'Inu X Boku SS' season 2 release date right here.
Inu X Boku SS English Dub:
You can watch 'Inu X Boku' on Crunchyroll with its original Japanese audio and English subtitles.
Inu X Boku SS Plot:
'Inu X Boku' revolves around a young girl named Ririchiyo Shirakiin who has spent all her life being sheltered under the luxuries of her family. She's extremely petite and has always been showered with everything she asked for, ever since she was a kid. But now all of a sudden, she hates depending on her family for everything and decides to break free from the confinements of her comfort zone. But the only problem is that she lacks the most basic social skills and also, because of being pampered all her life, she has developed a very sharp tongue that she has no control over.
With the help of an old friend, she moves out of her luxurious mansion and starts to live in the Maison de Ayakashi residence which is a very high-security apartment that seems to be slightly secluded from the rest of the town. A few days in and she starts to realize that the residence shelters many strange individuals who have weird quirky personalities. She later discovers that everyone who stays at the Maison de Ayakashi, including her, is actually a half human-half Youkai (demon).
Just when she starts believing that her life couldn't have been worse, she gets to know that to stay in her new home she will have to share her apartment with a secret service agent named Soushi Miketsukami. Though Soushi is a man of few words and is also quite good looking, his clinginess gets on Ririchiyo's nerves some times. With her supernatural neighbors and a whole new year of school ahead of her, her life outside her comfort zone is not going to be easy at all.
Inu X Boku SS Characters:
Soushi Miketsukami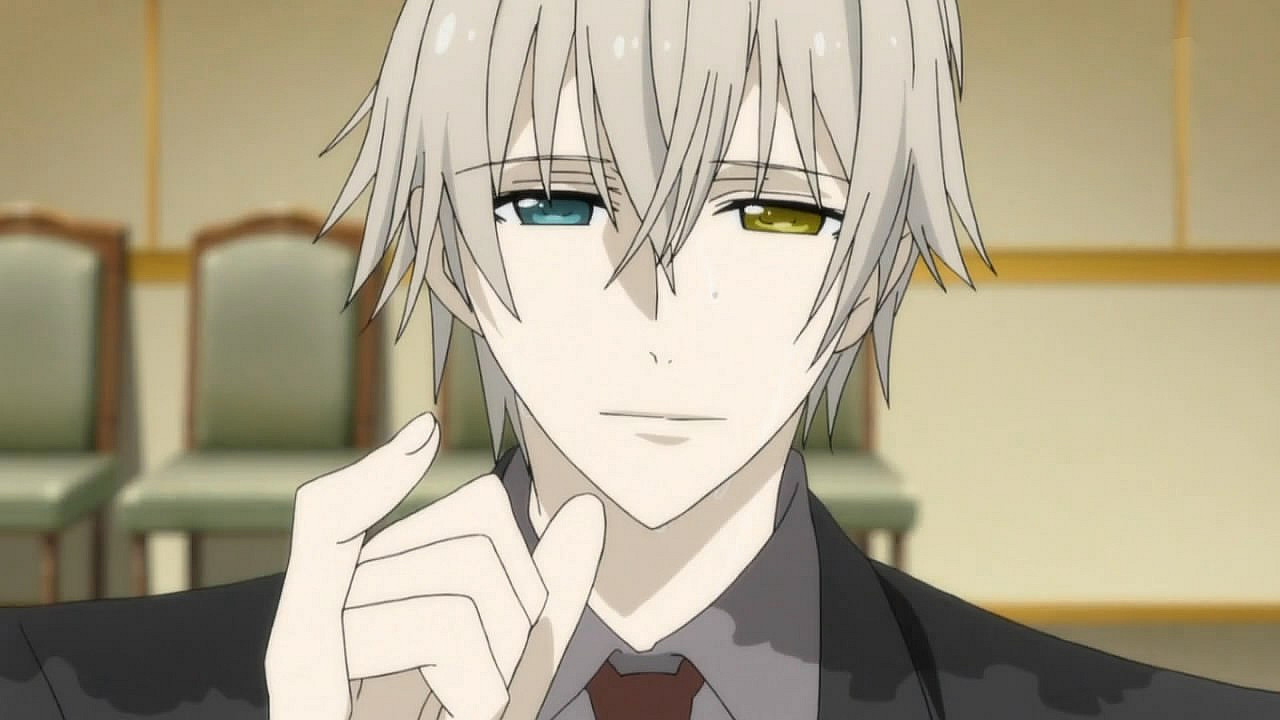 Soushi Miketsukami is the main male protagonist of the show who is the member of the secret service and is also a nine-tailed spirit fox. He is very calm and polite to everyone he talks to, with special soft for Ririchiyo because he really admires her. He is willing to do anything for her and at times, blindly obeys everything he asks him to do. He is tall and very good-looking with his silvery grey hair and heterochromatic eyes. Before he meets Ririchiyo, he seems to be the kind of person who has no feelings at all. But with her, he starts to feel his emotions again and really begins to fall in love with her. Despite being portrayed as a very innocent and gentleman, he also has a perverted side which becomes the source of many hilarious fan service jokes.
Ririchiyo Shirakiin
Ririchiyo is the main protagonist of the show who once comfortably lived with her luxurious family. But when she decides to move out and starts living in the Maison de Ayakashi, her life turns upside down. She finds it really hard to properly socialize with anyone so tries to maintain a very cold demeanor because that's the only way she knows how to deal with her social anxiety and awkwardness. For her age, she is really petite and sports long indigo hair with her violet-blue eyes. Initially, she hates the fact that she has to share her apartment with Soushi but later she actually starts to enjoy his presence and all the love that he showers her with.
Read More in Anime Preview: Ben-To | Angels of Death