Portrayed Adelaide Clemens, Sandy Stanton is an important character in 'Justified: City Primeval.' She works at a casino in Detroit, Michigan, and is trying to con at least two different men when The Oklahoma Wildman or Clement Mansell, walks back into her life. Sandy smokes weed and already leads a volatile life, but with Mansell's return, it suddenly becomes tumultuous. As Sandy admits, a part of her enjoys the thrill and fun Mansell represents, but she grows increasingly terrified of him as bodies start to mount up in his wake. If the events of 'Justified: City Primeval' episode 7 have made you wonder whether Clemens has left the show, we got you covered. SPOILERS AHEAD.
What Happened to Sandy Stanton?
While Sandy desperately seeks danger and adventure in her life, she gradually realizes in the course of the series that being in proximity of Mansell will either get her killed or arrested. She still refuses to testify against him, knowing that he has an unsettling knack for getting out of tricky situations. In episode 7, Raylan Givens gets the gun with which Mansell killed Judge Guy and his female companion and gives it to Downey. However, when Downey uses the gun to implicate an innocent man in the murder, Givens realizes that Downey's name appears in Judge Guy's book of corrupt government officials. She is the reason why the authorities have failed to catch Mansell until now.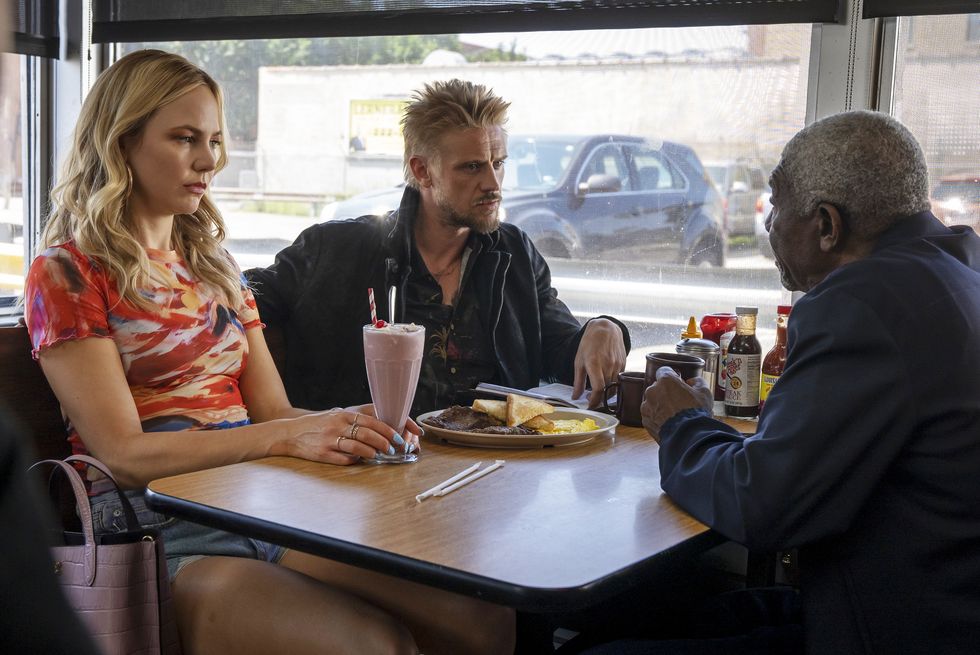 Before Downey destroys the evidence, Raylans gets the gun back with the help of Bryl and decides to visit Sandy to convince her to testify. However, Sandy vehemently refuses, telling Raylan that she will only testify when it is confirmed that Mansell is dead, and even then, she will be worried about his return. Sandy later pays Skender a visit, who makes it clear to her that the Albanians will kill her. Completely disillusioned and terrified, Sandy slips away while Mansell is sleeping with his money. When Mansell wakes up and realizes what has happened, he takes Del Weems, one of the men Sandy was pretending to be interested in, captive and calls her, demanding her return. Sandy promises she will meet him at a restaurant near the airport and promptly calls Raylan, who has her arrange a meeting with Mansell before letting her go.
Is Adelaide Clemens Leaving Justified: City Primeval?
As episode 7 is the penultimate episode of the series, there is a sense of finality in what happens to Sandy, Raylan lets her leave and find a decent life for herself while he goes to meet Mansell on her behalf.
Asked what drew her to the project, Clemens told Country Living, "When I read the script, it was just so exciting. It's a pulpy show. It's fun. It's like all my favorite movies growing up. I loved Alabama [Patricia Arquette] in 'True Romance' and Lula [Laura Dern] in 'Wild at Heart.'' They're the dream characters that, as a young girl, I wanted to play. So this was that opportunity, and I'd never really had that opportunity to really flesh out a character like Sandy. She's sexy. She's vain. She's fun. She's working guys, and she's a criminal. It was fun."
The actress added, "Then, I saw who was attached. Tim Olyphant and I did a play together before in New York ['Hold on to Me Darling' directed by Kenneth Lonergan]. He was incredible in that, and he's a dear friend of mine. I had an instinct—and my instinct was correct—that it was a good group of people."
Clemens told the same outlet that she hoped Sandy would find a better life after leaving Detroit. "I hope that she does that, and perhaps the terror and the fear that she's been living in this relationship with Mansell might be enough to keep her that way, she said. "I think it's challenging for people who are attracted to dangerous personalities stay out of trouble, but I hope for the best." Besides 'Justified: City Primeval,' Clemens has also appeared in 'Rectify' and 'Under the Banner of Heaven.' She is slated to star in the upcoming film 'White Widow.'
Read More: Is Marcus "Sweety" Sweeton Dead? Did Vondie Curtis-Hall leave Justified: City Primeval?