Perhaps no one has a dead-eyed stare that seems to hold the enigma of life itself, quite like James Spader. He is best known for playing a wide range of eccentric characters, whose quirks are intriguing at the very least, over the course of a long and fruitful career. Born in Boston, James Todd Spader spent a lot of time in private schools before moving to New York to pursue a career in acting. However, before making it big, he had to work an assortment of jobs in order to make ends meet.
His first major film role was in 'Endless Love' while his first starring role was in 'Tuff Turf'. However, Spader did not rise to fame until his appearance as Steff, the arrogant and rich playboy in 'Pretty in Pink'. The actor's career flourished with supporting roles in movies like 'Wall Street', but if one were to pinpoint James Spader's breakthrough role, it would have to be in Steven Soderbergh's 'Sex, Lies, and Videotape', a tender tale of how a brokenhearted man complicates the lives of his friend and the friend's wife due to his tendencies of sexual voyeurism, only to find love once again. Spader's performance as the reserved, ineffable young man won him the Best Actor Award at the Cannes Film Festival.
Following this, he went on to appear in movies like 'Bad Influence' and 'Stargate'. Spader's unique screen presence brought many more esoteric roles to his doorstep including that of a car accident fetishist in David Cronenberg's highly underrated movie, 'Crash', and a sadomasochistic boss in the 2002 movie, 'Secretary'. James Spader has not just excelled in his film roles, delivering amazing performances as Alan Shore, an ethically grey lawyer with smart retorts and his own moral code, in two television shows, 'Boston Legal' as well as 'The Practice'. Spader's performance has given him the distinction of becoming one of the few actors to win two Emmys for playing the same character in two different shows. He has dabbled in some theater as well. However, those who haven't followed Spader's fantastic career too closely are still bound to recognize his chilling voice as the main antagonist in Marvel's 'Avengers: Age of Ultron'.
Spader has been part of the mainstream entertainment industry for a long time, cementing his place with niche character roles and you must be wondering about the projects he has lined up in the future. We are here to answer that as we bring all upcoming James Spader movies and television shows. Undoubtedly, he will amaze us in his upcoming performances just as he has done in the past.
Read More: Upcoming Viggo Mortenson Movies
1. The Blacklist (2013-)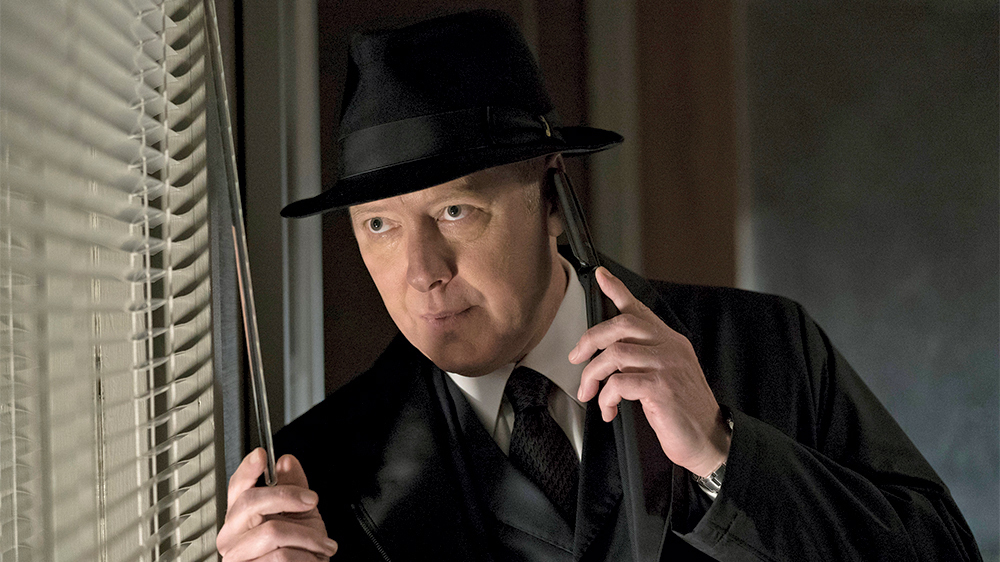 'The Blacklist' is an American crime thriller series that airs on NBC. It would appear that the central character, Raymond "Red" Reddington, has been created with James Spader specifically in mind. Reddington is a criminal mastermind who seems to play a larger game than anyone anticipates. At all moments his eyes seem to hold secrets that are not discernable to those he works with.
The plot follows the former US Navy Officer, with a promising career, who has turned to a life of crime. The starting of the show sees him voluntarily surrender to the FBI after eluding authorities for decades. He tells those in charge that he has a list of some of the world's most dangerous criminals, people he worked with, in the past. Having compiled the list over the years, Reddington is prepared to share the list with the authorities in exchange for immunity from prosecution. However, his condition is that he wants to work exclusively with Elizabeth Keen, a rookie FBI profiler.
The series starts off with a strong vibe akin to Hannibal Lecter. We have the dangerous criminal behind bars, who agrees to work with the seemingly inexperienced young law enforcement agent. Reddington turns himself in, to the top brass at the FBI, but is unwilling to work with the very people that have unsuccessfully chased him for so long. However, he reveals that he shares a mutual goal with the FBI. Reddington's plan is to help the bureau track down some of the criminals, terrorists, and lowlifes he has associated with, over the course of his career. Some of these people are so insidious and devious that the US authorities have no idea about who they are, in the first place. Naturally, the authorities are suspicious of Reddington's intentions at first, especially when he wants to work with a rookie. However, the master criminal insists that there is something special about her.
As the episodes progress, we see the relationship between Reddington and Keen becoming clearer. Soon enough, the show takes on a formulaic structure after Reddington's first tip about a terrorist turns out to be correct, allowing the authorities to eliminate the threat. The bureau agrees to work with Reddington, getting the names off his titular 'blacklist'. Every episode deals with tracking down and apprehending different criminals. Over the seasons, there have been some spectacular revelations like Reddington being Keen's biological father, while later seasons have shown that the Reddington we are seeing is an imposter who has had the real person killed.
'The Blacklist' has woven an intricate tale of deceit and intrigue and we cannot wait to see what the show has to offer next. Coming to Spader himself, his performance alleviates the series from a mere cop procedural to a gripping tale about a criminal mastermind with unclear intentions. Undoubtedly, Spader will keep amazing us in future seasons of the show.
Read More: Upcoming Amy Adams Movies