Jason Kent Bateman or Jason Bateman is an American actor, director, and producer. Born on January 14, 1969, Bateman, now 50 years old, began his television acting career in the 1980s. He first appeared in shows like 'Little House on the Prairie', 'Silver Spoons' and 'The Hogan Family'. However, he only started gaining recognition for his portrayal of the character Michael Bluth on the sitcom 'Arrested Development' in the 2000s. The role was marked by deadpan comedy and won Bateman a Golden Globe and a Satellite Award. Over his long acting career, he has appeared in several films including 'Juno', 'Hancock', Up in the Air', 'The Switch', 'Horrible Bosses', 'The Gift', 'Zootopia', 'Office Christmas Party' and 'Game Night'.
Bateman is also a director, as we mentioned, and he debuted with a black comedy in 2013, titled 'Bad Words'. He has, since then, gone on to direct 'The Family Fang' and 'Ozark', the crime drama on Netflix. Notably, Bateman has also starred in these three directorial ventures. Having spent a major part of his career doing mostly comic roles, it was with shows like 'Ozark' that Bateman began to range out and show audiences that he was capable of diversifying his act and portraying more serious situations. At this point, the question that might be circling your mind is what is the next Jason Bateman show? Well, the good news is that we have a clear answer to that question. Here's the list of upcoming Jason Bateman TV show scheduled to release in 2019 and 2020. We can only hope that the latest Jason Bateman movie would be as good as some of his recent ones.
1. Ozark (2017-2019)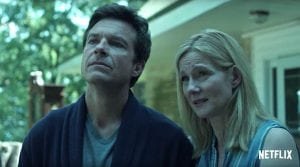 'Ozark' is an American crime drama that stars Jason Bateman as Marty Byrde, the protagonist, and Laura Linney as his wife Wendy Byrde. The show was made by Mark Williams and Bill Dubuque. Season 1 of 'Ozark' aired on Netflix in 2017, Season 2 aired in 2018 and Season 3 is scheduled to air in 2019. The news of the renewal of Season 3 was confirmed by Bateman on Twitter. Each season of the show comprises of 10 episodes usually running for about an hour.
The story of 'Ozark' is focused on Marty, who is a financial planner, and his family that comprises of his Wendy, who was a public relations consultant on political campaigns before becoming a homemaker, and their two children. Naturally, the show is set in the Ozarks in Missouri. Season 1 showed how Marty used his ingenuity as a financial planner to launder money for the second largest drug cartel in Mexico. However, when his partner skims from them, they send down a hitman to eliminate both the launderers. Marty, however, is able to save his life, convincing them that he can launder and repay the money. At the same time, he has to deal with the fact that his wife has been cheating on him. Upon being granted a second chance, Marty and his family leave Chicago to go to the Ozarks, where Marty acts as an angel investor, trying to take over failing businesses to use them to launder the cartel's money. However, things are not as simple as they seem, as a couple of locals start giving Marty trouble and he also manages to cross paths with the local drug lords who pick a fight with the Mexicans. Season 1 stood out for one of the best explanations of how money laundering works. All over, the show gave a vibe very similar to that of 'Breaking Bad' as Marty appeared to be a man using his wits to survive in a life of crime, trying to provide for his family while holding his marriage together.
Season 2 continues the story of the Byrde family, as Marty becomes even more entrenched with the local criminals, that is the Langmores and Snells, who were introduced in Season 1. As Marty tries to keep to the cartel's deadline, complications arise, as the Langmores try to take advantage of Marty. He also enters a bit of trouble in managing his properties, especially once law enforcement starts sniffing around his business. Trouble comes crashing down from the cartel as Del's disappearance gains their attention. For those unaware, Del was the cartel associate who dealt with Byrde and who was killed by the Snells in Season 1. To get to the bottom of things, the cartel sends their power-hungry lawyer, Helen Pierce, to try and shake things up. As the fellow tenant of the Byrde household offers to help, we see him turn to his old mob contacts as the Italian mafia enters the scene. Season 2 saw the Byrde family trying to get a casino built as a solution to their money laundering problems, and realizing they would have to go all in before they got out of this business. The season finale saw this plan come to fruition.
It remains to be seen where Season 3 takes the story, and we cannot wait to see Jason Bateman return as Marty Byrde since he appears to be a character who will rely on his intelligence and resourcefulness and go to any extents to save himself and his family. A release date for 'Ozark' Season 3 has not yet been declared by Netflix.
Read More: Upcoming Netflix Series