At the age of 5, Jessica Alba realized that she wants to be an actress. Born in California to a very young couple, Alba won an acting competition when she was 11 and it became a stepping stone to the world of entertainment for the little actor. The winner got a scholarship for acting classes from where Alba started her long journey. She got her first role in the 1994 movie 'Camp Nowhere.' Alba was just 13 when she landed the recurring role as Jessica in the Nickelodeon comedy series 'The Secret World of Alex Mack' in the same year. The tween comedy went on to become a hit and Alba received high praise for her portrayal of Jessica.
Alba got her biggest breakthrough in 2000 when she was cast in the sci-fi series 'Dark Angel', created by director James Cameron. Her portrayal of Max Guevera, a genetically modified female bike messenger, cemented her reputation as an upcoming versatile actor. Set in a post-apocalyptic Seattle in the year 2019, the plot follows Max's search for her friends who broke out of a genetics research facility that uses kids as lab animals. With the security guards on her tail, Max combs the area for other kids who are hiding. The series ran successfully for two seasons from 2000 to 2002 and earned Alba immense critical acclaim and several accolades, including a Golden Globe nomination, the Teen Choice Award for Choice Actress, and Saturn Award for Best Actress. Max's decision to replace firearms with martial arts to defend herself was hailed as a new feminist perspective.
Max's widespread popularity opened the doors to Alba's first big-screen breakthrough. In the 2003 movie 'Honey,' Alba played an aspiring dancer-choreographer. The film went on to become a surprise hit and Alba's performance was hailed for its originality and spontaneity. In the 2005 movie Sin City, she played an exotic dancer Nancy Callahan. Her performance in the film bagged her an MTV Movie Award for Sexiest Performance, after which she would frequently appear on several sexiest women lists.
In the same year, Alba joined the Marvel Cinematic Universe as the Invisible Woman in 'Fantastic Four.' She reprised the character in the 2007 sequel, 'Fantastic Four: Rise of the Silver Surfer.' Susan Storm, aka Invisible Woman, helped Alba to amass a significant fan base across the MCU fandom. "Honestly, I was worried," she said during the 2004 San Diego Comic Convention. "But at the end of the day, when this opportunity came I couldn't say no. I just feel I wouldn't be able to sleep at night if I turned this movie down. It's such a great story and hopefully, everyone will be pleased."
The success of 'Good Luck Chuck' (2007), in which Alba portrayed the love interest of a womanizer dentist, turned her attention towards rom-coms. After a couple of flicks like 'Meet Bill' and 'The Love Guru,' Alba switched genres again with the 2010 film 'The Killer Inside Me', in which she played a prostitute named Joyce Lakeland. From 2010 onwards, Alba handpicked movies from every genre. Her other major films include 'Spy Kids: All the Time in the World' (2011), 'A.C.O.D' (2011), animated film 'Escape from Planet Earth' (2011), 'Sin City: A Dame to Kill For' (2014), 'Machete Kills' (2013), and 'Mechanic: Resurrection' (2016). Alba played the lead role opposite Jason Statham in the action thriller 'Mechanic: Resurrection.' She went through an intense training program to learn Krav Maga, a military self-defense and fighting system of the Israeli soldiers, to prepare her body for the role.
Due to her Mexican, French and Danish heritage, Alba is described as a Hispanic actress by many, though she doesn't speak Spanish. The same heritage propels her to catch the top spot on several 'most beautiful' lists and a regular face on magazine covers. Alba co-founded the Honest Company, a body-care and household-essentials brand in 2012. So now you might be wondering what is the next Jessica Alba movie or TV show? Well, here's the list of upcoming Jessica Alba films and TV shows scheduled to release in 2019 and 2020. We can only hope that the latest Jessica Alba movies would be as good as some of her recent ones.
2. Killers Anonymous (2019)
'Killers Anonymous' is an upcoming action thriller starring Jessica Alba, Gary Oldman, Tommy Flanagan, Rhyon Nicole Brown, MyAnna Buring, and Michael Socha in major roles. The plot follows a group of assassins who find themselves at the center of a chaotic mess after the brutal murder of a prominent senator. Things get murkier when they start to suspect each other because the anonymous killer may be one among them. Jessica Alba portrays the character of Jade, whose more details are still under wraps. The film is directed by Martin Owen, who is known for 'Let's Be Evil', from a script by Owen, Elizabeth Morris and Seth Johnson. Matt Williams produces the movie on behalf of Goldfinch, along with CEO Kirsty Bell. Doug Urbanski, Jonathan Willis and Phil McKenzie serve as executive producers. "In 'Killers Anonymous' we have created something that has the potential to become a cult classic", Matt Williams told Variety. The movie hits theaters on June 28, 2019.
Read More: Upcoming Kaya Scodelario Movies
1. L.A.'s Finest (2019 -)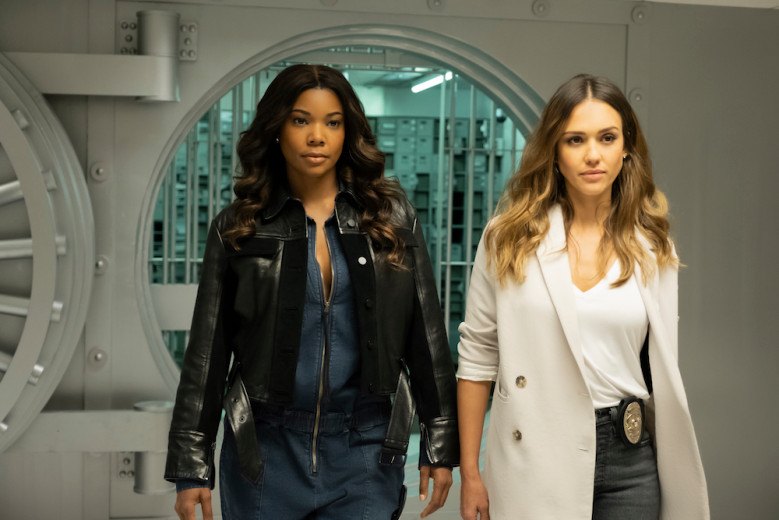 'L.A.'s Finest' is a cop drama series starring Gabrielle Union and Jessica Alba in the lead roles. The series is a spin-off of 'Bad Boys for Life', a hit series starring Will Smith and Martin Lawrence. 'L.A.'s Finest' follows Sydney "Syd" Burnett, played by Gabrielle Union, who was introduced in 'Bad Boys 2' as Mike Lowrey's sweetheart and Marcus Burnett's sister. In the spin-off series, Burnett has left behind her troubled past and started working with the LAPD. Jessica Alba plays Nancy McKenna, who is another LAPD detective. Like Burnett, Nancy also has an unpleasant past to deal with. She also has to face the challenges of her new life as a working mother. The two women have very little things in common. Yet, they team up to hunt down the most lethal criminal syndicate in Los Angeles. But Syd's messy encounters with the dangerous drug cartels and Nancy's harrowing past life may come at their doorstep anytime.
The other cast members include Ernie Hudson, Zach Gilford, Duane Martin, Ryan McPartlin, Zach McGowan, and Sophie Reynolds. Created by George Gallo, the series has both Union and Alba as executive producers. "We just know that everyone has a space to exist. Even the guys that are in the show, they get to be funny and sexy and do fun action. We never put anyone in any kind of weird box", Alba told EW. 'L.A. Finest' premieres on May 13, 2019 on Spectrum with three episodes.
Read More: Upcoming Maya Rudolph Movies