Very few performing artists of our times have defined life as simple as Jimmy Tatro. The young actor shot to fame with his YouTube channel 'LifeAccordingToJimmy,' which went on to become a viral sensation. Tatro became a YouTube celebrity with his hilarious takes on awkward social situations that he discussed in the videos. At the peak of its popularity, the channel enjoyed more than three million subscribers. Most of the hit videos were shot by the actor along with his friends at Arizona University, with his best friend Christian Pierce playing a regular role.
The humongous popularity and celebrity tag helped Tatro to emerge as a prominent stand-up comedian during the early 2000s. He got his first breakthrough in 2013 when he was cast in a small role in the Adam Sandler movie 'Grown Ups 2.' Films like '22 Jump Street,' in which he played a significant role alongside Jonah Hill and Channing Tatum, and a film adaptation of 'Blue Mountain State' followed.
In 2017, Tatro played a major role in the Netflix series 'American Vandal.' His portrayal of the character Dylan Maxwell, a student who grapples with the mystery behind a series of vandalizing car incidents after he is booked as the prime suspect, earned him massive critical praise. Tatro's other major works include 'Smallfoot,' 'Stuber' and 'Modern Family.' At this point you must be wondering what is the next Jimmy Tatro movie or TV show? Well, here's the list of upcoming Jimmy Tatro films and TV shows scheduled to release in 2019 and 2020. We can only hope that the latest Jimmy Tatro movies would be as good as some of his recent ones.
5. Modern Family (2009 – )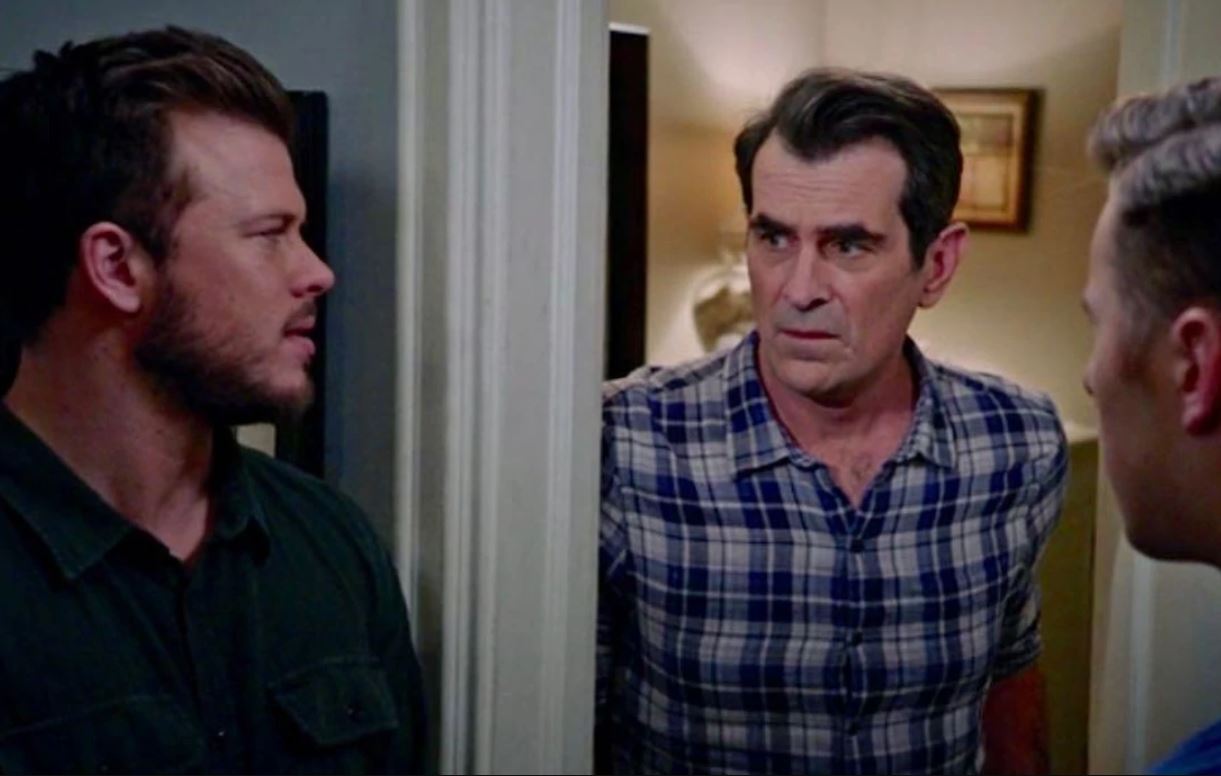 Jimmy Tatro plays the character of Bill in ABC's hit sitcom 'Modern Family' which enters into an eleventh and final season. Bill, who was introduced in the season 9 episode titled 'Royal Visit,' chances upon Alex (Ariel Winter) during a microwave fire accident. Bill takes her out of the smoky room and they strike a chord with each other. He starts dating her soon. In the last episode of season 10, which aired on May 8, 2019, Bill appeared without Alex. Though she was absent, Alex is mentioned several times by Bill, giving the impression that there will be more of the couple in the upcoming season 11. Other cast members include Ed O'Neill, Sofía Vergara, Julie Bowen, Jesse Tyler Ferguson, and Eric Stonestreet. ABC renewed the series for season 11 on February 5, 2019, which is expected to be aired on 2020.
4. Action #1 (TBA)
The long-gestating action-comedy 'Action #1' revolves around a complicated heist scheme plotted by two comic book store employees that go out of hand. The heist triggers a hot pursuit for the invaluable copy of the comic 'Action Comic No.1', which is currently with Nicolas Cage. Jimmy Tatro plays the character of Brian in the movie which also features Mike Castle, Hayley Magnus, Betsy Sodaro, Natalie Eva Marie, Timothy DeLaGhetto, and Brandon Rogers, among others. More details about the plot and cast are not known yet. 'Action 1#' is directed by Alex Fernie from a screenplay by Alex Berg and Todd Fasen.
3. Bright Futures (TBA)
'Bright Futures' is NBC's upcoming comedy pilot starring Jimmy Tatro, Emily Ratajkowski, Lilly Singh, Shameik Moore, and Calum Worthy. Lisa Kudrow will join the project as a narrator of the series. The plot follows a group of friends who navigate through the painstaking process of becoming adult professionals from naive youngsters. Tatro will play the character of Berger, who is the least adorable but the most loyal member of the gang.
Other characters in the group include Ratajkowski as Sarah. a chirpy girl-next-door personality; Singh as Sid, a med school graduate; Moore as Aaron, a struggling personal injury attorney; and Worthy as Danny, a wannabe screenwriter. Hale Rothstein wrote the screenplay and serves as executive producer along with Danny Segal, Isaac Schamis, and 'Black-ish' creator Kenya Barris. The series is produced by ABC Studios in association with Barris' Khalabo Ink Society. NBC hasn't attached a premiere date to the series yet.
Read More: Upcoming Keanu Reeves Movies
2. Bad Education (TBA)
Based on the true story of a public school embezzlement scandal, 'Bad Education' tells the story of a disgraced school superintendent. According to reports, Hugh Jackman is set to play the lead role while Annaleigh Ashford, Allison Janney, Alex Wolff, Jimmy Tatro, and Geraldine Viswanathan also join the cast. More details about the plot and cast are under tight wraps. 'Bad Education' is directed by Cory Finley from a screenplay by Mike Makowsky. Automatik and Sight Unseen produce the movie, which began principal photography in October last year.
Read More: Upcoming Bill Nighy Movies
1. Untitled Judd Apatow/Pete Davidson Project (2020)
Judd Apatow and Pete Davidson have tapped Jimmy Tatro to play a major role in their upcoming untitled film project. Apart from Tatro, the movie features a star-studded cast that includes Marisa Tomei, Steve Buscemi, Bill Burr, Maude Apatow, Pamela Adlon, Bel Powley, and Pete Davidson. The plot reportedly traces back into Peterson's coming-of-age years in Staten Island, New York City. His carefree life as a teenager turns upside down after the September 11 terror attack at the World Trade Center. He loses his father among the debris of America's pride.
The tragedy also leaves far-reaching implications on the psyche of a 16-year-old Peterson. But the young talent bounces back from the tragedy with his successful stand-up shows. He finds the stand-up performances as a way to vent out his grief. Whereabouts of Tatro's character in the movie are not yet revealed. The movie is written by Davidson with Apatow and Dave Sirus featuring as co-writers. Barry Mendel produces the untitled film alongside Apatow. The film is expected to hit theaters on June 19, 2020.
Read More: Upcoming Judd Apatow Movies