'Tiger King: Murder, Mayhem and Madness' introduces us to Joe Exotic, who appears to be a colorful man with a unique perspective, and undeniable love for cats. While Joe will definitely be remembered for raising and breeding big cats in Oklahoma, he is a man of many talents.
One of Joe's talents happens to be singing. He's a country singer who has his own albums. Since Joe is a showman by nature, it does not stretch one's imagination to picture Joe with a guitar, crooning songs. His songs have been reflective of his life choices, and in one instance, Joe has managed to elevate performative art to protest art as well.
Obviously, we are referring to the time Joe takes a dig at his rival, Carole Baskin in one of his songs. Curious to know about Joe Exotic's musical forays, and where you might hear his songs? We have got you covered in that regard.
Joe Exotic's Songs and Albums: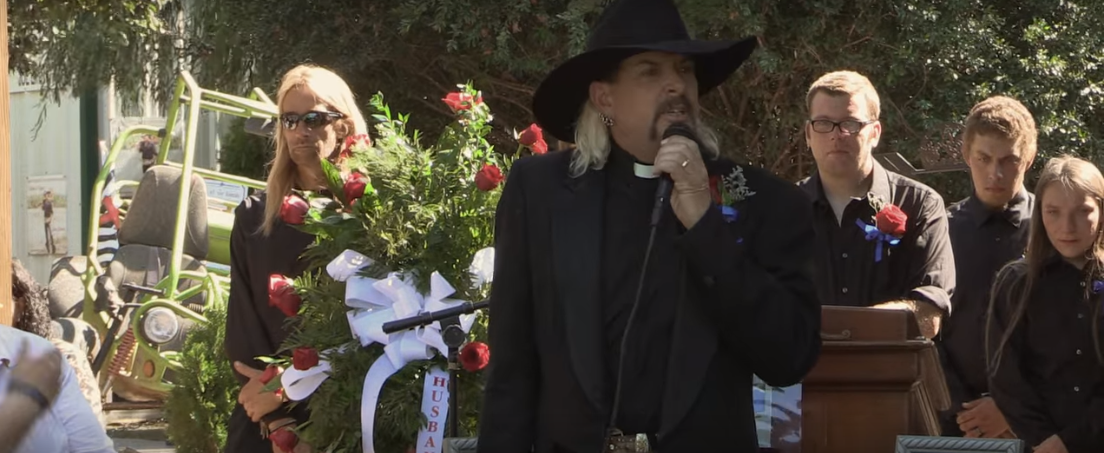 From the docuseries itself, we know that Joe Exotic had his own channel called the Joe Exotic TV. He used this to air episodes about his life, worldwide. Always an entertainer at heart, Joe also shows two discs in the docuseries. They are titled "I Saw a Tiger" and "Starstruck". This marks Joe's foray into music.
We found out that Joe has recorded at least 28 songs and 16 music videos. As per reports, Joe released another country-western album titled "Joe Exotic – The Tiger King" in November 2013, to 'help fund tigers in the wild'. He has several songs like "Cuz It's All About You", "Pretty Women Lover", "Joe Exotic's Alisa's Memories", "GW and Me", and "You Can't Believe", among others.
In the docuseries itself, we get to hear some of his popular songs, like "I Saw a Tiger", or "This Old Town". The latter is performed when everyone is mourning Travis' death. However, one of Joe's most hard-hitting songs would have to be "Here Kitty Kitty". It stands out for the very reason that it decides to take an obvious dig at Carole, who many suspected to be behind the 'disappearance' of her second husband, Don Lewis.
The theory was that Carole had killed Don and fed him to the wild cats on her premises. While there is no proof to support this, it did not stop Joe from releasing a video with a Carole lookalike walking along, while he implies that his rival murdered her husband, in the song. Perhaps, the song played its part in antagonizing Carole and prolonging their feud, which ultimately resulted in Joe's imprisonment. If you're curious, you can check out Joe's "Here Kitty Kitty" below.
Where to Listen to Joe Exotic's Music?
If you are curious about where to hear more of Joe's songs, we have the answers to that as well. The simplest way to check out a large chunk of his work would be to go to YouTube. He has his own channel JoeExoticTV, where he has uploaded several music videos. Check it out here.
With Spotify coming up and having an enviably curated playlist, it would naive to assume that they wouldn't have Joe Exotic's music. While Spotify does not seem to have all of Joe's songs, you can check out works like "This Old Town", "You Can't Believe", "Joe Exotic's Alisa's Memories", and "The Sun Says".
Understandably, you might want to purchase and own the records, if you're really fascinated by Joe's music. In that case, you can head to Amazon Prime, where "I Saw a Tiger", "You Can't Believe", and "Do You Ever Wonder What Love Can Do" are available.
Read More: Where is Joe Exotic Now?