You might know John Marvin Perkins better as John Hawkes. Born in Minnesota, Hawkes was pretty far removed from the entertainment business in his childhood until he moved to Austin, Texas. His first film role came in 1985 in 'Future-Kill'. However, it was credited to John Perkins. Hawkes changed his name soon after since there was another actor by the name of John Perkins and he wished to avoid confusion. Hawkes is best known for his roles in television, which include that of Greg Penticoff in '24', and Lennon in 'Lost'. John Hawkes has also played the role of the protagonist's brother in all the seasons of 'Eastbound & Down' but his most notable performance came as the merchant Sol Star in HBO's 'Deadwood'.
That being said, Hawkes has made his mark in movies as well, appearing in projects like 'Me and You and Everyone We Know', 'American Gangster', 'The Perfect Storm', 'Martha Marcy May Marlene', 'From Dusk Till Dawn', 'Wristcutters: A Love Story' and 'Lincoln'. Hawkes has also been nominated for an Academy Award in the category of Best Supporting Actor for his performance in 'Winter's Bone'. He appears as a backwoods meth addict called Teardrop Dolly. Hawkes also gained acclaim for his performance in 'The Sessions', where he plays the part of Mark O'Brien. He was nominated for a Golden Globe and Screen Actors Guild Award as a result.
Apart from that, John Hawkes has also appeared in Amazon's 'The Legend of Master Legend', based on the popular real-life superhero, Master Legend. He has also appeared in a 'Deadwood' movie. Recently, Hawkes was seen in 'The Peanut Butter Falcon', where he stars alongside the likes of Shia LaBeouf and Dakota Johnson. It is abundantly clear that Hawkes likes to stay busy and has delivered quite a few remarkable performances. So naturally you must be wondering what is the next John Hawkes movie or TV show? Well, here's the list of upcoming John Hawkes films and TV shows scheduled to release in 2019 and 2020. We can only hope that the latest John Hawkes movies would be as good as some of his recent ones.
1. End of Sentence (TBA)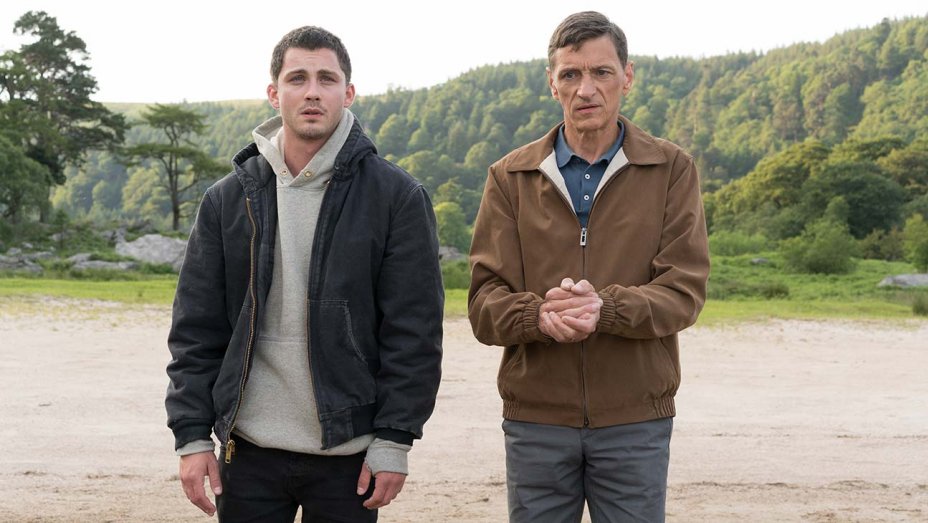 'End of Sentence' is an upcoming drama movie that marks the directorial debut of Elfar Adalsteins. The movie first premiered at the Edinburgh film festival. Shot in Ireland, the film stars Logan Lerman and John Hawkes as Sean and Frank Fogle. After Frank is widowed, he reluctantly agrees to take his estranged son with him on a trip where he intends to honor his wife's last wish of scattering her ashes in a remote lake in her native Ireland. For Sean, who is stepping out of prison, a fresh start in California is much more appealing than a trip to a foreign country with his alienated father.
However, when his travel plans fall through, he reluctantly accepts his father's offer. Nonetheless, he makes the condition that he will never have to see his father again and will get a return ticket to the West Coast. Soon, the father and son duo run into a host of adventures like an Irish wake, the resurfacing of an old flame and picking up a pretty hitchhiker. Adding to all the unresolved issues between the two, the journey becomes more than what they bargained for.
'End of Sentence' is a road to redemption movie where a road trip solves a family rift. The movie's tender approach makes the audience empathize with Frank and Sean. While the road trip is initially given a two-day timeline, the father and son duo soon have to deal with the curveballs that the journey throws at them. While Frank has to come to terms with his wife's wilder past, which he learns from her relatives, Sean hooks up with Sarah Bolger's character, who has a mysterious past and a shady present. A mad detour ensues where the director strives to keep the plot evenly paced, with necessary breaks. Bolger's character, Jewel, becomes the sideshow that draws our attention away from the issues between the father and son that might have gotten boring after a while. But we soon learn about the layered relationship that takes a dark turn before Sean and Frank warm up to each other's presence.
As the plot progresses, a backstory laced with trauma begins to emerge, even as we are made aware of how the humor in the road trip is interspersed with moments of intimate violence playing out between the father and the son. By the time the film finally comes to a close, we realize that Sean and Frank are more like each other than they care to admit and most importantly and interestingly, we realize why they have both attempted to run away from their similarities.
Read More: Upcoming Bill Skarsgard Movies