Jonny Lee Miller's parents were theater actors associated with several BBC productions. His other major connection with acting was his grandfather Bernard Lee, who played the iconic character of 'M' in the first eleven movies of the 'James Bond' franchise. Before joining the National Youth Music Theatre, where actor Jude Law was his batch mate, Jonny appeared in several plays in the school. The actor dropped out of school at the age of 16 to pursue a career in acting. His television debut was an uncredited role in the BBC series 'Doctor Who' at the age of nine in 1982. During the late '80s and early '90s, Jonny appeared in numerous television shows including 'Jemima Shore' and 'Mansfield Park.'
Miller made his feature film debut with the 1992 movie, 'Dead Romantic', after which he starred in several movies like 'Bad Company' (1993) and 'Meat' (1994). His big breakthrough came with the 1995 film 'Hackers.' Jonny's performance as the character of Dade Murphy opposite Angelina Jolie garnered critical acclaim while the movie went on to become a commercial hit. The success led the young actor to more promising roles and visibility. In 1996, director Danny Boyle roped him in to play the lead role in his 'Trainspotting'. The movie, in which Jonny plays the role of an eccentric drug peddler, catapulted both Boyle and Jonny into instant fame. Jonny's character 'Sick Boy' became an icon of a generation. Jonny portrayed the character of Jeffrey Byron in the 1997 movie 'Afterglow.' The movie was screened at various film festivals. It helped him to spread his name outside the country.
After the commercial and critical success of 'Afterglow,' Jonny became more selective and he started to prefer out-of-the-box characters. The historical comedy 'Plunkett & Macleane' (1999) marked his change and it revealed a matured character actor. He cemented the reputation with the huge success of the romantic comedy 'Mansfield Park'Edmund Bertram' in the same year. 2000 was the most prolific year in his career. Jonny was in a mood to take a couple of risky turns in his career and he appeared in films like 'The Escapist,' 'Byron,' 'Mindhunters,' and Woody Allen's 'Melinda and Melinda'. Jonny's portrayal of 'Lee' in 'Melinda and Melinda' was met with positive reviews.
In the next decade, Jonny focused more on television projects. In 2006, the supporting role in the series 'Smith' earned him praise and more offers from television. His big break in television was the 2008 series 'Eli Stone.' Jonny played the titular role in the series. The actor continued to play supporting roles for a while in series like 'Emma' and 'Dexter.' His supporting role streak ended with the 2012 crime procedural series 'Elementary.' The series featured him as 'Sherlock Holmes,' who is similar to the legendary detective created by Arthur Conan Doylean. Jonny also played the lead role in the vampire drama 'Byzantium.' In 2017, the actor reprised his role of 'Sick Boy' in Danny Boyle's sequel to 'Trainspotting.'
Miller chose a quieter path and slower pace to his eventual success. But almost all his unconventional and complex characters earned him critical acclaim. Since the late 2000s, he has played important roles in several TV shows and now seems to have established his position in American television. At this point, you might be wondering what is the next Jonny Lee Miller movie or TV show? Well, here's the list of upcoming Jonny Lee Miller films and TV shows scheduled to release in 2019 and 2020. We can only hope that the latest Jonny Lee Miller movies would be as good as some of his recent ones.
2. Elementary (2012 – )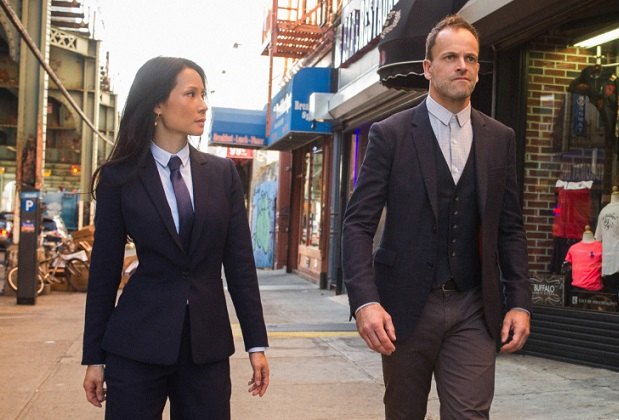 CBS's procedural drama series 'Elementary' enters its seventh and final season in May 2019. The show puts a radical spin on the premises of Sir Arthur Conan Doyle's 'Sherlock Holmes' franchise. 'Elementary' features Jonny Lee Miller as Sherlock and Lucy Liu as Joan, the gender-flipped portrayal of Watson. The plot depicts the crime and criminal procedures of NYPD in the backdrop of a dangerous underbelly of New York City. Joan debuted in the series as a sober companion of Holmes and was later promoted as his partner in investigations.
In the sixth season finale, the pair moved to Baker Street in London. But they will reportedly find their way back into New York in at some point during the seventh season. Apart from playing the lead, Miller has also directed a few episodes. The other cast members include Aidan Quinn, Jon Michael Hill, John Noble, Nelsan Ellis, and Desmond Harrington. The seventh and final season of 'Elementary' will premier on May 23, 2019.
Read More: Upcoming Josh Gad Movies
1. Nine Lives (TBA)
'Nine Lives' is a feature film adaptation of the sci-fi novel of the same name by Ursula K. Le Guin. Jonny Lee Miller will be seen alongside Oscar and Grammy-winner Common, who is known for 'The Hate U Give.' The plot unfolds in an outer-space drilling station in a faraway planet called Libra. Common and Miller play Alvaro Guillen Martin and Owen Pugh, two drilling workers who are extremely because of the loneliness. When news comes from Earth about an upcoming envoy of new astronauts, they are overwhelmed by joy. But instead of ten humans, ten clones landed on Libra. The new arrivals look exactly like them in all respects. 'Nine Live's' is touted as a dark comedy. From what we read about the premise and setting, it certainly looks like an interesting sci-fi piece and we hope it lives up to its full potential. The movie is directed by Siri Rodnes from a screenplay she co-wrote with Tom Basden. No release date is attached to the project yet.
Read More: Upcoming Christopher Abbott Movies