When actor Josh Lucas graduated from Gig Harbor High School in 1989, he decided to skip college to chase his dream of pursuing an acting career in Hollywood. As the eldest child of his parents, who were prominent anti-nuclear activists, the decision would have been unwelcoming in any typical household. But Lucas' family accepted his passion for acting. He was active as a member of the high school drama team and also appeared in several plays. Lucas moved straight to LA after finishing high school. He got his first credit in an episode of the Fox sitcom 'True Colors' in 1990.
The Fox connection helped him to land small roles in 'Lewis Can't Lose,' ABC's 'Life Goes On' and CBS' 'Jake and the Fatman.' He also managed to show his face in a couple of TV movies. Lucas made his feature-film debut in 1993 in 'Alive.' The 1993 movie 'Father Hood' then cemented his reputation as a dependable actor for character roles in independent films. Occasionally, he collaborated with bigger Hollywood productions like 'Sweet Home Alabama' in 2002.
Until the movies 'American Psycho,' 'You Can Count on Me' and 'The Deep End' came out, Lucas was familiar only among cinephiles. But his power-packed performances in the above movies put him on the radar of casting directors. At this point, the question that might be circling your mind is what is the next Josh Lucas movie and TV show? Well, the good news is that we have a clear answer to that question. Here's the list of upcoming Josh Lucas films/TV shows scheduled to release in 2019 and 2020. We can only hope that the latest Josh Lucas movies would be as good as some of his recent ones.
5. Yellowstone (2018 – Present)
Paramount Network's western drama series 'Yellowstone' is the Dutton family's struggle to protect their land from encroachers. The plot revolves around John Dutton, played by Kevin Costner, and his family. They reign over the largest adjoining ranch in the U.S. But their borders are threatened by greedy land developers, an Indian reservation and America's first National Park. The series splits open a vicious sphere of builders, politicians, government officials, and middlemen who conspire together to cash on every inch of fertile land. Taylor Sheridan wrote, created, and directed 'Yellowstone,' which features Lucas as the young John Dutton. Other cast members include Kevin Costner, Neal McDonough, Katherine Cunningham, Cole Hauser, Wes Bentley, Michaela Conlin, Tanaya Beatty, Kelly Reilly, Luke Grimes, Danny Huston, Gil Birmingham, Kelsey Chow, Dave Annable, Gretchen Mol, Jill Hennessy, and Patrick St. Esprit. 'Yellowstone Season 2' is lined up for a release on June 19, 2019.
4. Breakthrough (2019)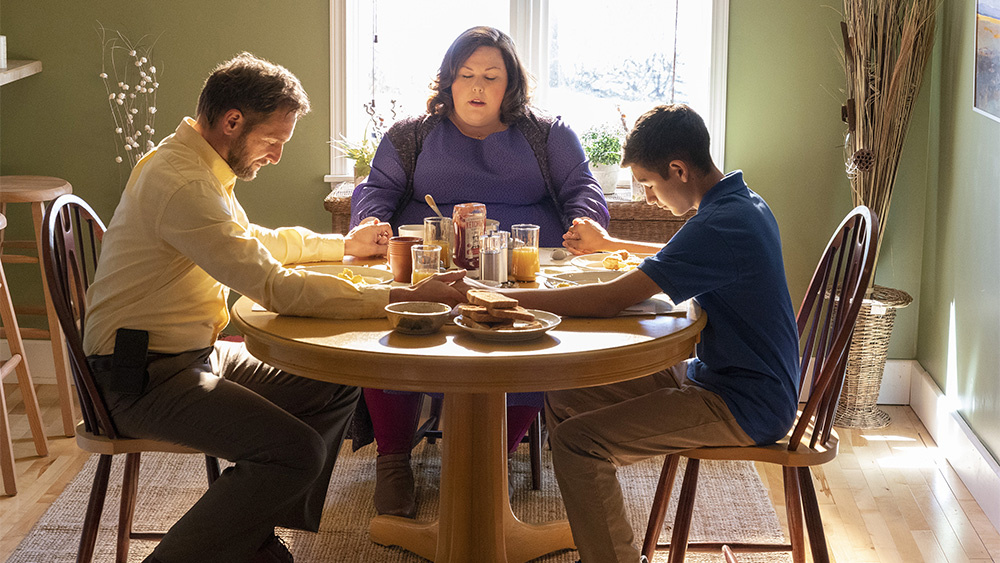 Roxann Dawson's 'Breakthrough' is based on Joyce Smith's 2017 book, 'The Impossible: The Miraculous Story of a Mother's Faith and Her Child's Resurrection,' which is co-written with the Christian author Ginger Kolbaba. The movie tells the true story of a modern miracle and how faith plays a crucial role in perceiving the realities around us. The plot follows a 14-year-old Smith who was drowned in Lake Sainte Louis and taken out as frozen as a dead body. After a CPR was performed for 27 minutes, the boy was declared dead. But when his mother Joyce Smith, played by Chrissy Metz, entered the room and started praying loudly to the god, Smith came around from death. Reports suggest that the boy was dead for nearly an hour. Josh Lucas, Topher Grace, Mike Colter, Sam Trammell, and Dennis Haysbert also star in the miracle movie.
3. Ford v. Ferrari (2019)
'Logan' director James Mangold's upcoming flick 'Ford v, Ferrari' tells the true story of the battle between Ford and Ferrari to win Le Mans in 1966. Josh Lucas plays the Ford executive Leo Beebe while Jon Bernthal plays Lee Iacocca and Tracy Letts plays Henry Ford II. Christian Bale and Matt Damon also play the lead roles in the movie. The plot follows a team of American engineers and designers, led by auto genius Carroll Shelby, played by Damon, and his driver Ken Miles, Bale. They are tasked by Henry Ford II and Iacocca to build a brand new model to beat the unbeatable Ferrari at the 1966 Le Mans World Championship in France. 'Ford v. Ferreri' hits theaters on November 15, 2019.
2. The Secret (2019)
Josh Lucas pairs up with Katie Holmes in the upcoming romance 'The Secret.' The movie is based on the popular self-help book and film of the same name by Rhonda Byrne. 'The Secret' delves deep into the lonely life of a hard-working widow living with three children. When a major storm devastated her home, she hires a worker to fix it. During the intervals between work, the worker preaches the importance of understanding the power of the universe and how we could use it to get what we want. He convinces the woman and her children to control the universe with their mind to achieve their wishes and calls the secret theory 'the law of attraction.'
Read More: Upcoming David Strathairn Movies
1. Cortex (TBA)
'Cortex' is an upcoming sci-fi thriller directed by Ralph Soll. The movie stars Josh Lucas alongside Janina Gavankar, who is known for 'True Blood' and 'Far Cry' series, and Rene Auberjonois of 'Deep Space Nine.' Even though details about the plot and other cast are still unknown, speculative reports suggest that 'Cortex' is based on long-distance space travel and is about scientists researching magnetic stimulation combined with EEG. The movie is in its post-production stage.
Read More: Upcoming Michael Keaton Movies