Sports anime like 'Megalo Box', 'Kuroko no Basket' and 'Air Gear' can be really fun to watch because all of these shows inspire you to excel at whatever sport you play in real life. While 'Keijo' pretty much does the same thing, it features a sport that is completely a work of fiction and also involves a whole lot of never-seen-before Ecchi. The whole concept of the new sport is surprisingly refreshing but when it comes down to the basic premise of the show, it is no different from most other anime of the same genre. The story is typical and revolves around the lives of underdog players who try to make their way to the top. So in the end, the only way it completely stands out is through its use of Ecchi, which can be really annoying for certain viewers.
One great thing about the anime is its characters and also their "adult" moments. The show features four main characters who receive enough development over a span of 12 episodes. Each character has unique personality traits and all of these traits reflect on their game as well. Even when it comes to the 'Ecchi' side of things, most of the scenes are a part of the sport, so it all comes in with a subtle flow and never really goes overboard.
Regarding the visuals of the show, Xebec Studios is quite experienced when it comes to Ecchi shows and displays its expertise really well with this one as well. The action scenes are very enjoyable and even the rough character outlining makes the whole animation stand out. Overall, the art side of it is insane but its only downside, like most other anime, is the CGI. Surprisingly, the English Dub of the anime is really impressive and many fans have claimed that it is as good as the original version.
'Keijo' is one sports anime that will be remembered for a very long time for its crazy concept, insane moves and also the absurd fan-service that it offers. The anime is definitely not for someone who is looking for a deep plot with a lot of meaning to it. But it's perfect if you want to watch something that has light-hearted comedy and is also inspiring at the same time. At the end of the day, 'Keijo' may be really silly at times but it is very entertaining and can be enjoyed by most anime viewers.
Keijo Season 2 Release Date: When will it premiere?
'Keijo' Season 1 premiered on October 6, 2016 and came to an end on December 22, 2016. Soon after the release of the anime, the internet was filled with rumors claiming that there will not be a season 2 of the show because of the poor sales of its Blu-ray version. Although these rumors have a speck of reality to them, most of them are just how all the other anime related rumors are.
Based on multiple metrics, 'Keijo' turned out to be quite a popular anime. In fact, it was also voted as the second best anime during the fall season of 2016, placing it right after 'Yuri on Ice'. The show also became popular enough to introduce a whole new sport known as Keijo Portugal. But the rumors sparked about the anime's sales spread like wildfire which even forced the creators of the anime to explain the whole controversy. Soon after this, even the manga came to an end and this too was blamed on the poor sales. The author of the manga then announced that the decision of ending the manga was made much before the release of the anime.
Considering all the factors here, it seems like the anime has become the victim of many internet rumors where most of them were not even true. This means that there is still a possibility that we might get a new season of the anime. But as of now, no official confirmation has been made from the studio's end, based on speculations, we can expect an official announcement about 'Keijo' Season 2 release date by 2020.
Keijo English Dub:
The English Dub of 'Keijo' is available on Funimation and Amazon Prime. You can also watch it Crunchyroll with its original Japanese audio and English subtitles.
Keijo Plot:
'Keijo' is one of the weirdest sports anime you'll ever come across. It revolves around a very outlandish sport where its female-only participants have to stand on a circular platform that floats on a pool. Their only goal is to knock off opponents using their breasts and butts. Though the sport has a really weird premise, it gains a lot of popularity and attracts athletes from all over the world who wish to be world champions. Most of these athletes are driven by the cash prize that the winner will get.
One of these athletes is a 17-year-old high school graduate named Nozomi Kaminashi who wishes to win the sports event and bring fortune to her poor family. Being a talented gymnast, right from the beginning itself, she proves that she is one of the toughest competitors in the game. She soon starts climbing the ladder as a debut athlete and starts discovering that the path towards the top is filled with friends and rivals who will all play a major role in not just making her physically stronger, but mentally as well.
Keijo Characters:
Kazane Aoba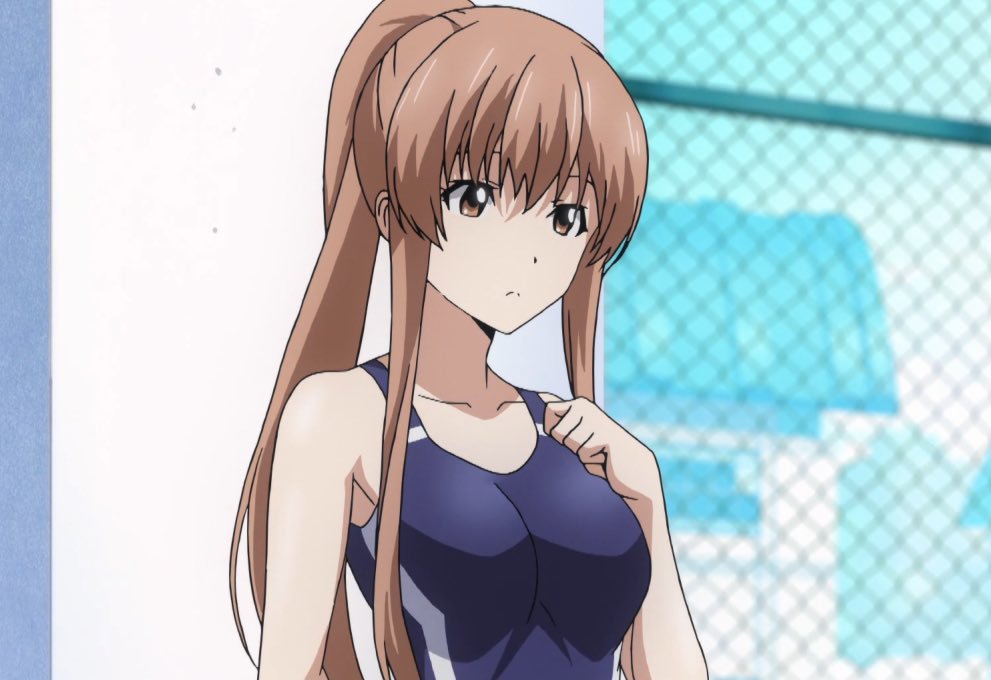 Kazane Aoba is a student at the Setouchi Keijo Training School who was residing in Room 309 before being promoted to the Elite Class. She later becomes a B-rank Keijo player and sometimes she is able to advance to the A-rank as well. She is a cute young teenage girl who has long brown hair tied up in a high ponytail. Initially, she is really quiet and avoids having any form of social contact with anyone. But later, after spending a lot of time with her roommates, she becomes confident and starts talking a little more than usual.
Nozomi Kaminashi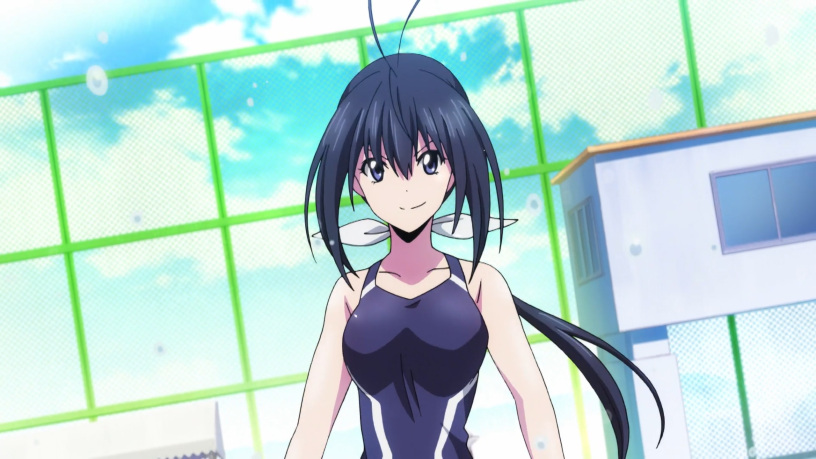 Nozomi Kaminashi is the main protagonist of the show who was previously residing in Room 309 of Setouchi Keijo Training School before being shifted to the Elite Class. Soon after graduating from school, she starts her Keijo career as a B-rank player; but after defeating Sayaka Miyata, she is able to head over to the A-rank. She has navy blue eyes and long dark blue hair that she keeps tied up with a white ribbon. Due to this, she is also often referred to as the "ribbon girl". Nozomi is a very enthusiastic girl who only lives for three things in life — Keijo, her friends and also her family. Though she is a little greedy and desperately wants to win the cash prize, she only wants it to support her poor family.
She is usually a little dim and often does silly things but when she's out there playing Keijo, she is really smart and never gives up. Her energetic personality can get a little annoying at times but she is very helpful and friendly towards everyone. She supports her friends in whatever way she can and is also willing to go out of her own way to help the ones she loves. Due to the fact that she comes from a poor family, she has the unusual tendency of bargaining with pretty much every seller. She is also quite shameless and boldly gets naked in front of others without even thinking about it.
Sayaka Miyata
Sayaka Miyata is another former student of the Setouchi Keijo Training School, who was also residing in Room 309 before getting promoted to the Elite Class. Like all other players, she initially started off as a B-rank player but is later able to advance towards becoming an A-rank player. She is a cute looking girl with short white hair and blue eyes. During Keijo games, she is extremely calm and composed and can easily come up with solutions for even the biggest of problems. She seems to be a little aloof in the beginning but later starts opening up to everyone around her. She even gets jealous when some senior players compliment Nozomi. Her bust size is something that makes her really insecure and she wants it to be bigger.
Non Toyoguchi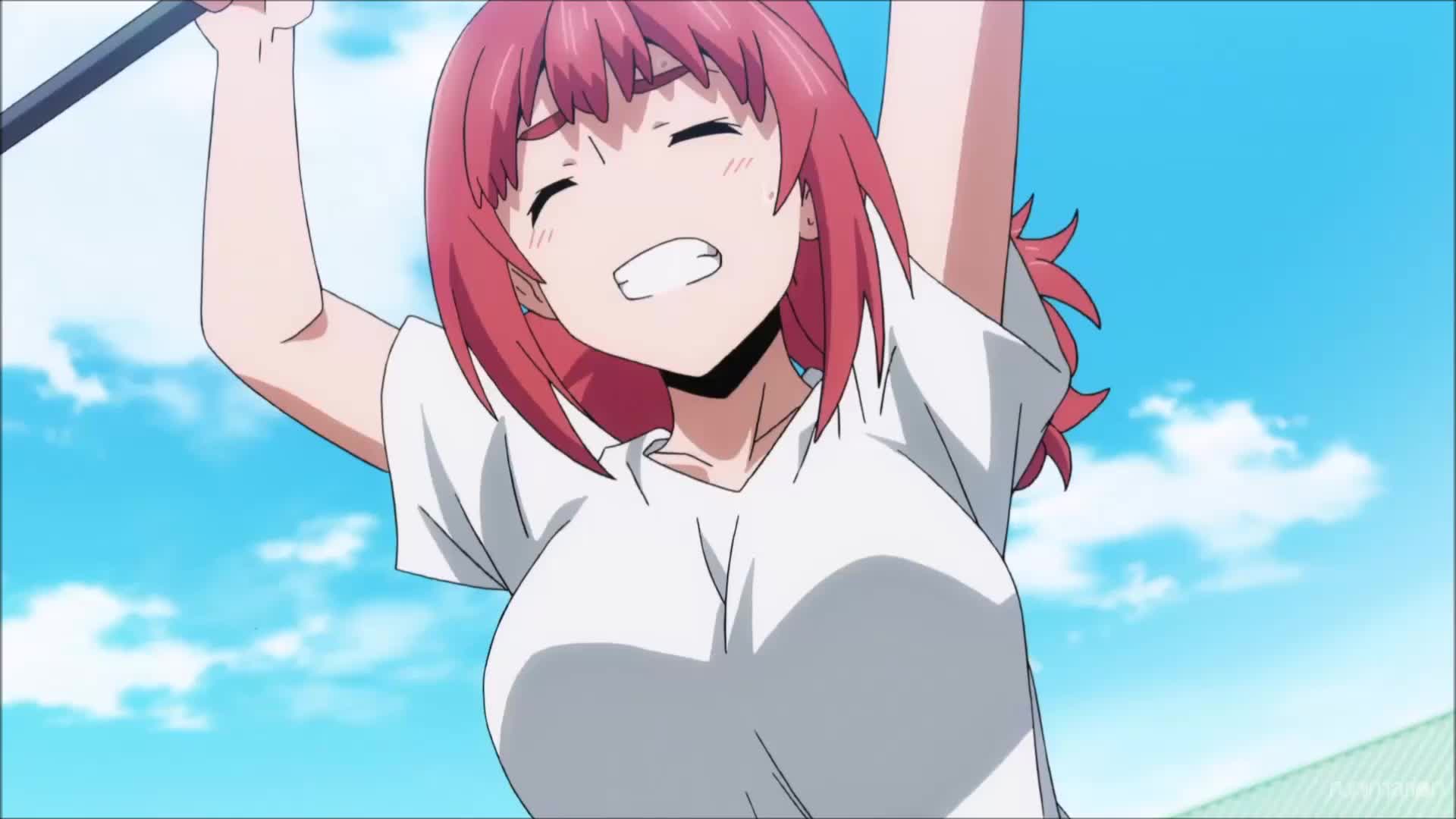 Non Toyoguchi is another female protagonist of the show who later gets promoted to the Elite class. She is known as the "Clumsy Girl" of Room 309 because she keeps goofing around all the time. She is also a B-rank player and often struggles to advance to the A-rank. She is fair-skinned with crimson colored hair and pink eyes. She is very cheerful and is always seen with a smile on her face but because of her clumsiness, she keeps tripping over random things and gets in trouble during Keijo games. Non's main motive behind winning the Keijo Championship is to make her village popular and somehow solve its problem of decreasing population. She works really hard to do so but is often criticized for her clumsiness.
Read More in Anime Preview: The Testament of New Sister Devil Season 3 | Air Gear Season 2