'Kick-Ass' walked so that 'Deadpool' could run. And well, do a bunch of other cool stuff like breaking the fourth wall. It is not that superhero comedies did not exist before. But Matthew Vaughn's 'Kick-Ass' (2010) pushed the limits of the genre, and challenged its tropes to give us one of the first realistic and hilariously dark superhero movies. The film at once embraced and subverted the conventions of the comic book superhero.
The film is an adaptation of Mark Miller's Hit-Girl & Kick-Ass comics, particularly the first part of Book 1, titled, Kick-Ass: The Dave Lizewski Years. It introduces us to Dave, the average geeky high-schooler who one day decides to become a superhero inspired by his comics. But it immediately turns out to be disastrous. His paths then cross with Hit-Girl and Big Daddy, two costumed vigilantes, and the three unite to catch the crime boss, Frank D' Amico, and his son, Red Mist.
'Kick-Ass' did not escape controversy due to its profanity and Tarantino-esque violence, especially as Hit-Girl is 11-years-old. In fact, it is undoubtedly one of the bloodiest, most violent superhero films ever made. But it is also because the vision of the film was to ground it to the "real world", and when real people fight, there is bound to be blood. The film ended up becoming a massive success, both commercially and critically, earning itself a cult-following.
'Kick-Ass' was then followed by a sequel in 2013, directed by Jeff Wadlow. Unfortunately, the film did not live upto the original. It has been around 7 years since then, and while both creator, Mark Miller, and the original director, Matthew Vaughn, are keen on more follow-ups, nothing yet has materialized. Could there be more still in store for us? Read on to find out.
Kick-Ass 3 Release Date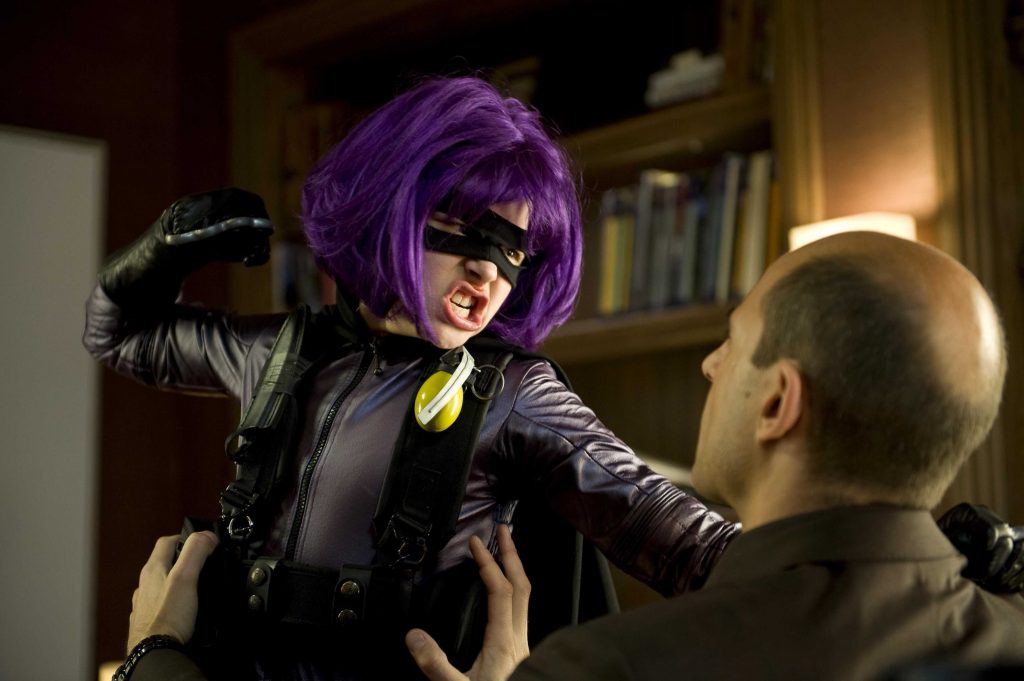 While 'Kick-Ass' earned itself a certified fresh Rotten Tomato score of 76%, and grossed $96.2 million against its $28 million budget, its sequel's rating dropped to 32%, and neither did 'Kick-Ass 2' enjoy similar box-office returns. However, the film did find itself a dedicated fan-base, which included Quentin Tarantino. In fact, Tarantino placed 'Kick-Ass 2' as one of his top ten favourite films from 2013. However, this is not enough to guarantee it another sequel.
Back in 2013 in an interview with Yahoo! Movies, Mark Miller revealed that he had plans of a third film, and that it was going to be the final part:
"I'd always planned it as three books and three movies…I've just about finished the book. I'll be finished in about a week or two's time, and that's the end."
Miller even revealed that the characters could "maybe" die in the end, stating, "this is a realistic superhero story". While elaborating on Dave Lizewski's fate, he expressed,"There has to be something dramatic at the end; he cannot do this for the rest of his life". It has been years since then, and every few years, there are talks and speculations on how 'Kick-Ass 3' is in the pipeline. While the third part certainly has a solid source material it could adapt, the project has faced other complexities.
In June 2018, in an interview with Empire, Matthew Vaughn revealed his plans of making multiple 'Kick-Ass' follow-ups. He had previously also expressed his plans of making a 'Hit-Girl' prequel. In the interview, he revealed that a solo 'Hit-Girl' film was still in the pipeline, and could either look at a younger Mindy Macready, or a much older one. Vaughn also stated that there was a 'Kick-Ass' reboot being planned, "We're going to reboot Kick-Ass and Hit-Girl."
However, later in the month, Chloë Grace Moretz, who plays Hit-Girl, revealed that she wasn't interested in reprising her role in follow-ups. She expressed her love for the franchise, but stated that she wasn't happy with the way the sequel was handled. She also clearly stated that if there was ever a 'Kick-Ass 3', it won't have her in it.
The last we heard about 'Kick-Ass' follow-ups was back in 2018. Since then, there have been no solid updates. However, there have been speculations that 'Kick-Ass 3' and/or the reboot could be released on Netflix. This is, of course, not verified. But given the interest from the creators of the franchise, a 'Kick-Ass' follow-up is definitely in the cards. If at all it happens, we could expect 'Kick-Ass 3', or the reboot/spin-off to release around 2023 or later.
Read More: Best Superhero Movies/Series on Netflix