Quentin Tarantino's 'Kill Bill Vol. 1' and its sequel 'Kill Bill Vol. 2' are both gifts to the martial film genre, and pay homage to "grindhouse" cinema, with their spectacular action sequences and their trance-like quality. 'Kill Bill' is no doubt one the best action films of all times, if not the best. With it, Tarantino introduced us to the deadliest woman in the world, the "Bride" as she seeks her revenge against the Deadly Viper Assassination Squad.
The two volumes revolve around the Bride, played by Uma Thurman, who gets shot in the head during her wedding day and is pregnant with her former lover, Bill's child, who is also the leader of the assassination squad. Bill and the squad kill everyone at the wedding, and shoot the Bride, who somehow survives. Four years later, she sets out to kill Bill, and everyone else who was responsible for what happened during that fateful day.
It has been over fifteen years since we last saw Thurman's Bride. There have, of course, been speculations surrounding a third volume to the 'Kill Bill' films that will turn it into a trilogy. We wonder what happened to the Bride and where is she now. Lucky for us, Tarantino has had similar thoughts recently. This means there could actually be a possibility that we get to visit the Bride again. But it is safe to assume that this possibility is still a few years away from now. Here's everything we know about 'Kill Bill Vol. 3', if at all it happens.
Kill Bill Vol. 3 Plot: What Can It Be About?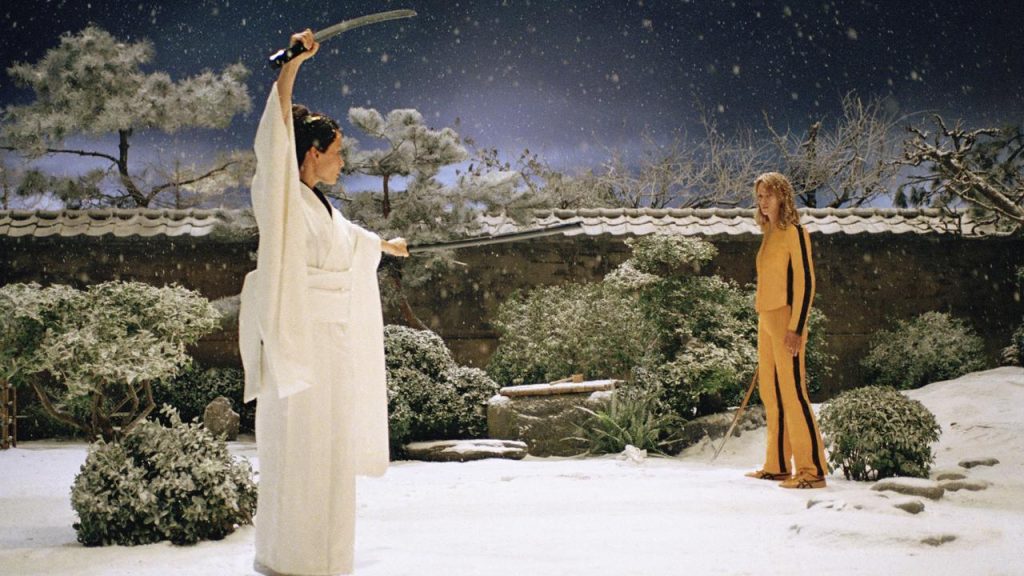 The first two volumes of 'Kill Bill' deal with the Bride or Beatrix Kiddo, waking up after a four-year long coma, following the Deadly Vipers massacring everyone her wedding. She then sets out on a mission to seek her revenge against Bill, their leader and her former lover, along with every Deadly Viper who was involved in the massacre. The second volume ultimately ends with the Bride successfully getting her revenge as she kills everyone, including O-Ren Ishii, Vernita Green and Elle Drive. Towards the end, she discovers that her daughter, B.B. is still alive and now four years old. The Bride ultimately confronts Bill and the second volume ends with her killing him, and then leaving to start a new life.
Now, for 'Kill Bill Vol. 3' the storyline will have to be a little different as Bill is already dead. In an interview with Andy Cohen, Tarantino stated that he does have something in mind for the future sequel, but didn't reveal anything just yet. "Now, I actually have an idea that could be interesting," the director said. So what could potentially happen in third volume? Where is the Bride now? What happened to B.B.?
It's our best bet to assume that 'Kill Bill Vol. 3' will centre take a time leap and centre around the Bride and her daughter, B.B. Perhaps, B.B. too grows up learning martial arts like her mother, and maybe even from her. This could be interesting and tie up to what we think could be the focus of the potential sequel. Back in 'Kill Bill Vol. 1', the Bride kills Vernita Green, a former Deadly Viper who wronged her. But she ends up doing this in front of her young daughter, Nikki. She acknowledges that someday Nikki would want to avenge the death of her mother and tells the young girl, "When you grow up, if you still feel raw about it, I'll be waiting."
The scene wonderfully sets up what we could potentially be waiting for in the third volume of 'Kill Bill', and it may ultimately be about Nikki's revenge. But I am sure there will be more, keeping in mind it could be another Tarantino masterpiece.
Kill Bill Vol. 3 Crew: Who Can Be Behind It?
There are no surprises here. If 'Kill Bill Vol. 3' ever works out, it would most certainly have Quentin Tarantino behind it. Tarantino has always been vocal about his work, future projects, and of course, about how he wants to retire after his tenth film. 'Once Upon a Time in Hollywood' marked his ninth film, considering both volumes of 'Kill Bill' as a single project since they were released back to back. This has left a lot of people wondering if 'Kill Bill Vol. 3' will be his final film, or if there are still more to come.
Recently, in an interview, Tarantino stated that 'Kill Bill Vol. 3' was "definitely in the cards", and that he has an idea of what he wants to do, "Because I wouldn't want to just come up with some cockamamie adventure, she doesn't deserve that. The Bride has fought long and hard." This is of course true. Thurman's Bride has seen enough, and fought hard for her revenge and to get her daughter back. It does seem like Tarantino knows what happens next with the Bride and B.B. And I have a feeling so will we, soon. It's only a matter of time till we meet the Bride again.
Kill Bill Vol. 3 Cast: Who Can Be In It?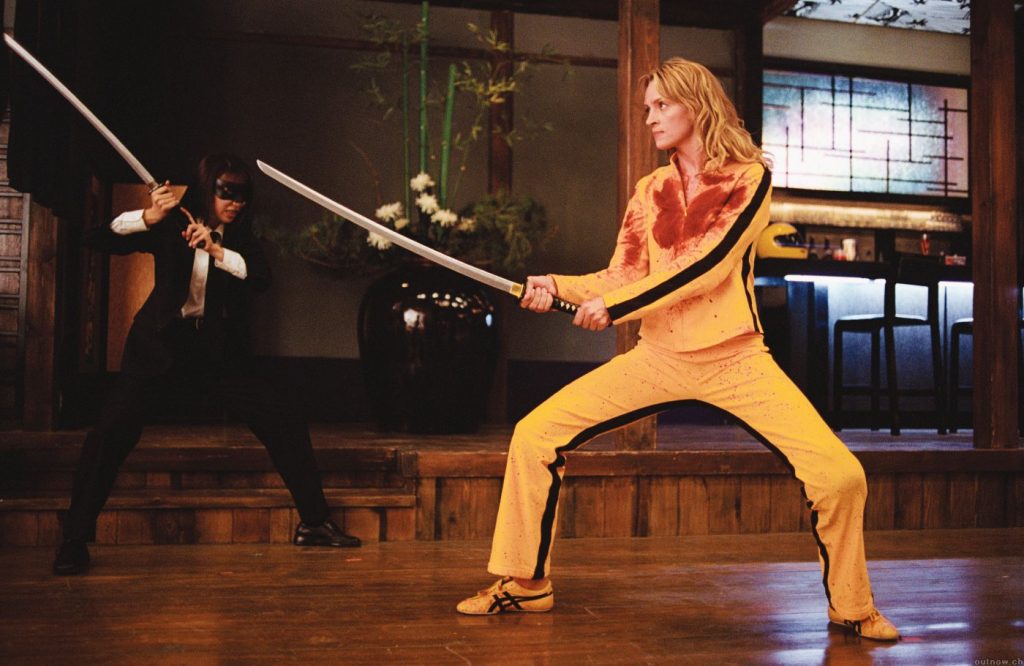 There is no denying it. 'Kill Bill Vol. 3' will definitely have us reunite with Thurman's Bride. There seems to be no second way around it. Tarantino too feels similarly as he spoke about how he wonders what happened to the Bride and what she's upto now. In an interview, Tarantino also teased the possibility of 'Kill Bill Vol. 3' and spoke of how he has been in talks with Uma Thurman about the same.
"Me and Uma have talked about it recently, frankly, to tell you the truth … I have thought about it a little further. We were talking about it literally last week. If any of my movies were going to spring from my other movies, it would be a third 'Kill Bill'".
So we can definitely expect Thurman to return as the Bride in 'Kill Bill Vol. 3', whenever it does happen, if it does. Along with that, we would definitely need additional cast members, especially to play B.B. and Nikki. Ambrosia Kelley played the original Nikki in 'Kill Bill Vol. 1'. But of course there is no guarantee she would reprise her original role. Amandla Stenberg has also been eyeing the role as she shared that playing Nikki would be her dream come true.
Kill Bill 3 Release Date: When Can It Premiere?
There have only been talks of 'Kill Bill Vol. 3' so far, and the film is not yet in development. This means, it would still take some years for us to get the third part to 'Kill Bill'. This makes sense keeping in mind that Tarantino was recently seen working on a play and a five-episode TV series. He is currently working on a novel, and is not going back to making films just yet.
Lucky for us, Tarantino himself has mentioned how long our wait would be for another 'Kill Bill' film. In the interview with Cohen, while speaking about the idea he had about the third part, he stated, "It would be like at least three years from now or something like that". Keeping this in mind, we can realistically expect 'Kill Bill 3' to release sometime around 2023 or later.
Read More: Movies Like Kill Bill