More often than not, anime shows are judged even before people start watching them. 'Kyoukai no Kanata', or 'Beyond the Boundary', is one such anime that became a victim of this trend. That's the thing about popularity: you pay the price either in a good way or a bad way, which in this case is definitely not the former. 'Kyoukai no Kanata' became quite popular soon after its release and most of the popularity revolved around its amazing animation and production value. However, it later started receiving negative reviews for its shallow storyline.
Despite the bad reviews and criticism, I decided to watch the anime and only then jump to a definite conclusion about it. I wouldn't say that it's the best anime series out there but also, I wouldn't deny that I really enjoyed it. Contrary to popular belief, I feel that the story is actually good; it depends on what you're really expecting from the show. It's linear, straight forward and very easy to follow without stressing your brain too much. So those who are looking for a complicated plot with a lot of twists and suspense will certainly be left disappointed.
Though I was not able to follow a particular direction while watching it, I did go through an array of emotions. Even when it comes to the characters, I think the show did a good job because going by the 12-episode format of the anime, it managed to develop the characters as much as it could. I agree that in the end, the development was still not enough but I guess the studio had its own budget restraints and could only fit in 12 episodes. Look at the bright side of it — if there were more episodes in the show, then the animation would have never been so great.
Overall, all I can say is that don't judge this show before you're done watching it completely because while it may have a lot of noticeable flaws, it does manage to cover up for them to a certain extent and comes off as a pretty enjoyable anime. If you base your entire judgment based on the reviews or on a few episodes that you might have seen, you may be robbing yourself from a good experience. So make sure that you give it try and in the end, even if you don't enjoy it as much as I did, it's just 12 episodes you've invested your time into — so no big deal.
Kyoukai no Kanata Season 2 Release Date: When will it premiere?
'Kyoukai no Kanata' season 1 was released on October 3, 2013 and ended on December 19, 2013. This season was then followed by an anime movie named 'Kyoukai no Kanata Movie 2: I'll Be Here – Mirai-hen' that came out on April 25, 2015. After the movie, there haven't really been any more rumors about the continuation of the show. While there may still be some chances of getting a new season, as of now, there is no confirmed news regarding it. Our most optimistic guess is that 'Kyoukai no Kanata' season 2 release date could fall sometime in 2020 or 2021. We will update this section as soon as we hear more.
Kyoukai no Kanata English Dub:
You can stream 'Kyoukai no Kanata' on Crunchyroll with its original Japanese audio and English subtitles.
Kyoukai no Kanata Plot:
'Kyoukai no Kanata' revolves around a character named Mirai Kuriyama, who is the last living member of the Spirit World Warriors Clan. She possesses the power to use her own blood as a weapon during battles. Dark creatures named Youmu that are nothing but manifestations of negative human emotions are lurking around and it is her responsibility to kill them. One fine day, while she sits on the roof of her school, she meets a boy named Akihito Kanbara, who is a rare half human-half Youmu.
The two instantly get along and spark a friendship where Mirai has an agenda of her own. She wants to kill Akihito so that she can boost her own confidence before she starts murdering the pure breeds of Youmu. Akihito later convinces her to join the Literary Club where two other leading Spirit World Warriors are also found. What starts off as a strong friendship, soon turns into a battle for survival between one of the most powerful "Youmu" and the Spirit World Warriors.
Kyoukai no Kanata Characters:
Akihito Kanbara
Akihito Kanbara is the main protagonist of the show. He is a second-year student and also a prominent member of the Literary Club of his school. He is a half-breed Youmu who can instantly recover from any form of injuries. The name of the entire series, that is 'Kyounai no Kanata', is actually the full Youmu state that Akihito enters when he is seriously injured. He is of average height and sports short brown hair. He proudly calls himself a "meganest", which just means that he has a fetish for glasses. He is friendly and cheerful all the time, because of which most people around him enjoy his company. But people who don't know him well often tend to isolate him considering certain events of his past where he survived one freak of an accident unscathed.
Mirai Kuriyama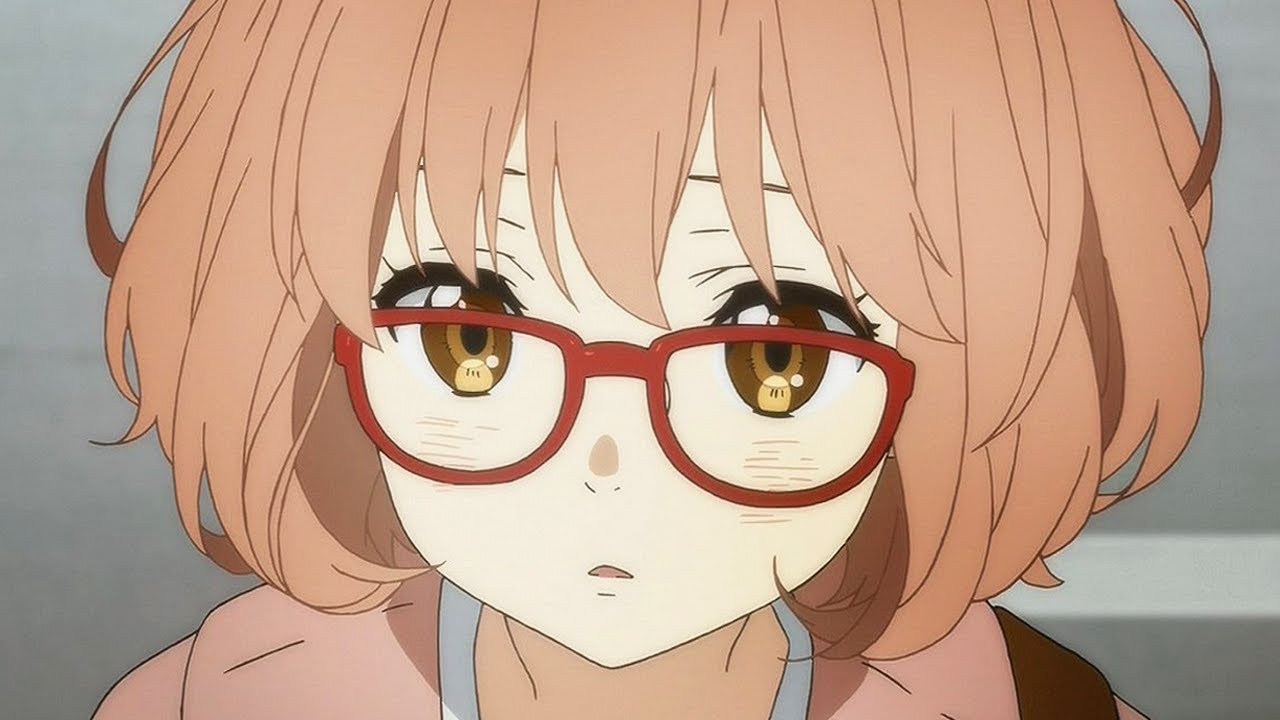 Mirai Kuriyama is the last heir of the Spirit World Warriors Clan who has the ability to manipulate blood and use it as a weapon for killing Youmu. Just like Akihito, she is also a second-year student who later joins the literary club after Akihito forces her to. She is a cute petite girl who has wavy peachy hair that is styled in a bob. She has golden eyes that have a shade of brown and is usually seen with thick red framed glasses. She conceals a wound on her right forearm all the time so that she can use the blood from it whenever she needs to use her blood-manipulation abilities. Mirai's life is far from perfect and she often struggles to make ends meet. She even writes a blog online that is always ridiculed by others on the internet. When it comes to fighting Youmu, she lacks proper experience but still shows some strong unique skills on the battlefield.
Hiroomi Nase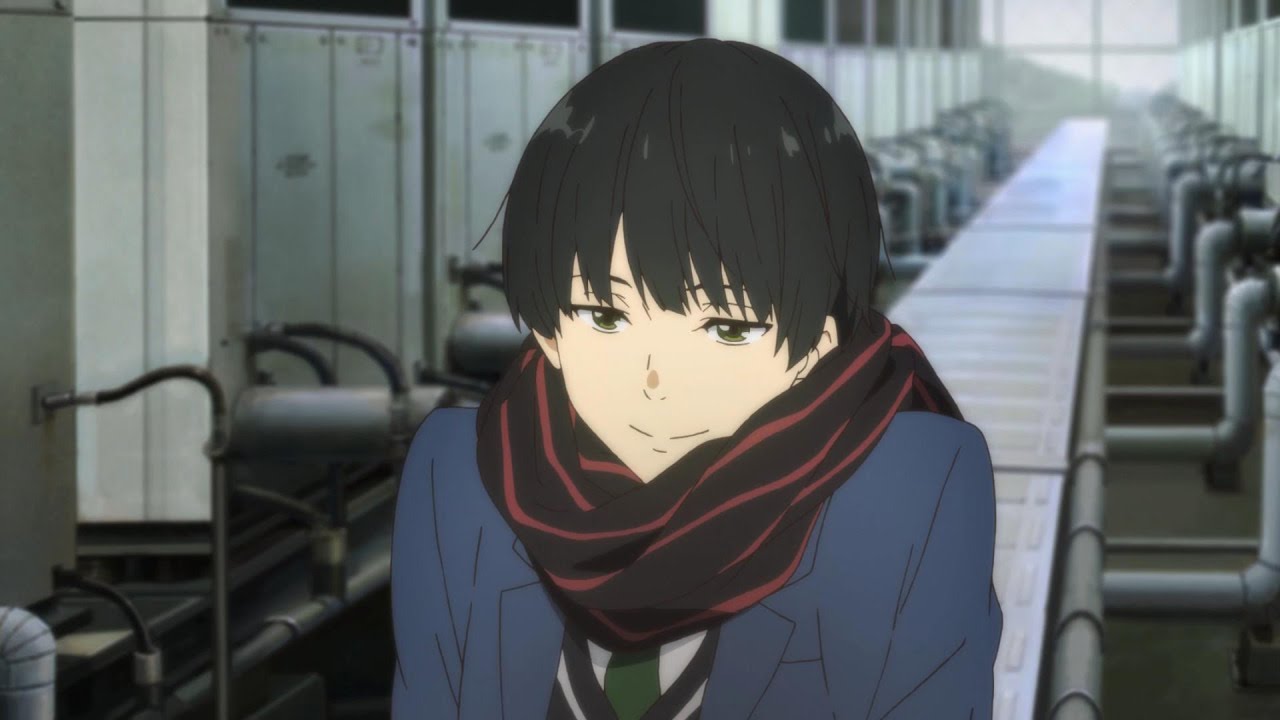 Hiroomi is Mitsuki's elder brother, who is a third-year student. He comes from a very prestigious family of the Spirit World Warriors and because of his abilities, he feels cold all the time. He is often seen with muffler and jacket to control the chills that come with his powers. He has an average height and sports a bowl-shaped haircut that fringes down on his green eyes. Like most young siblings, he often bickers with his sister but they often reconcile right after that. He is extremely caring and protective of her. Though he loves her a lot, he lies to her sometimes about certain things so that she does not worry too much.
Mitsuki Nase
Mitsuki Nase is Hiroomi's younger sister who is also a Spirit World Warrior with supernatural abilities. She is also the president of the Literary club at the school. She is a very young attractive girl who has a slim yet curvy figure. Like all her family members, she has straight black hair that is slicked back all the way till her waist with a few loose fringes resting on her forehead. She has ruby red eyes and she often walks around with a lollipop or popsicle sticking out of her mouth. On the outside, she carries a very strict sadistic tone and always speaks out what's there on her mind. But inside, she actually experiences a range of emotions that she keeps concealed to protect her external cold demeanor.
Read More in Anime Preview: Fate/Stay Night Season 3 | Black Bullet Season 2