'Lady Dynamite' is a Netflix original comedy TV series. Created by Pam Brady and Mitch Hurwitz, it is loosely based on the real-life experiences of Maria Bamford, the lead of the show who plays a fictionalised version of herself. Each of its episodes have a run time of 26-35 minutes. It is executive produced by Bamford, Hurwitz, Brady, Kristen Zolner, Andy Weil and Jane Wiseman. Wounded Poodle and The Hurwitz Company are the producers of the series.
Bamford, who is best known for her stand-up comedy acts, first developed the idea with Hurwitz, back in 2013. However, it took a lot of time for the show to find a solid standing and be turned into a series. The idea was to create a story that would deal with a person's mental breakdown and the recovery process. The story borrows heavily from Bamford's experiences and she was involved with the writing process, but never actively wrote any particular episode. Kyle McCulloch and Jen Statsky have been credited with writing, while Max Winkler, Andrew Fleming, Robert Cohen, Jessica Yu and Ryan McFaul have directed various episodes of the series.
Lady Dynamite Cast: Who is in it?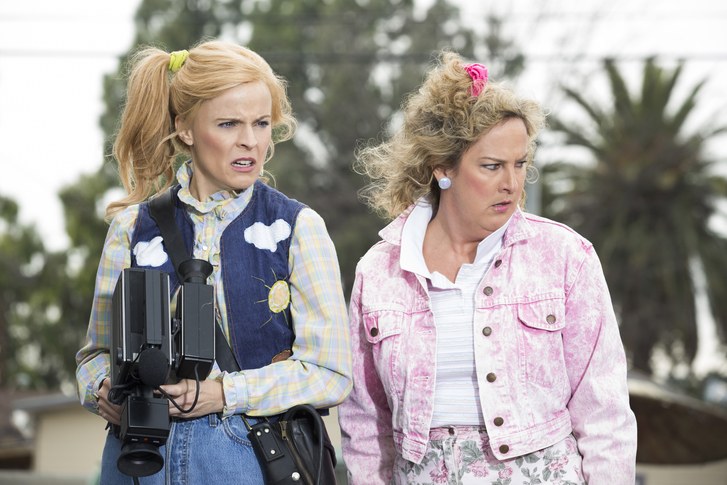 The star of the show is Maria Bamford. She plays a fictionalised version of herself, a woman who suffers from bipolar disorder but manages to bring her life back to normal and starts to pursue her career. She started her career as a stand-up comedian and has always addressed issues like depression and anxiety in her acts. In films and TV shows, she is known for the roles in 'Arrested Development', 'Downward Dog', 'Portlandia', 'Fresh Off the Boat', 'BoJack Horseman', 'Lucky Numbers' and 'Stuart Little 2'.
Fred Melamed plays the character of Bruce Ben-Bacharach, Maria's agent who helps her to recover and get back to Los Angeles. He has been a constant presence in the movies of Woody Allen, so far in seven of them. Some of his best known roles have been in films and TV shows like 'Brooklyn Nine-Nine', 'Casual', 'Benched', 'One Life to Live', 'Brawl in Cell Block 99', 'Bone Tomahawk' and 'The Spy Who Dumped Me'. Mary Kay portrays the role of Marilyn Bamford, Maria's mother. She is an Emmy winning actress, and has appeared in films and TV shows like 'Mary Hartman, Mary Hartman', 'The Rainmaker', 'Private Benjamin', 'Being John Malkovich', 'The West Wing' and '12 Miles of Bad Road'. Olafur Darri Olafsson appears in the role of Scott, Maria's boyfriend. His other acting credits include 'NOS4A2', 'The Widow', 'Murder Mystery', 'Fantastic Beasts: The Crimes of Grindelwald', 'The Missing' and 'The Last Witch Hunter'.
Lady Dynamite Plot: What's it about?
The storyline revolves around Maria Bamford appearing as Maria Bamford, a fictional version of herself. The plot focuses on her as she tries to cope with her bipolar disorder. After undergoing treatment for six months, she recovers and moves to Los Angeles. She is now attempting to bring her life back to normal with the help of her agent, Bruce.
The series follows a non-linear narrative where flashbacks to difficult times in the protagonists' life are a common occurrence. Her time in a mental health institution and the things she learnt in therapy to recuperate from her situation and how to handle them better have been emphasised on. Despite her experience as a stand-up comedian, Bamford decided not to indulge that part of her life in the series. Through various events in her life, the show also focuses on issues like the gun laws in the country, drug addiction and alcoholism, among others.
In a parallel storyline, we also get to see Maria's childhood. Through these events, we get a picture of the things that shaped her life and the places where her problems find a root. In the second season, the series uses the premise of creating a sitcom for a streaming service called Muskvision, which is, again, drawn from Bamford and the team's experiences with Netflix and 'Lady Dynamite'.
Bamford explained in an interview with Variety, "What I hope people get from [the show] is that by losing everything, it's possible to become something better. At least in real life, I have a much more reasonably paced life than I ever had when I was slightly banana head. In losing some of my ambition, it made it so I can have relationships and a better life. That has been learned throughout the ages: You mean money and prestige doesn't make people happy? Nope."
Lady Dynamite Season 3 Release Date: Will it Happen?
'Lady Dynamite' Season 2 premiered on November 10, 2017. The series received applaud for its excellent writing and an apt portrayal of mental illness. Its absurd comedy has been compared with acclaimed series like 'Unbreakable Kimmy Schmidt' and 'BoJack Horseman', the shows that also deal with trauma and mental health issues in a similar manner. In its review of the show, Rotten Tomatoes called it "a vibrant, subversive, sweet, meta-fictional ride- but also a courageous, boundary-busting and ultimately deep portrayal of a troubled psyche."
Variety's review of the show focused on Bamford's eccentric performance as a version of herself and said that "the actress and comedian, whose presence has rarely been used as well as it is here, manages the nest trick of being both believably guileless and winningly sharp". With such great reviews, it is quite confusing why Netflix decided to call quits on the series, without ever explaining their move. Intelligent comedies like this are what people need these days, and hopefully Netflix to come to realise this in due time. It isn't uncommon for such shows to be revived after a long break (for example, 'Arrested Development'). When that happens, we will update this section with 'Lady Dynamite' Season 3 release date.
Lady Dynamite Trailer
'Lady Dynamite' is full of good laughs which also make you give some serious thought to the issues it discusses. If you love the show, then you can rewatch the two seasons on Netflix. Here is a trailer of the second season, to give you a gist of what the show is all about.
Read More: Best Funny Movies on Amazon Prime