Lake Bell is known to us as the voice of the iPhone 6s! The actress-director stole the show with her pitch-perfect British accent of the first female voice of Apple ads. Born to a Jewish father and a Protestant mother, Bell once said that she was raised in a "comically dysfunctional" family. She made her acting debut with the 2002 movie 'Speakeasy.' In the same year, she played a small role in two episodes of the television series 'ER.' Bell got her first major breakthrough with the 2003 psychological thriller, 'I Love Your Work.'
Bell was also cast in the lead role in the NBC TV movie 'War Stories' alongside Jeff Goldblum. Her portrayal of Victoria Carlson, who was the witty friend of Alicia Silverstone's character in the NBC comedy-drama series 'Miss Match', earned Bell massive critical praise. In 2004, she joined the wrestling film series 'Slammed.' She played the character of Sally Deep in four episodes of 'The Practice' in the same year. The success and popularity of the role promoted her as a regular member in the spin-off series 'Boston Legal.'
During the second half of the 2000s, Bell emerged as a familiar face in television with the 2005 sci-fi series 'Surface,' in which she played the lead role of Laura Daughtery till 2006. The 2006 movie 'Rampage' boosted her stardom with the character of Jillian Dunne. Based on the notorious Hillside Strangler murders committed by two serial rapists and murderers in Los Angeles in the '70s, the crime thriller went onto become a big hit. Bell returned to 'Boston Legal' to play her iconic role of Sally Heep in two episodes in the same year. The 2008 thriller 'Under Still Waters' catapulted Bell as a prominent lead actress who can shoulder heavy-weight characters. Her role as Charlie earned Bell the Newport Beach Film Festival Award for Outstanding Performance in Acting.
The next couple of years in Bell's life were marked with the successful onscreen collaborations with other A-listers. Bell starred alongside Paul Rudd and Eva Longoria in 'Over Her Dead Body,' with Cameron Diaz in 'What Happens in Vegas' and with Colin Farrell in 'Pride and Glory.' After a few lead roles and guest appearances throughout the late 2000s, Bell returned to form with the 2011 supernatural thriller 'Little Murder' alongside Josh Lucas and Terrence Howard. Her portrayal of the character Corey Little in the movie, which was known as 'Ghost of New Orleans' in the U.S., earned her critical acclaim.
Bell switched gears with her next movie, a rom-com 'No Strings Attached', which also brought her rave reviews. In the same year, she played a significant role in the star-studded comedy 'A Good Old Fashioned Orgy' alongside Jason Sudeikis, Leslie Bibb, Michelle Borth, Nick Kroll, Tyler Labine, Angela Sarafyan, Lindsay Sloane, Martin Starr, Lucy Punch, and Will Forte. In 2013, Bell took the Sundance Film Festival by storm with her feature directorial debut 'In a World…', a voice-over comedy. The movie went on to become a critics' favorite and earned Bell the Waldo Salt Screenwriting Award. Her other major works include, 'Black Rock,' 'New Girl,' 'I Do… Until I Don't,' 'Spider-Man: Into the Spider-Verse,' 'The Secret Life of Pets,' 'Mr. Peabody & Sherman,' 'Wet Hot American Summer: Ten Years Later,' and 'BoJack Horseman.'
When asked about her career as a filmmaker, Bell once said that she learned everything from her directors. She also emphasized the importance of continuing her career as a professional actor because it gives a profound learning curve for the filmmaker in her. At this point you might be wondering what is the next Lake Bell movie or TV show? Well, here's the list of upcoming Lake Bell films and TV shows scheduled to release in 2019 and 2020. We can only hope that the latest Lake Bell movies would be as good as some of her recent ones.
2. Bless this Mess (2019 – )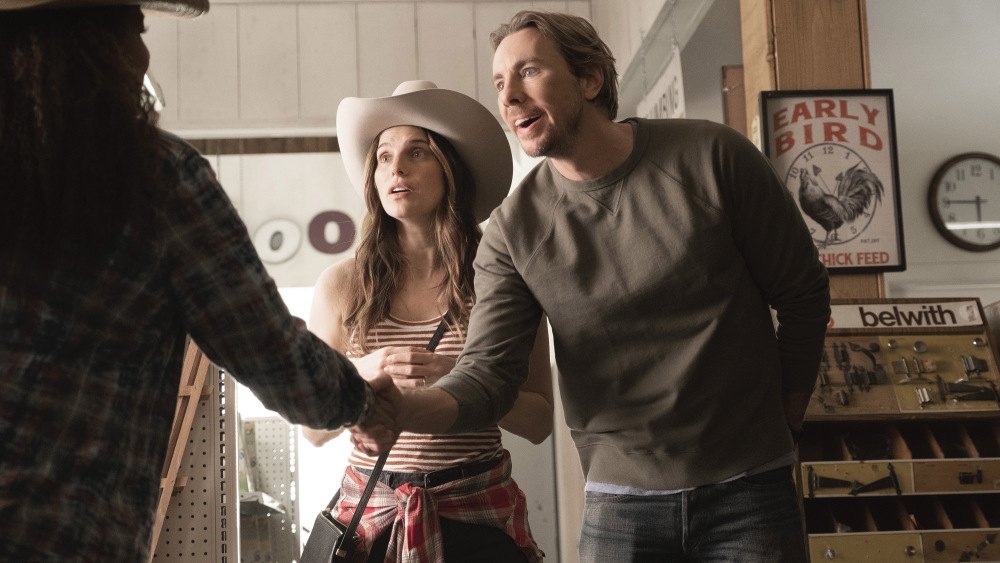 'Bless this Mess' is an ABC sitcom starring Lake Bell and Dax Shepard in the lead roles. The plot revolves around the young couple Mike (Shepard) and Rio (Bell) who leave New York City to move to Nebraska for a rustic, tranquil life. Mike has inherited a farm from his great-aunt in Nebraska. But the couple lands in the middle of a neglected mess guarded by a crazy old man named Rudy (Ed Begley Jr.). Though their neighbors, the Bowmans, put an offer on the table to buy the farm, Mike refuses it on the face. While Mike loses himself in the desperate attempts to restore the farm, Rio goes downhearted because of the stillness and an approaching storm.
Created and executive produced by Bell and Elizabeth Meriwether, 'Bless This Mess' also stars Pam Grier, JT Neal and Christina Offley. The first season of the series, which premiered on April 16, 2019, garnered critical acclaim and popularity among viewers. According to Deadline, ABC has renewed 'Bless this Mess' for a second season in May 2019. The show is a co-production venture between 20th Century Fox and ABC Studios.
1. Harley Quinn (2019 – )
Tagged as an adult animated action-comedy from DC Universe, 'Harley Quinn' is an upcoming star-studded series featuring Lake Bell and Kaley Cuoco in the lead roles. The plot follows the titular Harley Quinn (Cuoco) who tries to take over the criminal underworld of Gotham City single-handedly after a breakup with her lover, Joker. The series reportedly features other major villainous avatars, including Poison Ivy (Bell). Alan Tudyk, Ron Funches, JB Smoove, Jason Alexander, Wanda Sykes, Giancarlo Esposito, Natalie Morales, Jim Rash, Diedrich Bader, Tony Hale, and Chris Meloni round off the voice cast. Harley Quinn is one of the iconic characters in the DC Universe. She was introduced in the animated series 'Batman: The Animated Series' in the early '90s.
Harley Quinn and Poison Ivy have one of the most complex and weird relationships in the entire 'Batman' franchise. The two women are considered best friends. But whenever The Joker is involved, they develop a tension that is rooted in jealousy. Ever since they got a shared universe of comics, video games, animated TV shows, and movies, Quinn and Ivy always seem attracted to each other despite their contrasting characteristics. Though DC Comics labelled them as "Girlfriends without the jealousy of monogamy," both of them maintain an interesting mutual connection with highs and lows. While Cuoco replaces Margot Robbie, who voiced Quinn in the Warner Bros. superhero movie 'Suicide Squad,' Bell takes over Poison Ivy from Natasha Leggero, who voiced the supervillainess in the 2016 television animated series, 'Justice League Action.'
Read More: Upcoming Jenny Slate Movies