Laura Elizabeth Metcalf, better known as Laurie Metcalf, is an American actress who was born in Illinois. Growing up, Metcalf was far removed from the show business and theater, which ultimately went on to become her calling. Laurie Metcalf studied at the Illinois State University, where she kept switching majors from German to anthropology till she finally decided that theater was her true passion. She came to the realization that theater work also includes studying and interpreting the human character. Moreover, Laurie Metcalf was hooked to the stage when she auditioned a few times for plays in high school. However, she did not follow through actively until college because she did not think that a career in acting would lead to regular work.
Her college days were truly remarkable because she met the likes of John Malkovich, Joan Allen, Jeff Perry, and Terry Kinney. Perry and Kinney would go on to form the famed Steppenwolf Theater Company where Laurie Metcalf began her professional career in acting. Having gained acclaim in her early performances, the actress soon moved to New York, where she began to work in both theater and film. Her accomplishments on the stage are phenomenal and she has won two Tony awards.
Coming to Metcalf's roles in movies, she has had very large to very small parts in projects like 'Internal Affairs', 'Toy Story', 'Runaway Bride', 'Meet the Robinsons', 'Leaving Las Vegas'. She has had appearances in films like 'JFK', where she plays the part of a chief investigator, and in 'Scream 2′, where she plays the role of Billy Loomis' murderous mother. Metcalf did not just put up amazing performances in movies but made her mark in television shows as well. Perhaps, the most recognizable is her role as Jackie Harris. Metcalf plays the multi-careered and amiable sister with low self-esteem in 'Roseanne'. Her performance was phenomenal enough to win her three consecutive Emmy Awards.
She has had roles in television shows like 'The Big Bang Theory', 'Without a Trace', 'Monk', 'Malcolm in the Middle', and 'Frasier'. Some of her notable appearances have also been in 'Grey's Anatomy' and 'Desperate Housewives'. The latter even won her an Emmy nomination in the best guest actress category. So now you must be wondering what is the next Laurie Metcalf movie or TV show? Well, here's the list of upcoming Laurie Metcalf films and TV shows scheduled to release in 2019 and 2020. We can only hope that the latest Laurie Metcalf movies would be as good as some of her recent ones.
1. The Conners (2018-)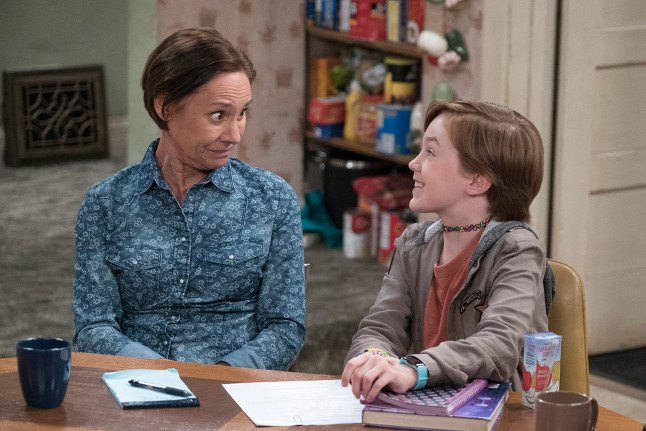 'The Conners' is a comedy television series that is a spin-off of 'Roseanne'. It airs on ABC and started after the cancellation of 'Roseanne' in 2018. In case you are unaware, Roseanne Barr made some racist comments on Twitter, which led to the show being canceled. 'The Conners' centers on the family minus Roseanne, following the story after the sudden death of the matriarch. Basically, 'The Conners' attempts to show the everyday struggles of the working-class family that has to make do with a limited household income. After the death of Roseanne, the original lead character of the show, they are forced to come face to face with the challenges of everyday life in a way they have never before. The entire show is set in Lanford in Illinois.
'The Conners' at its core is a blue-collar family sitcom that bases its humor off the many members who are a part of the family. While 'Roseanne' made a name for itself as a political show, 'The Conners' is at pains to express that it is not merely that. At its core, it prefers to tackle questions like how medical bills are paid, how children are raised and how differences are handled. Critics have spoken about the heart of the show and how it "lies in Dan's (Goodman) bluster and exasperation, Aunt Jackie's (Metcalf) frazzled distractions and the withering and loving scorn directed by Darlene (Gilbert) at, and occasionally back at Darlene by, siblings Becky (Lecy Goranson) and D.J. (Michael Fishman)".
Laurie Metcalf obviously reprises her role as Jackie Harris, and she looks much more comfortable slipping back into character in 'The Conners' than she did on 'Roseanne'. The character continues to remain as obsessive as she was and her predictable ways lead to a good laugh. In fact, when 'The Conners' begins, Jackie cannot seem to stop cleaning the house. Overall, the series has done really well without Roseanne Barr and Metcalf's performance is more in the spotlight than ever. When this is put in the context of the fact that her performance in 'Roseanne' won her the Emmy Awards, we cannot wait to see Metcalf deliver more impressive performances in the upcoming seasons of this show. Knowing the actress and her merits, it would be wrong to expect otherwise.
Read More: Upcoming Jessica Lange Movies