We are in the middle of a very exciting Oscar season. Usually, by this time, we have a fair idea of what will win Best Picture, but this year nobody has a clue (though, arguably, 'Spotlight' is very well placed to win it). Not only Best Picture, other top categories like Best Director, Best Actress, Best Supporting Actor/Actress are also pretty much up in the air for anyone to grab. Though, there is one category, where the winner is almost certain who will it be — and we are very confident about it. Of course, the title of this article gives away that category and the winner, but let's dig into why we think that Leonardo DiCaprio will finally win the coveted Oscar.
Leonardo DiCaprio is one of the most overdue actors — if not the most — working today
Leonardo DiCaprio has been working since the age of 15, which is for the last 26 years. He might still be young at 41, but 26 years is a long career by any stretch of imagination. For comparison sake, Jennifer Lawrence, as talented as she is, won an Oscar in just the 5th year of her career. And it is not that Caprio has just been chugging along through his career; he has been in some incredible movies and given many memorable performances — for several of which he was not even nominated for an Oscar. With 26 years of a long, illustrious career and numerous brilliant performances under his belt, the time has now come that Academy stops overlooking him. This year, I think, the noise around Leo's performance in 'The Revenant' will be too difficult for even the Academy to ignore.
His 'The Revenant' performance is earning rave reviews
Not that Academy pays much attention to the reviews, but in 'The Revenant', Caprio plays a fur trapper caught in western wilderness who is seeking revenge for the death of his son, which is the exact type of big showy role that Academy loves. He is left, right and centre of a film that is epic in its scale and structure. All the critics who have seen the film, including the ones who have been critical of the film, are raving about Leo's mind-blowing performance. Of course, such high praise from critics will result in several awards from critics group. He has already earned SAG and Golden Globe nominations — both of which he will likely win.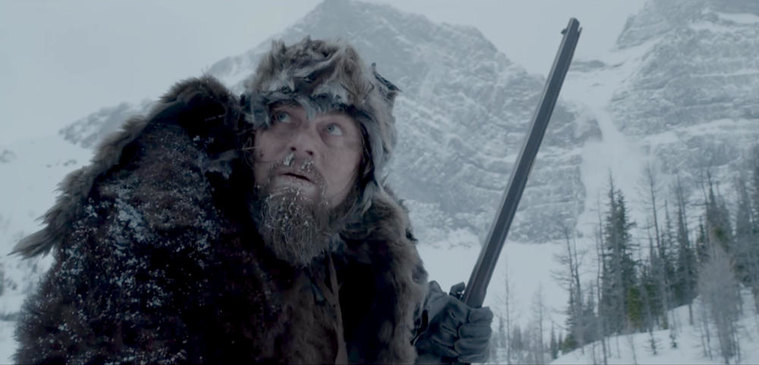 Weak Competition in the Best Actor field this year
Over years, DiCaprio has been nominated four times, most recently 2 years back for 'The Wolf of Wall Street'. But every time, he has been unlucky that he found himself among very strong contenders. This year, fortunately for him, and surprisingly for Oscar followers like us, the competition is relatively thin in the category. Usually, Best Actor is the most fiercely fought category and every year, several deserving candidates miss the nomination list — DiCaprio, himself, has been on the receiving end of that — but this year, the story is a little different. It is other categories like Best Actress, which is much more competitive — understandable considering this has been a great year for women in cinema. So, finally, DiCaprio finds himself among a group of potential nominees who aren't as strong as he is in 'The Revenant'. With that said, let's quickly look at who all could be his rivals on Oscar night.
Johnny Depp for 'Black Mass': At this point of time, he could emerge his biggest threat if he gets nominated. But the bigger question is will he get nominated ? 'Black Mass' is losing traction among voters and it is likely that he will miss out the nomination all together. And even if, he does manage to get a nomination, I think, the overdue factor with Leo is felt a little more.
Matt Damon for 'The Martian': Again, not 100% lock for a nomination. But, in case he gets nominated, he is not a big threat considering his role doesn't carry much weight.
Eddie Redmayne for 'The Danish Girl': He won just last year, so, forget it.
Michael Fassbender for 'Steve Jobs': An extremely potent and well-liked performance, but there is no urgency among voters to reward him before Leo.
Ian McKellen for 'Mr. Homes': He could be threat if he gets nominated. Voters may feel that this is their last chance to reward an industry veteran. But the film itself has no traction at all, so voters may not feel convinced enough.
Apart from above five, there are others like Micahel Caine for 'Youth', Will Smith for 'Concussion' and Bryan Crynston for 'Trumbo' who are all on the fringes. They should consider themselves lucky to get nominated. Forget winning.
All said and done, I have presented my case on why I feel Leonardo DiCaprio will win the next Oscar for Best Actor. Now, your turn ?