What does it mean to fall in love? Is it to find what one's heart desires and then get wrapped up by the warmth and passion which the person evokes in us? Or is it just a societal need to fulfill the presumed goal of adding numbers to the human race? If we agree with the former, we can also agree that for most of humanity's existence, people who have not followed the line of heteronormative sexuality have been prosecuted, tortured, killed, and oppressed in various ways by the machinery called religion and society. It was only during the 20th century that people slowly began to accept that deviant sexual orientations are not abnormalities. Art has been expressing such beliefs for a long time, and naturally, the idea readily found a place in the art form which defined the 20th century – cinema. There have been thousands of movies made since the birth of the medium that have spoken about people belonging to the LGBTQ communities. The New Queer Cinema movement was also a bold step in this direction.
With the advent of Netflix, films of different kinds have found a place to co-exist and be readily viewed by the general public. Netflix, as we all know, is ruling the roost when it comes to streaming platforms, and this is just a testament to the fact that they have the widest range of content for fans to choose from. With all that said, here's the list of really good movies with lesbian sex scenes on Netflix that are available to stream right now:
5. Loving Annabelle (2006)
Movies about romantic relationships between teachers and students can be found in abundance. However, a film which depicts such a relationship between two females is a rarity. 'Loving Annabelle' by Katherine Brooks is here to fill in the void. The film tells the story of the eponymous girl who finds it pretty difficult to adjust to a school's formal environment. After having been expelled from a couple of institutions, Anabelle finds herself in a strict Catholic boarding school. We get to see her unruly behavior when she makes sexually provocative statements in the English teacher, Simone Bradley's class. Simon takes an interest in Anabelle's character, only to soon find herself in bed with this unruly student.
There are some steamy sex scenes in this film which are bound to raise the mercury level in a room. The way these two central characters approach this relationship is written with a great deal of understanding. This is only possible when the characters are well-fleshed out. Brooks does an amazing job of bringing out the different traits that make these characters so unique and endlessly fascinating.
4. Below Her Mouth (2016)
'Below Her Mouth' is the story of Jasmine and Dallas. While the former is a successful fashion editor, the latter is a roofer. But the differences in their social standings never come in between the love that they feel for each other. Dallas is the one who approaches Jasmine when the two characters meet for the first time. Though hesitant at first, Jasmine too cannot deny the attraction she feels towards Dallas, and the two of them soon enter a romance which results in some highly passionate encounters on the bed. If you are looking for lesbian sex scenes in a film, this is a title which will not disappoint you. Some would even argue that the main attraction of the film is its sex scenes.
3. Clouds of Sils Maria (2014)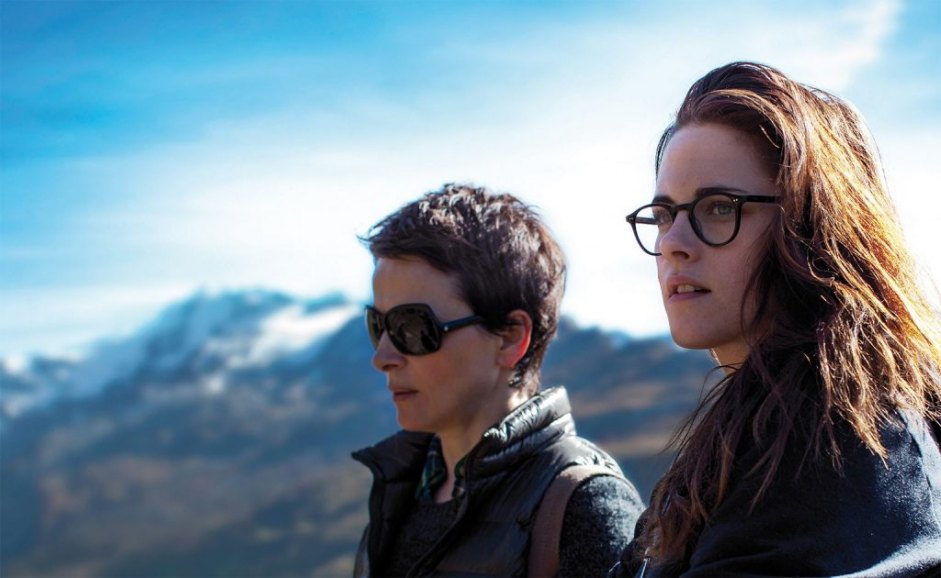 When an icon of the screen like Juliette Binoche is paired in a film opposite a powerful young actress like Kristen Stewart, then we do not have to worry about the level of acting. The film 'Clouds of Sils Maria' is where these two powerful performers shared the screen for the first time. Binoche plays the character of a veteran actress who has agreed to perform in a play which helped launch her career a couple of decades ago. While in the play she portrays the character of a lesbian, it is in her real life that she shares a sexual attraction with her assistant (Stewart). Each of the characters in this film is well-crafted with proper backstories. 'Clouds Of Sils Maria' is a complex human drama which is very cleverly written and directed by the great filmmaker Olivier Assayas. There are sex scenes in the film that are very beautifully shot and never seem gratuitous even for a second.
Read More: Best Independent Movies on Netflix
2. Concussion (2013)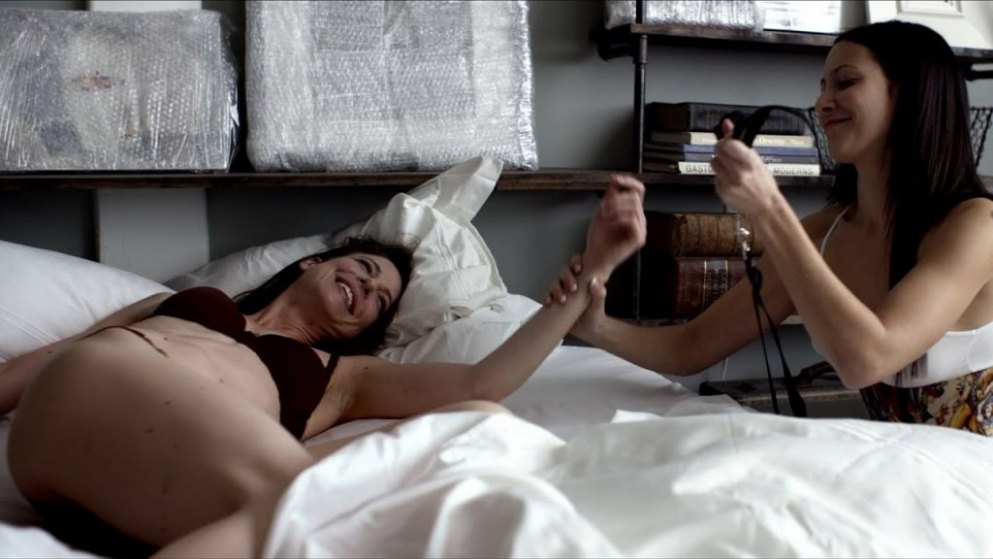 This 2015 film written and directed by Stacie Passon centers around a lesbian woman called Abby who experiences intense psychological changes within her when she is hit by a baseball in the head. The concussion that follows makes Abby crave for more sex than what she receives from her wife, leading her towards a dangerous path as she starts frequently sleeping around with other women. One of the first encounters Abby has is with a college-going girl called Gretchen who pays for her college education by having sex with strangers. Soon enough, Abby's habit starts going out of control and she is even abandoned by her wife. The sex scenes in this film are pretty bizarre but the actors' performances are convincing. The characters are well-written, and though there are certain stumbling blocks along the way, the film is a riveting watch taking all things into consideration.
Read More: Best Feminist Movies on Netflix
1. Blue Is The Warmest Color (2013)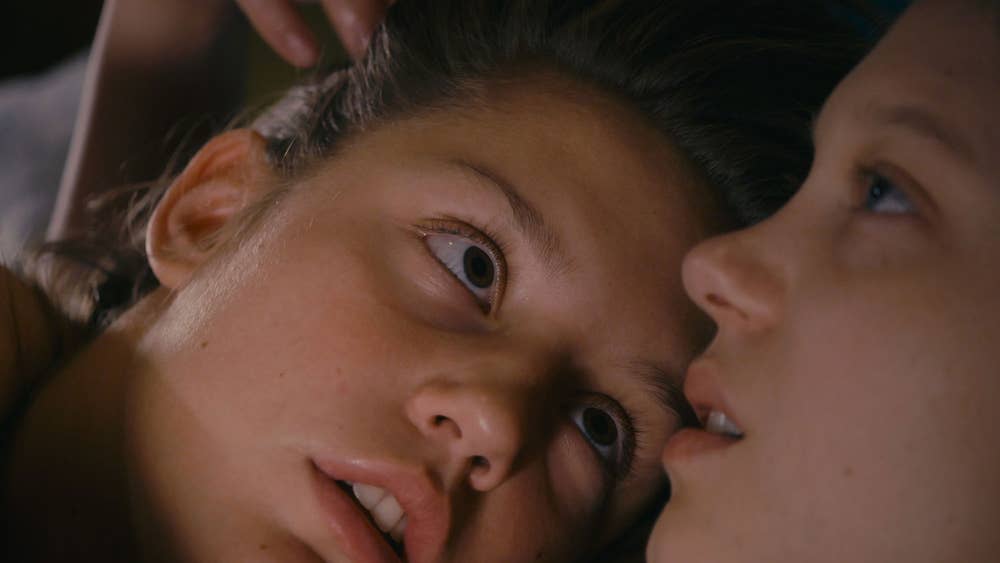 One of the most talked about films of this decade, 'Blue Is The Warmest Color' is an adaptation of the 2010 graphic novel of the same name. The film centers around the relationship between a teenager called Adele and an older girl named Emma. Adele was initially in love with a guy, but breaks it off when she realizes that this heterosexual relationship is not what her heart desires. It is after this breakup that she meets Emma. The two of them hit it off immediately and their passionate affair results in some sex scenes which are extremely graphic in nature. Credit must be given to the two lead actresses for taking on such bold characters and putting their heart and soul into the performances. The film became a sensation soon after its screening at the Cannes Film Festival and even went on to win the Palme d'Or.
Read More: Best Student-Teacher Relationship Movies on Netflix