Lisa Kudrow's father was a physician who specialized in treating headaches. Kudrow worked for nearly eight years alongside her father's assistants and researched headaches. It was her brother's friend, comedian Jon Lovitz, who encouraged her to join The Groundlings, an improv and sketch comedy school based in Los Angeles. The school changed Kudrow's perception of acting. The course also helped her to develop contacts with various comedy troupes. She managed to land a minor role in an episode of the NBC sitcom 'Cheers.' Later, she got a recurring role in three episodes of season one of the CBS sitcom 'Bob' in 1991.
Kudrow's first major role in a television series was the hyper-active waitress Ursula Buffay in the NBC sitcom 'Mad About You.' The success of the show helped her to take the same character to another NBC sitcom 'Friends.' This time, she also played the character of Ursula's twin sister Phoebe Buffay, which earned her the Emmy Award of Outstanding Supporting Actress in a Comedy Series in 1998.
Kudrow's frequent guest appearances in popular TV shows helped her to become a familiar face among television viewers. In 2005, she played the lead role in the HBO series 'The Comeback'. She received two Emmy nominations for Outstanding Lead Actress in a Comedy Series for her portrayal of the lead character Valerie Cherish in the series. Kudrow's major movie credits include 'Easy A,' 'Hotel for Dogs,' 'Happy Endings,' 'Neighbors,' 'Neighbors 2: Sorority Rising,' and 'The Girl on the Train.' She has guest starred in TV series such as 'Cougar Town,' 'BoJack Horseman,' 'Angie Tribeca,' and 'Scandal.' So now you might be wondering what is the next Lisa Kudrow movie or TV show? Well, here's the list of upcoming Lisa Kudrow films and TV shows scheduled to release in 2019 and 2020. We can only hope that the latest Lisa Kudrow movies would be as good as some of her recent ones.
5. Unbreakable Kimmy Schmidt (2015 – )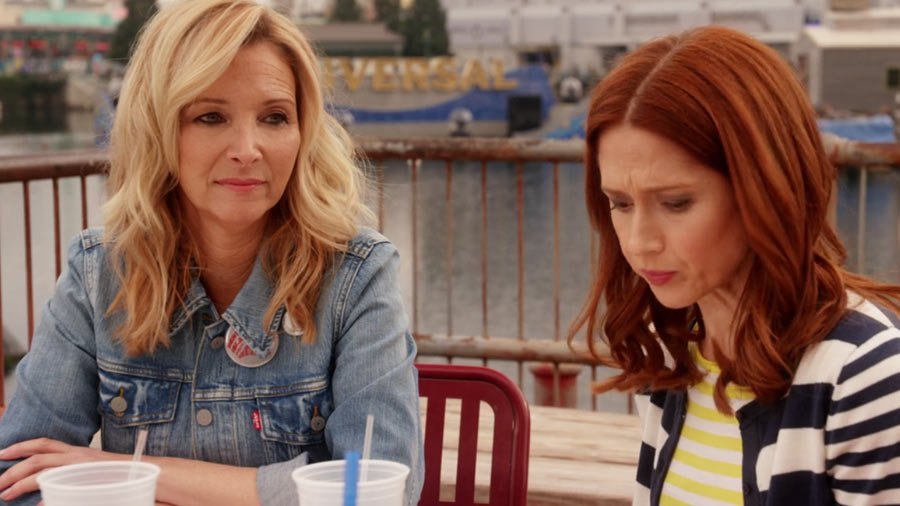 The Netflix sitcom 'Unbreakable Kimmy Schmidt' ended its fourth season in January on a happy note. In May, the recurring cast member Tina Fey, who created the series along with Robert Carlock, announced that the show is coming back to Netflix as an interactive special. The series features Ellie Kemper as the desperate young woman Kimmy Schmidt who tries to restart her life in New York City. She, along with three other women, is rescued from the bunkers of a doomsday cult led by Reverend Richard Wayne Gary Wayne (played by Jon Hamm) after 15 years of captivity. Kimmy struggles to cope-up with the sprawling new city. Gradually, she makes friends with her landlady Lillian Kaushtupper (played by Carol Kane), her roommate and struggling actor Titus Andromedon (played by Tituss Burgess) and Jacqueline Voorhees (played by Jane Krakowski) for whom she works as a nanny.
Lisa Kudrow plays the role of Lori-Ann Schmidt, Kimmy's missing mother. She appeared in seasons 2 and 4. "Fans will be able to make choices on behalf of our characters, taking different story paths with, of course, different jokes. I think it's a great fit for our show and will be a great way to officially complete the series", revealed Tina Fey. Ellie Kemper, Tituss Burgess, Jane Krakowski, and Carol Kane are expected to return for 2020 special while others like Lisa Kudrow are yet to acknowledge their part in the special. Netflix will air the special in 2020.
4. Booksmart (2019)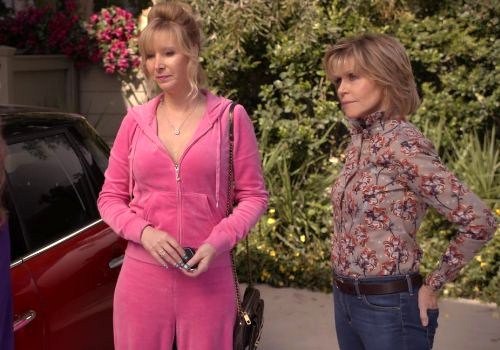 The teen comedy feature 'Booksmart' features Kaitlyn Dever and Beanie Feldstein in the lead roles of two high school girls named Amy and Molly. Lisa Kudrow plays the role of Amy's mother in the movie. The plot centers on the days concluding Amy and Molly's high school lives. The two childhood friends decide to cut loose on a weekend to welcome the upcoming freedom. Both of them are craving for uninhibited freedom to shake off their labels as hardworking, studious and disciplined school girls. But their trip turns out to be a misadventure. The other cast includes Jessica Williams, Will Forte, and Jason Sudeikis. The movie is directed by Olivia Wilde from a screenplay by Emily Halpern, Sarah Haskins, Susanna Fogel, and Katie Silberman. Will Ferrell and Adam McKay serve as the executive producers of the movie. 'Booksmart' is slated for a May 24, 2019 release.
3. Bright Futures (TBA)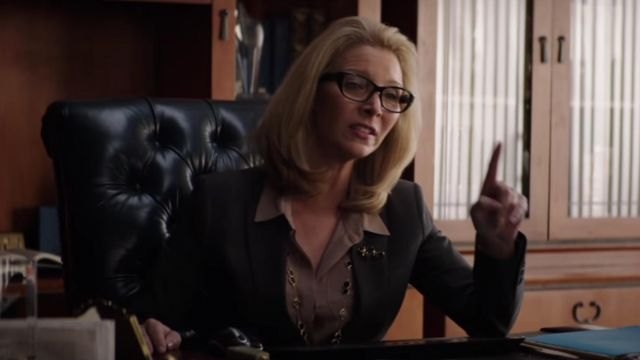 Lisa Kudrow serves as the narrator in NBC's comedy series pilot 'Bright Futures.' The plot revolves around a group of friends who are in the cusp of turning into promising professionals from naive young people. Emily Ratajkowski, Lilly Singh, Shameik Moore, Jimmy Tatro, and Calum Worthy play the central characters in the group. Hale Rothstein wrote the screenplay and executive produces the show. Danny Segal and Isaac Schamis serve as writers and co-executive producers of the series. 'Black-ish' creator Kenya Barris also joins the project as an executive producer. ABC Studios produces 'Bright Futures' in association Barris' Khalabo Ink Society banner.
Read More: Upcoming Elizabeth Banks Movies
2. Human Discoveries (TBA)
'Human Discoveries' is an upcoming animated comedy series greenlit by Facebook. The show features Anna Kendrick and Zac Efron in the lead roles. Set in the early stages of human civilization, the plot follows a group of friends who discover milestones like fire, the wheel, art, alcohol, fashion, racism, and monogamy among others. Lisa Kudrow plays an undisclosed role in the series. The other cast includes Lamorne Morris, Jillian Bell, and Paul Scheer. 'Human Discoveries' is co-produced by ShadowMachine and Ninjas Runnin' Wild. The series is created by Chris Bruno and David Howard Lee. Kirk J. Rudell, Bruno, Lee, Kendrick, Efron, Jason Barrett, Michael Simkin, and ShadowMachine's Corey Campodonico and Alex Bulkley serve as the executive producers.
Read More: Upcoming Kaitlyn Dever Movies
1. Ghosting (TBA)
'Ghosting' is Freeform's first original holiday movie. The project features Aisha Dee and Kimiko Glenn in the lead roles. Joan Rater and Tony Phelan serve as the executive producers. The other cast includes Kendrick Sampson, Jazz Raycole, Missi Pyle, and Lisa Gay Hamilton. The plot follows a young woman named Jess, who dies in a tragic accident on her way back from the greatest date of her life. Now stuck between heaven and Earth, Jesse needs someone to save her from the ghost life. She knows the person who could do that is her close friend Kara, who can see her.
Read More: Upcoming Naomi Scott Movies