Created by Michael Waldron, the superhero action series 'Loki' is one of the early entries in Phase 4 of the Marvel Cinematic Universe, along with 'WandaVision,' 'The Falcon and the Winter Soldier,' and 'Black Widow.' The story follows the eponymous character as he escapes with the Tesseract after the Battle of New York and is subsequently apprehended by the Time Variance Authority (TVA). He learns that he is a Variant, an anomaly that should not exist in the Sacred Timeline. While most TVA employees think that Loki has to be erased from reality, one agent named Mobius disagrees and reveals to Loki that he intends to use him to find another and a more dangerous Loki Variant.
As with almost all other content that Marvel has put out in the last decade or so, 'Loki' has garnered mostly positive responses from critics and fans alike. Season 1 of the web series has recently ended. If you are curious to know when season 2 will come out, we got you covered.
Loki Season 2 Release Date
'Loki' season 1 premiered on June 9, 2021, on Disney+ and aired 6 episodes before concluding on July 14, 2021. Each episode is 42-54-minute long.
As for season 2, this is what we know. The fans got the first hint of a possible second season of 'Loki' when actor Clark Gregg (who portrays Phil Coulson) accidentally revealed in a May 2020 interview that the then-upcoming 'Loki' series had 10-12 episodes. At the time, it was already known that season 1 would have 6 episodes, so it was deduced that the rest of the episodes must be part of the sophomore season. In January 2021, Waldon signed a new deal with Marvel that reportedly includes Loki's second season. The official confirmation came in the post-credits scene of the season finale, in which a rubber-stamped message announced that "Loki will return in season 2."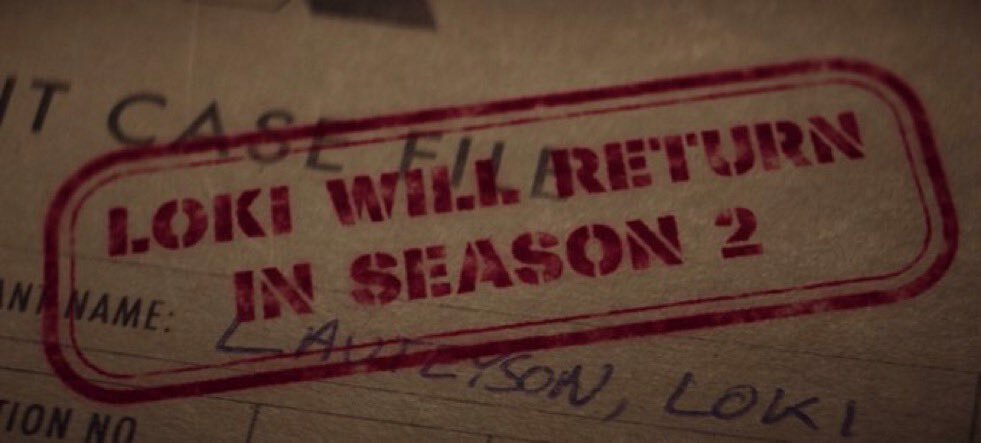 The first season started filming in January 2020. However, due to the COVID situation, production was halted for around six months between March and September 2020. Filming eventually wrapped in December 2020. According to reports that came out in November 2020, 'Loki' season 2 is supposed to start filming in January 2022. If this is true, then the production for season 2 will likely wrap much earlier, considering that life is already returning to normal in the US due to an effective vaccination program, maybe even around summer 2022. If that ends up being the case, expect 'Loki' season 2 to come out sometime in late 2022 or early 2023.
Loki Season 2 Cast: Who Can Be in It?
In 'Loki' season 1, Tom Hiddleston portrays the eponymous character. The cast also includes Sophia Di Martino as Sylvie, a Variant of Loki; Owen Wilson as veteran TVA agent Mobius M. Mobius; Gugu Mbatha-Raw as TVA judge Ravonna Renslayer; Wunmi Mosaku as TVA Hunter B-15; Sasha Lane as TVA Hunter C-20; Jonathan Majors as He Who Remains, the creator of the TVA; Jack Veal as Kid Loki; Richard E. Grant as Classic Loki; and DeObia Oparei as Boastful Loki.
Tara Strong lends her voice to Miss Minutes, the TVA's animated clock mascot. Chris Hemsworth, who plays Thor in the MCU, has an uncredited cameo voice-over role as Throg in episode 5. Jaimie Alexander, MCU's Sif, makes an uncredited appearance in episode 4. Cast members such as Hiddleston and Mbatha-Raw portray multiple versions of their respective characters.
Grant might not return in season 2 as his character has been killed, but 'Loki' is a show about time travel and the multiverse, so nothing is set in stone. While Majors' character dies as well, we now know that a Variant of He Who Remains, called Kang the Conquer, is set to appear in 'Ant-Man and the Wasp: Quantumania' and will also be portrayed by Majors. Kang and other Variants of He Who Remains can potentially appear in Loki's second season. The rest of the cast will likely reprise their roles.
Loki Season 2 Plot: What Can It Be About?
In the season 1 finale, Sylvie kills He Who Remains, freeing the timeline as well as exposing it to the invasion of He Who Remains' more dangerous Variants. Ravonna leaves from the TVA headquarters, likely to complete the last task that He Who Remains gave her. Loki discovers that he is in an alternate version of the TVA, where the employees know that He Who Remains is their leader.
In 'Loki' season 2, Sylvie's actions will likely have both immediate and long-term consequences. Kang is most probably the next big antagonist in the MCU. Loki has to find some way to get back to his own universe and might have to work together with Mobius in the other TVA. In her journey, Ravonna probably will meet Kang or one of his Variants, and something romantic can potentially develop there. After all, they have been lovers in the comics. Mobius, of the TVA of the main universe, might bring significant changes to his workplace with the help of Hunter B-15. At some point, Loki and Sylvie might unite, and that might turn out to be as violent and passionate as their recent separation. The fate of Hunter C-20 might also be revealed in the second season.
Read More: Where Is Loki Filmed?