Netflix's romance drama, 'Love at First Sight' follows the story of Oliver and Hadley. Hadley wasn't supposed to be late for her flight to London. She was supposed to be there on time because she had to be in London in time to attend her father's wedding. But she misses the flight by four minutes, leading her to meet Oliver. For Oliver, only numbers and statistics matter. It is the only way he can explain things and find meaning in them. But when the chance encounter makes him cross paths with Hadley, he is forced to reconsider.
Directed by Vanessa Caswill, the movie takes place over twenty-four hours, during which Oliver and Hadley find and lose each other several times before realizing that they want to be together. If you loved the film and want to know if Oliver and Hadley will return for another chapter of their story, here's what you should know. SPOILERS AHEAD
Will There Be a Love at First Sight 2?
'Love at First Sight' was released on Netflix on September 15, 2023. The film is a feel-good story where fate intervenes to make two people fall in love. It was received well by critics and received a favorable response from the audience. As of yet, Netflix has not announced its intention to create a follow-up for the film.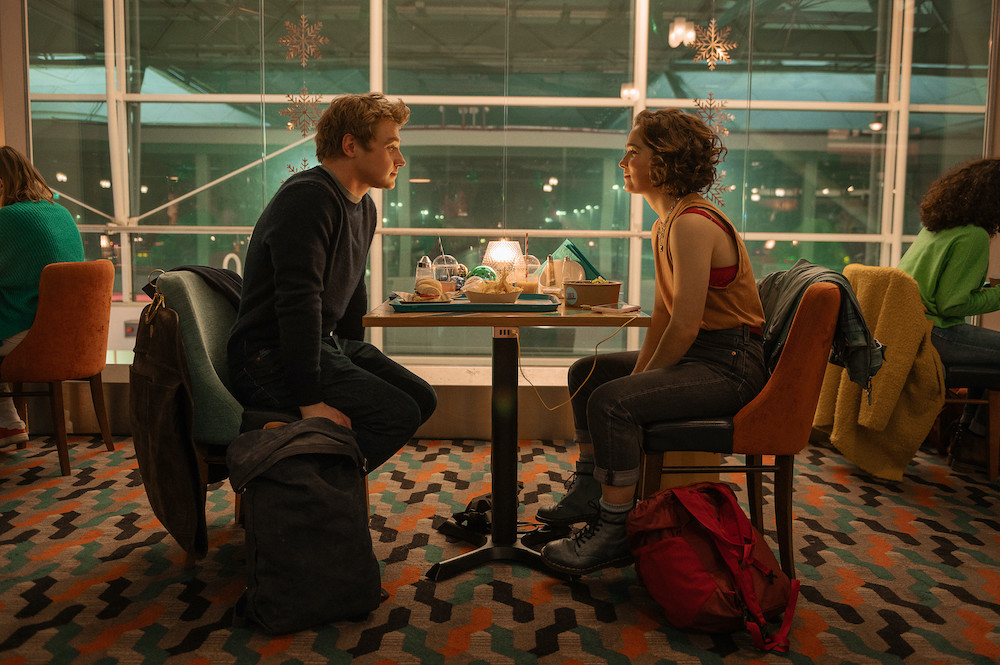 'Love at First Sight' begins with Hadley and Oliver crossing paths by a stroke of luck and then realizing within one day that they are meant for each other. While telling us how they found love with each other, the narrator also intervenes in the story and often nudges the protagonists in each other's direction. Still, not everything is left to fate. Many things depend on whether the characters will choose to love each other when things get tough.
Ultimately, both of them set aside their differences and inhibitions and decide to give their relationship a chance. The narrator reveals that it ended up being love at first sight for them because they eventually got married and had children, and while they still had arguments and differences over the years, they chose to be with each other.
'Love at First Sight' is based on the book, 'The Statistical Probability of Love at First Sight' by Jennifer E. Smith. The movie covers the entirety of the book and gives the audience a complete story of what the future looks like for Hadley and Oliver. It is confirmed that they have received a happy ending and will be with each other for the rest of their lives. This leaves no uncertainty or doubt about their relationship, which means that there isn't much left to explore in their story.
When the author was asked whether she would ever write a sequel, she revealed that she was very happy with where she left the characters. However, Smith added that she'd written a sequel when she thought she wouldn't, so she would "never say never" for The Statistical Probability of Love at First Sight.' However, this book was published in 2011, and it has been over a decade, with no plans for a sequel in sight.
Netflix is expected to follow in the footsteps of the book and leave Oliver and Hadley with their happy ending. Considering how the film ends, it would be entirely unnecessary to create a sequel to stir up some problems between them for the sake of it. Instead of this, the streaming service could opt to adapt another of Smith's novels. With all this in mind, we can say that Oliver and Hadley's story has come to a natural end, and there won't be a sequel for 'Love at First Sight.'
Read More: Where was Love at First Sight Filmed?