Hallmark is at it again: providing viewers with another candy-coated tale of love to cosy up to. The network has become the uncrowned television ruler of all things romance. It consistently presents cheesy but heartwarming television movies and series that re-instill faith in the very idea of love in melancholic times. Enter: 'Love in Store,' a television movie that seeks to portray the arrival of love from unexpected places.
The movie follows the conventional premise of rivals falling for each other. But mind you, the rivalry isn't intense and bloody, like what we've come to expect from hard-hitting television stories these days. 'Love in Store' presents a warm story about two competing television hosts that is sure to fire up even the most skeptical romantic.
The hosts in question are Terrie and David. Both of them are hosts on a shopping network and employ different styles of selling. Such a contrast helps rake in a large number of viewers for the channel as if their differences compliment each other. However, outside the reel world, their dissimilar personalities make them clash.
The network star, Sharyn is going to be retiring soon. Both, Terrie and David aspire to replace her after her retirement. However, when one of their co-workers goes into labor, Terrie and David are forced to work as a team and get along despite their differences.
The two are selling a technologically advanced umbrella and Terrie is using her phone to show its tracking capabilities. However, she gets a rather rude shock when she sees her boyfriend's text message. He is breaking up with her, leaving Terrie speechless. David steps in to avoid any awkwardness on live television.
Surprisingly, the viewership increases, prompting Sharyn to make them co-hosts until she decides a replacement for herself. How will Terrie and David manage to fall in love in such a fiercely competitive atmosphere? Who will end up replacing Sharyn? Will the loser be able to digest the loss and continue to love the other? There is only one way to find out!
Love in Store Filming Locations
Many of you might be wondering where was 'Love in Store' filmed. We are too. However, information regarding the filming locations of the Hallmark movie has been scarce. Yet, we can certainly try to make an educated guess as to where the movie MIGHT have been filmed.
Most Hallmark movies have either been filmed in Los Angeles or Canada. Moreover, most Hallmark movies that were filmed in Canada had been shot in the British Columbia region of the country. Canada has witnessed a major spike in filming activities these days, thanks to the government's generous tax credits that help producers cut down on the budget significantly.
Los Angeles, California
While Hallmark has had a loving relationship with Canada, we think that 'Love in Store' might have been filmed in Los Angeles, California. Here's the logic behind the guess: most Hallmark movies that feature a large percentage of indoor shots are usually filmed in L.A. On the other hand, Hallmark movies that feature a significant number of scenes set outdoors are usually filmed in Canada.
Since 'Love in Store' revolves around shopping network hosts, we expect a high number of scenes to be set on the shopping network's set. Several behind-the-scenes photos (below) seem to confirm this fact. While some of the photos also show several scenes outdoors, a higher number of them reveal filming having taken place inside a production facility.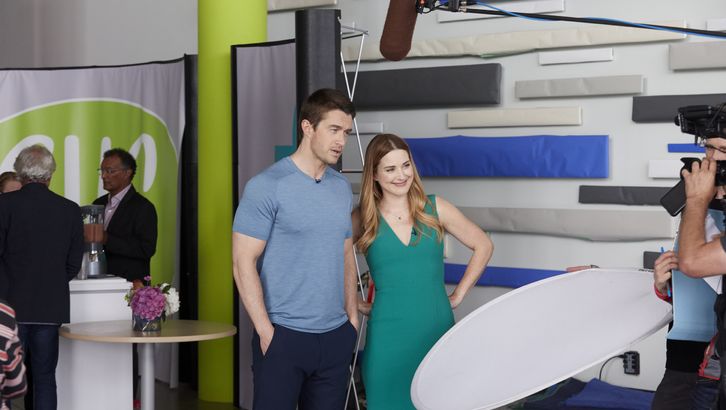 Love in Store Cast: Who is in it?
Alexandra Breckenridge essays the role of Terrie in 'Love in Store.' The American actress stars in several, high-profile television shows. For instance, she stars as Sophie on 'This is Us' and Jessie Anderson in 'The Walking Dead.' Moreover, she also stars in Netflix's romantic television series, 'Virgin River.'
On the other hand, Robert Buckley stars opposite Breckenridge, playing the role of David. Buckley rose to prominence after appearing in 'One Tree Hill' and also stars in 'iZombie.'
Apart from Breckenridge and Buckley, Jackée Harry is also a part of the movie's cast. She essays the role of Sharyn.