Being a superstar is definitely not easy and achieving the "idol" status in the music industry is even more difficult, One must go through a whole lot of pain and struggle and only the ones who are really determined will, in the end, make a name for themselves. 'Love Live! School Idol Project' is all about the struggles of some young girls who want to make it big in the music world but do they have what it takes to be the best? Like most other music-centric anime, 'Love Live! School Idol Project' has also been co-produced by a music company and along with the anime, it has also been really successful with its music CDs. Apart from the music CDs, this one also has game adaptations, mangas, and even anime music videos. Throughout the years, 'Love Live!' has gained immense popularity through all these mediums and it seems like it is far from over.
With so many idol-themed slice-of-life anime around, it's easy to be skeptic about the new ones that come in because more often than not, they are pretty much the same with their cute anime girls doing cute little things. And though 'Love Live! School Idol' seems to be pretty much the same, it also reflects upon many other underlying themes like portraying the struggle of the protagonist to save her school from shutting down and then, of course, the school band trying to make a name for themselves out in the real world. The series starts off a little slow, but during the second half, it really brightens up mostly because of the main protagonist's personality. Honoka, the main character, shines throughout and gives the slice-of-life theme of the anime a lot more value.
Sunrise Studios is known for the animation of some of the most renowned anime shows like Gintama, Cowboy Bebop and also, Inuyasha. But their reputation in the anime industry is more like a double-edged sword. In this case, the studio pulls out some really stunning visuals out of its hats and at times, it's almost like the characters are coming to life. The art style has a very natural flow to it and the overall animation feels very interactive. And of course, when it comes to the music of the show, I don't even have to say much because its entire theme is the music itself. Every aspect related to sound has been beautifully done and when you're done watching it, it becomes clear why its music CDs are doing so well.
Overall, the initial episodes of 'Love Live! School Idol' can be like a chore to watch, but the second half makes up for all of that. It is a fun-packed anime that will leave you inspired by the end and will also have you craving for more of it. Anime music lovers should definitely not miss out on it and even for others, if you're in the mood for some relaxed motivational viewing experience, then just sit back and go for this one.
Love Live! School Idol Project Season 3 Release Date: When will it premiere?
'Love Live! School Idol Project' Season 1 premiered on January 6, 2013 and went on till March 31, 2013. This was followed by a season 2 that was aired from April 6, 2014 to June 29, 2014. Soon after this, on June 13, 2015, a movie sequel of the anime was released. Later, an alternative follow up project titled 'Love Live! Sunshine!!' was released all over Japan and just recently, on January 4, 2019, a second film of the project titled 'Love Live! Sunshine!! The School Idol Movie: Over the Rainbow' was released.
Regarding 'Love Live! School Idol Project' season 3, there isn't much we can say about it as of now, because the creators have been rather unpredictable with their approach towards the show. It is clear that the 'Love Live!' franchise is not coming to an end anytime soon, but it's also really hard to predict what the producers may have in mind next. A season 3 of the show is definitely still in the picture but the approach that will be taken towards it is still unknown. Hopefully, we can expect to get some official confirmation regarding 'Love Live! School Idol Project' season 3 release date by the end of 2021. Till then, you can always catch up with all the other projects that the whole franchise has created till now.
Love Live! School Idol Project English Dub:
You can stream 'Love Live! School Idol Project' on Crunchyroll and Amazon Prime with its original Japanese audio and English subtitles.
Love Live! School Idol Project Plot:
Honoka Kousaka is a second-year student at the Otonokizaka High School. The school is in a state of absolute crisis and the number of students enrolling in it is declining every single year. It is set to be shut down soon after its present first-year students graduate, and Honoka is having a hard time accepting this. She is determined to save her school and while searching for a solution to do this, she decides to form a school idol group of her own. With the help of her two childhood friends, Umi and Kotori, she starts their very own idol group called the "muse" and publicizes it all over.
However, the school president, Eri Ayase, seems to be completely against their ideas and tries to oppose them in every possible way. As the president, she misuses her power to prevent the creation of their Idol group. Apart from this, the girls also have a tough time attracting new members to their team. Meanwhile, Japan's most renowned band competition, known as 'Love Live', is around the corner and Honoka must act quickly to put a solid band together. In the end, will she be able to save her beloved school from its dark fate or will all her efforts go to waste?
Love Live! School Idol Project Characters:
Eri Ayase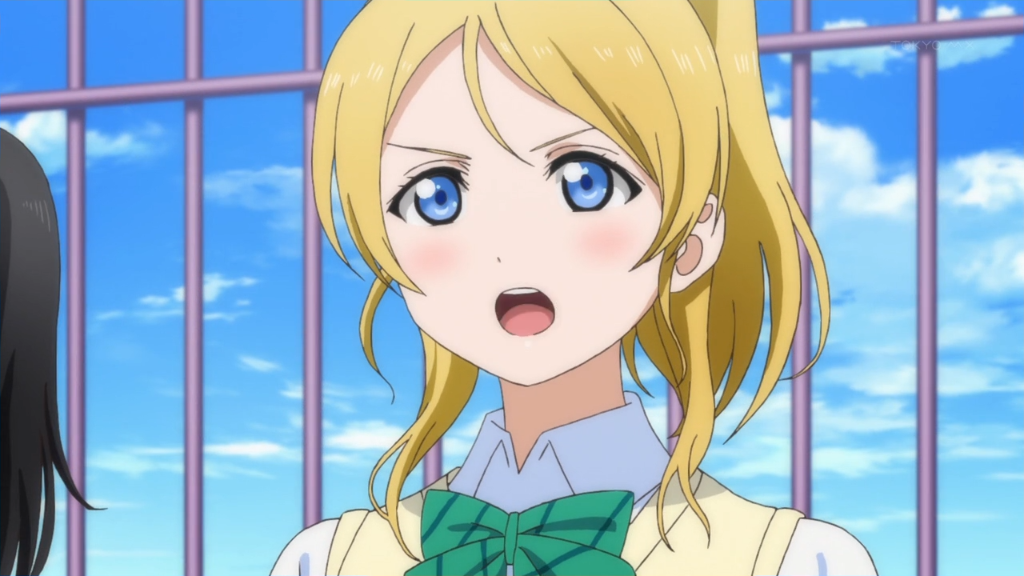 Eri Ayase, also written as Eli Ayase, is one of the main protagonists of the show who is a third-year student at the Otonokizaka High School. She is partially Russian because that's where her grandmother was from and she also has a younger sister named Alisa Ayase. She is like the perfect role model for all the juniors at the school and being the former president of the student's council, she holds quite a lot of responsibilities. Out of respect, the juniors refer to her as "Eli-Senpai". She shows prominent traits of a true leader with her stoicism and dominant nature. But she is also very kind to those who are close to her and is always willing to go out of her way to help someone out.
Honoka Kousaka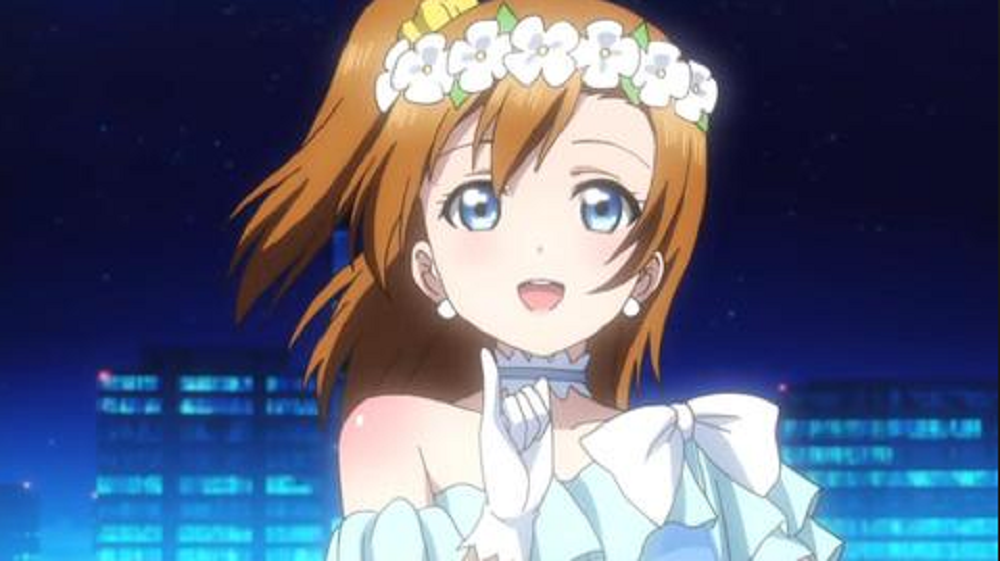 Honoka is the primary protagonist of the show who is a second-year student at the Otonokizaka High School. She is the leader of the idol group "Muse" and it was her idea to start it in the first place in order to save her school. Her family owns a sweet shop called Homura and she lives right behind this shop with her family. She always believes in herself and remains optimistic about her future even when things are not exactly in her favor. She is not afraid of taking risks and that's the reason why once she's determined to do something, no one can stop her from getting what she wants.
Umi Sonoda
Umi Sonoda is another student at the Otonokizaba High School who studies in the second year. Ever since Honoka invited her to a hide-and-seek game when they were kids, she has been friends with her and Kotori. She is really good at archery and is also a member of the school's archery club. She is physically very fit because of her family' martial arts background and thus, she plays the role of the "physical trainer" for the members of the muse. Though she is shy, she can be a great leader.
Kotori Minami
Kotori Minami is a second-year student at the high school and is also Honoka's best friend. Her head is always in the clouds and she is often lost in her own world of daydreams. When it comes to designing clothes, her aptitude is really high and that's the reason why she plays the role of the group's designer. She is very kind and polite to all of her friends and genuinely cares about their feelings.
Read More in Anime Preview: Fruits Basket Season 2 | Sora no Otoshimono Season 3