'Lucifer' is an urban fantasy series that follows Lucifer Morningstar (Tom Ellis) AKA Devil, who abandons his kingdom of Hell to move to Los Angeles. He has quite the life as an owner of a nightclub and a consultant to the L.A.P.D. With every passing day on Earth, Lucifer realizes that he is evolving into someone quite the opposite of a devil. Developed by Tom Kapinos, the series premiered on January 25, 2016, on Fox.
The series received a mixed response as the ratings were low despite the high viewership for the first three seasons, following which Fox canceled the show. Netflix picked up the show for a fourth and fifth season (part 1) of the series that garnered a strong fan base and critical acclaim. Knowing that Netflix has greenlit the sixth season, there is quite a bit that we can look forward to. The question is, when is the part 2 of season 5 arriving? Here is what we know!
Lucifer Season 5 Part 2 Release Date
'Lucifer' season 5 part 1 landed on August 21, 2020, on Netflix. Season 5 part 1 comprises eight episodes with a runtime of 42-46 minutes each.
Regarding the release of season 5 part 2, no official release date has been announced since the filming for the episodes were affected by the Covid-19 outbreak. However, the good news is that season 5 part 2 has finished filming as the team has already moved on to filming season 6. The news got everyone speculating the release of the remaining episodes, expecting a Christmas surprise.
The co-showrunner, Joe Henderson, responded to a Twitter post saying, "I mean, it's finished SHOOTING. We still have plenty to do before it's ready for Netflix! (I don't want to get anyone's hopes up about timeline)." Fans eagerly waiting may have to remain patient a little longer. If everything goes accordingly, we can expect 'Lucifer' season 5 part 2 to release sometime in early 2021.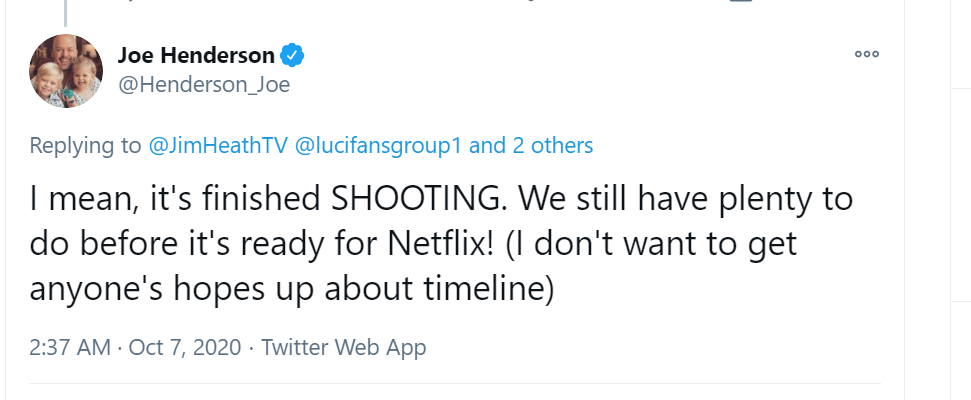 Lucifer Season 5 Part 2 Cast: Who is in it?
Tom Ellis plays the titular character who will be returning for the second part of season 5. Kevin Alejandro (Dan), Lauren German (Chloe), D.B. Woodside (Amenadiel), Scarlett Estevez (Trixie), Aimee Garcia (Ella Lopez), and Lesley-Ann Brandt (Mazikeen) will also reprise their roles. Most of the key cast members will return for the remainder of season 5, although there may be a few exceptions.
Part 2 of season 5 will also see the introduction of Dennis Haysbert as God, who finally makes an appearance on the series, and Matthew Bohrer, who will play Donovan Glover. Scott Porter will be joining as a recurring cast member, but his role has not been disclosed yet. The upcoming episodes also have a long list of guest stars who will be making an appearance, including Chris Payne Gilbert, Jenny Tran, Catherine Dent, and Alison McAtee.
Lucifer Season 5 Part 2 Plot: What can it be About?
The eighth episode marks the end of season 5 part 1, with Chloe and Lucifer finally getting together. However, it has proven to be disastrous for most of the main characters. Amenadiel is grappling with the fact that his son has turned out to be a mortal and not the supernatural being he had expected. Mazikeen (or Maze) has not gotten over the fact that Lucifer hid their mother, Lilith, from her. But the highlight is the double showdown between Lucifer and Maze, and Amenadiel and Lucifer's twin brother, Michael. They are interrupted by God, who calmly puts an end to the fight and the episode.
The ninth episode that will kick off part 2 of season 5 will be a musical and is titled 'Bloody Celestial Karaoke Jam.' The upcoming episodes could look at the real purpose of God's visit and the plans that Michael has in mind. With Lucifer and Chloe finally becoming a thing, their relationship will need to be explored further to see if it could indeed survive all the celestial drama that is yet to come.
Lucifer's good friend Ella happens to be one of the few people in Lucifer's close circle who is ignorant of his true identity, i.e., the Devil. Would that change anything between the two friends if and when she finds out? After much heartache and disappointment, Maze has her reasons to join Michael's schemes. But if she gets a soul, would that put an end to her misery? Another thing left unexplained is Lucifer temporarily losing his ability to read people's minds, which could be fodder for the subsequent storylines.
Read More: Where is Lucifer Filmed?