Having a haunting identity crisis after spending seven long years playing the same character is not unlikely, for both the actor and her fans. When Lucy Hale bid adieu to her eccentric Aria Montgomery in the cult drama series, 'Pretty Little Liars,' it took some time for her and the fans to adjust to the reality. Lucy Hale garnered a worldwide fan base with the portrayal of Arai in 'Pretty Little Liars.' Both Lucy and Aria became the synonyms of a force of nature, radiating feminine energy all around. When the Series stopped in 1997, the identity crisis lingered on as she was also playing a teenager in most of her 20s.
But she realized the danger of these recurring roles and started choosing her characters with care and discretion. Lucy Hale returned to her home turf, the TV shows, with the CW's 'Life Sentence.' She often remembers her shifting from Tennessee to Los Angeles 12 years ago and receiving her first paycheck as a little girl for a Bratz doll commercial. Lucy Hale considers entertaining as her hobby. At this point, the question that might be circling your mind is what is the next Lucy Hales movie and TV show? Well, the good news is that we have a clear answer to that question. Here's the list of upcoming Lucy Hales films/TV shows scheduled to release in 2019 and 2020. We can only hope that the latest Lucy Hales movies would be as good as some of her recent ones.
1. Ryan Hansen Solves Crimes on Television (2017 – Present)
YouTube Premium's action-comedy-crime mashup series, 'Ryan Hansen Solves Crimes on Television' garnered a massive fan following in its Season 1. The Series makes a unique blend of humor by mixing police procedural with celebrity culture. Ryan Hansen plays the central figure, a self-absorbed actor who works hand-in-hand with the homicide detectives in the LAPD. The Series shots hilarious and intelligent gags at the Hollywood ecosystem in every episode, and Ryan returns every night to a 'TV family,' whose lives and privacy are streaming for the audience.
Season two of 'RHSCOT' started in January with slight changes in the cast list. Wood Harris stepped into the shoes of Ryan's partner Samira Wiley. Lucy Hale reprises her role as Detective Lake. The cast members include Jillian Bell, Rob Corddry, Jon Cryer, Rhys Darby, Donald Faison, Thomas Lennon, Jane Lynch, Ken Marino, Tim Matheson, Joel McHale, Tim Meadows, Stephen Merchant, Ben Schwartz, Dax Shepard, and Jessica St. Clair. Season 2 of 'Ryan Hansen Solves Crimes on Television' is available as 8 episodes on YouTube Premium from the 30th of January.
2. A Nice Girl Like You (Post-production)
'A Nice Girl Like You' is an indie rom-com based on a memoir written by Ayn Carrillo-Gailey. The plot of the movie revolves around Lucy Neal, played by Lucy Hale, a violinist who is accused of being a 'sexophobic' by her boyfriend. She wants to prove that her boyfriend and friends are wrong. So, Lucy Neal writes down a bucket list of wild things to do. But, once started, she has been sucked into the whirlwind chaotic events, which in turn lead to her self-discovery. The movie is directed by Chris and Nick Riedell.
3. Fantasy Island (2020)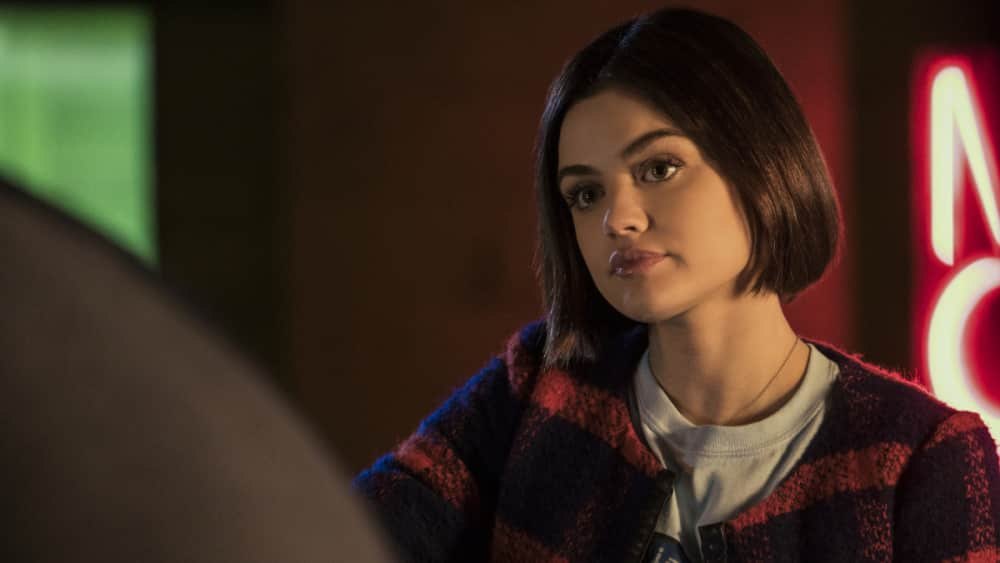 Lucy Hale pairs with Michael Pena in the upcoming fantasy thriller, 'Fantasy Island.' Hale will be seen as one of the elite guests invited to a mysterious island to live their wild fantasies. All of them paid a huge price for the once-in-a-lifetime opportunity. But everything hasn't gone as expected. 'Fantasy Island' is based on the television series of the same name. The original was a cult hit with seven seasons under its tag from 1977 to 1984. Pena plays the host of the mysterious island, Mr. Roarke, who often warns his guests that their fantasies may not realize as expected. Hale reunites with her 'Truth or Dare' director Jeff Wadlow in the movie which is slated for a 28 February 2020 release.
Read More: Upcoming Megan Fox Movies
4. Katy Keene (2019)
'Katy Keene' is the 'Riverdale' spin-off in which Lucy Hale plays the titular character. The plot follows four characters chasing their dreams in the cityscape of New York. Katy, who wants to be a legend in fashion designing, spends her days as a personal shopper at a luxury department store, hanging out with friends and dating. The spin-off is based on the Archie Comics character of the same name. Lucy Hale joins a cast list that includes Camille Hyde, Lucien Laviscount, Ashleigh Murray, Jonny Beauchamp, and Julia Chan. Maggie Kiley will direct the pilot for CW. The movie is also touted as a musical comedy with some good beats for the ears.
Read More: Upcoming Elizabeth Banks Movies