Luc Besson has given us the most unconventional action-thrillers with his unique filmography that includes masterpieces like 'Leon: The Professional' and 'The Fifth Element'. He is known for his spectacular visuals and his strong, well-written female characters that rein his action features. With his 2014 sci-fi action film, 'Lucy' which stars Scarlett Johansson as the eponymous character, he gave us the unorthodox superhero we never knew we needed.
'Lucy' is much more than a sci-fi action thriller because of Besson's philosophical and existential approach to it. He makes use of the scientific myth that says humans can only 10% of their brain's capacity, and explores what could happen if they could access all 100% of it through Lucy's character.
Of course, 'Lucy' is in no way scientifically accurate, but then it does not need to be because the questions it raises are deeper than that, and much more relevant than its accuracy.
The film revolves around Johansson's Lucy, a student in Taiwan, who gets tricked into working as a drug mule for a Korean drug lord because of her boyfriend. She is kidnapped, and a bag of drugs is forcibly surgically implanted inside her. The bag accidentally breaks and the drugs begin to react in her body, which somehow allow her to gradually access upto 100% of her brain's capacity.
Lucy then turns into a superhuman with her increasingly enhanced mental and physical capabilities. Ever since its release in 2014, there had been talks of whether or not it will get a sequel. There were several rumours in 2017 that it would and that Besson had even written the script for one, but these were later dismissed. Either way, there is still some scope for 'Lucy 2', and here is everything we know about it.
Lucy 2 Plot: What Can It Be About?
In the film, Lucy with her enhanced physical and mental capabilities can access all knowledge in the universe, and gains superhuman powers like telekinesis, telepathy and mental time travel. She seeks revenge on those who led to her condition with her new-found powers. She also gets help from Professor Norman, played by Morgan Freeman, to understand her condition better, and gradually uncovers all the biggest mysteries of the universe.
Lucy does not know what to do with her powers and decides that the only thing she can do is to pass on her knowledge. The movie ends with Lucy disappearing into the space-time continuum, stating that she is everywhere. In a lot of ways, despite its scientific flaws, 'Lucy' serves as a superhero origin story. But due to its ending, it is unclear if Lucy would be back as her human form in a potential sequel.
If there is ever a sequel to 'Lucy', it should ideally explore Besson's ambiguous ending to the film. It could also explores what happens afterwards, once Lucy's knowledge is in the hands of Professor Norman. How does the world progress? What happens to Lucy now that she is everywhere.
Does she control the world? Does she fight evil? There are actually endless possibilities to this. Also, since it is a philosophical sci-fi thriller, ethics related to unlimited knowledge in the hands of several humans like Lucy should be explored. As I am guessing after Lucy, there definitely would have been more experiments with the drugs her body came in contact with. The sequel should ideally also explore these possibilities.
Lucy 2 Cast: Who Can Be In It?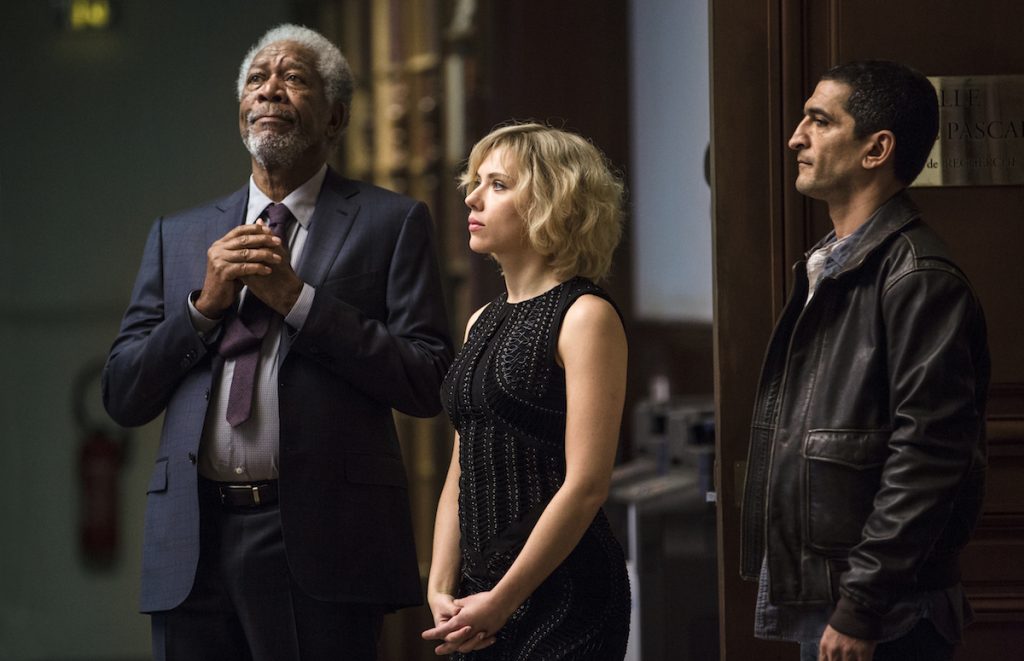 'Lucy' stars Scarlett Johansson and Morgan Freeman in central roles, as Lucy and Professor Samuel Norman respectively. It also stars Choi Min-sik as Mr. Jang, the movie's primary antagonist, and Amr Waked as Pierre Del Rio, who according to Besson represents the audience and provides some hope in the film's narrative.
If there were a sequel to the film, it would definitely need to have Lucy in some form or another as it was Scarlett Johansson's performance that made the film what it is. Since the film is titled "Lucy", it would only make sense to have her back. If the movie follows and continues with the narrative of the original film, we would also have Morgan Freeman and Pierre Del Rio back for the sequel. Since Jang is fatally shot towards the ending, Choi Min-sik is less likely to return for the sequel. This means we would need a new primary antagonist for 'Lucy 2', along with other new characters, for which new cast members will be added to the team.
Lucy 2 Crew: Who Can Be Behind It?
Luc Besson was the man behind 'Lucy', and both directed it and wrote its screenplay. He worked on it because of his own fascination with the human brain's capability and chose to explore it in relation to ethics, morality and mortality. He made his approach a philosophical one, creating a superhero out of an average woman who does not know what to do with so much power. This is what makes 'Lucy' stand out among the rest of the sci-fi genre, as well as the superhero genre. It is the humanity in all that power that Besson explores philosophically.
If there were to be a sequel to the film, the one person who should behind it, and perhaps the only person who would actually do justice to it would be Luc Besson. In 2017, EuropaCorp CEO Marc Shmuger had allegedly stated in an interview that there were currently working on a sequel to Lucy 2, after the commercial failure of Besson's 'Valerian and the City of a Thousand Planets'.
It apparently also revealed that Besson had already written a script for the sequel. However, a few days later, Besson himself denied this and stated it to be "fake news" and revealed that he was not planning to work on any sequel to 'Lucy'. This could very well be fake news, but since the alleged source of the news was Shmuger, maybe there is still some scope for a sequel to the film as there is no smoke without fire.
Lucy 2 Release Date: When Can It Premiere?
The last talks about a sequel to 'Lucy' happened all the way in 2017 when Shmuger revealed that the sequel was in active development which Besson completely denied. There have been no updates on the sequel ever since so there is no way to know for sure if it would happen at all. If it is greenlit soon, I can see 'Lucy' 2 releasing sometime in 2023.
Read More: Upcoming Scarlett Johansson Movies