Maggie Siff is an American actress from New York City. Born on June 21, 1974, this 44-year-old is an alum of both Bryn Mawr College and New York University. Siff has had an extensive career in regional theater before she moved on to television shows. She began to appear in television series from 2004 and started as an Alcoholics Anonymous speaker in an episode of 'Rescue Me' in Season 2. The actress also appeared in largely popular shows including 'Grey's Anatomy', 'Law & Order' and 'Law & Order: Special Victims Unit'.
However, she is best known for her role of Rachel Menken Katz in 'Mad Men', where she appeared from 2007 to 2008. Another notable role was as Dr. Tara Knowles, later Tara Knowles-Teller, in the acclaimed FX show 'Sons of Anarchy'. At this point, the question that might be circling your mind is what is the next Maggie Siff movie/tv show? Well, the good news is that we have a clear answer to that question. Here's the list of upcoming films/shows of Maggie Siff scheduled to release in 2019 and 2020. We can only hope that the latest Maggie Siff movies/shows would be as good as some of her recent ones.
1. Billions (2016-)
'Billions' is a drama series starring Paul Giamatti and Damian Lewis. It is based loosely on the legal battle between District Attorney Preet Bharara and a hedge fund manager Steve Cohen. Giamatti plays Charles Rhoades Jr., based on Bharara, while Lewis plays Robert Axelrod, based on Cohen. The two men are deadlocked into a deadly battle of power, as Rhoades tries to take down Axelrod. Rhoades motives are clear. He is driven by distaste towards those who attempt to use their money and power to find loopholes in the justice system and evade the consequences of their action. Rhoades is convinced that Axelrod is one such person who uses insider trading and bribery to increase his firm's wealth, and keeps up appearances of being charitable, to evade suspicion.
So where does Maggie Siff fit into all this? Well, Siff plays the role of Wendy Rhoades, the wife of Charles. Wendy is an ambitious and career driven woman. As a psychiatrist and in-house performance coach, she has been working for Axelrod for over 15 years. Wendy is also a driving force in Charles' own character since she makes more money than him, which makes him insecure in turn. In a bid not to be overshadowed by his wife, who is a Yale alum same as him, Charles often tries to take on big opponents and Axelrod fits the bill perfectly. However, this might just turn out to be one battle that is too much for the gutsy lawyer to handle. Notably, Siff worked in a temp position for a short time at a hedge fund after completing her graduation and the actress has drawn on this experience to play her part in 'Billions'. The show has already aired for three seasons and Showtime renewed it for Season 4 on April 26, 2018. The new season of 'Billions' will be airing on March 17, 2019.
Read More: Upcoming Haley Lu Richardson Movies
2. The Short History of the Long Road (2019)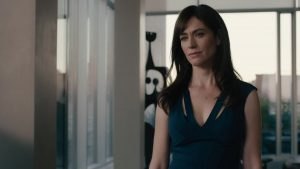 'The Short History of the Long Road' is an upcoming indie road film that is set to premiere at the Tribeca Film Festival in 2019. Currently, the film is in post-production stages. The plot is centered around Nola, a young girl, who lives the life of a nomad along with her beloved father, Clint. They have always been a duo taking on the world together. However, the whole us against the world plan goes awry for a teenage Nola, when tragedy strikes her. She finally has to come to terms with the fact that living her entire life as an outsider might not be a viable option anymore. It falls to her now to try and engage with others in an attempt to form social bonds and eventually go on to integrate herself within a society that she has never really been a part of before this point. Nola realizes, with the expanding social relationships in her life, that she now has to make the decision to finally get off the road completely and set her roots somewhere. Else, she can continue on the road with nothing but wits and memories to keep her company. The plot is almost a coming of age story as Nola must learn to own her grief, what lay in her past as well as her new destination. The film has an impressive cast where Sabrina Carpenter plays Nola and Steven Ogg plays Clint. Other cast members include Danny Trejo and Maggie Siff. Siff plays a character called Cheryl and although the extent of her role is not known, it is expected that she will help Nola realize the value of having roots in society.
Read More: Upcoming Portia De Rossi Movies