Whenever we see a story about time travel, we witness the characters trying their best to not touch the events in a way to alter the course of history. These people are sharp and take calculated steps, even if something goes wrong anyway. But what if an idiot travels back in time? Well, not an utter and helpless idiot, but a very normal person who doesn't give much thought to their actions until they have seen the results. It is a sure shot way to comedy and this is what 'Making History' is all about. The show is created by Julius Sharpe (known for 'Dads', 'Dumb and Dumber To', 'Family Guy' and 'The Cleveland Show'), who also serves as its executive producer, alongside Phil Lord, Christopher Miller, Seth Cohen and Jared Hess. It is produced by Chris Smirnoff and Karen Kilgariff.
Making History Cast: Who's in It?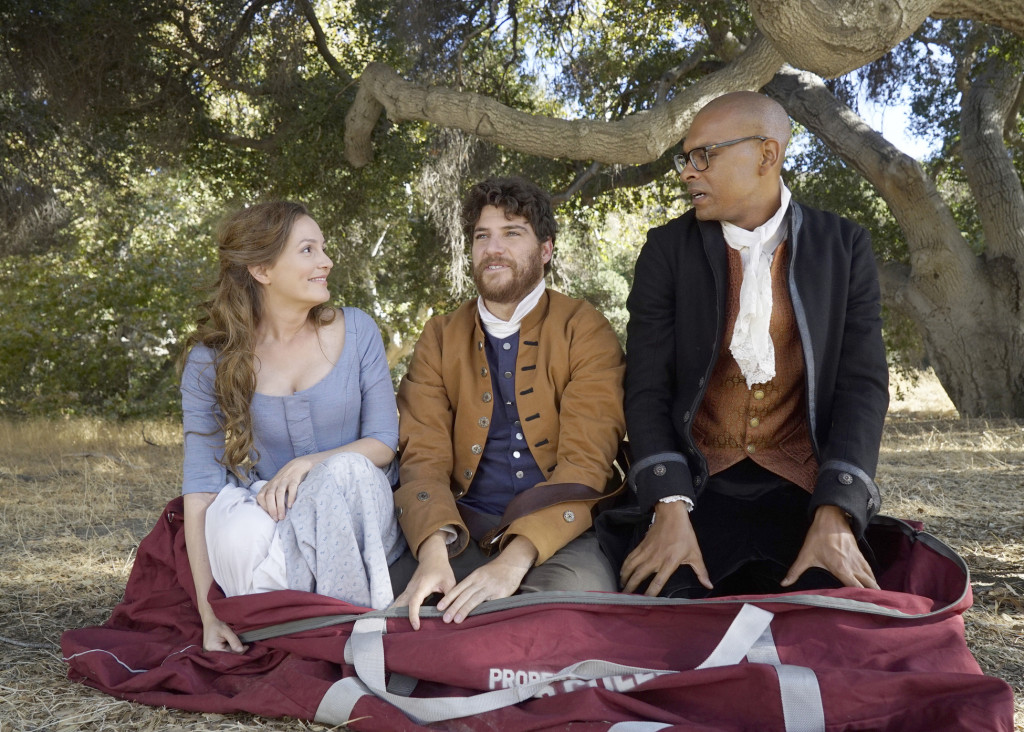 The story of 'Making History' revolves around three main characters, trying to right the wrongs of time travel. Apart from these fictional characters, we also get to meet some famous personalities of the past. Adam Pally plays the role of Daniel Chambers. He is a janitor who gets the opportunity to go back in time, and not so unexpectedly, messes up the chain of events. Pally is known for his roles in 'Happy Endings', 'The Mindy Project', 'Shimmer Lake', 'Dog Days' and 'Don't Think Twice'.
Leighton Meester plays the role of Deborah Revere, the daughter of Paul Revere, an important figure in the American Revolution, who is played by Brett Gelman. Meester is best known for her role in the teen drama, 'Gossip Girl'. Her other acting credits include 'Single Parents', 'House', 'Surface', 'Veronica Mars', '24', 'Entourage', 'The Judge', 'That's My Boy', 'The Oranges', 'Monte Carlo', 'The Roommate' and 'Country Strong'. Gelman has worked in films and TV shows like 'Fleabag', 'Twin Peaks', 'Stranger Things', 'Love', 'Another Period', 'Married', 'Eagleheart', 'Like Father', 'The Disaster Artist' and 'Someone Marry Barry'.
Yassir Lester plays the role of Chris Parrish, a history professor who is sought out by Dan for helping him get history back on track. Lester is known for his work in 'The Carmichael Show', 'Girls', 'Black Monday', 'Champions' and '@midnight'. John Gemberling appears in the role of John Hancock, another patriot of the American Revolution. Gemberling has worked in a lot of comedies over the course of his career. His credits include voicing the characters in 'DuckTales', 'Big Mouth' and 'American Dad!'. He has also been a part of 'A Futile and Stupid Gesture', 'Marry Me', 'Fat Guy Stuck in Internet', 'The Office', 'Happy Endings' and 'Key and Peele'.
Neil Casey plays the role of Sam Adams, one of the Founding Fathers of the United States. Casey has not only acted but also served as a writer for films and TV shows. The list of his works includes 'Saturday Night Live', 'Inside Amy Schumer', 'Ghostbusters', 'The President Show', 'Silicon Valley', 'Big Mouth', 'Kroll Show' and 'Fat Guy Stuck in Internet'. Tim Robinson plays the role of Al Capone, one of the most infamous gangsters of all time. Stephanie Escajeda appears in the role of Capone's wife, Mae.
Making History Plot: What's it About?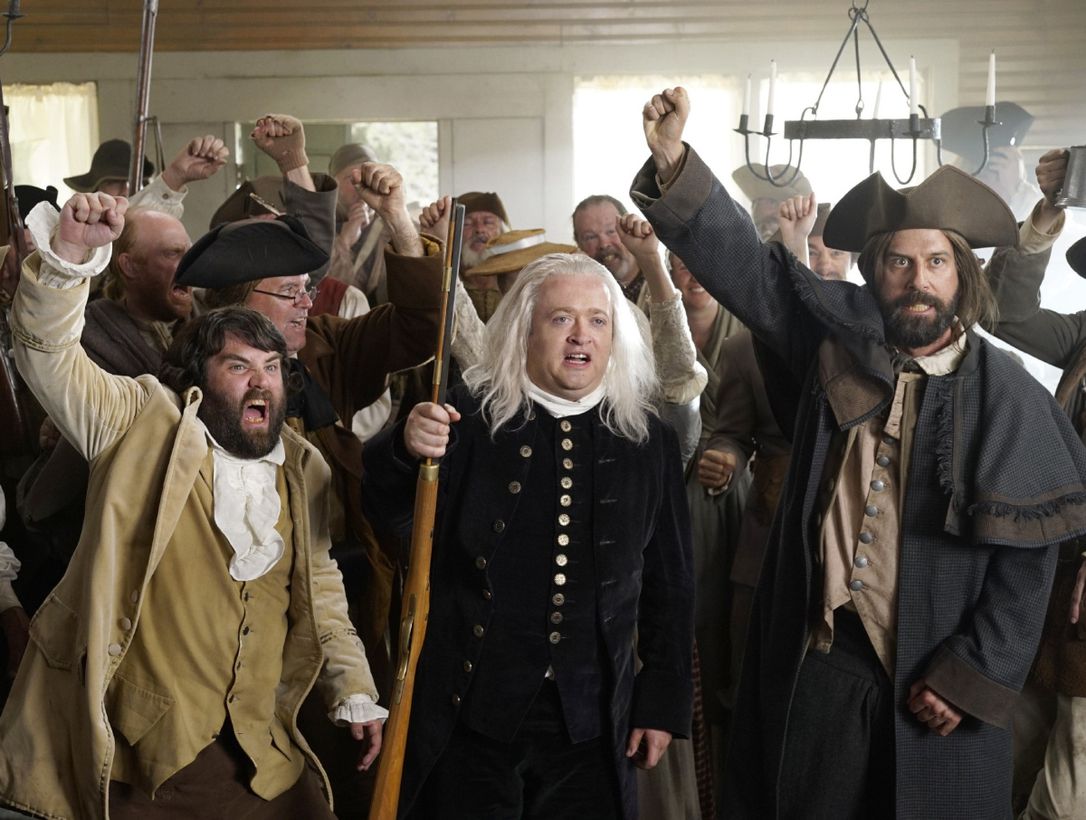 The story of 'Making History' begins with Dan falling into a ditch. After a crackle of electricity, he realises that he has traveled back in time. And no uninteresting time either; it is just before the American Revolution. Dan tries to fuel the fire and bring the Revolution to life, and along the way falls in love with a girl named Deborah, who turns out to be the daughter of none other than Paul Revere. Dan soon realises that there are too many things to handle, too many details that he doesn't know; so he brings Chris, a history professor, back to the past to help him help the people.
The story moves forward with them becoming an important part of some of the most defining events in history. But their escapade doesn't end there. When they come back to their time, Deb accompanies them. Also, now that they have the taste of time travel, they decide to do it again, this time travelling to a less adventurous time, focusing on Dan's history. Soon, the regrets of his past triggers a series of adventures whose effects echo in their original time. Further exploration of time travel leads them to bet on the 1919 World Series. This time, they find themselves face to face with Al Capone. Associating oneself with a gangster is never a good thing and the trio soon discovers why. Other episodes of the show focus on more of their adventures where they realise that no matter how much they know about historical events, they still can't control them.
Making History Season 2 Release Date: When Will it Premiere?
'Making History' season 1 premiered on March 5, 2017. The show received mixed reviews from critics. While some found it funny and unique, there were others who gave it only lukewarm reviews. However, the worst response came from the audience. Not enough people were watching the show. Its ratings continued to see a steep fall with every episode, due to which it was even reduced from the run of thirteen episodes to only nine. The show was cancelled by Fox even before its season finale.
If you loved 'Making History', then perhaps you should accept that it is not coming back. However, there have been instances where the shows have developed a cult following later, which in turn leads to their revival. It isn't an impossible scenario for this show, but it'll surely take its time to get there. Anyway, if that happens, we will update you about 'Making History' season 2 release date.
Making History Trailer:
If you love time travel and comedy, then 'Making History' is the perfect show for you. Pity, it couldn't survive the blow of cancellations. You can still relive the story. Just head over to Fox. Here is a look at the 'Making History' season 1 trailer, just to remind you how good it was.
Read More: Best Time Travel Movies on Netflix