Amanda Leigh Moore, or Mandy Moore, is an American singer, songwriter, and actress. Born in New Hampshire, Moore does not come from a family directly involved in the show business. However, she found herself drawn to singing and acting at a very young age. Notably, Moore considers her maternal grandmother, who used to be a ballerina in London, to be one of her biggest inspirations.
Moore started off by appearing in a number of local productions before she headed off to the Stagedoor Manor performing arts camp. Notably, celebrities like Natalie Portman had been to the same place. When Mandy Moore was 13, she began to work on her own music. She soon signed with Epic Records and went on to have quite a prolific career in singing, which included touring with the Backstreet Boys.
Coming to her acting career, Mandy Moore made her feature film debut in 2001 when she voiced a Girl Bear Cub in 'Dr. Dolittle 2', an Eddie Murphy movie. Later that year, Moore appeared alongside Anne Hathaway in 'The Princess Diaries', which is based on the Meg Cabot novel of the same name. However, the first movie that Moore starred in was 'A Walk To Remember', which is based on Nicholas Sparks' novel of the same name. Her performance was acclaimed by critics. Moore's singing and acting careers continued, as she appeared in projects like 'Chasing Liberty', 'Saved!' and 'Racing Stripes'.
Apart from films, she also made her mark in television shows, appearing in 'Entourage', 'Scrubs', and 'The Simpsons'. That is not all as Moore has also appeared in movies like '47 Meters Down' and lent her voice to animated movies like 'Tangled'. It is evident that Moore likes to keep a busy schedule. So now you must be wondering what is the next Mandy Moore movie or TV show? Well, here's the list of upcoming Mandy Moore films and TV shows scheduled to release in 2019 and 2020. We can only hope that the latest Mandy Moore movies would be as good as some of her recent ones.
1. Midway (2019)
'Midway' is an upcoming American war film that tells the story of the Battle of Midway. The tale will be told by the leaders and the sailors who fought in the war. For those unaware, the battle turned out to be a turning point in the Pacific Theater during World War II. This is the tale of the aviators and sailors of the US Navy who persevered through insurmountable odds and persistent danger to tell the tale of their glorious victories. Mandy Moore appears in the role of Anne Best and we hope that she would deliver an impressive performance in what seems like an intense, atmospheric war thriller. The movie is helmed by Roland Emmerich and is slated to be released on November 8, 2019.
2. This Is Us (2016-)
'This Is Us' is a comedy-drama television series that airs on NBC. The plot is a heartwarming tale of a unique set of triplets and their wonderful parents. The emotional tale takes us through their struggles in different time frames. The series is highly acclaimed. We follow the lives of the siblings Kevin, Kate, and Randall, known as the Big Three. We are also introduced to their parents, Jack and Rebecca Pearson. The show's narrative mainly takes place in the present while using flashbacks for the family's past. We see how Kevin and Kate are the two surviving members of a triplet pregnancy. When the third child is stillborn, the parents adopt Randall, believing that they were meant to have three children. Randall was brought to the hospital the same day and had been abandoned by his biological father at a fire station. Jack, the father of the three kids, dies when the children are 17. Over a decade later, Rebecca marries Jack's best friend, Miguel. Randall, Kate, and Kevin all succeed in their lives personally and professionally.
The flashbacks are mostly used to show the children growing up, or the times before they were born, so we get to know about the parents as well. There are some flashforwards as well, as we see the Big Three have their own children who are now grown up; while an elderly Rebecca happens to be on her deathbed. Mandy Moore appears in the role of Rebecca and has delivered a phenomenal performance, which leads us to believe that she will continue to impress in the seasons to come.
Read More: Upcoming Julia Stiles Movies
3. Rapunzel's Tangled Adventure (2017-)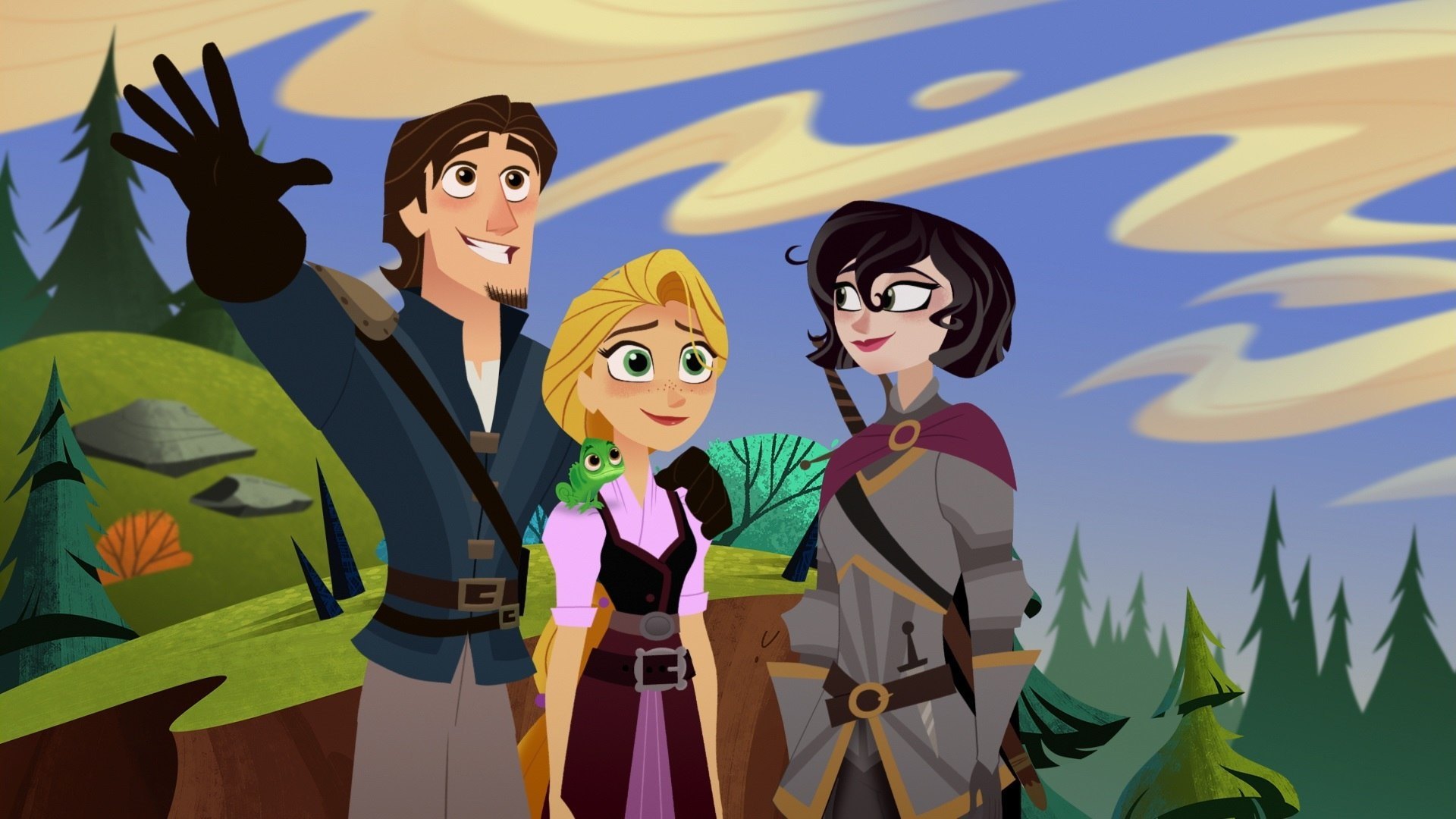 'Rapunzel's Tangled Adventure' was known as 'Tangled: The Series' in the first season. It is basically set between the events of 'Tangled' and the short movie 'Tangled Ever After'. The adventure-comedy series unfolds as Rapunzel makes herself familiar with her parents, kingdom and the people of Corona. Basically, we see that Rapunzel has been freed from Mother Gothel and reunited with her birth parents, King Frederic and Queen Arianna of Corona. Rapunzel has to readjust to her new life as their daughter. She seems to have quite a few adventures with her boyfriend, Eugene Fitzherbert. They are accompanied by Maximus the horse, Pascal the chameleon, and Rapunzel's new handmaiden Cassandra. The goal is to unlock the mystery behind the return of her long blonde hair and its mystical abilities.
Over the seasons the adventures change as we see Rapunzel also exploring the black spikes that have suddenly appeared and Rapunzel's mysterious connection with them. On their quest, they are aided by Adira, a mysterious sword-wielding character from the Dark Kingdom, which is where the rock spikes come from. Rapunzel soon learns that the outside world is not all fun and games as the quests take a dangerous turn. Mandy Moore lends her voice to the character of Rapunzel, who tries her best to be a good princess. While Rapunzel holds an interest in exploring life, she is naive, which often gets her into trouble. Undoubtedly, in the upcoming season, Moore will be able to bring the character back to life in memorable ways.
Read More: Upcoming Sarah Paulson Movies