While watching a scary movie or TV show, or while reading a horror novel, have you ever wondered about the creator of the story? Does your mind ever question the source of their inspiration? Like, how does Stephen King manage to deliver one chilling story after another and still manages to keep himself sane? Has he ever witnessed a real haunting, or is it all just a figment of his very overactive imagination? Or, more interestingly, has he made peace with the ghosts surrounding him and uses their tales to sell his books? What toll does it take on a person's psyche to write a story like that?
Netflix's French horror drama, 'Marianne' give the audience a look into the world of a horror writer. Created and directed by Samuel Bodin, who has also written the show along with Quoc Dang Tran, it tells the story of a young novelist who returns to her hometown after a string of horrifying events take place there. She discovers that her childhood and her novels have something to do with this, and if something isn't done, the malevolence will spread and destroy everything.
Marianne Cast: Who's in it?
The lead character of the show is Emma. She had escaped the horrors of her hometown a long time ago and had used her stories as a means to keep the witch at bay. It helps her for a while, but the situation takes a turn for the worse when she discovers that the evil entity has latched itself to her stories. The character is portrayed on the screen by Victoire Du Bois. Her acting credits include titles like 'The Forbidden Room', 'I Lost My Body', 'From the Land of the Moon' and 'Seances'. Her best-known work, however, is the role of Chiara in Luca Guadagnino's Oscar-nominated film, 'Call Me by Your Name'.
Additional cast includes Tiphaine Daviot ('Black Spot', 'In Family', 'HP' and 'Yes I Do'), Lucie Boujenah ('Little Tickets', 'Vera' and 'Haiku') and Alban Lenoir ('The Amazon', '15 Minutes of War' and 'French Blood').
All the main cast members are expected to return for season 2.
Marianne Plot: What's it About?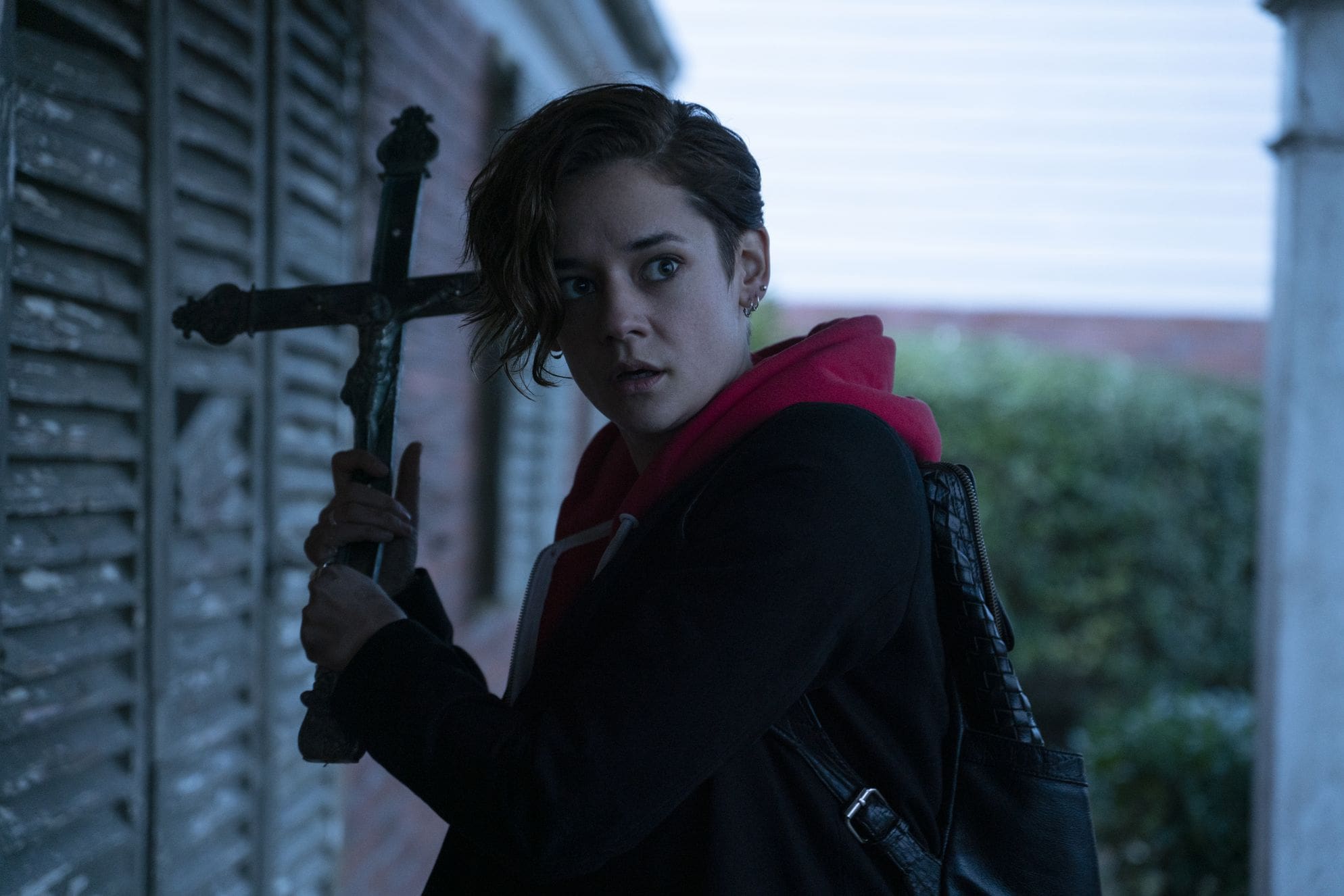 Since her childhood, Emma has battled with a demonic entity which has lodged itself so firmly in her psyche that no matter where she goes, it always finds a way into her life. Some incidents of her past have been so traumatising that she doesn't want to return to her hometown. Time moves on and the haunting retreats in the recesses of her mind, materialising time and again in the form of dreams. In order to cope with this situation, Emma takes a liking to write stories. Whatever happened to her back then, whatever transpires in her dreams, she jots it all down into a full-length novel. She might be scared, but at least, she'll be rich! It works quite well, for a while.
A few years later, she comes to know about the strange incidents taking place in her hometown. She relates it to her experience and the stories she has written. She had tried to repress her fears by tangling the truth with a bit of imagination. But now, it seems like her imagination is turning into reality and is destroying the lives of other people. Forced to confront her demons, Emma returns to her home and it doesn't take much time for the thing that terrorised her to find her. Her name is Marianne and she is a witch. She has some form of connection with Emma and knows exactly what scares her the most. She feeds on her weaknesses to make Emma do her bidding. It looks like she has planned something and wants the writer to continue to deliver the stories, or she will continue to torment the people of the town, upping the level of blood and gore. Emma has to not only defeat the witch but also has to find a way to keep her satisfied and lower the count of casualties as much as possible. But blood will be shed. It is not a matter of if, but when.
Season 2 is likely to take the story forward from where season 1 ends. There are a lot of unanswered question that the next season might address.
Marianne Season 2 Release Date: When Will it Premiere?
'Marianne' Season 1 premiered on Netflix on September 13, 2019. In eight episodes, the series delivers a dark tale that sends shivers down the spine. The thick plot is complemented by the murky tone and gloomy weather. The general relief in a horror story comes with the sun, but here, the days are as bleak as the nights are spooky. The corporeality of the entity, which is supported by intense acting, keeps the viewers on edge, anticipating not only her next appearance but also her next move.
Netflix has previously witnessed popularity in the horror genre with 'The Haunting of Hill House'. Though the series doesn't entirely match its murkier charm, 'Marianne' delivers a nightmare of its own. Netflix hasn't made any official declarations about the future of the series, but with the ending that it has, they can't leave the audience hanging. If the series is renewed, we expect 'Marianne' Season 2 to premiere sometime in September, 2020. The next season might bank another Friday 13th date, so keep an eye out for that.
Marianne Trailer
For the lovers of horror, 'Marianne' is an unmissable treat. It creates an arresting atmosphere while using the classic tropes of the genre. From creaky doors to using the cross to drive the evil away, to the monster hiding under your bed, or crawling on your ceiling, the jump scares are enough to keep you up at night. If you want to watch the show, but are also scared easily, then you should gather around your friends before embarking on this exhilarating binge. You can catch all episodes of the show on Netflix. Have a look at the trailer and decide whether you want to watch the show during the comfort of day or enjoy its chills in the cover of night.
Read More: Best Horror Shows on Netflix