Martin Scorsese has been one of the most accomplished directors working in the history of cinema. Nominated for eight Academy Awards, Scorsese started his career in 1963, when he made 'Who's That Knocking On the Door' while studying at NYU. His second film pushed him into severe cocaine addiction and depression. He recovered from it while filming 'Taxi Driver', which's huge reception brought him back to focus on work. He delivered another hit in 1980 with 'Raging Bull' once again collaborating with Robert De Niro. His 1990 film 'Goodfellas' was a turning point in his career which also won Joe Pesci his first Oscar in Best Supporting Actor category. His collaborations with actor Leonardo DiCaprio in the 2000s earned both of them several accolades. Their 2006 film 'The Departed' won Scorsese his first Best Director Oscar.
Apart from films, he's been an active producer, editor, and documentary film-maker. His films like 'Hugo' and "Silence' have been an amazing contribution towards non-commercial cinema. If you were wondering what's Martin Scorsese's next movie, here's the list of upcoming Martin Scorsese films scheduled to release in 2019, 2020 and 2021. We can only hope that the latest Martin Scorsese movie and TV Show would be as good as some of his recent ones.
11. Rolling Thunder Revue: A Bob Dylan Story by Martin Scorsese (2019)
'Rolling Thunder Revue: A Bob Dylan Story by Martin Scorsese' documents the turbulent American society in the mid-70s. Scorsese captures the vibes of the decade through the ecstatic music of Dylan. The director-singer duo takes us to Dylan's performances during the fall of that year. The movie is a hybrid of documentary, concert movie and biopic.
10. Untitled Martin Scorsese/Sharon Stone/Meryl Streep/Robert De Niro Project (TBA)
Martin Scorsese's untitled flick is one of the most secretive projects in the Netflix roster. Unconfirmed reports suggesting Scorsese's collaboration with Meryl Streep, Sharon Stone, Robert De Niro has been around for a while. But both the director and the streaming platform keep all the details of the movie under wrap.
9. An Afternoon with SCTV (TBA)
'An Afternoon with SCTV' is a TV special in which the cast of SCTV comes together for a reunion. Together the legends of the show dig deep to turn up with stories from the cult 70's and 80's sketch comedy show. The special is hosted by popular Jimmy Kimmel. The date and time of the show are not yet released.
8. Port Authority (TBA)
Set in New York's kiki ballroom realm, 'Port Authority' is a heartwarming love story. The plot follows Paul, a 20-year-old boy who falls head over heels in love with Wye, a 22-year-old girl cat-walking on the sidewalk. In the intense love story that follows, Paul realizes Wye is a trans person, his life turns upside down. The predicament leads him to self exploration and rethinking about his world views. Scorsese serves as the executive producer of the movie, which is written and directed by Danielle Lessovitz. 'Port Authority' has Fionn Whitehead, Leyna Bloom and McCaul Lombardi in key roles. Tilda Swinton, Robert Pattinson, Richard Ayoade
7. The Souvenir: Part II (TBA)
Written and directed by Joanna Hogg, 'The Souvenir: Part II' is an upcoming romantic drama set in the early '80s. The movie centers on a young film student who falls for a mysterious man with a dubious past. 'The Souvenir: Part II' features Tilda Swinton, Robert Pattinson and Richard Ayoade in lead roles, with Scorsese is credited as the executive producer.
6. Bastard (TBA)
'Bastard' is directed by Rodrigo Prieto from a screenplay written by Bill Gullo. Rodrigo Prieto was nominated for an Oscar for shooting Martin Scorsese's 'Silence.' 'Bastard' marks the ace cinematographer's directorial debut. Scorsese is the executive producer of the movie, which is set against a deadly flood that spread havoc in the small town of Bird's Point.
5. Bernstein (TBA)
'Bernstein' is an intimate portrait of Leonard Bernstein musical journey. The movie traces his trajectory of becoming America's first native born conductor. The biopic is directed by Bradley Cooper based on a screenplay written by Cooper along with Josh Singer. 'Bernstein' will be co-financed by Paramount Pictures and Steven Spielberg's production company, and Martin Scorsese ise credited as executive producer.
4. Untitled Theodore Roosevelt Biopic (Announced)
The project first started making the rounds in September 2017. Recently it was confirmed that Scorsese is going to collaborate with his long-term friends and collaborator Leonardo DiCaprio, who is set to portray the role of Theodore Roosevelt. Currently, both Scorsese and DiCaprio have a lot on their plates already. But, it will be interesting to have DiCaprio and Scorsese make a dark-themed political thriller.
3. Devil In The White City (In Development)
Based on the 2003 non-fiction novel of the same name, the film follows Daniel Burnham, the architect behind World's Colombian Exposition and the mysterious serial killer H.H. Holmes who murdered around 200 people in his "Murder Castle". Both the character existed in real and were famous names back in late 19th-century. Leonardo DiCaprio acquired the rights to the book's film adaptation in 2010 and since then, Scorsese has been attached with the project. Scorsese told media in 2017, that his work on the film was delayed due to his commitment to 'Silence' (2016).
DiCaprio's character hasn't been disclosed yet, but Scorsese has confirmed his attachment to the film. He also said, "We've become very close and we really love hanging out together." Interestingly, the duo has collaborated on 5 films before, so, this one's going to be a really fun treat for fans, which is being panned by Bily Ray, who wrote Academy Award-nominated screenplay for 'Captain Philips' (2013).
2. The Irishman (2019)
'The Irishman' is based on the life of Frank Sheeran, a WWII veteran who later became an American labor union official and got involved in criminal activities and established heavy mob connections. This film is Martin Scorsese's treat to the neo-noir lovers who have always wanted such a Hollywood reunion. With 'The Irishman', Scorsese has managed to bring all the big names he has worked with in the past. In the role of Sheeran stars his 'Taxi Driver' star, Robert De Niro. Also joins the cast is Joe Pesci, who won an Academy Award for Best Supporting Actor for Scorcese's 1990 film 'Goodfellas'. The next big name is Al Pacino, who will be teaming up with Scorsese for the first time. Harvey Keitel, who acted in Scorsese's debut film also stars in a supporting role. Furthermore, Bob Cannavale, Stephen Graham, Ray Romano and Anna Paquin are also included in the cast. With all these great actors in one picture, 'The Irishman' is likely to break viewership records. The film is slated to release later this year on Netflix. How about a DiCaprio cameo too?
1. Joker (2019)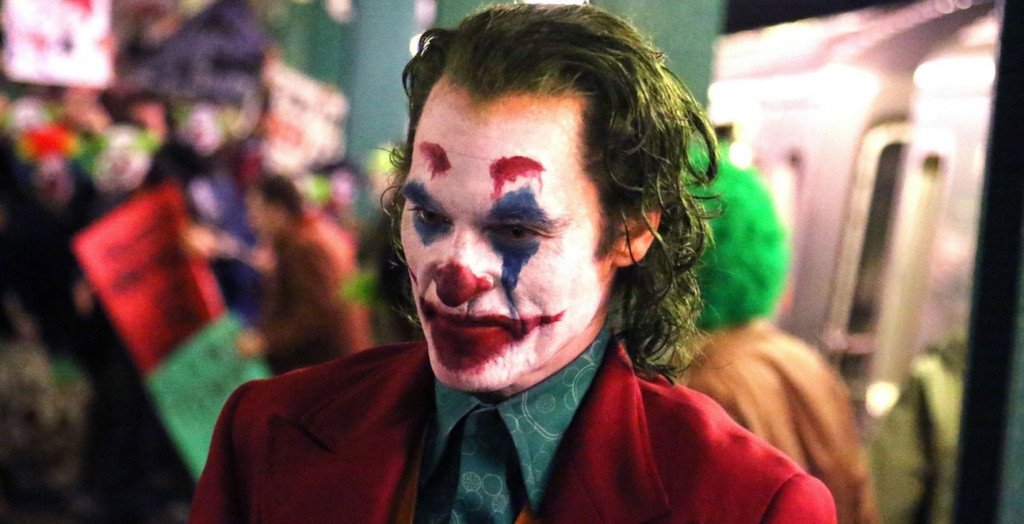 The lunatic criminal from DC's Batman comic books has been a character of great significance since his comic debut. After Heath Ledger's astonishing portrayal of the character, it has been a matter of debate whether someone can be as good as him. Well, the wait is over. Martin Scorsese has stepped in to produce an origin story of the character, in a film to be helmed by 'Hangover' director Todd Philips. The film will be set in 1980 Gotham when the crime was at its peak in the city and the caped crusader was nowhere in existence.
The film's most likely going to focus on the events that formed the mysterious and madman criminal and may carry some Batman references in easter eggs. Nevertheless, it will be interesting to watch a new Joker on screen, this time combating horrors of his own self. That too with Jaoquin Phoenix playing Joker, our expectations are sky high with the film.
Other Rumored Titles
The General (Possible)
Martin Scorsese is set to direct a film based on George Washington. The film is rumored to showcase the events in founding father's life during the horrific days of Revolutionary War when Washington struggles to save his dying army.
The first reports of the project were rumored in 2016. The film is being penned by Bill Collage, who wrote 'Assasin's Creed' and Adam Cooper. However, Scorsese hasn't finalized a deal yet, but he has shown a keen interest in directing the film and bring Leonardo DiCaprio on board. The film is in production race with another film on George Washington titled, 'The Virginian'. This will be distributed by New Line Cinema and Bradley Cooper is set to star.
Adaptation of 'Home' (Rumored)
Home, a family-drama novel written by Marilynne Robinson, is a tale of Boughton family's head Reverend Robert and his relation with his two adult children who gets back ho,e from Gilead, Iowa. The novel is a prequel to Robinson's 2004 novel Gilead, which in turn was preceded by her 1980 novel Housekeeping.
The project is only rumored and there is no official commencement for the film's development. It is just that Scorsese has expressed his interest in directing the project. Scorsese, who is known for directing dark films is also familiar with directing adapatations of famous novels. He has previously directed films like Oscar-nominated 'The Age of Innocence' (1993) and The Wolf of Wall Street (2011).
Untitled Byron Janis Biopic (Rumored)
Byron Janis was an American classical musician and a well-known pianist in 1950s. He collaborated with several musicians of the industry and was also associated as a pianist with many music composers producing film scores. In 2016, Scorsese stated that he will be producing a biopic on Janis, based on his book "Chopin and Beyond: My Extraordinary Life in Music and the Paranormal". Whether he'll direct it himself or not, it's still not sure. The film is confirmed to be distributed by Paramount Pictures.
The film will portray Janis's special connection with composer Frederic Chopin and his fight for awareness regarding arthritis, which Janis himself was a patient of. The script is purchased by Paramount from Peter Glanz, who is penning the entire script. Glanz previously directed 'The Longest Week' (2014).
Untitled Mike Tyson Biopic (Reported)
It was reported in 2015, that Scorsese is set to direct a biopic on the boxing legend Mike Tyson, and giving the viewers another boxing action after his Robert De Niro starring 'Raging Bull'. It was also reported that the film will be penned by Terrence Winter, who previously worked with Scorsese on 'The Wolf of the Wall Street' (2013).
Scorsese also finalized actor Jamie Foxx as his choice to portray Tyson in the film, which is supposed to cover all aspects of his career from his earlier struggling days to his days of prominence. Scorsese decided to use the aging technology to cover different periods of his life, as in David Fincher's 'The Curious Case of Benjamin Button'.
However, this only was in talks for a few days. Later on, Scorsese stepped down as the director and was said to remain only as a producer. This meant probable halt on the project. But in 2017, Jamie Foxx said to Screen Rant that the project was still a GO, and Scorsese is still attached to the project. Foxx, who previously acted in a biopic of musician Ray Charles, can prove his mantle again playing one of the most controversial figures in the sports world. We are waiting!!
Adaptation of "Killers of the Flower Moon: The Osage Murders and the Birth of FBI" (Rumored)
Based on the events penned in the book by David Grann, the film will follow the gruesome murders of the people of Osage County in the 1920s and the subsequent formation of an investigative team which built the FBI. The film will mark probably the eight collaboration of Scorsese and DiCaprio who is also acting as a producer of the film. Notably, Robert De Niro, who's currently completing Scorsese's 'The Irishman' has been in talks to play an important role in the film. The film is supposed to star Leonardo DiCaprio in the lead role.
Read More: Upcoming Leonardo DiCaprio Movies