Martin James Pflieger Schienle is quite an unlikely name for a soon-to-be comedian and hence he picked up the name Martin Starr as his professional tag. The American actor and comedian made his acting debut with the 1992 movie 'Hero.' Starr rose to prominence with the character of Bill Haverchuck in the NBC sitcom 'Freaks and Geeks.' Though the series was short-lived, his performance garnered widespread critical acclaim and opened doors to more roles for the aspiring actor. In 2001, he appeared in the short film 'Eyeball Eddie' and the series 'Roswell.' He also played minor characters in television shows such as 'Ed,' 'Mysterious Ways,' 'Providence,' 'King of the Hill,' and 'Normal, Ohio.' He established a successful partnership with the 'Freaks and Geeks' producer Judd Apatow and Seth Rogen, who played a major role in the sitcom. Shows like the NBC miniseries 'Revelations' and the CBS sitcom 'How I Met Your Mother' soon followed.
After a guest appearance in Apatow's 'The Perfect Date,' Starr played the major role in the 2007 comedy movie 'Knocked Up', directed by Apatow. The character of Bertram Gilfoyle in the hit HBO series 'Silicon Valley' was Starr's breakout role in television. He got his breakthrough in films with the Marvel Cinematic Universe character Mr. Harrington. His other major movies include 'Walk Hard: The Dewey Cox Story,' 'The Incredible Hulk, Adventureland,' 'This Is the End,' and 'Amira & Sam.'
Starr delivered unforgettable performances in television series such as 'King of the Hill,' 'Parks and Recreation,' 'New Girl,' 'The Goldbergs,' and 'Future Man.' He also played a cameo as an Ironborn soldier in the 'Game of Thrones' episode 'Winterfell.' The actor guest starred in 'The Aquabats!' 'Super Show!', 'Franklin & Bash,' and 'Drunk History.' So now you must be wondering what is the next Martin Starr movie or TV show? Well, here's the list of upcoming Martin Starr films and TV shows scheduled to release in 2019 and 2020. We can only hope that the latest Martin Starr movies would be as good as some of his recent ones.
4. Spider-Man: Far from Home (2019)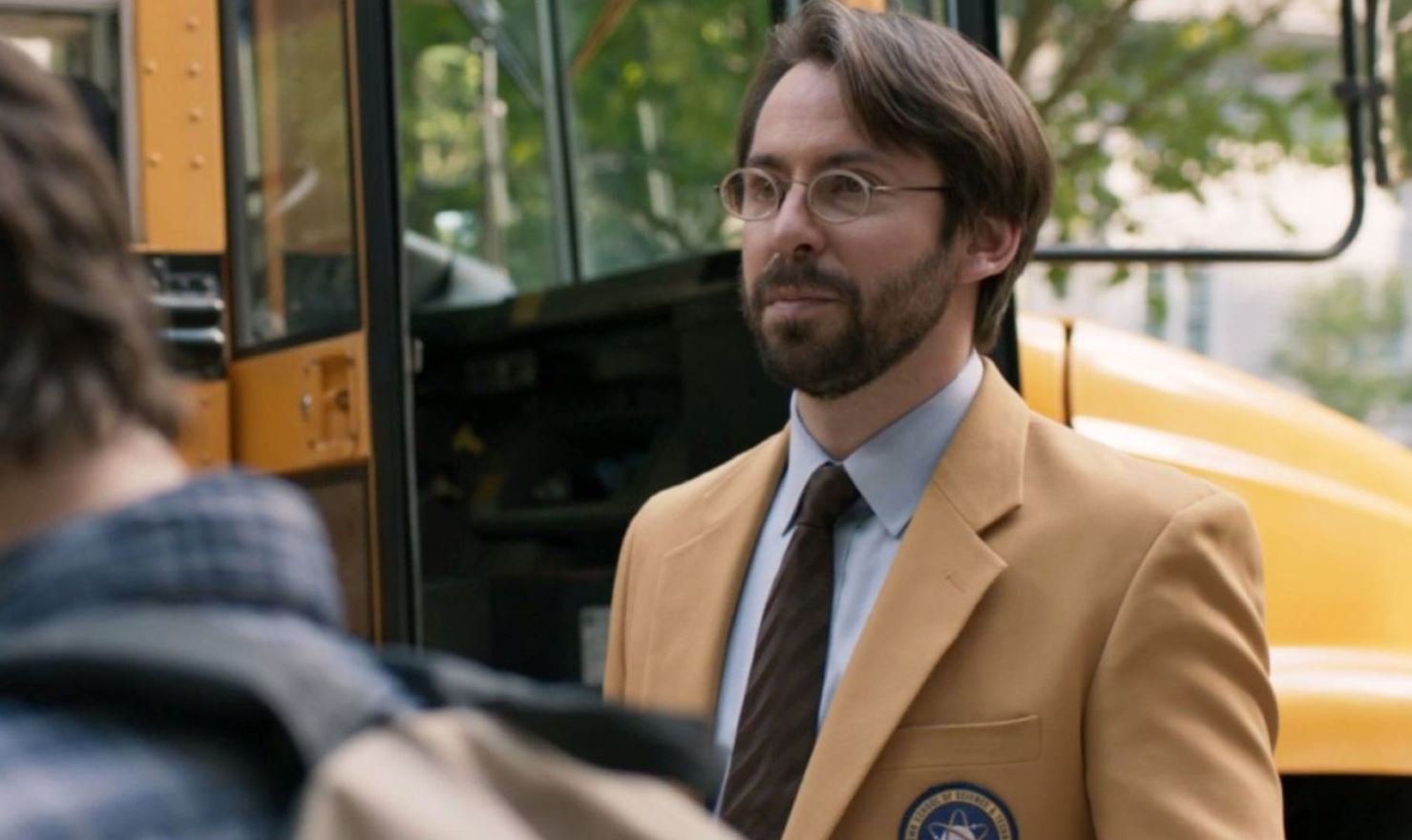 Martin Starr reprises his hilarious character of Roger Harrington, mostly referred to as Mr. Harrington, in the upcoming 'Spider-Man: Far From Home,' a sequel to 'Spider-Man: Homecoming.' Mr. Harington is Peter Parker's academic decathlon team manager and teacher who has been haunted by painful memories from his past. Starr first appeared as Harrington in a small, uncredited part in the 2008 movie 'The Incredible Hulk.' Later, the character earned popularity and fandom after the events in 'Spider-Man: Homecoming.' In 'Spider-Man: Far From Home,' Mr. Harrigton reportedly shoulders the responsibilities of a tour manager apart from his role as a teacher and the school decathlon coach.
The plot depicts Peter Parker and friends travelling to Europe for a school trip, along with their tour manager. Mr. Harington as the tour manager creates some hilarious moments in Europe before Nick Furry disrupts Spider-Man's vacation to take him to join forces with Mysterio (Jake Gyllenhaal) in the final showdown against the villainous Elementals. Tom Holland reprises his role as Spidey along with Zendaya as Michelle "MJ" Jones, Marisa Tomei as Aunt May, Samuel L. Jackson as Nick Fury, and Jon Favreau as Happy Hogan. Columbia Pictures and Marvel Studios produce the sequel, which is directed by Jon Watts from a script by Chris McKenna and Erik Sommers. 'Spider-Man: Far From Home' comes to theaters on July 2, 2019.
3. Silicon Valley (2014 – )
One character who is more popular than its original series is Bertram Gilfoyle, played by Martin Starr in 'Silicon Valley.' Both the character and the HBO series went on to become cult favorites for the wry humor and spontaneous outburst of emotions. 'Silicon Valley' debuted on HBO in April 2014 and ran for five successful seasons on the network before the fifth season wrapped up in March 2018. The plot revolves around the tech-paradise of the world, Silicon Valley and a group of characters who find themselves in the eye of the storm of the gold rush in the digital era.
The series captures various shades of life that include career breaks, love, loss, lust, and jealousy through four major characters — Richard Hendricks (Thomas Middleditch), Jared Dunn (Zach Woods), Bertram Gilfoyle (Martin Starr), and Dinesh Chugtai (Kumail Nanjiani). Starr's character Gilfoyle is known for his system architecture, networking and security expertise as well as his frequent sparring with Dinesh. Created by Mike Judge, John Altschuler and Dave Krinsky, the series has been renewed by HBO for a sixth and final season. The seven-episode season 7 will be premiered in late-2019.
Read More: Upcoming Patrick Wilson Movies
2. Anxiety's Wilma (TBA)
'Anxiety's Wilma' is an upcoming short created by Alexandra Kyle. The plot centers on the life of a woman named Wilma (Kyle) who struggles with her excessive anxiety problem. But when she gets an opportunity to have an intimate conversation with her anxiety in human form (played by Martin Starr), it changes her life forever. Abby Miller and Myron McClure also play major roles in the short. "My intent with this short film is to romanticize anxiety for people who struggle with it so that at the very least anxiety starts to feel less like the monster under the bed and more like someone we can get to know," Kyle revealed in a previous conversation. More details about the movie are currently not known.
Read More: Upcoming Tom Felton Movies
1. Milford (TBA)
'Milford' is a crowd-funded short Film from comedian and internet sensation Nathan Barnatt. The project is Nathan's second directorial venture after the successful short 'Neutral.' Martin Starr plays the character of Travis in the short, whose plot details are under tight wraps. Other cast members include Barnatt, Courtney Pauroso, Kelsey Tucker, Lance Bangs, Bob Bradford, and Denise Gour. Barnett wrote the script for the movie along with Seth Barnatt.
Read More: Upcoming Thomas Haden Church Movies