There isn't much to say about 'Mayo Chiki!', simply because it's one of those generic anime shows that make you feel good and at the same time, offer some decent comedy. It is quite enjoyable but there's nothing new about its story and is just another excuse for delivering a lot of fan-service. But cliche is never really that big of a problem because if you think about it, pretty much every anime is cliche in one way or the other. It all just comes down to how it is being executed and how creatively a cliched storyline unfolds. So for an anime that wants to stand out in one way or the other, it should take a slightly different approach towards its execution in order to make it look refreshing and impress the viewers. 'Mayo Chiki!' is quite generic but it does a pretty good job with its execution by introducing a slightly new premise and also some hilarious jokes.
The premise of the anime that revolves around a guy who has a phobia of talking to women and a girl who fakes her gender to become a Butler is quite interesting and is enough to make you stay for an entire season. Being a harem-based romance anime, the presence of ecchi is pretty obvious but surprisingly, in this case, the ecchi never really goes overboard. Each ecchi scene is backed up with some relevant build up and never really pops up awkwardly. Some of the build-up scenes are really cliched as well, but it's good to see that the anime is making an attempt to stand out a little.
One thing that really makes 'Mayo Chiki!' memorable is its well-developed characters; especially the three main characters who pretty much start off as complete strangers but as the show makes progress, their bond strengthens in the most subtle ways. Initially, all of them do come off as typical high-school harem characters but later, they develop unique personality traits that make you fall in love with them. And for someone like me, who was expecting the show to be all about the pervert shenanigans of the characters, it was surprising to see that the characters went way beyond the typical, generic nonsense that we see these days.
After a few episodes itself, it becomes very obvious that 'Mayo Chiki!' is not really making an attempt to stand out. But even then, it brings out a very well-paced story with some very strong, unique elements added to it. It even sends out a deeper message where it shows you how the opposite sex feels in certain situations. 'Mayo Chiki!' is not even close to being perfect but its level of self-awareness is truly astonishing. And I feel it's anime shows like these that deserve a new season because of the amount of potential it has in them. Speaking of a new season, we might have some news regarding that in the next section.
Mayo Chiki! Season 2 Release Date: When will it premiere?
'Mayo Chiki' season 1 premiered on July 8, 2011 and went on till September 30, 2011. It had a total of 13 episodes. Since then, some have fans have been trying really hard to get in a new season by signing online petitions but from the studio's end, there hasn't been a single word since the end of the first one. Though the anime became a little popular soon after its release, the sales of the series have not been enough to make a new season. So it's better to not expect anything as of now because it will just lead to further disappointment.
In the future, if the creators come up with a new season that'll be great but till then, you can always watch other anime of the same genre or you can even start reading the original manga. If we get any official confirmation, we will update this section with 'Mayo Chiki' season 2 release date.
Mayo Chiki! English Dub:
The subbed and dubbed versions of 'Mayo Chiki!' are available on Hulu, HiDive, and Amazon Prime.
Mayo Chiki! Plot:
'Mato Chiki!' revolves around Kinjirou Sakamachi who develops quite a tough body that can withstand kicks and punches because of his mother and sister who love professional wrestling. He can now even survive the craziest road bumps and knows how to escape from someone who is trying to grapple him down. But this has also led to the development of some serious gynophobia in his mind, which makes him fear women to an extent where even the slightest touch of a girl can make his nose bleed and can also make him faint in some extreme cases.
With this ongoing phobia as a teen, his life hasn't been all sunshine and rainbows and it gets worse when one day, he runs into Subaru Konoe in the restroom. Subaru, who everyone thinks is a male butler, actually turns out to be the school principal's daughter. Shocked by Kinjirou's appearance, Subaru pounces on him and assaults him, knocking him down on the washroom floor. The two later make a deal: if Kinjirou keeps her secret, she will help him deal with his phobia of women. This sets the course for a high school adventure which will help the two teens with the discovery of who they are as individuals and what is their true calling.
Mayo Chiki! Characters:
Kinjirou Sakamachi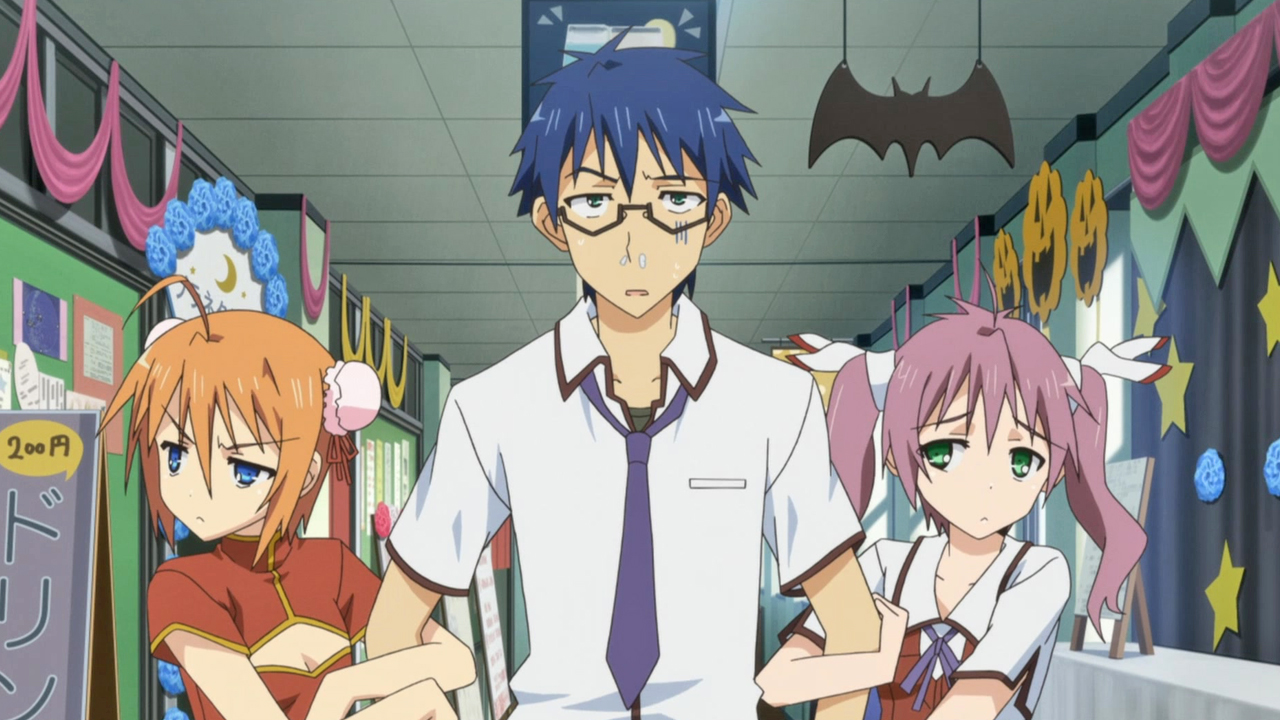 Kinjirou Sakamachi is a high school teenager who suffers from gynophobia. He later becomes friends with Subaru after he finds out about her secret. He has cobalt blue messy hair and aquamarine eyes. He is usually seen with a semi-rimmed glasses that only have a frame on the lower portion. He is a very polite person who never thinks of harming anybody. He is always willing to help people even if it means that he has to go completely out of his way to do it. There are a lot of instances where he completely sacrifices himself for the sake of others and it's this trait that has allowed him to gain some female fans.
Kinjirou has a phobia of women that paralyzes him from interacting with any of them. But it's this fear that allows him to later understand the underlying fears of those around him. Subaru helps him get over this fear and in return, expects him to keep her big secret safe. During his childhood, his sister would often practice all kinds of wrestling moves on him. She would beat him up till he actually bled and then would do it all over again later. It's because of this 10-year trauma that he now suffers from gynophobia.
Kanade Suzutsuki
Kanade is the school principal's only daughter, who on the outside seems like a very cute innocent girl who would never harm anyone; but on the inside, she is extremely sadistic and literally tortures poor Subaru by taking his phobia of women for granted all the time. She threatens him by using his gynophobia against him and makes him do things that she wants him to do. Though she does try to help him out as well, her methods are often very complex and get him into the most embarrassing situations. She herself agrees that the outcome of these methods is really amusing.
She later falls in love with Kinjirou claiming that he is the only man who can talk her down. She even kisses him and tells him that it was her first kiss. Every time she hiccups, all the men around her feel a weird lust towards her that even they cannot explain. She even states that Subaru was her first love, which means that she is bisexual. Her claims of loving someone often seem to have an unknown agenda because knowing her sadistic personality, it seems very less likely that she can truly love someone.
Subaru Konoe
Subaru Konoe is another female protagonist of the show, who has orange hair and deep light blue eyes. She has petite stature and she dresses up as a butler with a black tailcoat and suit-pants worn with a white button-up shirt. When she discovers that Kinjirou has found out her true identity, she goes completely silent for a while and then assaults him. But soon, when the two talk things out, they become really close friends and because of Subaru's fake male identity, everyone starts to believe that they are gay lovers. Subaru, who was once the kind of person who would not let anyone close to her, later realizes the true value of friendships when she meets Kinjirou. This soon turns into infatuation and before they know it, they fall in love with each other.
Read More in Anime Preview: K-On! Season 3 | Clannad Season 3