'The Melancholy of Haruhi Suzumiya' exploded upon its release back in 2006 and initiated the rise of a new anime community named the "Haruhiists", who worshipped the lead character of the anime. Many other studios even tried to imitate what 'Haruhi Suzumiya' offered but fell flat. It's been more than a decade now and the "Haruhiists" still very well stand their ground on claiming that this is the best anime ever made; in fact, they have even made a whole religion out of it. Every time an anime gets massive hype, I get scared because there are chances that it'll turn out to be disappointing. For a long time, I even avoided watching it and somehow kept dodging the claims that told me I was missing out big time. But sooner or later, I had to give in to the temptation, and I did.
I was primed with a whole lot of disappointment right from the beginning of the series. Judging by the first few episodes, to me, it looked like just another high-school story with clichéd characters and commonly used satirical comedy. It was enjoyable, no doubt; but I was having a hard time figuring out where all the hype was coming from and that's when all of it changed. Somewhere around the fourth or the fifth episode, the strengths of the anime started surfacing and what seemed all clichéd in the beginning soon turned out to be the exact opposite. The jokes became cleverer, the non-chronological episode format started making more sense and they were all being executed brilliantly.
'The Melancholy of Haruhi Suzumiya' is the kind of anime that you will be able to appreciate even more when you're watching it for the second time. After I was done watching the series once, I started off again and that's when I was able to see the links between all the sporadic events that occur throughout the show. Everything has been planned out so well that it's nearly impossible to find any kind of plot holes till the very end. Not to mention, Kyoto Animation Studio lives up to its reputation all over again. Every character has been designed with absolute detailing and there is a sense of fluidity in all of their movements. Even minor things like background art have been done immaculately and though the fight scenes are a rare occurrence, they're short and to the point with no overly exaggerated visual effects.
Overall, 'The Melancholy of Haruhi Suzumiya', if you consider its basic nature, is very generic and has nothing unique about it. But the way it has been executed makes all the difference. I can't believe that I'm saying this now but you are indeed missing out on something truly awesome if you plan to skip it.
The Melancholy of Haruhi Suzumiya Season 3 Release Date: When will it premiere?
'The Melancholy of Haruhi Suzumiya' season 1 was released on April 3, 2006 and came to an end on July 3, 2006. 'The Melancholy of Haruhi Suzumiya' season 2 is actually a side story that has links with the main premise of season one. This season was released on March 22, 2009 and ended on September 11, 2009. It was then followed by an anime movie that came out on February 6, 2010. This is where it all came to an end and as of now, there is no news regarding a season 2. Being the amazing anime that it is, obviously, most fans do want another season, but it all comes down the priorities of the studio right now. At this point 'The Melancholy of Haruhi Suzumiya' season 2 release date of 2021 or 2022 seems like a distant dream. We will update this section as soon as we learn more.
The Melancholy of Haruhi Suzumiya English Dub:
The English Dub of 'The Melancholy of Haruhi Suzumiya' is now available on Funimation, Netflix, Amazon Prime, and Crunchyroll.
The Melancholy of Haruhi Suzumiya Plot:
Kyon is a regular school going kid who does not really believe in the existence of any supernatural beings. But things start to change a little when he meets the strange Haruhi Suzumiya, who believes in everything from aliens to time travelers to other bizarre things. Haruhi lives in her own imaginary world that seems to be very disconnected from the world outside her. She seems disinterested in all the clubs of the school and that's when Kyon gives her the idea of starting off a club of her own. Soon, the SOS Brigade is formed — it is a club that deals with all the supernatural stuff that may be possibly going on around them.
Apart from Haruhi, the group has four members, which obviously includes Kyon, a silent bookworm named Yuki, a very shy and quiet girl named Mikuru Asahina, and Itsuki Koizumi. The four recruits of the group dive into a crazy adventure along with their strange leader Haruhi and this adventure might eventually just change Kyon's perception about the supernatural. The second season initially offers a very similar story but don't let that fool you because it is no "side story" and has many links to the first season.
The Melancholy of Haruhi Suzumiya Characters:
Kyon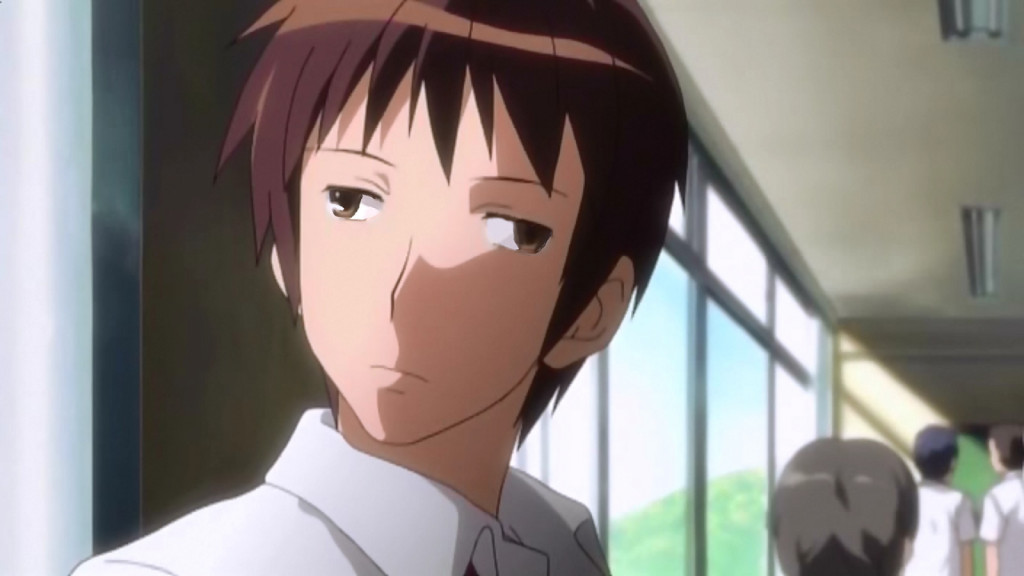 After Haruhi starts the SOS Brigade, Kyon is the first one to join the group. He is a first-year high-school student who is very cynical and does not believe in the supernatural. But there is a slight possibility that he might have believed in all of that before. After meeting Haruhi, he gets all curious about what actually goes on in her head and agrees to be a part of the group. He even tries his best to keep her out of trouble. Kyon is actually his nickname and strangely, no one really knows what his real name is. He is street smart and while he does a really good job solving mysteries, his performance in school is never really up to the mark. Often, he finds himself feeling out of place when he is put in some supernatural situation. He is the only member of the SOS squad who is "normal" and has no special abilities.
Haruhi Suzumiya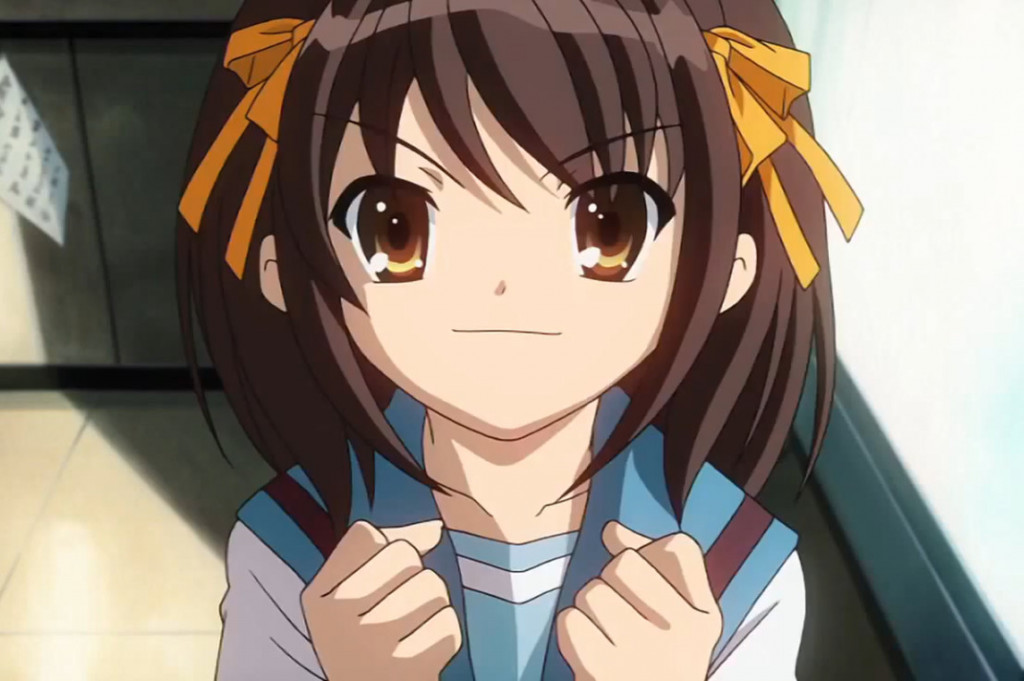 Haruhi Suzumiya is the titular character of the show. She starts her own supernatural club named the SOS Club after Kyon asks her to. She is pretty much like the leader of the group and leads all the investigations related to aliens, time travelers, and espers. For some strange reason, all the members that are attracted to her group, except for Kyon, are of the supernatural kind. Haruhi remains extremely anti-social throughout the show and has no interest in normal human beings. She has no idea that she herself has the supernatural ability to reshape reality with new things. Often, out of boredom, she ends up doing this without even noticing.
Haruhi's skin tone is pale and she has big brown eyes that match her short dark brown hair. She is considered attractive by many male students and Kyon is no exception to this. Her true personality pours out when she is with her group members and that's when her energy is at the highest. She comes off as bossy and blunt in nature and even hits people for her own pleasure. She gets angry quite easily and even if she goes wrong somewhere, she never really accepts it. In the beginning, she stays disconnected from everyone else around her but after leading the SOS brigade, she becomes a little friendlier and starts participating in school activities. Her methods of leading may be a little harsh but they are always effective.
Read More in Anime Preview: Baka and Test Season 3 | Black Lagoon Season 3