Born to Indian parents who migrated to America during the late '70s, Mindy Kaling started her tryst with acting through the college comedy troupe named 'The Dog Day Players.' She was popular among the college community as a writer and editor in the daily newspaper and humor magazine. In 2001, Kaling graduated from Dartmouth College with a degree in playwriting. An internship with the late-night talk show 'Late Night with Conan O'Brien' was her first assignment on television. The young actress made her acting debut with the 2002 off-Broadway play 'Matt & Ben', which went on to become a huge hit and captured a slot in the 'Top Ten Theatrical Events of The Year' by Time Magazine. Kaling got her first breakthrough in television with the NBC sitcom 'The Office.' Her character Kelly Kapoor earned her widespread acclaim and landed her more television roles. The popularity also helped to make her acting debut on the big screen with the 2015 movie 'The 40-Year-Old Virgin.'
Kaling played significant roles in movies like 'Unaccompanied Minors,' 'License to Wed,' 'Night at the Museum: Battle of the Smithsonian,' and 'Despicable Me' during the period of 2005 – 2010. In 2012, Kaling started her career as a voice actor with the film 'Wreck-It Ralph.' Her second breakthrough came with the single-camera comedy series 'The Mindy Project' for Fox. The show went on to become a huge success when it was premiered in 2012. 'The Mindy Project' marked Kaling as one of the first Indian-American women who found her place in Hollywood. Though Fox axed the show in May 2015, Hulu picked it up later. Kaling announced the wrapping up of the show during the 6th season in 2017. In 2015, she lent her voice to the major characters in the movie 'Inside Out.' In the same year, she played the character of Sarah in the film 'The Night Before.'
Other major movies of Kaling include 'A Wrinkle in Time' (2018) and 'Oceans Eight' (2018). 'Champions' and 'It's Always Sunny in Philadelphia' are her major works in television. Apart from portraying some unforgettable characters in television and films, Kaling has written two memoirs titled 'Is Everyone Hanging Out Without Me? (And Other Concerns)' (2011) and 'Why Not Me?' (2015). Both the books are listed as bestsellers by the New York Times.
Kaling has now established herself as one of the most talented actresses working in television. Over the years, she has cultivated an iconic image of the most relatable star among the various diaspora communities in the U.S. Kaling is keen to get in touch with people through her social media platforms. On Instagram and Twitter, she always gives out parenting and restaurant tips. She has also directed a few episodes of 'The Office', the same series which earned her five Emmy Award nominations for her performance as Kelly Kapoor. Kaling was the first female staff to join the writing team of 'The Office.' In 2013, Time Magazine included Kaling in the '100 most influential people in the world' list. At this point, must be wondering what is the next Mindy Kaling movie or TV show? Well, here's the list of upcoming Mindy Kaling films and TV shows scheduled to release in 2019 and 2020. We can only hope that the latest Mindy Kaling movies would be as good as some of her recent ones.
3. Late Night (2019)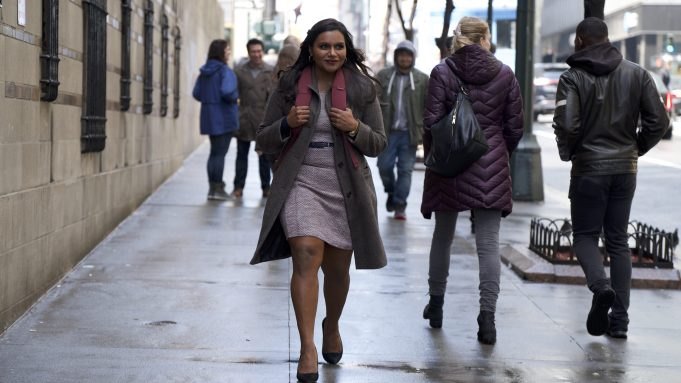 The upcoming comedy 'Late Night' problematizes the issues of diversity in the newsrooms hilariously. The movie features Emma Thompson and Mindy Kaling in the lead roles. Emma Thompson plays Katherine Newbury, a celebrity television host, and Mindy Calling portrays the role of Molly Pater, a newbie writer hired by Newbury's firm. The once sensational television host Newbury is haunted by the dwindling ratings of her late-night talk show. She struggles hard to keep her head above the water while a horde of new television hosts turns up with brand-new TV shows. But when Mindy Kaling joins her team as the lone Indian-American staff, Newbury gets an idea to revive her dying show. She decides to play the diversity card to uplift the status of the show.
On the other hand, Molly finds herself in an intimidating work space driven by white patriarchal forces. The other cast includes John Lithgow, Amy Ryan, Reid Scott, Hugh Dancy, Max Casella, John Early, Denis O'Hare, and Ike Barinholtz. 'Late Night' is directed by Nisha Ganatra. The movie is scheduled to release on June 7, 2019, by Amazon Studios.
2. Four Weddings and a Funeral (2019 -)

Mindy Kaling teams up with Hulu to create the anthology series 'Four Weddings and a Funeral.' Apart from creating the series, Kaling wrote the script with Matt Warburton. The plot follows a group of friends whose paths cross during four weddings and a funeral. Described as a limited series, according to THR, 'Four Weddings and a Funeral' is based on the 1994 British romcom directed by Mike Newell. When four old friends — Maya, Craig, Ainsley, and Duffy — reunite for a gala London wedding, an unexpected event throws their life into mayhem. What follows is a turbulent year of love, loss, breakups, embarrassment, and friendship, all unfolding in the backdrop of four weddings and a funeral.
Richard Curtis, who wrote the 1994 original starring Hugh Grant and Andie MacDowell, serves as the executive producer along with Mindy Kaling, Matt Warburton, Jonathan Prince, Tim Bevan, Eric Fellner, and Howard Klein. Working Title Films, 3 Arts Entertainment, MGM Television, and Universal Television jointly produce 'Four Weddings and a Funeral.' Hulu is yet to attach a premiere date for the series, which is currently in the post-production stage.
Read More: Upcoming Zhang Ziyi Movies
1. Untitled Mindy Kaling/Netflix Project (TBA)

Netflix's untitled project is reportedly a comedy series exploring the experiences of a first generation Indian-American teenage girl in a multicultural society. Variety reports that the series is based on Mindy Kaling's experiences during her early years in the U.S. Kaling creates the show along with Lang Fisher, who also serves as showrunner. Both Kaling and Fisher worked together before in the hit movie 'The Mindy Project.' Both Kaling and Fisher executive produce the series with Howard Klein and David Miner. Recently, Netflix placed a 10-episode order for the show. According to Kaling, the plot doesn't tell a period story about an Indian girl growing up in the '80s, but a 15-year-old Indian girl facing the social realities of contemporary America. Netflix hasn't revealed a premiere date for the series yet.
Read More: Upcoming Kim Dickens Movies