For the past 20 years, Missi Pyle has been around, doing diverse roles in numerous film and television projects. She has been in nearly half of the video content we are have been watching for the last two decades and we never noticed this weird fact, thanks to her restrained acting style. Known for never calling attention towards her as a star and disappear into the skin of characters unnoticeable, Pyle has created a niche among viewers. We have seen her skill in movies like 'Gone Girl,' 'Pandemic,' 'Dodgeball: A True Underdog Story,' 'Charlie And The Chocolate Factory,' and 'Harold & Kumar Escape From Guantanamo Bay.' She has become the most wanted ingredient in TV shows like 'Friends,' 'Two And A Half Men' and 'Inside Amy Schumer,' with her guest turns.
At this point, the question that might be circling your mind is what is the next Missi Pyle movie? Well, the good news is that we have a clear answer to that question. Here's the list of upcoming Missi Pyle films and shows scheduled to release in 2019 and 2020. We can only hope that the latest Missi Pyle movie and TV show would be as good as some of her recent ones.
1. Drunk History (2013 – )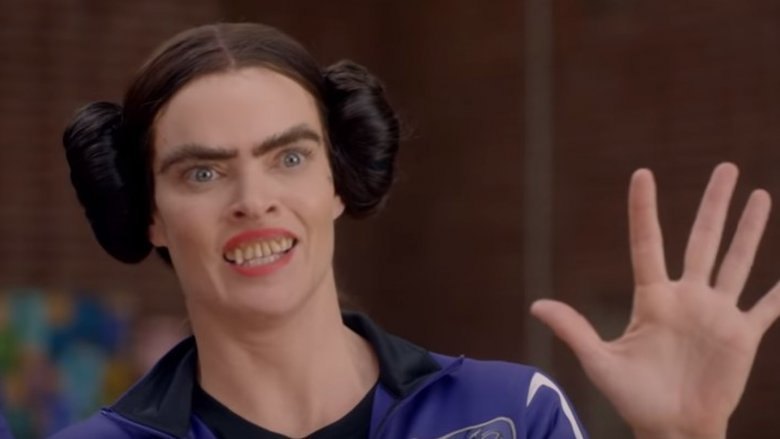 'Drunk History,' which started as a web series in 2013, instantly shot to popularity and fandom and became a full-fledged show. Comedy Central's hit series is currently in its sixth season. Created by Derek Waters and Jeremy Konner, 'Drunk History' is the drunken retelling of historical events, with an ever-changing cast of actors and comedians. In the 5th episode of 'Drunk History,' which is titled 'Love' aired by the producers on February 12, 2019. Missi Pyle plays Christa Gruhle, the central figure in the historical tunnel escape. The name Christa Gruhle was added to the history books when she tried to crawl through Tunnel 57 to escape East Germany in the early 60s. Gruhle was caught and sentenced to 16 months in prison.
2. Walk. Ride. Rodeo. (2019)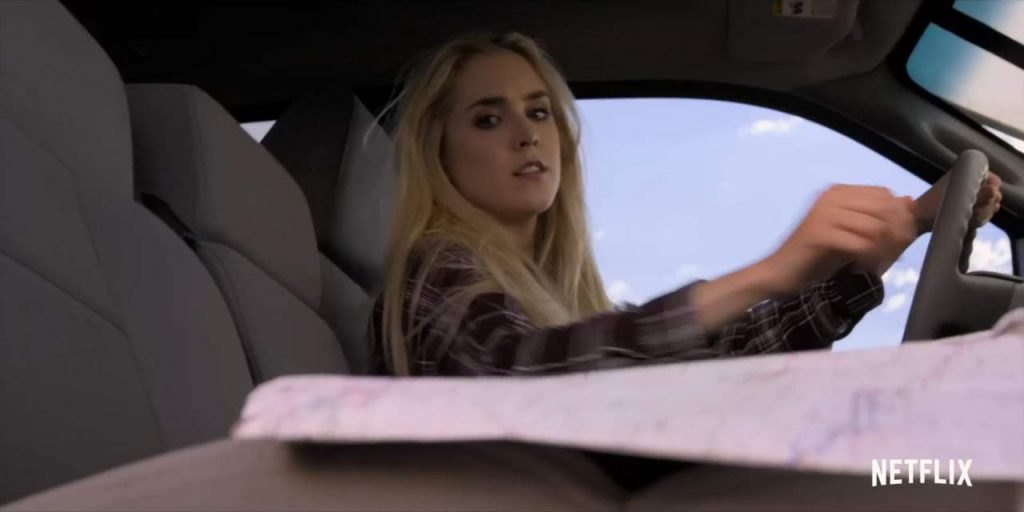 If you are missing Missi Pyle this year, don't worry! The fans can see her in the upcoming biopic of paralyzed rodeo champion Amberley Snyder in 'Walk Ride Rodeo.' Missi Pyle shares screen space with Spencer Locke, who plays Snyder, Bailey Chase, and Sherri Shepherd in the movie. The movie, which is directed by Conor Allyn, closely follows the barrel racing champion Snyder who, at the age of 19, narrowly survived a car accident only to be paralyzed from the waist down. Challenging the prognosis of her doctors that she would never walk again, Snyder started her trade on the horse 18 months after the accident. According to reports, the movie will be available on Netflix in 2019.
Read More: Best Sports Biopics of All Time
3. Deported (2019)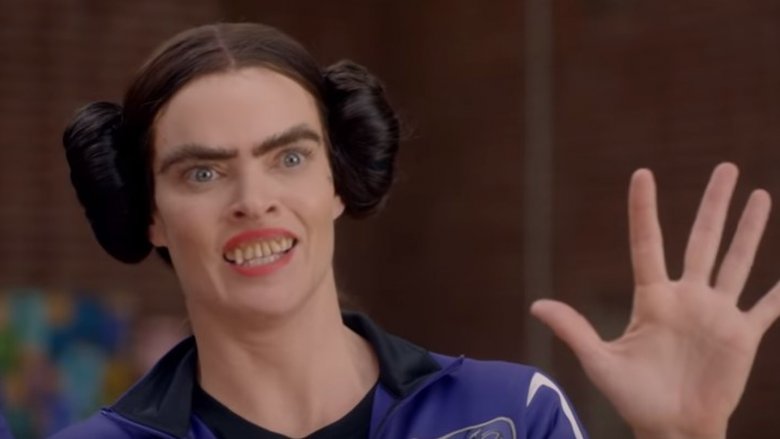 There are rumors about an extended cameo of Missi Pyle in the 2019 movie 'Deported.' Tyler Spindel, one of the men behind the David Spade comedy 'Father of the Year' of Netflix, is directing the movie. Unconfirmed reports speculate that Missi Pyle will appear as a social worker in 'Deported.' The plot revolves around a husband trying to bring back his deported girlfriend at any cost.
4. Ma (2019)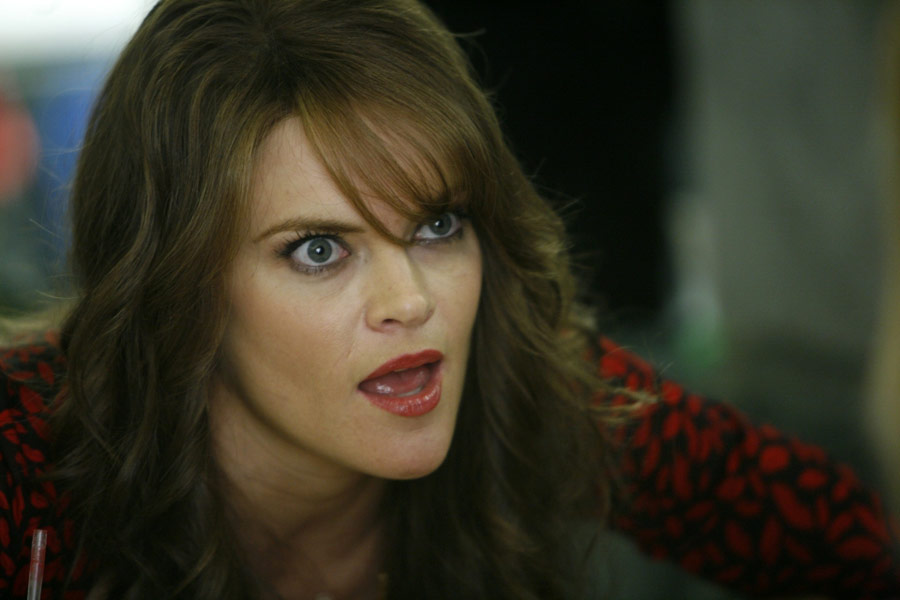 Director Tate Taylor, along with Universal Pictures and Blumhouse Productions, is all set to petrify the horror genre junkies with their upcoming flick 'Ma.' Missi Pyle plays Mercedes in the movie which has Octavia Spencer at her devilish best! The movie narrates the horror and gore unleashed after a lonely woman befriends a group of teenagers and invites them party at her house. The recently released trailer has all the signs of the horror in the offing. 'Ma' will hit theatres on May 31st.
5. Granite Rapids Moon (TBA)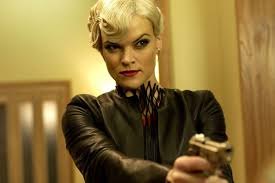 Kenneth Cran, known for the 2011 movie 'The Millennium Bug,' has roped in Missi Pyle to play Vivi, an important character in his upcoming drama. Cran was shot to fame after 'The Millennium Bug,' a giant monster movie made without CGI. Even though the makers and director are tight-lipped about the whereabouts of the movie, the fans can expect Missi Pyle's Vivi will have some humorously dramatic scenes to offer.
6. Blind Psychosis (TV Movie)
Missi Pyle joins hands with Tony Hale for 'Blind Psychosis,' a 6-episode murder mystery podcast. The plot revolves around a group of guests gathered at a mansion in Maine. The festive mood slowly gives way to ultimate horror when the guests realize that they're being brutally killed one by one by a non-human evil force. When the blind detective, Harper, played by Tony Hale, embarks on a ghost hunt, the viewers can hope for nothing short of a mystery extravaganza.
Read More: Upcoming Anna Torv Movies
7. Ghosting (2019)
When Freedom set on to make a quirky original movie, they have zeroed in on Missi Pyle, Aisha Dee and Kimiko Glenn. 'Ghosting' follows Jess, played by Dee, an innocent girl who goes on her first date and dies in a car accident on the way home. Now, Jess is stuck in between the earth and heaven, and she needs emergency help. She goes to her bestie Kara, played by Glenn, who in turn calls for help the Energy Healer Chrissy, played by Missi Pyle. The movie is directed by Theresa Bennett based on a script written by Laura Donney.
Read More: Upcoming Mae Whitman Movies