'Modern Family' is a mockumentary family sitcom that follows the lives of Jay Pritchett and his family, who live in suburban Los Angeles. It is ABC's longest-running comedy series and one of the top-rated shows of the network. Created by Christopher Lloyd and Steven Levitan, the inspiration for the series came from their own experiences and how the family structure has evolved over the years.
The show has been critically acclaimed throughout its nine seasons and has a huge fan following. It has been the recipient of Emmy Award for Outstanding Comedy Series five times in a row. It has a total of 75 nominations to its name and has also been a constant presence at the Golden Globe Awards. Its worldwide popularity has prompted three successful adaptations in other countries.
Modern Family Season 11 Release Date: When will it premiere?
'Modern Family' Season 11 premiered on September 25, 2019. After airing for 9 episodes, the show went on a mid-season break — as it always does — on December 11, 2019. The good news is that fans won't have to wait for long for the show to come back on the tv screens. 'Modern Family' Season 11 episode 10 will release on January 8, 2020. You can watch it on ABC.
As far as the future of the show goes, fans should know that season 11 is the final season of the show. In an interview, creators Levitan and Lloyd said: "For 10 years, our characters have bravely faced turning points in life and moved through them to great personal enrichment. We have chosen a different path by doing one more season of Modern Family." Actress Ariel Winter expressed her thoughts on the final series with THR. "It's strange to think that it's coming to an end. It will be hard to say goodbye. It will be hard to leave that, but I'm excited to do new things," she said.
Modern Family Cast: Who is in it?
'Modern Family' enjoys an ensemble cast of talented actors, some of whom have received multiple nominations in various award shows. Ed O'Neill plays the role of the patriarch of the family, Jay Pritchett. Sofia Vergara plays his second, much younger wife, Gloria. Julia Bowen plays Jay's daughter, Claire, while Ty Burell plays her husband, Phil. Sarah Hyland, Ariel Winter and Nolan Gould play the role of Claire and Phil's children, Haley, Alex and Luke, respectively.
Jesse Tyler Ferguson plays Mitchell, Jay's son, and Eric Stonestreet plays the role of his husband, Cameron. Aubrey Anderson-Emmons plays the role of their adoptive daughter, Lily. Rico Rodriguez appears in the role of Manny, Gloria's son, while Jeremy Mcguire plays the role of Fulgencio, Jay and Gloria's son.
All the main cast members returned for season 11.
Read More in TV Preview: The Standups | The Ranch
Modern Family Plot: What is it about?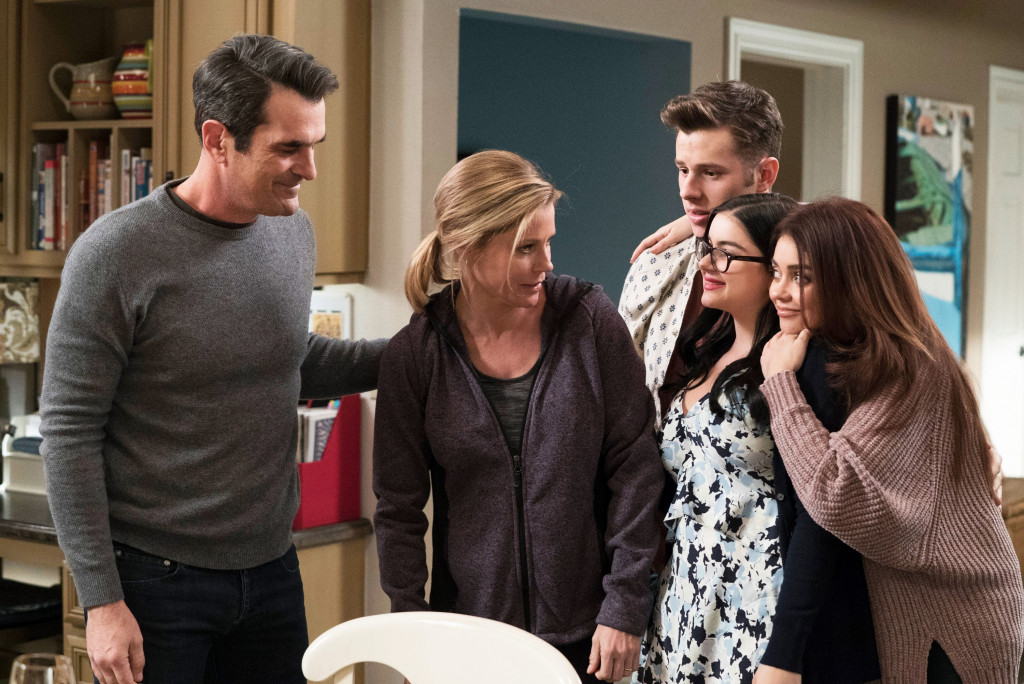 'Modern Family' is a depiction of the way current families function. Through different units, it portrays different kinds of relationships. There is the idea of a nuclear family while being a part of a giant unit. There is a step relationship as well as the exploration of same-sex marriage. All these undercurrents and more are presented to the audience through the day to day lives of the Pritchetts. The personal and professional lives of the characters clash and they often find themselves in some tricky situations. Apart from making the audience laugh, the series also touches upon a lot of issues. From the impact of technology and social media on current lifestyle to the complicated procedure of raising one's kid, with every seasonal arc, the show brings highly relatable content to the audience, which is what makes it so popular.
The show has been around for ten years and all the characters have come a long way. In season 10, it is revealed that DeDe, who plays Claire and Mitchell's mother, is the one who passes away after battling a heart condition which she had chosen to not disclose to the family. Steve Levitan said about the death, "It occurred to us that death is a giant part of the family experience, and while Phil (Ty Burrell) had lost his mother in a previous episode, we've never seen the entire family have to deal with such a loss. It seemed like an interesting thing to have happen."
Read More in TV Preview: The Rain | The OA
Modern Family Trailer:
You can take a trip down the memory lane and revisit previous seasons of the show on ABC. Here's the trailer for season 11.
Read More: Best Family Shows on Netflix