The Western genre is more or less set in the American Frontier or around the people who belong there. Essentially, the American Frontier is the culture that was followed by the English settlements towards the west of the Mississippi River, the area comprising of North Central America, Texas, The Rocky Mountain, Southwest and the Western Coast of the present-day U.S. From a cinematic standpoint, we've observed that the western genre is more centred around the western and midwestern culture and people, like how we've seen cowboys, often trotting guns and riding horses, with many of them being the Native Americans or bounty hunters (in cinema pop-culture), wanted outlaws, ranchers or farmers in countless movies and television shows. Sometimes also referred to as the Wild West, these Western movies have mostly been set in the far-flung areas with scarce population, comprising lawlessness and violence. It all began with a few commonly found premises in the Western genre – gun trotting men visiting saloons, the confrontations between rival gangs, bounty hunters looking for a lead, Native Americans and the tales surrounding them, outlaws who're looking for a recluse or young, intriguing, beautiful women amongst a bunch of violent, vicious, outlawed cowboys.
Typically, most of the westerns are set in the 1870s, apparently, most of the action happened back then. More recently, we've been seeing a drastic change in the movies of the genre, i.e. the advent of contemporary westerns, with movies like 'Wind River', 'Hell or High Water', 'Brokeback Mountain' etc., which went a few steps ahead of the cliched western movies and showcased the other side which mostly remained subtle through the years. These Neo-Westerns have also been coupled with the epics, also known as the epic-westerns, the movies which do have a dash of fiction and are set on an epic scale. 'The Revenant' is one good example. Over the years, filmmakers have tried to club the western genre with others, thus creating a near-perfect mashup which would still be known as a western movie. Some examples are horror movies such as 'Abraham Lincoln: Vampire Hunter', 'Ravenous' etc. or space movies like 'Serenity', which had a pinch of the Wild West in them. As far as Netflix is concerned, while there's no doubt about the fact that it does have a good collection of movies, ranging from extremely engaging to about average, passable movies, the westerns are only limited to a few best. We, at The Cinemaholic, have conjured up this list exclusively for Netflix viewers, a list comprising really good westerns on Netflix that you can stream right away. You may also be able to find a few of these westerns on Hulu or Amazon Prime.
15. The Ridiculous 6 (2015)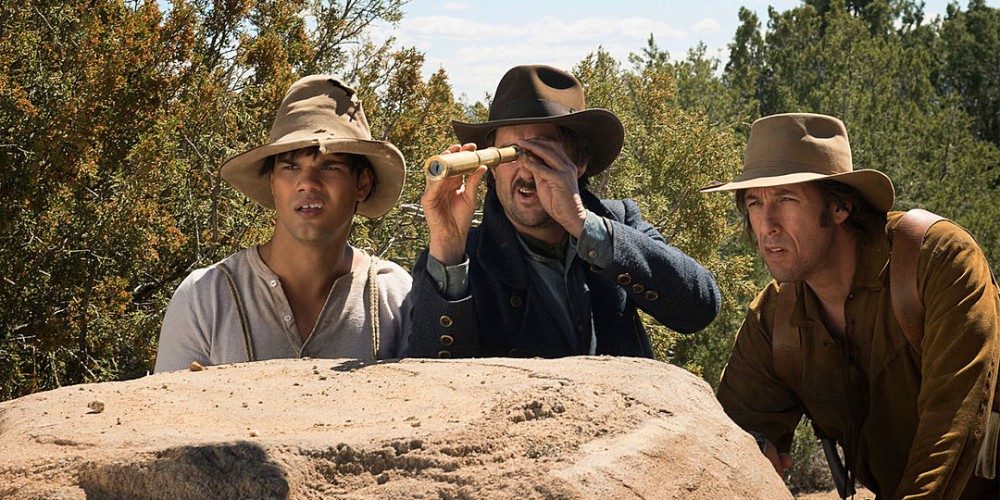 A passable affair at best, 'The Ridiculous 6' is on this list only because it qualifies as a western flick nevertheless. Tommy, nicknamed "White Knife" is a laid-back young man who's been raised by the Native American Apaches. He's about to get io wedlock with "Smoking Fox". One fine day, a man shows out of nowhere claiming to be White Knife's father Frank. Frank is soon kidnapped by a gang of bounty hunters who ask for a ransom of $50,000 to free Frank. White Knife feels obliged to save his dad and on his quest, he meets five other men, all of who claim to be Frank's sons. Given the newly established relationship between the half-brothers, they set off on the "dangerous" mission as 'The Ridiculous 6'. While there's nothing good about the movie, it still is so bad that it is good, all thanks to the consistently inconsistent Adam Sandler.
Read More: Best Documentaries on Netflix
14. Casa de mi Padre (2012)
A typical old western drama set in and around a ranch in Mexico, Armando is a laid-back guy who has done nothing but spent the most of his life in a ranch that belongs to his father. One fine day, Raul, Armando's brother appears out of the blue along with his girlfriend turned wife Sonia. Raul is apparently doing very well in his business and agrees to finance all the ranch's debts, much to the relief of Armando and their father. Turns out, Armando is a drug dealer and there's no business in place, per se. Enter Onza, the ace drug smuggler of the area who has locked horns with Armando and Raul. Armando must come out of his hard shell to take the ranch out of debt while dealing with Onza. A typical Will Ferrell style comedy, 'Casa de mi Padre' has some relishing moments.
Read More: Best Sci Fi Movies on Netflix
13. The Killer (2017)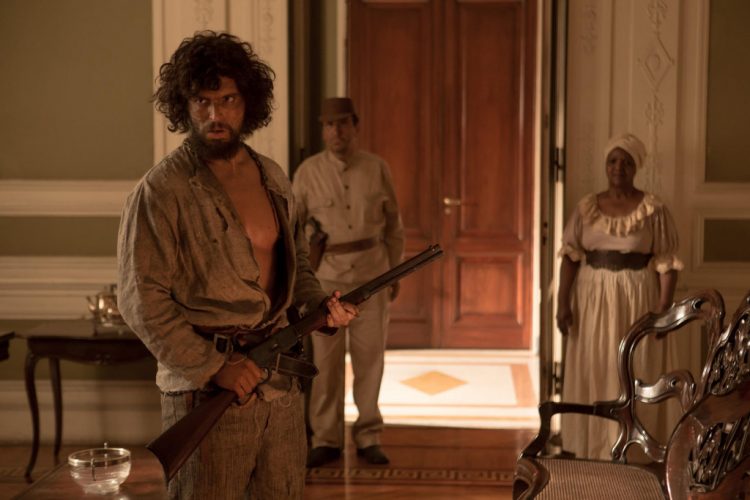 A Portuguese film at the very outset, originally titled 'O Matador', 'The Killer' is a western movie but a Brazilian western for that matter. Set in the Brazilian desert of Pernambuco, Cabeleira is an orphan who grew up in complete isolation from the civilization under the guardianship of a man known as Seven Ears. One fine day, after his foster-father, disappears without telling, leaving Cabeleira in further isolation. Years later, an all-grown-up Cabeleira is determined to look out for his lost father. Cabeleira gets involved in a stone trading racket led by a cunning and vicious Frenchman, amid the lawlessness of Pernambuco and its small towns and learns secrets about himself and his father he could've never thought of. 'The Killer' was appreciated for its cowboy setting and the outstanding performance of its leading actor.
Read More: Best Kids Movies on Netflix
12. An American Tail: Fievel Goes West (1991)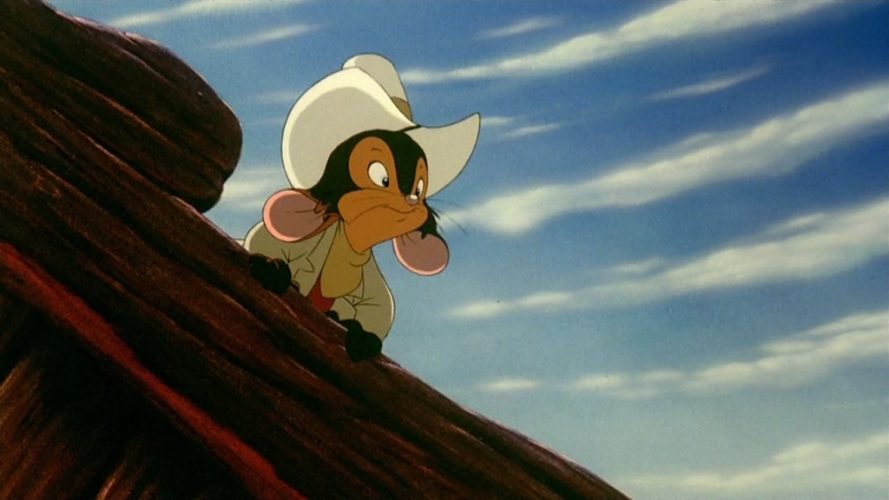 The only animated flick based on the Wild West that we could find on Netflix, 'An American Tail: Fievel Goes West' begins with the Mousekewitzes, a family of immigrant mice which has decided to go to the American Frontier a.k.a. the west. The reason – they're constantly being troubled by hungry, mouse-eating cats and Fievel Mousekewitz, the family head has plans for his family members, while he often thinks of an old Sherrif dog Wiley Burp. Cat R. Waul, a fiendish cat talks the Mousekewitzes into moving to the west in order to escape the cat menace. Tiger follows, for his girlfriend Miss Kitty has also wandered off to the west. Turns out, Cat R. Waul plans to turn the Mousekewitzes into mouseburgers, a plan that gets to the ears of Fievel and he, along with Wiley hatch a counterplan to save their lives. The movie, despite its uneven narrative and predictable conclusion, got a good response from viewers and critics alike.
Read More: Funniest Movies on Netflix
11. The Homesman (2014)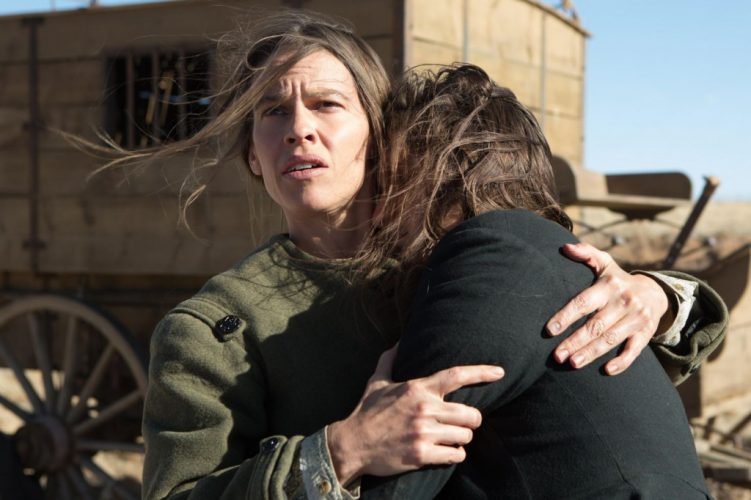 A film that has gotten a staggering 3.5/4 from Roger Ebert, 'The Homesman' is straight from the kitty of writer-director Tommy Lee Jones, who also has a supporting role in the film. As opposed to the title, mostly women are the centre point and heroes of this ambitious venture and begins from the west but sets in the east. Mary (Hilary Swank) is a spinster, single, 30 something, living her life in Nebraska, for she has bought land here. Apparently, she is unable to find a suitor for herself, as people think she is too bossy and domineering. After three women in the area go berserk and need attention, Mary offers help and transports them east, chained and confined, while finding a Homesman named George, who is just the right person she needed at that point. A weird yet impactful movie, 'The Homesman' will fill you with awe and also raise your eyebrows from time to time.
Read More: Best Classic Movies on Netflix
10. The Salvation (2014)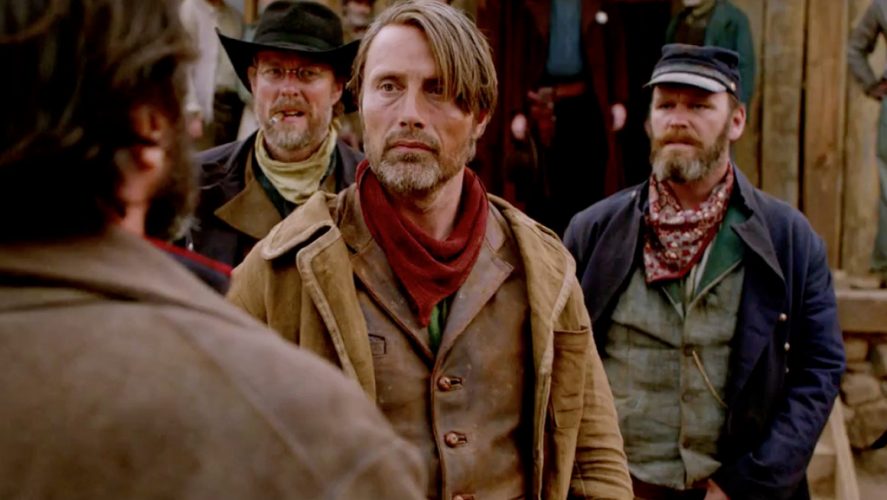 Featuring Mads Mikkelsen and Eva Green in leading roles, 'The Salvation' is set mostly between the Mississippi and the Rocky Mountains and begins in the 1870s. Jon is a man from Denmark who has eloped to the Wild West following a war that had engulfed his country. Cut to seven years later when his wife and ten-year-old son arrive and the movie opens with the reunion, that doesn't last long. On the stagecoach way home, his wife is raped and murdered and so is his son by two criminals who were chained behind the coach. Jon is quick to exact revenge from the two rapists and murderers. One of the criminals has a western connection with a mob leader Delarue, the mad-man who keeps the town under his thumb and vows to kill the man who killed his brother. And there it begins. Gripping action, amid the deserted western setup and a brilliant Mads Mikkelsen, put together make 'The Salvation' a must-watch western flick.
Read More: Best Zombie Movies on Netflix
9. Young Guns (1988)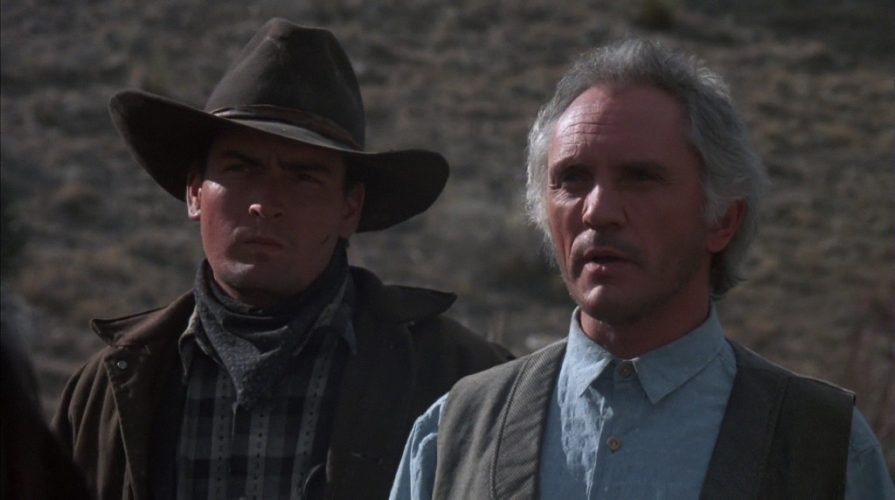 Based out on the events of Lincoln County War of New Mexico during the late 1870s, 'Young Guns' is the telltale of two rival factions who own cattle ranches in Lincoln County, New Mexico. John Tunstall is an Englishman who owns a farm-ranch in New Mexico. Not very far away, an Irishman and Tunstall's arch-rival Lawrence maintains a larger ranch and both Tunstall and Lawrence's henchmen lock horns over petty disputes. Tunstall hires a group of 'Young Guns', the most prominent of them being Billy The Kid, along with a few others who are gun-trotting men who also work on the ranch. Things escalate when Tunstall is murdered and Billy and his troupe vow to avenge Tunstall's murder. 'Young Guns' is tailor-made for western fans and makes for a good popcorn movie.
Read More: Best Alien Movies on Netflix
8. Slow West (2015)
With Michael Fassbender in a supporting role, 'Slow West' revolves around a young Scottish lad named Jay Cavendish, who is in the wild west looking for his lost girlfriend Rose. When Silas Selleck, another Irish bounty hunter prominent in the area saves a Native American from some thugs, Jay hires Silas as his bodyguard. Silas soon realises that Rose and her father have a bounty on their heads and so does Victor, another bounty hunter. Payne is an old associate of Silas who too is looking for Rose. Rose is wanted because her father had murdered Jay's uncle, Lord Cavendish, back in the day. Rose and her father are protected by Kotori, a Native American. A gunfight ensues and Rose shoots Jay in confusion, while Silas gets Rose in the end. 'Slow West' received critical acclaim and despite its absurdity, it makes for a great western flick to look up to.
Read More: Best Romantic Movies on Netflix
7. Free State of Jones (2016)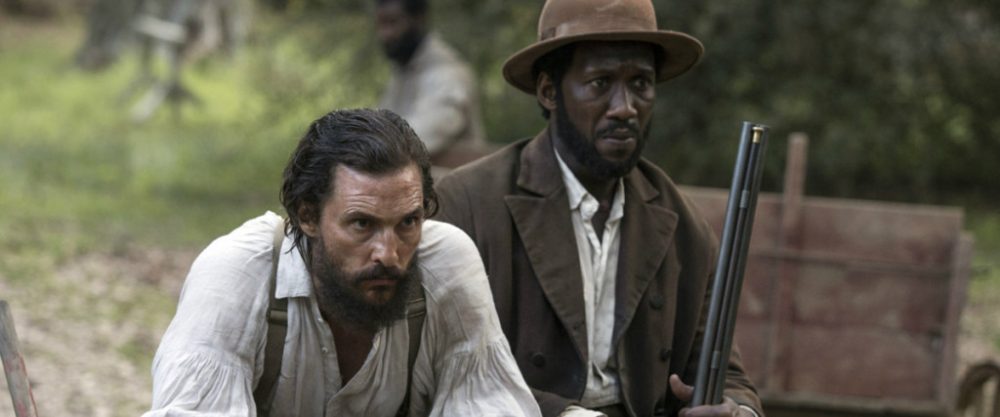 Despite having Matthew McConaughey in the lead, having given a terrific performance, 'Free State of Jones' didn't end up well with the critics who blamed the sloppy script and lacklustre direction for its failure as a western flick. Based on the true story and set in the Jones County of Mississippi in the 1860s, Newton Knight is a soldier of the Confederate army who has seen the perils of the ongoing civil war and witnessed a young boy die in the battlefield. He thinks war is futile and only benefits slave owners. He deserts the army and goes into hiding with some freed slaves. Because of his inherent belief in equality for all, Knight garners an army of deserters, former slaves and people without riches to declare a portion of South Eastern Mississippi, including Jones County, free and loyal to the Union and puts up a mounting rebellion against the Confederates. 'Free State of Jones' fails only in its storytelling, whereas the rest of its departments are spot on.
Read More: Worst Movies on Netflix
6. Hostiles (2017)
The movie begins in 1892, and Christian Bale is Captain Joe Blocker, who is nearing retirement from service. Through his entire life, he has been known of protecting the Commanche, Apache and other Native American tribes from vicious attackers. His last assignment, however, is to transport and safely escort an incarcerated Cheyenne war chief Yellow Hawk to Montana, where the chief can die a peaceful death. Yellow Hawk is a known enemy of Blocker, hence he begrudges the assignment. During his long trail, he is joined by a suicidal widow Rosalie, who too is a survivor from Native American attacks. In the plains that are replete with hostiles, Blocker's job of providing a safe escort appears to be in jeopardy. 'Hostiles' boasts of stunning western visuals, riveting storytelling and outstanding performances. What are you waiting for?
Read More: Best War Movies on Netflix
5. The Ballad of Buster Scruggs (2018)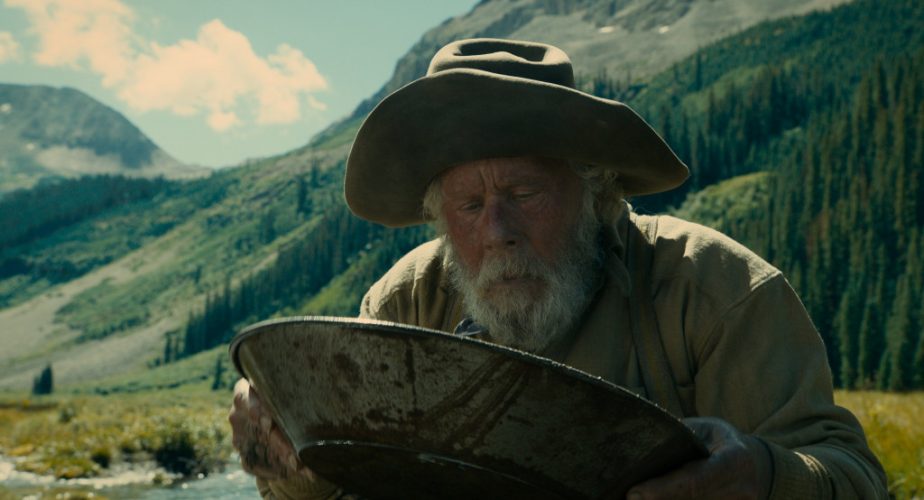 Truly a ballad narrative of six anthological stories in a wild west setting in the post-civil war era, 'The Ballad of Buster Scruggs' is a visual miracle and a must-watch for the fans of the westerns. The first story is called 'The Ballad of Buster Scruggs' and is the narrative of Buster Scruggs, a cheerful outlaw gun-trotting maniac who goes about shooting other outlaws mercilessly before being challenged by another maniac, leading to his own death in a similar way. Boasting of an elaborate cast including James Franco, Liam Neeson, Brendan Gleeson among others, the anthology narrates the six stories in a typical western way, dealing with different cliches and storylines and ending up in a classic yet unexpected way. From cowboys in the prairie to stagecoaches to the gold canyons, 'The Ballad of Buster Scruggs' gives all other westerns a good run for their money.
Read More: Best Holocaust Movies on Netflix
4. Wind River (2017)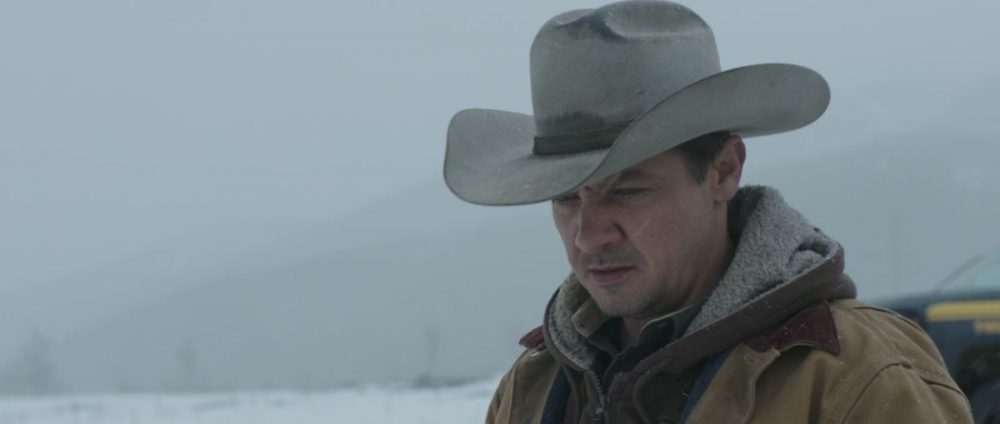 A murder mystery at the outset, 'Wind River' is mostly set within a Native American reservation called Wind River, where a mutilated dead body of a young Native American girl Natalie has been found by Cory Lambert (Jeremy Renner) – a wildlife tracker and a hunter. He seeks the help of rookie FBI agent Jane Banner (Elizabeth Olsen), and things start unfolding. Apparently, Natalie was raped and was killed as she ran barefoot on the snow. Lambert is grief-stricken himself over the death of his daughter and the troubled relationship he shares with his ex-wife and son. Jane and Lambert have to deal with coverups, fake narratives and a distraught father of Natalie. With groundbreaking performances and a thrilling anecdote, 'Wind River' is one of the best westerns on this list.
Read More: Best Feel Good Shows on Netflix
3. The Hateful Eight (2015)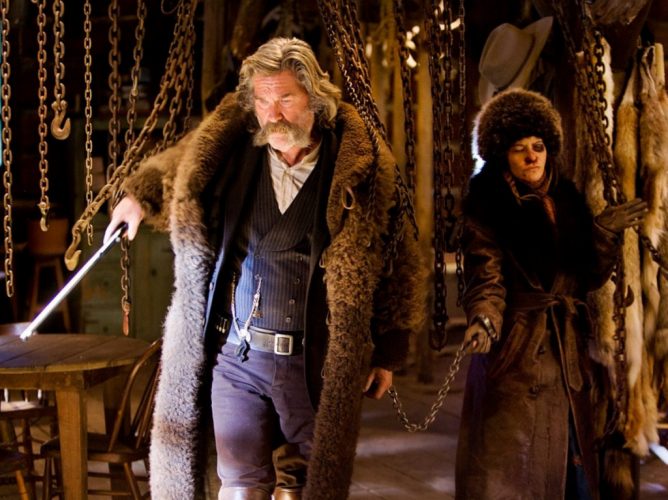 In a towering Quentin Tarantino's tale of hate, violent killings and greed, 'The Hateful Eight' is set in the aftermath of the American Civil War in a snowy western landscape. John Ruth is a bounty hunter who is transporting a female prisoner Daisy on a stagecoach to Red Rock amid a looming blizzard. Major Marquis Warren is another bounty hunter who is headed to the Red Rock with three dead bounties and encounters John Ruth. They are joined by Chris Mannix, the potential candidate for the position of sheriff of Red Rock. As they take refuge from the blizzard at Minnie's Haberdashery, they meet with four others who're also waiting for the blizzard to be over. Given all of them have mysterious and somewhat deadly intentions, it is only a matter of time before the guns start blazing. 'The Hateful Eight' is known for Tarantino's signature style of filmmaking and has a gripping way of expressing each character's narrative.
Read More: Best German Movies on Netflix
2. Blazing Saddles (1974)
Amid the ongoing railroad scene of the 1870s, Rock Ridge sits on a potential path of an ambitious railroad project. Lamarr, an attorney, wants the residents of Rock Ridge to flee so that his project goes through. Lamarr appoints Taggart and his henchmen to wreak havoc on the town and kill the sheriff. When the townsfolk demand a new sheriff, preferably one of their own, Lemarr persuades the Governor to appoint Bart, a black man, as the sheriff, who is a railroad worker awaiting his execution on the counts of assault, hoping Bart would bring further chaos to Rock Ridge and help Lamarr fulfil his vile ambitions. Tables turn when Bart works with the townsfolk to thwart any further attempts on Rock Ridge by Lamarr and his henchmen. A triumphant and funny tale filled with gags and borderline racism, 'Blazing Saddles' is a wholesome entertainer and boasts of some rib-tickling ROFL moments.
Read More: Best Animation Movies on Netflix
1. No Country for Old Men (2007)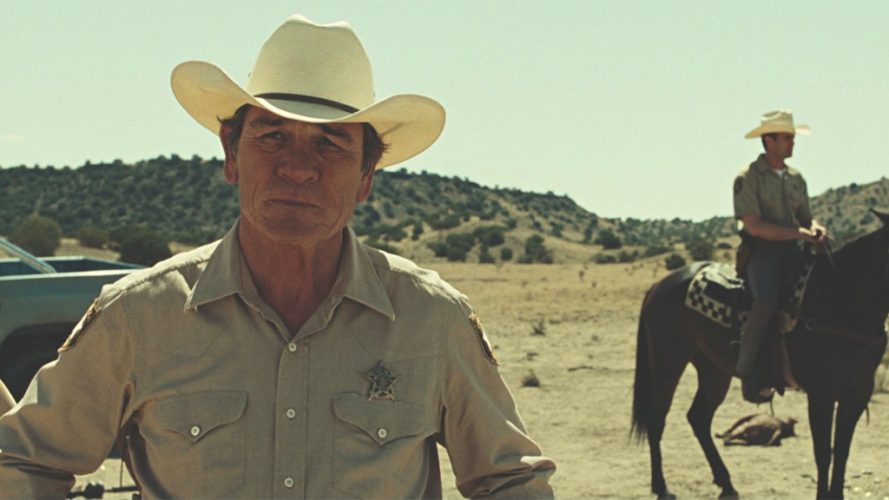 Set in the 1980s west Texas, 'No Country for Old Men' begins its narrative with sheriff Ed Tom Bell (Tommy Lee Jones), a weary police chief who is in the pursuit of two wanted men. While one of them, Llewelyn, is a war veteran turned cowboy who is on the run with $2 million drug money from his "victims" after killing them, the other, Anton, wants to get his money back by killing Llewelyn for his employer, from who Llewelyn is on the run. Sheriff Bell needs to make sure there's no "contact" while putting both of them behind the bars. Soon, personal urges take precedence over law and order and the showdown is something completely unexpected. 'No Country for Old Men' is the classic cat and mouse narrative conjured up by none other than the Coen brothers who have made sure that fate and situations bring all of the warring characters together in their sketch. A must-watch for the westerns fans and non-fans alike, 'No Country for Old Men' went on to win four Academy Awards including Best Picture, Director, Supporting Actor and Adapted Screenplay.
Read More: Best Serial Killer Movies on Netflix