Portraying nudity in movies is tricky business. God knows how many movies have come up over the decades with nudity for nudity's sake, sex for sex's sake and scenes only intended to titillate the viewers. Every other movie has nude scenes in some form or another. Some are brief, some explicit, some sexual, some not so sexual, some gross and some beautiful. But the ones we're going to discuss in this article are, to quote umpteen number of actors and directors, the "tasteful" ones.
On top of being tasteful, these are essential to the plot. These are scenes that establish intimacy between characters which will pave way for the for the development of the characters as a pair and as individuals. Scenes that establish the characters themselves, and help us in getting a better understanding of them. Some scenes represent love and liberation, and some are just so hot and well made that I had to add them. And remember, I've considered these scenes as "nude scenes" if the actors went naked while filming them. So the private parts of them might not be visible for a long duration in some of these scenes. Let's get started, here is the list of top nude scenes in movies of 2018. We will update this article throughout 2019 with new scenes. So, don't forget to bookmark it.
10. Colette and Missy Make Out – Colette (2018)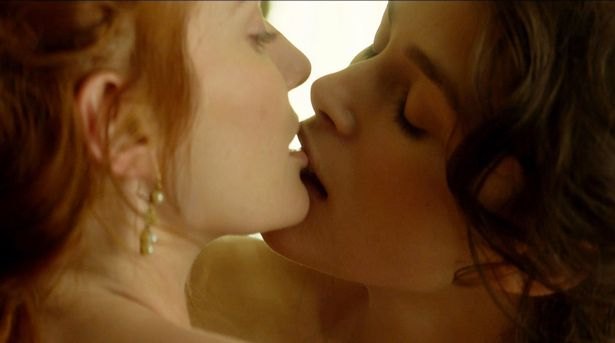 I'll have to admit that the amount nudity in this one is low when compared to other scenes in the list. But the elements the scene represents are very essential to the character arc of Colette, the protagonist, played by Keira Knightley. The film is a biographic period piece about a very young woman, played by Keira Knightley, who marries a much older man who financially exploits her writing talents, at the same time he is incessantly unfaithful to her. It is easy to feel bad for Colette, and we do, but her eventual triumphs in the midst of her struggles are the real story here. And, in fact, I would say that both her creative spirit and her marital struggles lay the foundations for her successes. Colette is happily married to Willy, however, he locks her in the room so she will write the novels he takes credit for.
She slowly comes to the knowledge that his fame is really hers and slowly finds herself and has the guts to leave him. Amidst all this, Colette embarks on an affair with Missy, a masculine-dressing lesbian, who is the niece of Napoleon III. The couple shares interest in the theatrical art and their conversation leads to a very intimate scene where Colette brakes all the shackles and goes to undress Missy. The scene progresses slowly until a point where the couple ends up satisfying each other you know how. The scene establishes sexual contempt that Colette achieves, along with enabling her to explore herself in a way she never could inside the four walls of her marriage. From then, the film goes on to discover Colette's life and her bigger achievements. Though Keira herself doesn't get naked in the scene, it still counts.
Read More: Best Nude Scenes of 2017
9. Christian and Anastasia's Sex Scene – Fifty Shades Freed (2018)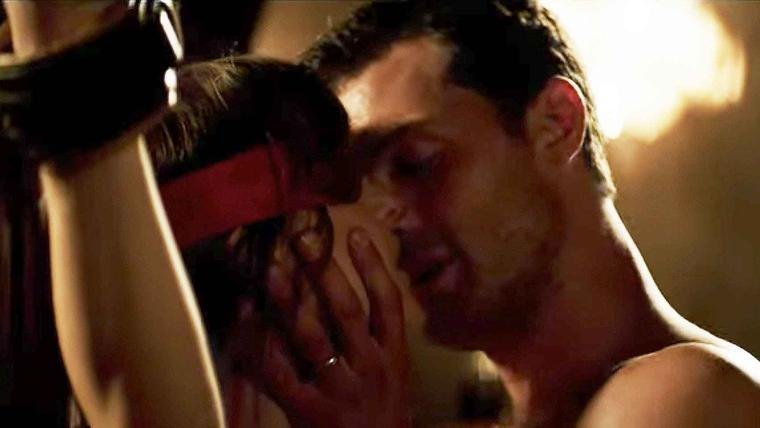 There are two reasons why I had to list this scene. Firstly, the amount of nudity it has. And secondly, the scene means something, rather than the couple just enjoying themselves, like most of the time throughout the series. Christian Grey and Anastasia Steele finally tie the knot but Anastasia is finding it hard living the Billion dollar lifestyle, which is totally controlled by Christian. With a new threat on the horizon, the couples life is in danger, so Christian hires bodyguards to watch over them around the clock. Anastasia then finds out that she is pregnant, which puts a strain on their relationship because Christian doesn't want to be a father, so the newlyweds new life together doesn't have the best of starts.
The stalker then demands five million dollars from Anastasia, because he has kidnapped Christian's sister. This is where Anastasia decides to take things into her own hands. She tries to make the transaction with the stalker behind Christian's back and this really upsets Christian. While Anastasia is unaware of this, the couple goes on to enjoy a night of their trademark sex, Christian has other plans. He ties Anastasia, blindfolds her, seduces her with an adult recreational tool, and just when we, like Anastasia, start assuming where it's going, he stops in the middle, expressing the frustration one undergoes when someone tells one thing, and the other. The scene indicates a rift between the couple, even if that is resolved quickly in the later stages.
Read More: Actors Who Went Nude For Movies
8. Bathtub scene – A Star is Born (2018)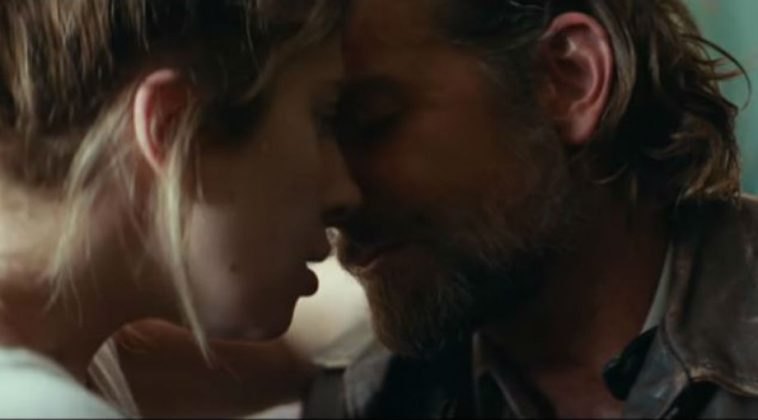 Bradley Cooper's directorial debut marks the third remake of this particular story. Fourth, if you count the 2013 Bollywood musical. The story is about an aging country rock singer, whose career is at its final stretch. Then he runs into a girl with an amazing voice and becomes instantly fascinated, if not outright smitten. The film stars Cooper in the leading role and Lady Gaga as Ally, the girl with the voice. And these two are magnificent. The role of Ally is of course practically tailor-made for Gaga, but I'm still blown away by her acting talent. The same with Cooper, except that with him I'm blown away by the fact that he can actually sing really well. These two approach the same point from different directions and this build some amazing chemistry between them.
Jackson and ally have sex after a failed initial try due to the fact he's too under the influence of alcohol. However Cooper as a director isn't interested in that detail of their connection, and clearly, neither are we as the audience. The scene isn't that lengthy, it's not explicit, and it's more the suggestion of intercourse thanks to nude kissing at the most. what's more important here is the accumulation, and the fundamental bond that Jackson and Ally have, and the intimate approaches they act on it without being in the bedroom. And when it does reach the bedroom, well bathroom actually, the couple display great chemistry and the scene offers a very good look into the intimate relation of the two. The scene is so well placed in the script, that it deserves this spot.
Read More: Best Nude Scenes in Movies
7. Alice and David Have Sex – Widows (2018)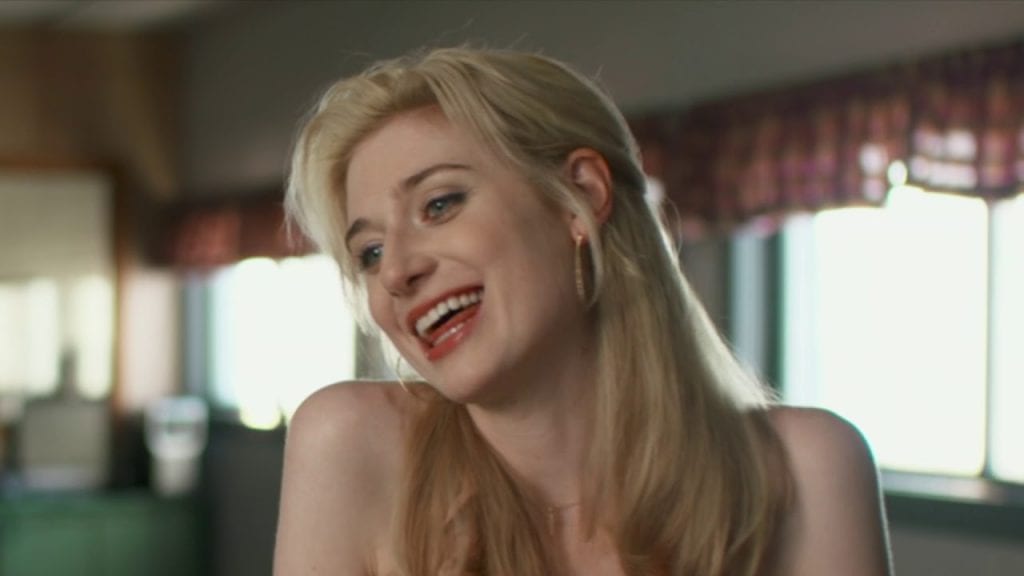 The plot of the movie opens with a fairly by the books heist gone wrong. Of course, the actual heist just serves as a plot device for the real meat of the film. The real story revolves around the widows Veronica, Linda, Amanda and Alice and who are left behind and their struggles trying to manage their lives after their loss. The women become thrust into a life they don't understand to salvage what is left of their families. Veronica, who's the wife of the master planner Harry, discovers his nites and decides to finish the heist with the help of Linda and Alice.
Alice, as part of her plan, has to have a not so plutonic relationship with David, a real-estate executive in order to get the blueprint. While she's in this process, the couple has intimate intercourse, where David proposes a rather more "exclusive" relationship, implying a serious commitment and Alice agrees. Alice gets naked but the couple is interrupted by Veronica. The scene is essential because it happens just one month after Alice is widowed, and Veronica points out the same. While Alice defends herself by citing the purpose she's fulfilling, Veronica doesn't buy into that, and the two end up fighting. This scene implies Alice's mindset at that point in time and leads to an interesting dynamic between Alice and Veronica.
Read More: Best Adult Movies of 2017
6. Sex Before the Battle – Outlaw King (2018)

Robert Bruce is forced into a truce with England, and when his father dies, he must decide if he is going to betray his honor and rebel against England or suffer under English rule. This film does a good job of exploring the character of Robert Bruce, and Pine does a solid job of showing us the moral struggles he faces. "freedom" has a cost and he is aware of the price Scotland will pay. Other than Bruce, the other characters are somewhat forgettable. Rebecca Robin is very good as Bruce's wife Margaret, but her role is not expanded on enough. However, her relationship with Robert represents the romantic side of him. The scene comes right after Robert challenges his enemy king for a dual, instead of a war. The army is unsure since the enemy is touted to be a beast, while Robert displays confidence.
The night before the dual, the army is feasting, music is on, everyone is upbeat and Robert himself is upbeat. He takes a tour of the camp, takes some wine for his queen while joking around. The two sit down, have a laugh or two, and talk about the challenges to come. This is the highest point of their togetherness, with Robert involving her in his plan by saying "we". Elizabeth takes him into the tent, undresses and they have sex. The scene looks realistic, with little details. Like Elizabeth getting pricked by a dry leaf on the bed while laying down. Robert then uses the leaf as a tool, and the two have a giggle about it. One more thing that stands out is that they never kiss properly during the entire scene. It's just textbook old school sex.
Read More: Best Adult Movies of 2018
5. Natalie Dormer's Nude Scene – In Darkness (2018)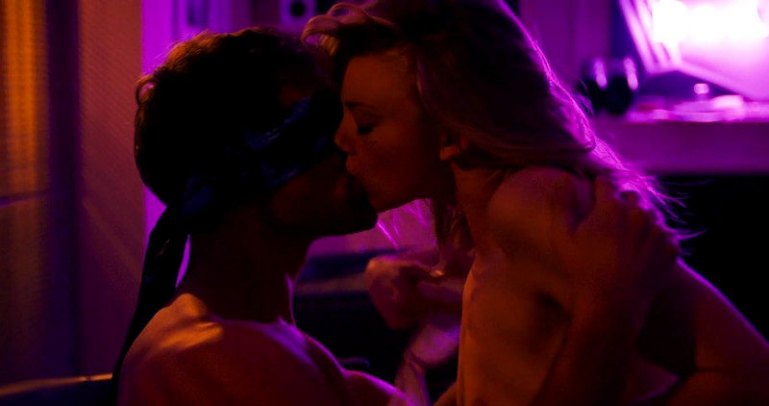 Many previous films have fallen into the trap of over-complication and it has almost always harmed them. Unless you are Christopher Nolan who seems to be able to simplify even the most complex of story-lines, you really shouldn't try too hard in that respect. 'Ocean's Twelve' was a prime example of that. It got so complicated that it was no longer fun. 'In Darkness' is very similar. You're working so hard to keep up with everything that you're never actually able to just sit back and enjoy yourself. The movie is made with some nice style and I liked the amount of ambition that went into it. It wasn't done on the cheap and nasty, that's for sure.
Unfortunately, though it just didn't really work for me. That being said, Natalie Dormer is brilliant in this movie, you feel pain, her sadness, and her strength. The shower scene was hyped a lot, but it's not like anything we haven't seen before. But still, Natalie manages to light up this scene with her sexiness. Her character Sophia has sex with Marc. We see Natalie nude long time after and I guess that my soft side for has made me place this scene this top. It deserves this spot just for the pure hotness of the scene.
Read More: Best Movies Like Porn on Netflix
4. Olivia is Possessed – Truth or Dare (2018)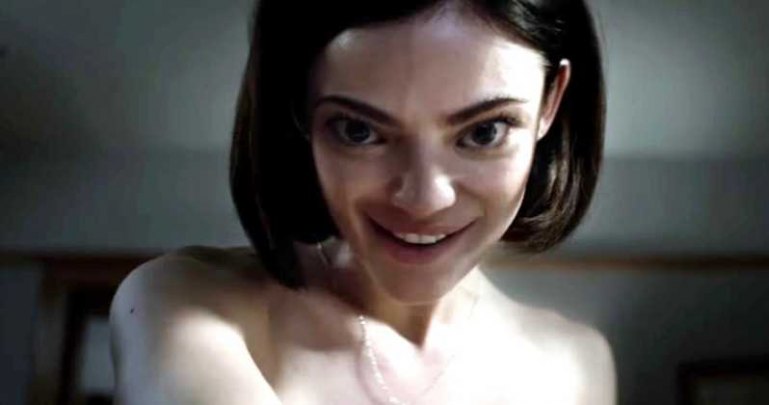 A group of rather mature high school students goes on summer break to Mexico, where a stranger talks them into a game of 'Truth Or Dare'. It turns out that this game is possessed. The truths and dares are all harmful, and if you don't do them, you die. People start getting possessed by a spirit. It is superimposed on the actors during their hallucinations. There is a race against time to find out how the game got possessed, and how to reverse the possession. Meanwhile, bad things keep happening to the participants. Though the movie has an umpteen number of cliches and might end up boring you, this one scene will definitely not.
Olivia and Tyler start making love, they get naked and Olivia is on top of Tyler when she gets possessed. She grabs his neck and her face turns into that crazy "Snapchat filter", as Olivia calls it. She or should I say that thing asks Tyler about his feelings for Olivia's best friend, and Tyler admits that he's in love with her. Though he later tries to cool things down by saying that he cares for Olivia, it's too late. Though the movie is not one of the best this year, the scene's essence to the film is high. In fact, the trailer's thumbnail is a still from this scene.
Read More: Best Movies of All Time
3. Ronit and Esti Go Rogue – Disobedience (2018)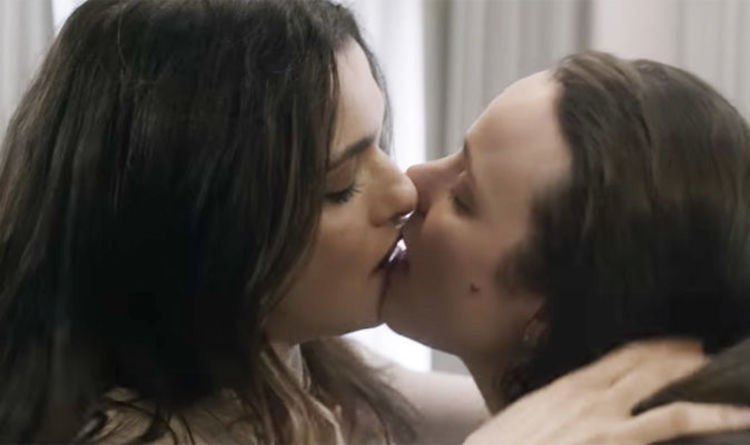 The story of 'Disobedience' follows a woman who, after learning about the news of her father's death, revisits the orthodox Jewish community that shunned her for a transgression many years ago where she reunites with her childhood friend. But as days pass, their passions reignite and they begin their secret romance once again. Disobedience explores the boundaries of faith & sexuality through two women who conduct a passionate affair after being reunited by a tragedy, and the film benefits a lot from Sebastián Lelio's concise direction and a sparkling chemistry between its leading ladies.
'Disobedience' is tense and gripping whenever the screen is shared by the two Rachels and quite a chore when it isn't.
You can actually sense a history between them from the moment they are in the same room and it only gets more riveting from that point onwards. The sex scene helps a lot in this aspect. Remember Mila Kunis and Natalie Portman in 'Black Swan'? This one trumps that scene. It can be placed on the top of the sexiest lesbian scenes of recent times, probably a few notches below 'Blue is the Warmest Color'. At one point, we even get two see one of them spitting into the other's mouth. Now whether you find that gross or sexy depends on you. While McAdams doesn't get naked, Weisz does. When I said that some of these scenes represent liberation, I had this one in mind. It also indicates the rebellious attitude of the couple.
Read More: Actresses Who Went Nude For Movies
2. Afternoon Delight – Dude (2018)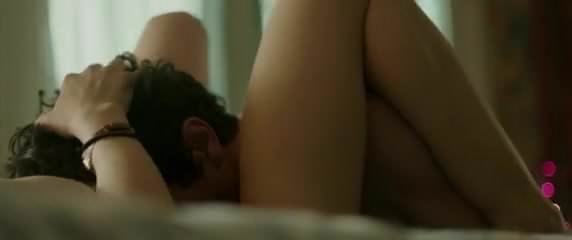 It's the last few weeks of school before four best friends go off on their own. Lily is student body president organizing prom. Chloe is still struggling with the loss of her brother one year later but Lily may be worst. Lily is going to Columbia and expects Chloe to go to New York University. Along with Amelia and Rebecca, they have parties and smoke weed. Noah has a crush on Lily. 'Dude' just moves across the various character, whilst slowly progressing the plot and the characters simultaneously. I think this is trying to be a darker teen drama with humor for the modern girl. It's a struggle to get the mixture right.
However, the good acting saves a lot the movie. The scene we're talking about has some really good acting. It is the slow and aesthetically filmed scene where Lily and Noah have sex. What makes the scene stand out is the organic flow it has and a lot of natural conversation the two have. He asks her permission before undressing and she finds that cute. She then suggests that she's going quiet, not because she doesn't like it. She just wants to "really feel it", as he goes down on her. The scene is cut to eleven minutes later when he's still orally pleasing her, and she appreciates him after it and reciprocates All of this seems so spontaneous that it's good to watch.
Read More: Movies With Most Nudity
1. Dominica Strips – Red Sparrow (2018)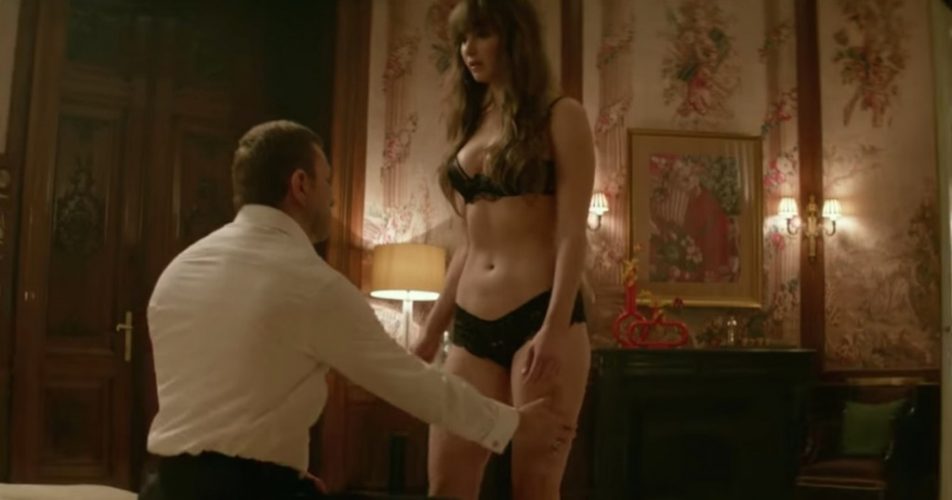 Jennifer Lawrence's re-teaming with director Francis Lawrence after their 'Hunger Games' episodes doesn't yield a better result, for 'Red Sparrow' is too generic to set itself apart from the norm, and its only saving grace is the solid performance from the fine actress. The story concerns a ballerina who is forced to join the Russian intelligence by her uncle following her career-ending injury and is tasked to make contact with a CIA agent in order to weed out the mole in their own outfit who's been passing them confidential information. Jennifer Lawrence does well with what she's given. Particularly in this scene.
There had been a lot of discussions about this scene for several months before the release. Debates started, with points of discussion going back to the time when Jennifer was victim of a leak. She herself came out talking about the scene and how hard it was to shoot. Amongst all this, Jennifer just nails the scene with her confidence. The way she provokes the man in front of her is brilliant. And at the end when she says "Nothing? Shame!", you get to see her conviction. Even though the scene doesn't do much to the movie overall, it certainly gives the satisfaction of watching a well-acted scene, and also, excuse me if I'm being crass, the pleasure of watching Jennifer at her sultry best.
Read More: Disturbing Anime Sex Scenes