Created by Robert Carlock and San Means, 'Mulligan' is a satirical animated series. The plot is set in the aftermath of a failed invasion by an alien species known as the Cardibeans. Most of Earth seemingly has been destroyed save for parts of Washington, D.C., and only 1,132 people are apparently left alive, with women outnumbering men 2 to 1. With no other viable choice, the eponymous Matty Mulligan (Nat Faxon), the quintessential dumb jock who defeated the Cardibeans with a hand grenade, is made the President of whatever is left of the United States. He and his unlikely group of cabinet members face different issues in each episode, with their incompetency usually serving as their biggest obstacle.
As an animated series, 'Mulligan has developed on the same formula as 'Big Mouth,' 'Trailer Park Boys: The Animated Series,' and other shows. Even if the series has cheap animation, it makes it up with a stellar voice cast. If you are wondering whether there will be a second season of the show, we got you covered.
Will Mulligan Season 2 Happen?
'Mulligan' season 1 premiered on May 12, 2023, on Netflix. It comprises ten episodes of 25-28-minute runtime. As for season 2, this is what you need to know.
According to reports, Netflix initially ordered 20 episodes to be developed. Given that the first season only has ten episodes, we can assume that the other ten episodes will either make up part 2 of the first season, to be released later in the year, or be a brand new season altogether. When the first season ends, the phrase "to be continued" appears on screen, indicating that the writers intend to continue telling this story.
In an interview with Animation World Network, the creators discussed future plans for the series. "We try and explore all of these characters and their motivations," Means explained. "We have some guest stars coming up, which we're pretty excited about. And it's about everyone – much like us with animation – learning the restrictions of this new world and what is and isn't possible. As we talked about earlier, they're all trying to do their best to build a new world together, and finding what they can and can't do. Over the course of the season, and in future seasons, these characters learn what it means to be people – including Axatrax, the alien general."
Carlock added, "When we were pitching it, we talked about it as 'The Office' meets 'The Last of Us.' It's a world that is recognizable, but it has all kinds of potential for story and comedy because it's broken. And, at the center of that, people are trying to have relationships, and trying to raise children, and trying to reconcile different points of view and different worldviews. So we hope that there's a beating heart at the center of it, but, at the same time, sometimes they have to fight monsters – and sometimes the monsters are literal monsters and sometimes they're each other."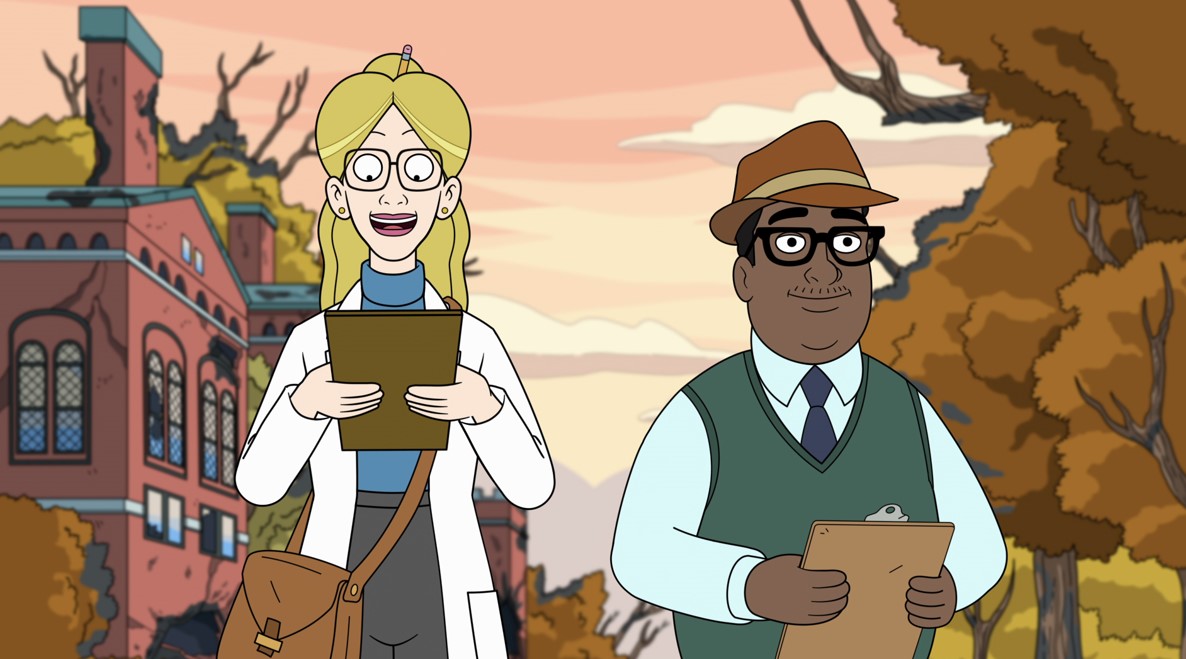 In season 1, Matty saves the world with the help of Lucy Suwan (Chrissy Teigen) and is subsequently convinced by Senator Cartwright LaMarr (Dana Carvey) to become the President of the United States, with LaMarr serving as the Vice President. On Lucy's suggestion, Matty establishes a cabinet comprising Dr. Farrah Braun (Tina Fey), a former DARPA scientist, Simon Prioleau (Sam Richardson), a history scholar, Jeremy (Daniel Radcliffe), an Englishman who later declares himself the king of his country, and others.
The relationship between Matty and Lucy plays an important role throughout the series. They initially get together because of the circumstances, and Lucy agrees to be the First Lady because it opens up possibilities for her, but she later grows close to Jeremy. The season finale unfolds like an episode from 'The Bachelorette,' with Lucy realizing she doesn't need either of her suitors. Meanwhile, TOD-209 (Kevin Michael Richardson) remembers that he was turned into a cyborg by Farrah. The season ends with the arrival of a new group of people from LaMarr's constituency.
In season 2, we will see the full extent of the impact these new people have on the show's narrative. LaMarr will probably become President, leaving the others with no choice but to work together to bring him down. Matty might even get a new love interest. If it is announced within the next few months, viewers can expect 'Mulligan' season 2 to come out sometime in Q2 2024.
Read More: Mulligan Ending, Explained