There come many embarrassing situations in one's life. But that is not an important thing. What's important is how you react to those situations! If you think that having that "butterfly and flowers" (or, whatever way it is phrased in your part of the world) talk with your parents made you want to evaporate and disappear from the face of the Earth, imagine how Jamie Morton felt when he realised that the manuscript his father had presented to him was actually pornographic!
We don't know how Morton felt in the first few minutes of this revelation, but once he took a step back and gave it a thought, a brilliant idea developed, which is now known in the form of the hit podcast, 'My Dad Wrote a Porno'. HBO, a network that has never shied away from experimenting with original ideas, no matter how bizarre, is bringing you a special that is set to grace your TV screens in a matter of days. Produced by Done and Dusted, and executive produced by Alice Levine, Morton, James Cooper and Rocky Flintstone (Morton's father's pseudonym) himself, the special is directed by Hamish Hamilton. Just so you know, the name of the novel is 'Belinda Blinked'. It is a bestseller series, and the author is currently working on its sixth part!
My Dad Wrote a Porno Cast: Who Is In It?
'My Dad Wrote a Porno' is a podcast that is hosted by Alice Levine, Jamie Morton and James Cooper. The three of them are set to come together for this HBO special and will read out a never before read chapter from the stories about Belinda.
Alice Levine was the one who first recognised the potential in the novel and suggested it be turned into a podcast. And now, it is a worldwide phenomenon. Her intuition towards such things comes from the heavy experience she has already had on TV and radio. She has worked as a presenter on 'Big Brother's Bit on the Side', 'The Hot Desk', 'Radio 1's Big Weekend' and 'Bargain Hunt'. Accompanying her as a host is James Cooper who has had his fair share of experience working in shows like 'The X Factor', 'The Apprentice', 'An Idiot Abroad' and 'The Voice UK'. However, they are just witnesses of what actually is Jamie Morton's story. Or actually, his father's.
When Morton joined the family gathering on his sister's birthday, little did he imagine that his whole world was about to change. For the better or for worse, he was the one to make the decision for that. His father presented his work to him and a read through with his friends convinced him that this was going to go big. Morton returns to share another story from his father's works in this new special. If you think that he is a bit out of his mind to take such a thing out and about in the world, be assured, he knows what he is doing. He has prior experience in shows like 'The Apprentice', 'Being Human', 'The X Factor', 'Eating with My Ex' and 'The Fades'.
My Dad Wrote a Porno Plot: What is It About?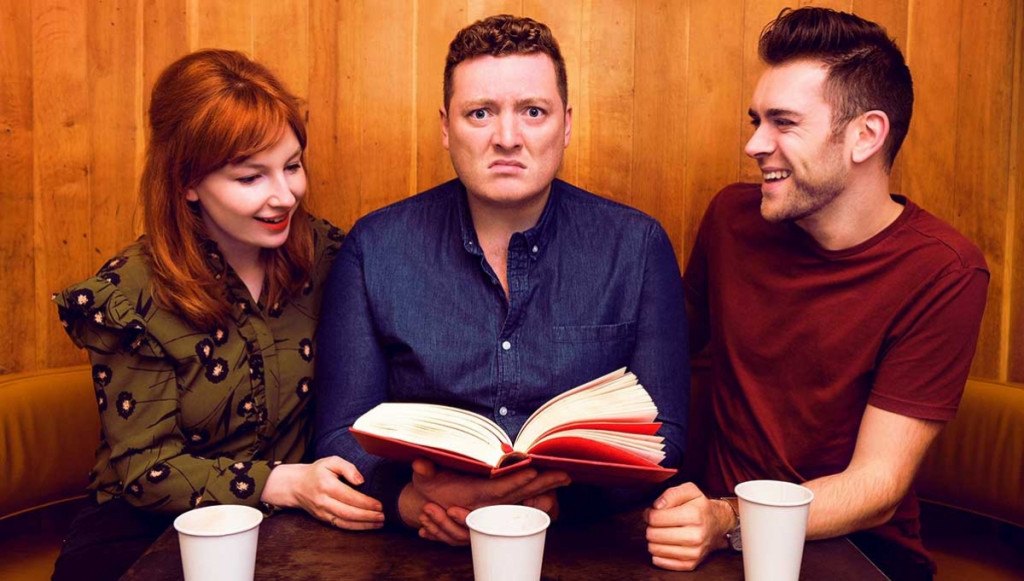 What do you do when you discover that your father has done something that has been a sort of, a dream for him, but is sure to become a nightmare for you? How do you get yourself out of a conversation where your friends begin to discuss the erotic novel written by your parent? How do you stop yourself from confronting such embarrassment? The best answer is you take it to the world before the world brings it to you.
When Jamie Morton discovered that his father had made the best use of his retirement by writing a story that is sexual and erotic and yet, far away from anything sexy, he took it to his friends. A reading session at the local pub convinced them that this was something that they had to share with the world and so ignited the idea of making a podcast, which has now become one of the most downloaded podcasts. The success of this peculiar story and how people from different parts of the world could relate so much to it got the attention of HBO. (If there is one production house whose attention you want, it is this!) Once it had the rights to do something with the story, it was decided that bringing the cast face to face with the world would be the best way to take it forward. A reading session like never before.
'My Dad Wrote a Porno' is a television special where Jamie Morton, Alice Levine and James Cooper come together to host a night, reading out loud the story of "a lost chapter" from the book of Belinda Blinked! If you have been the follower of the podcast, you know just how absurdly funny and entertaining things can get in this program. By now, you think you have heard all the different ways in which Belinda's story has progressed. You will be forced to think again after this special. If you are new to the concept and haven't yet had the pleasure to get in touch with the story, this is going to open new doors for you. It is unlike any comedy special you have watched and nothing like any erotica (though being one itself) you might have read. In case, you are planning to write or are in the process of writing erotica of your own, this show might help you make a very important decision. Should you share it with your children or not!
My Dad Wrote a Porno Season 2 Release Date: When Will It Premiere?
'My Dad Wrote a Porno' season 1 premiered on HBO on May 11, 2019. It became available on HBO NOW on the May 12. Since it is just a special, we don't know what kind of follow-up it might receive. One thing we do know is that the response to it will be nothing short of overwhelming. There is already a huge worldwide fanbase for the podcast, which means that the special already has its audience set. The involvement of a production house like HBO lends more credibility to it and is sure to attract more people towards both, the podcast and the special.
While a television or a film adaptation of the series has been the talk of the town, there is no substantial news on how things will turn out for 'My Dad Wrote a Porno'. If everything goes well and the trio succeeds in finding another "lost chapter" of the bestseller series, it wouldn't take much time for HBO to whip up a new special. For now, you have to make do with what you have.
As far as 'My Dad Wrote a Porno' season 5 of the podcast, we are sure that it might be coming out anytime soon. We will update this section as soon as we learn more.
My Dad Wrote a Porno Trailer
'My Dad Wrote a Porno' is a hilarious tale of Jamie Morton's father's quest to fulfill his dream of writing a novel. If the concept of the show intrigues you and you'd like to know more about it, you can listen to the podcast. For more, you can head over to HBO and enjoy the show. Who knows, you might relate to some of Morton's experiences yourself. If you ever find yourself in a similar situation, you can learn from his story and find out exactly how to turn it for the better. To get a glimpse of what's in store, you should check out the trailer below.
Read More: Porn on HBO