Falling in love for the first time feels great, especially when you're a teenager. But it sure as hell comes in with a lot of awkwardness and in all the haze of the infatuation, you just fall head over heels for someone with all kinds of idealistic expectations. 'Ore Monogatari' does a great job in portraying these bittersweet feelings of teenagers in love who are just trying to make sense out of things. Coming from a Manga written by Kazune Kawahara, this show is pretty much of a classic in the shoujo genre. Love triangles are indeed a common theme in rom-com anime shows but 'Ore Monogatari' takes a rather different approach towards it and goes on to create a love story between some really mismatched characters. I won't deny that the overall pacing of the anime is a little faster than it should be. But even then, it's impressive how the main protagonists progress as a couple throughout the storyline.
'Ore Monogatari' will definitely not make you shed a whole bucket of tears because it rarely has any extremely emotional moments. Instead, it relies on the charming relationships of the characters to make itself appealing to the audience. The few other minor themes that are touched upon along the storyline are also not all that distracting. What really surprises me is the fact that it never makes the use of fanservice which I believe is a big achievement for a romance anime. Over a span of 24 episodes, the anime fully utilizes the time it has and never beats around the bush. Though it can get slightly repetitive at times, it portrays the elegance, innocence, charm, and realism of a high school love story. Overall, it is really enjoyable and the fact that it lacks your typical shoujo cliches makes it even more interesting and entertaining. I would highly recommend it to anyone who has even the slightest interest in realistic romance stories.
Ore Monogatari Season 2 Release Date: When will it premiere?
'Ore Monogatari' Season 1 was released on April 29, 2015 and it came to an end on September 24, 2015. Regarding season 2 of the anime, as of now, there is no word about it anywhere. It sure did gain a lot of popularity after its release and even critics have rated it very good. But even then, it seems like Madhouse Studio has no intention of continuing it.
Also, Madhouse Studio is one of the most well-known anime studios out there, and it has produced some amazing shows like 'One Punch Man' and 'Death Note'. For the coming one year at least, the studio has a lot of projects lined up and if 'Ore Monogatari' was a part of those, then we would have definitely known by now. The good news is that the anime has not been officially canceled yet, so there is still some hope. As soon as we come to know about 'Ore Monogatari' Season 2 release date, we will update this section.
Ore Monogatari English Dub:
You can stream 'Ore Monogatari' on Crunchyroll and HiDive with its original Japanese audio and English subtitles.
Ore Monogatari Plot:
'Ore Monogatari' revolves around a high school boy named Takeo Gouda who is a giant compared to all of his peers. He is extremely tall and muscular and because of this, he often becomes the center of attention in his school. But despite his intimidating external appearance, he has a heart of gold and everyone in school respects him for the courage that he shows at all times. But like most other high school boys, Takeo is very awkward with women and his appearance is enough to scare away most of them. While he struggles to talk to girls, his cool and handsome best friend, Makoto Sunakawa, makes every other girl fall in love with him without even trying too hard.
Later, Takeo saves a girl named Rinko Yamato from getting molested and instantly falls in love with her cute angelic personality. But he somehow gets the hint that like other the others, she also might be into his best friend Makoto. Though he craves a love story for himself, he leaves his own selfish desires behind and decides to play cupid for the two. But while he does this, he suffers silently.
Ore Monogatari Characters:
Takeo Gouda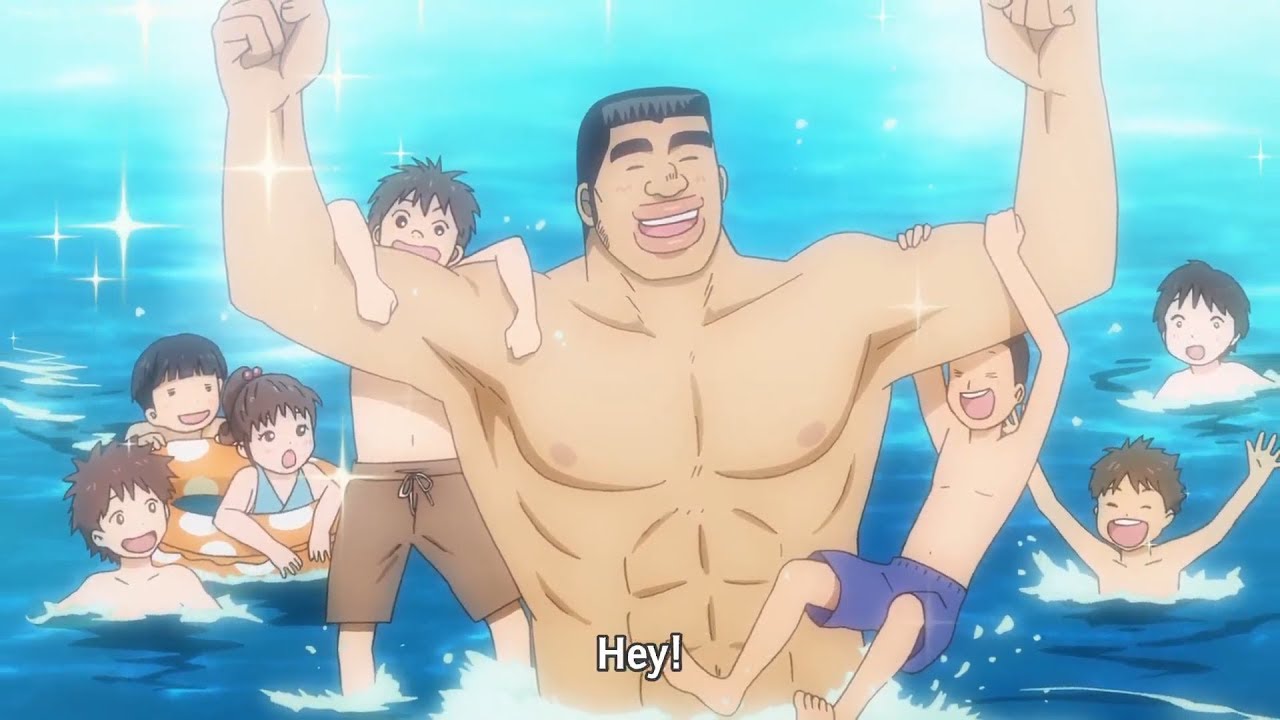 Takeo Gouda is the main protagonist of the show and is also a first-year student at the Shuei High School. He is freakishly tall with a heavily muscular physique. He has a huge face with thick lips and eyebrows. Anyone who meets him for the first time would definitely be intimidated by his outer appearance. But the people who are close to him know that he is a very kind and humble person who would never hurt anyone.
He also has a strong sense of purpose and hates those who treat others in a wrong way. It becomes intolerable for him when someone tries to hurt his friends. He is the kind of person who is never able to hide his emotions because his face expresses exactly how he feels. He has a huge crush on Rinko but when he gets a hint that she is already into his own best friend, instead of being angry and jealous, he actually tries to help her.
Makoto Sunakawa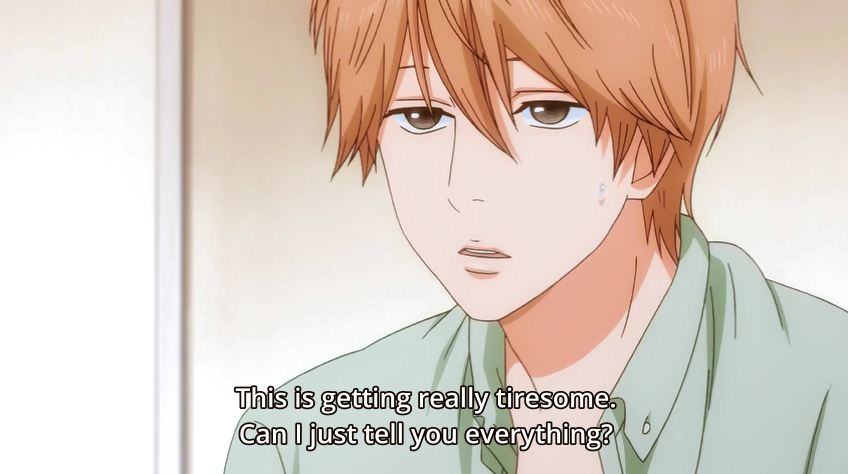 Makoto, mostly known as Suna in his close circles, is another student at the High School who is Takeo's next door neighbor and best friend. Just like Takeo, Makoto is also willing to sacrifice his own happiness for his best friend and always tries to look for him. Makoto is a very good looking guy with his shabby blond hair and brown eyes. He does not smile too often and walks around with a very blank expression on his face. His good looks make all the girls of the school swoon over him, but he does not really care about it. He is really cool and no one can ever really tell what's going on in his head. It's this mysteriousness that makes him even more attractive to the girls.
Rinko Yamato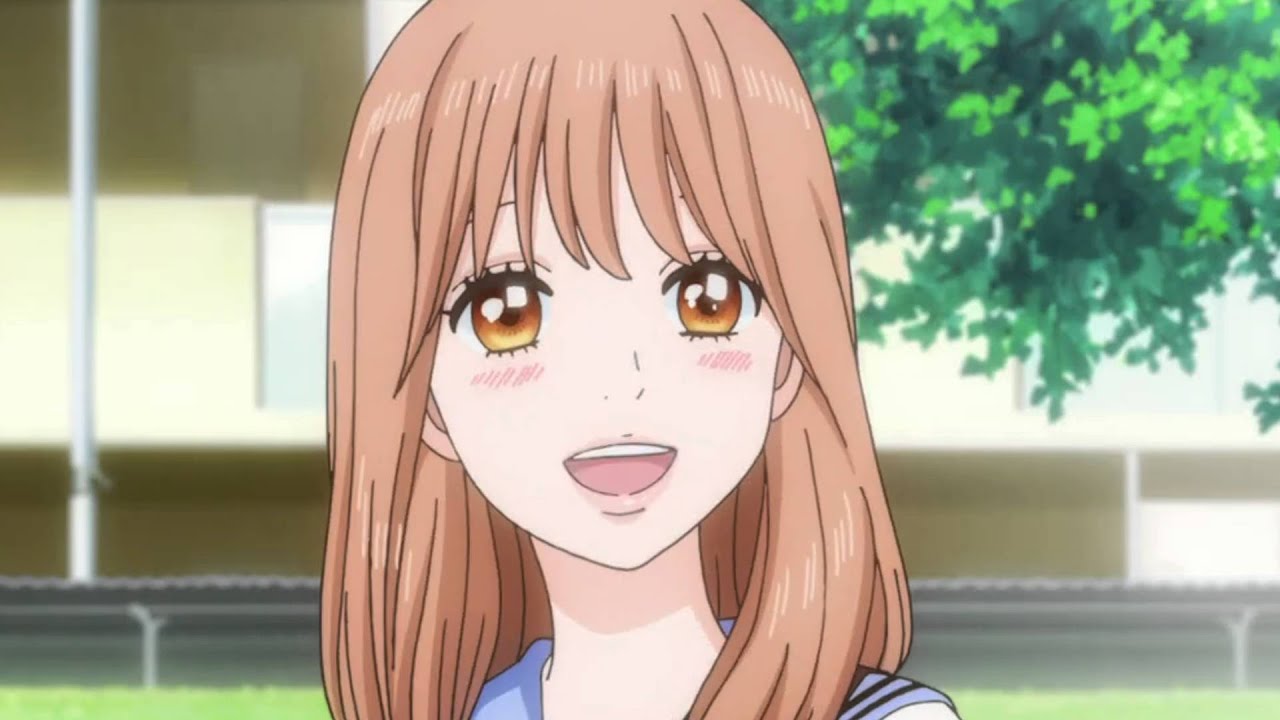 Rinko is another high school student at the Koizumi Girls' Academy who is saved by Takeo from a molester on a train. She has a crush on Takeo but on the other end, Takeo believes that she has a crush on Makoto. She is a very beautiful young girl with fluffy strawberry blond hair and big gorgeous brown eyes. She is very sweet and charming and is known for having a weird taste in men. Takeo is the kind of guy who would usually scare away most girls her age but she instantly falls for him.
She has a very lovey-dovey personality when it comes to relationships and she's always looking for a reason to somehow be around Takeo. Every time she's around him, her heart starts to beat faster and she can't help but admire his muscles. She is also very friendly to everyone and despite her strange choice, many of her friends ship her relationship with Takeo.
Read More in Anime Preview: Clannad Season 3 | The Testament of Sister New Devil Season 3